Global Lifestyle Editor at
Delta Sky
magazine, Creative Director at
John Loecke Inc.
, and newest
GoDesignGo
guest blogger
Jason Oliver Nixon
recently gave us the opportunity to hear about the countless things he's up to and learn a few fun facts about him—and how he got to where he is.
GDG: How did you get started in the interior design world?
JON:
As a kid, I had very cool parents who traveled extensively, went to the theater, threw dinner parties, and had friends who were writers and artists. So I was exposed to a lot from an early age and I lapped it up! Fast forward to my senior year at Colby College when I interned at
House & Gardens
magazine. The experience led me down the path of the wily editorial world! The road then took me from
Conde Nast Traveler
magazine to
Fodor's Travel Guides
and the
Food Network
. From there, I served as the Editorial Director of
Niche Media
where I launched magazines including
Gotham
,
Hamptons
, and
Los Angeles Confidential
.
GDG: At what point did interior design come into the picture?
JON:
Eventually, my partner John Loecke and I decided to try our hand at interior design. The first project we did under the
John Loecke Inc.
brand was published in
O at Home
and we hung up our shingle! Fast forward a few years to the present and here we are now, knee-deep in wonderful interiors projects! We have a blast and love interior design and our amazing clients!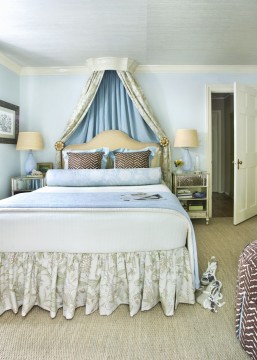 GDG: What are a few things you're busy with now?
JON: We are currently working on an amazing home in the heart of New Orleans' French Quarter for a New Yorker. We love heading down to Nola every few weeks and creating some magic. Afterwards, we shop along Magazine Street and sip Sazeracs—and what could be better than that? We're also developing a product line based around a niche that we have identified in the market, so stay tuned!
GDG: What are the most fundamental elements of your design style?
JON: Color, energy, passion and verve! We want to create fun, engaging, livable spaces that perfectly reflect their owners. We sort of want to put the "RAD" into traditional and craft something unexpected and wonderful that employs classic motifs reinterpreted with sizzle! We develop a story line then bring it to life.
GDG: Can you share a fun fact that most people don't know about you?
JON: John Loecke and I are obsessed with gardening and spend far too much money on perennials, bulbs, seeds, and garden tools! If you see me in the summer, chances are I am rooting around in the garden with dirt under my fingernails and holding a pruning scissors in one hand and twine in the other!
Jason recently attended the first-annual
Design Bloggers Conference
so stayed tuned to for his upcoming posts his favorite parts of the conference and the fun people he met!