We New Yorkers are living vicariously through our friends in South Florida who are participating in the 2nd-annual DCOTA DesignHouse. This year's theme is "Film+Design: The Golden Age of Hollywood," and it has come to fruition this week.
We've decided to chat with a few members of the
Design Committee
to take us on a virtual tour of their rooms. Here's what Interior Designer and Owner of
DKOR Interiors
,
Ivonne Ronderos
told us about her
Breakfast/Tea Room
, themed: "
An American in Paris
."
GDG: How did you personally interpret the theme, Golden Age of Hollywood?
IR: The theme of the "Golden Age in Hollywood" evokes a certain sense of nostalgia and a feeling of whimsy. It was an era of burgeoning ideas and significant change within the movie industry itself, which in turn, impacted our culture immensely. The era seemed alive with blossoming ideas and a sense of playfulness!
GDG: How did "An American in Paris" represent these interpretations?
IR: The Breakfast/Tea Room concept lent itself to a more conceptual interpretation of the space. "An American in Paris" carries forth an artistic mood that drove us to keep the room very playful. The film also provided us with unexpected layers of inspiration, which we hope will transmit a sense of joy and whimsy to those who experience the space!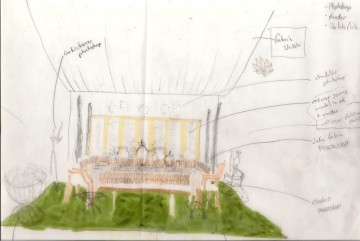 GDG: How did your original vision for the room evolve?
IR: It was a little difficult to maintain the original design as we put forth in our rendering, and stay within the guidelines put forth by DesignHouse! But our final product and vision did remain intact. When looking at our original sketches and rendering, I think you will agree that we were able to successfully carry through our original concept to completion!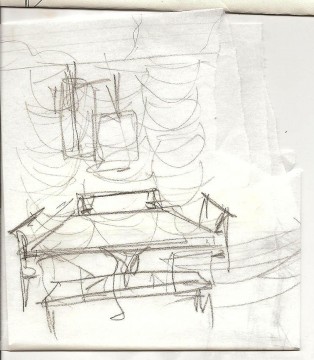 Stay tuned to GoDesignGo for to see more of Ivonne's process and finished room and to see more of the Design Committee's interpretations of the Golden Age of Hollywood.