A new book, chronicling the life of the Rubelli family and the company's extraordinary textiles has hit the bookstores and is worth a celebration.


Last month at the DDB, Margaret Russell, Editor-in-Chief of Architectural Digest, joined Nicolo Favaretto Rubelli, CEO of Rubelli and Andrea Favaretto Rubelli, CEO of Donghia for a special presentation of the book.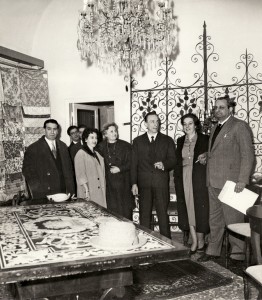 "I'll tell you a Venetian story spanning two centuries. Five generations, six brands, five continents: our history, yesterday, today and tomorrow." - Alessandro Favaretto Rubelli


Rubelli: A Story of Silk in Venice, written by Irene Favaretto (sister of Alessandro), takes you through the history in photographs, archiving the company's work.


The book is on sale now, pick up your copy and indulge in the rich history.


About Rubelli Textiles:
Currently run by the fifth generation of the Rubelli family, the company produces and sells top end, high-quality furnishing fabrics - brocade, damask, velvet, silk and lampas.