We recently attended a luncheon at
Doubles
hosted by
Clinton Howell
, President of the
Art and Antique Dealers League of America
, to celebrate a new Antiques show in town—the
Spring Show NYC
. The event is produced by the creative minds behind the
SOFA
(Sculptural Object and Functional Art) Shows and will be held at the
Park Avenue Armory
April 28-May 2 during the heart of New York's
Art and Antiques Week
."
The show opens April 27 with a gala preview will benefit our furry friends at
ASPCA
—the
Adoption Van
will be onsite with a variety of dogs in need of homes. Show stands will feature a selection of animal-themed objects at the opening night preview, in addition to their specialty antiques and twentieth-century works.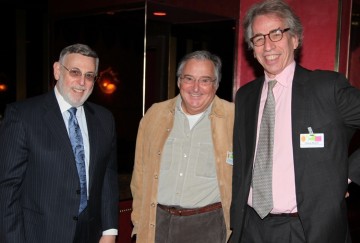 Visitors will be lured into the Armory's grand exhibition hall with a dramatic mise-en-scene created by Swedish interior designer and tastemaker Lars Bolander.
"The exhibition hall will be visually opened up to the structural ceiling, which will allow light to pour in," Publicist Marilyn White told us.  "We will stretch 125 feet of fabrics on each end of the building to hide the existing seating areas on the balcony and the ceiling will be lighted with numerous spotlights from the balcony. The overall affect is a bright, open, clean space that will serve as a counterpoint to the dealers' offerings on their stands."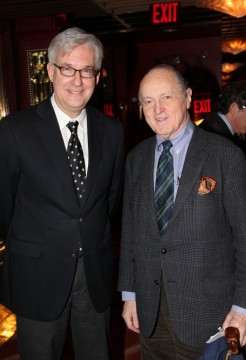 CEO of Art Fair Company Michael Franks added, "The show will be clean, fresh, simple, bright, and fun. Wow, it can't get much better than that!"
Luncheon attendees included Mario Buatta, Wendy Moonan, James Andrew, Carol Prisant, Doris Athineos, Melissa Feldman and Barbara Dixon.
"We're trying new things to inspire and encourage a newer and younger audience and forge new territory with NYC and the design world," said Clinton. "We're very excited!"
He also shared a touching story that inspired him to create Spring Show NYC. "My father was an executive recruiter, and one of his clients was Avis, the rental car company. He used to tell me that he thought their advertising slogan 'We try harder' was genius. In essence, that is what we are doing."
So, how will this show be new and different? "We believe that it has to do primarily with whom the show reaches out to," said Clinton. "As much as collectors and interior designers are important, our goal is to inspire and encourage a new and younger audience, if not to come and buy, to come and look. We want our show to be open to groups from all over this city."
The show is organized by the Art and Antique Dealers League of America and sponsored by
1stdibs
. The dealers will donate a percentage of sales of the animal-related items to the ASPCA.