On Wednesday, the David Sutherland showroom at the DDB held a mid-afternoon cocktail party (it's 5 o'clock somewhere!) to celebrate the latest introductions. Rose Tarlow Melrose House and David Sutherland, Inc. collaborated on two furniture collections and a full suite of high-performance textiles for the Perennials label. Jobst Blachy, the new CEO of Rose Tarlow Melrose House, just 8 days into the job, was on hand to toast the final results. We introduced you to him last week.

Sutherland and Tarlow have worked together for nearly 30 years. "Rose and I have always appreciated fine quality and design," David Sutherland, CEO of David Sutherland Inc. says, "Our collaboration reinforces our commitment to both of these elements and brings us together again after many years."

Cat's Cradle features state-of-the-art cording for serious comfort: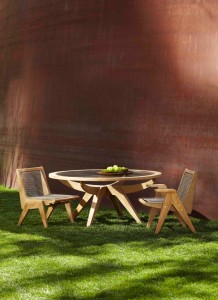 Both Cat's Cradle and Rising Moon are produced from sustainable teak.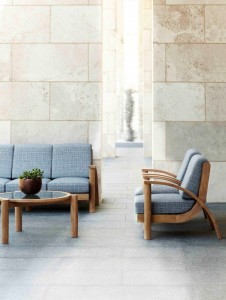 The 70 fabrics, available in five colorways, are all made of 100% solution dyed acrylic, which makes them soil, mildew and UV resistant. Says Ann Sutherland, president of Perennials, "Rose adds a sophisticated collection of designs that enhances the Perennials offering. In color and style, this is a superb group of textiles."

The collections are now on the floor in all David Sutherland showrooms and at the RTMH flagship showrooms at the DDB and in L.A.