The theme of the fourth Armani/Casa fabric collection by Rubelli is "a Western approach to the oriental culture." All 15 designs, which this season are named with an F, combine traditional patterns and motifs favored by Rubelli with the powerful design statement associated with Armani/Casa. Previous collections referenced Art Deco; this time, it's all about historical Venetian elements. With a history that dates back to 1858, it's no wonder the Rubelli archives served as a treasure trove. The use of metallics is especially pronounced in this new collection, making "The Golden Age" a perfect name. New for this season is a rose color, particularly striking in Farnese, a boucle.

Fayette, pictured above in one of four colors, interprets a 16th century damask design from the archives and channels it into an irregular silk satin stripe. The imperfect stripes running horizontally lend a lovely movement to the sophisticated tone-on-tone color stories.

Fergana and Fredonia are pictured here: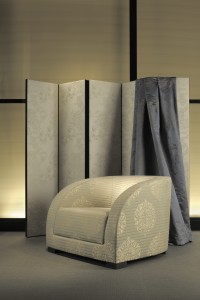 Fergana references the many iron gates found in Venice. It is woven on a silk warp to create the luminous satin background. Using an Eastern 10th or 11th century motif with the quintessential Armani/Casa cannete effect, Fredonia lends an Asian accent and is available in five colors.

Faver and Fukui: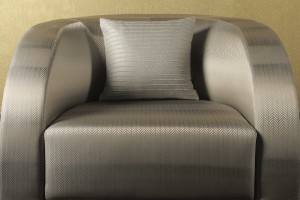 Faver's chevron pattern (as chair upholstery above) is tempered by a horizontal fading gradient stripe. This silk-viscose blend is intended for decorative applications. The horizontal stripe Fukui is classic Armani/Casa with its damier and cannete forms. Both are available in five (complementary) colors.

Stop by and admire the entire collection at the Donghia showrooms at the DCH (Suite 1000), DCOTA (Suite C250), PDC (Suite G196), and DDB (Suite 700).