Last week we told you about our recent quick visit to London. One of the highlights was the time we spent at Colefax & Fowler, where we spent a couple of hours catching up with Trudi Ballard, Head of PR and Advertising, and C&F's designer Sarah MacGregor.

They were kind enough to walk us through the new collections, including Jane Churchill, which we'll share with you later this week. Apparently we were the first international press to see it! The C&F photography is always sublime and does quite a job capturing the textures of the collection. The curtains pictured above are in a dramatic color of Bovary linen embroidery.

Sara did a great job capturing some of what distinguishes the US from the UK market, something that is clearly important when you're a storied UK company who needs to make sure to keep up with what a large market like ours in the US is ordering.

This is Francesco, a luxurious cotton-silk blend damask on a satin weave for a textured ground: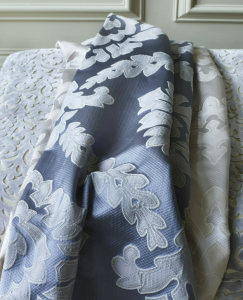 "The woven category is really important, and increasingly growing, especially in the US where it still seems everyone wants plains and solids. We're moving the emphasis away from embroidery, and presenting a velvet book that includes not just solids but lots of bold patterns. In the UK, because we don't have showrooms and rely on our traveling salespeople, we need to think of groups -- we have the constraints of needing to introduce enough of something so that it can make up a whole book."

Can you say wow to these velvets - chair upholstered in a rich color of Marlowe velvet with pillow in Wilde?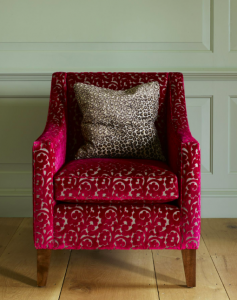 "This season, blues are big for us, which continues to be the US's favorite color. It's new for us to use it as a ground color and not just the complement or accent color. There are also a lot of smaller designs this go, which are still strong enough to be the lead design in a room."
Witness this Aqua colorway of of Cressida with its three-dimensional cording and embroidery: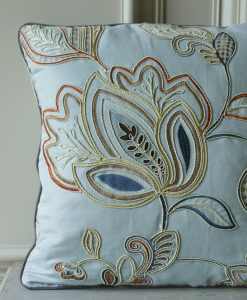 How about this Heywood paper, printed in the UK as are all of its designs, with an ottoman in the cut velvet Marlowe and pillows in Keats velvet and Hugo linen-cotton blend: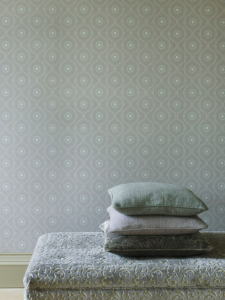 We loved the color Sara described in as endearingly British "lettuce head yellow". There's also this divine silk Lucerne, which is available in 60 different colors.




We just wanted to offer a little tease here. You really must see it for yourself, and they'll be at the Cowtan & Tout showrooms at the PDC (Suite B647), DCOTA (Suite B254), and DDB (Suite 1020) over the next few weeks.