This year's Spring Market was jam-packed with special programs, events, guest
speakers and product spotlights held in all of the designer showrooms at the
D&D Building!



The market kicked off with keynote speaker Deborah Needleman, the
WSJ Magazine Editor-in-Chief, who led the address about the daily events, as well
as key trends as seen in the worlds of food, fashion, photography, and of course
interiors -- united by high luxury merged with imperfections, as seen in her new
book, The Perfectly Imperfect Home.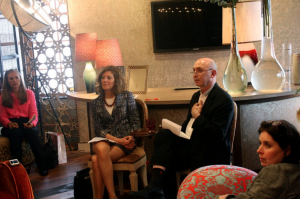 As part of the Design Loves Art "Talks" series, Murray Moss and Susan de Menil
successfully made their private conversation public. Ms. de Menil's three-decade
long involvement in art history, the art world in general, and the Menil art campus in
Houston, and Mr. Moss' direction of the Moss store and gallery in New York, and
now Moss Bureau, made them a fascinating encounter at the intersection of Art
and Design.




At Schumacher, Lulu DK showed us the new children's line, featuring hand-made
fabrics like "Jelly Bean" and "Firecracker." A true inspiration for children design!

David Scott, author of Outside the Box launched his new book with a booksigning
and cocktail reception at Lorin Marsh showroom.



If that wasn't already enough excitement for you, the 17th Floor Block Party was
where the real celebration went on where every showroom on the 17th floor
participated. Exciting events on the 17th floor included a book signing for
Marrakesh by Design with Maryam Montague, as well as a close look at
Knoll Luxe's Capsule Collection with designer Nextar De Stagni.

Make sure to visit the next market in October!