Fabricut has just introduced its Athens Key trimmings. The 2 ⅝" tape modernizes the classic Greek key and adds a pop of color and warmth to the leading edge of drapery, a tailored sofa or pillows.

"Our Athens Key has a finer viscose and rayon construction, which results in a better, more quality appearance and a flatter sheen," says Sharon Cash, director of trim development for Fabricut. "With more picks per inch, Athens Key is a fuller and more colorful design."

It might be a traditional motif, but Athens Key's 35 sophisticated colors – ranging from vibrant Tangerine, Sky and Primrose to soft Tussah, Rain and Camel neutrals – provide designers with various combinations for a fresh look; it's the sleek, versatile and classic detail you've been missing.
Pictured above, from top to bottom are: Primrose, Lime, Sky, Tangerine and Emerald.




We hear there are over 4,000 new SKUs from Fabricut and its partners, Stroheim, Vervain, S. Harris and Trend brands that will hit the market over the next few months. Check back soon to see more!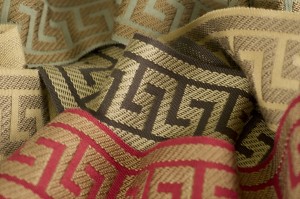 In the meantime, be sure to check out Athens Key at the DDB (Suite 202) and PDC (Suite B470) and Jeffrey Michaels at the DCOTA (Suite A136).