On Monday, we offered a taste of what's coming from Colefax & Fowler this season to Cowtan & Tout showrooms. Here are some highlights of the walk-through with designer Sarah MacGregor of the new collection.

"Jane Churchill is always known for being playful and this season that includes 1) the illustrative and 2) more Scandinavian references.
Silverly is a design that was first printed using handmade lino blocks. Brightwood, a cotton-linen blend, is an adorable country scene seen here on the shade.



Here's Willowbrook, available as both a cotton-linen blend fabric as well as a wallpaper: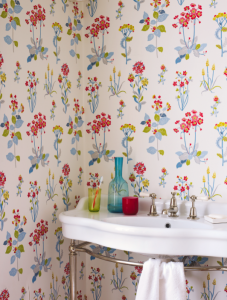 Jane is known for her love of aquas and this year it's complemented with a fresh range of pinks. The curtains are in linen-blend Hayden.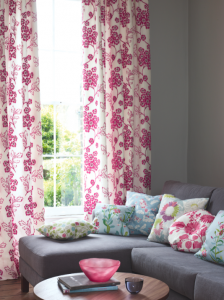 "Vintage Daisy was inspired by a textile document we actually bought on a trip to New York."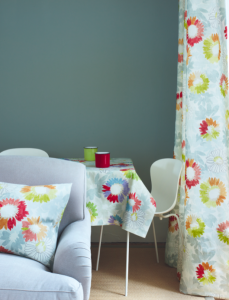 Thinking back to those practical weaves that we seem to snap us here in the US, there are 28 colors of polyester-blend weaves and 11 colors of a windowpane woven, which are certain to be hits with their durability and good price points.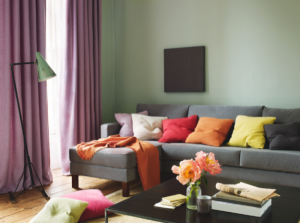 Two new chenilles: embossed Kirkley and the slightly gauffraged Samford.
Lisson is a lovely Italian cotton with a slightly vintage finish that we know will be snapped up for upholstery, and in such a lovely palette, seen here on the red pillow at the bottom of the stack:



Craving something more neutral? Leafield is pictured on the chair at left, and Tellina on the right:


Don't miss the cotton check and stripe book, which feels quintessentially English. There are pinstripes and ginghams in nine colors, including two sizes of checks, some of which are seen in these adorable stack of pillows. Don't you just want them all?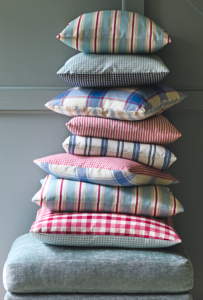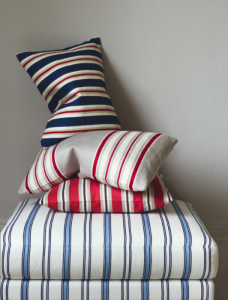 And the candy-like decorative velvets, like Medley Spot that channels Paul Smith, and Honeycomb with a nod to David Hicks' favorite shape. We bet you can pick them out of this stack:



The chair is upholstered in a vibrant Furrow Stripe, which is available in six colors and a fun way to add movement to a traditionally boxy chair shape: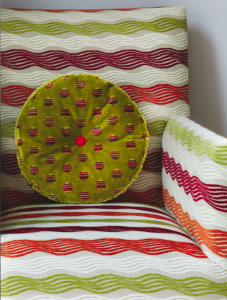 Stop by the Cowtan & Tout showrooms at the PDC (Suite B647), DCOTA (Suite B254), and DDB (Suite 1020) to see the entire wonderful new collection.