Boxwood, the latest addition to the JANUSfiber collection from Janus et Cie. Part of the proprietary JANUSfiber line, it's made of "Generation Next" weather-resistant fiber, which provides high-performance wear we need of our outdoor furniture, As Janice Feldman, President of Janus et Cie says of the Boxwood design, "It has a beautiful open weave that really shows off the craftsmanship of the product. We love the mix of the see-through weave with the crisp lines and rigorous structure of the furniture. It's a look that allows Boxwood to blend into a contemporary commercial landscape or traditional garden setting. The shape is modern, but not severe because the weave lightens and warms the design."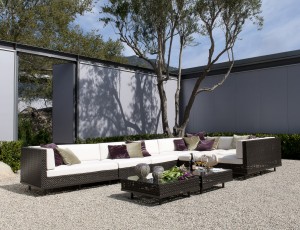 Boxwood is available in two depths, with Left, Right and Center modules for the sofa, in addition to nine other designs including two tables, three chairs, and three sofa sizes. All are finished in a proprietary Mica JANUSfiber handwoven over an electrostatic powder-coated aluminum frame with a bronze finish. It's a mouthful, but it promises this is a design that will stand the test of time! Remember the company's been at it for nearly 35 years.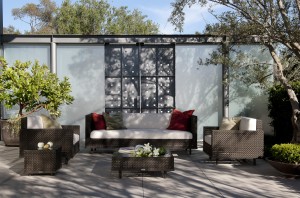 Stop by and see Boxwood at the DCH (Suite 155), DCOTA (Suite A123), and PDC (Suite B146/193). It's another way to make us even more jealous that much of the USA gets to enjoy living outdoors throughout the Fall and Winter!