Beacon Hill has created an enchanting new print collection: Watercolors. The four designs are Inspired by the textural and decorative elements of the finest watercolor paintings, captured on linen.With colors ranging from soft neutrals to bold, the Watercolors collection proves as captivating as the paintings from which it draws inspiration.

Alexis Audette, operating vice president of design for Beacon Hill, explains, "We wanted to capture the feeling of movement and depth that watercolors have so we created fabrics with loosely painted images and degrees of translucent color."

The line also demonstrates a range of art historical influences, from impressionism to modernism.
Soo Locks (pictured at top in Frost) is the pattern that inspired the collection. Clearly inspired by impressionist painting with its delicate, neutral color palettes. It boasts a oversized pattern, coming in at 59" wide with a huge 54" horizontal repeat and a 39" vertical repeat and is available in four colors: Clay, an earthy brown; Smoke, muted greys with glimpses of gold and tan; Frost, a range of icy hues that calmly meld into one another; Teak, shades of washed brown that bring the landscape to life.

Nila Ikat is an abstract take on a classic graphic ikat, is available in three bold colorways, all with a 26" vertical repeat: Moonstone, a cloudy blue; Indigo, a deep denim injected with rust accents, pictured below; Peapod, a zesty green.




A new take on a traditional subject, Songbird features a playful bird and tree motif in a grand scale at 59" wide with a 29" horizontal repeat and a 30" vertical repeat and comes in three classic colors: Rose, a soft petal pink, pictured below; Indigo, a range of easy blues; Jade, a lush, gem-green with peach birds and flowers.




Maricel recalls early modernist watercolors with a loosely painted composition of an architectural southwestern landscape. Maricel is large-scale at 59" wide with a horizontal repeat or 29" and a vertical repeat of 27.5", and is available in three colors: Afternoon, a whimsical meeting of bright oranges, greens, and pinks; Indigo, a moody mix of navy and soft sky hues; Linen; a stunning sand.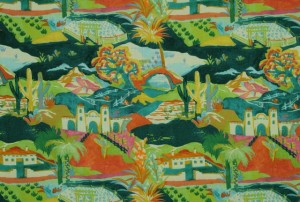 Stop by the Robert Allen | Beacon Hill showrooms at the PDC (Suite B499), DCH (Suite 141), DDB (Suite 301) to get a dose of watercolor.