Color blocking and neons were all over the runways—and walked right on into our wardrobes this year. But we wanted to see just how prescient Farrow & Ball was with their predictions from earlier this year of the colors right for 2012. Here's what they said months ago.

Pigeon® (pictured above). "Colour should be casual but functional, a look epitomised by Pigeon®, a mix of blue, grey and green tones. Used in small spaces multi-toned Pigeon® creates an intimate feel, while in larger areas it has an unparalleled softness. It has a weathered look when teamed with chalky shades like Mizzle®, but becomes more functional when contrasted with All White. Accent this scheme with Incarnadine to make it more modern and atmospheric."

Brassica:


"Brassica, a pale aubergine shade with underlying black tone, really sums up the mood of 2012. It has an ethereal quality, but importantly can still be relaxed when used in unexpected combinations. Keep this nostalgic colour fresh and exciting by combining with Stone Blue® on ceilings, or use to add colour to any neutral scheme. Evoke modern elegance by accenting Brassica with Dove Tale on woodwork and Strong White® on floors, for a sophisticated look that's not too formal."

Railings: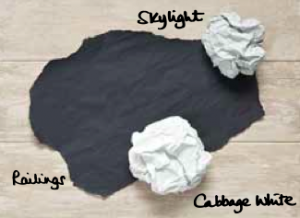 "Interiors are dramatic yet easy to live with, an approach encapsulated by soft velvety charcoal tone, Railings. Used on walls, Railings can transform a small dark room into a tranquil cocoon. Key to this look is balance; retain equilibrium by introducing India Yellow to give a vintage twist. Alternatively, Railings can make real impact when used on floors or as a feature wall alongside simple underplayed shades like Skylight or Cabbage White®."

Babouche®: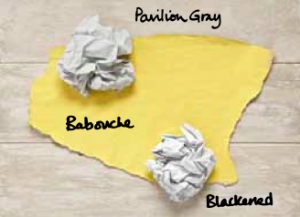 "2012 is all about effervescent, positive yellows like Babouche®. Traditionally used in a matt finish, make a bold statement with high-shine Full Gloss on walls to add a sense of fun to interiors. A striking, graphic flash of this vivid hue will really lift a neutral scheme, and particularly complements greys. Combine with Plummett® for a vintage feel or, for a really contemporary scheme pair Babouche® with Blackened® in colour blocks on walls and Pavilion Gray on woodwork. This bold palette, warm and unforgettable, is perfectly suited to modern decorating."

Personally, we think they were spot on. And don't you think they should branch into the nail polish market? Especially with their naturally low VOC recipe! Stop by the DDB (Suite 1519) and devise your own 2012 wall palette.