Rubelli, the Venetian fabric house represented by Donghia in the US, is known for their rich silks. So it's fitting that the cover of its biography, Rubelli. A Story of Silk in Venice (pictured above, published by Marsilio) is a graphic representation of its San Marco silk damask.

Opera costumes by Carlos Tieppo:



The company was established in 1889, when Lorenzo Rubelli took over Giobatta Trapolin's firm, renowned for its production of braid, two-pile velvet, soprarizzo, lampas and brocade as reproductions of antique fabrics. This book traces the fortunes of the textile creations of the Rubelli family worldwide, spanning five generations and continents and six brands.

Eduardo de Filippo in the Rubelli shop in Bari: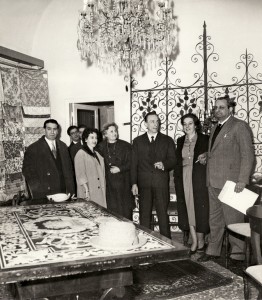 The book tells the story of Lorenzo and his son Dante Zeno, how they expanded the production and trade of fabrics in Italy and Europe, and the varying fortunes of the Venice firm which, during the First World War, forced Dante Zeno to move looms and workforce to Florence to protect their safety.

Silks await weaving:



Production was diversified over the years, moving towards a more contemporary style yet without ever abandoning the themes which had made Venetian textiles famous over the centuries. Rubelli worked with eclectic artists such as Guido Cadorin and Umberto Bellotto and later Vittorio Zecchin and Gio Ponti. The company's fabrics were displayed with success first at the various International Decorative Arts Exhibitions at the Villa Reale in Monza and later at the Venice Biennale and Milan Triennale, and were also used for high-status commissions, such as the furnishing of the royal train in 1928.

The fifth and sixth generation of Rubellis: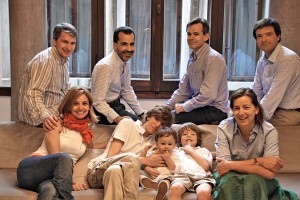 After the Second World War, Alessandro Favaretto Rubelli took over from his grandfather Dante Zeno and started to edit a Rubelli collection, introducing a distinctive style. The hand-loomed velvet was chosen by famous names in fashion such as Roberta di Camerino, who used them to create the label's exclusive bags (there is a famous picture of Princess Grace of Monaco from 1958, on an official visit to Venice, with the legendary Bagonghi bag).

Maria Umilta, the wife of Dante Zeno: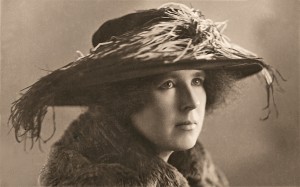 The author, Irene Favaretto, is the sister of Alessandro Favaretto Rubelli and aunt of Matilde, Lorenzo, Nicolò and Andrea.. She was formerly a professor of the history of archaeology at the University of Padua,. She is also the author of almost two hundred publications on subjects relating to Greek and Roman art, the history of collections of antiquities and the tradition of classical art in the art and culture of the Veneto region.

Rubelli on stage at the opera: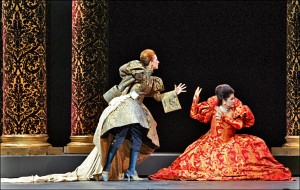 Stop by Donghia showrooms at the DCH (Suite 1000), DCOTA (Suite C250), PDC (Suite G196), and DDB (Suite 700) to see classic Rubelli and how the company continues to make glorious textiles relevant for today.