Foodies take note, you now have double the reasons to get to Miami before the end of September. Royal Botania was selected by the talented design firm, and James Beard Award winners, AvroKo for the Edge restaurant terrace at the Four Seasons Miami. The restaurant is a part of the Miami Spice Festival (as if the sizzling city needs any more reasons to get spicy) that celebrates the city's best restaurants with events and special offers.




The design scheme includes Royal Botania IXIT sectionals and table for lounging, some around glowing fires, MIXT teak chairs and Flexy tables for perfect al fresco dining.




A perfect place for a delicious bite, and a breathtaking view of the Biscayne Bay and the hotel's two-acre pool.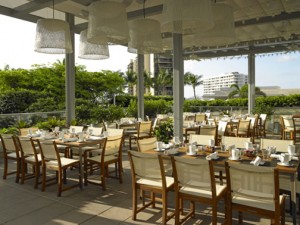 If you can't make it to Miami before the end of the month, check out Royal Botania at Giati at the PDC and Inside Out at DCOTA.
All images courtesy of Mark Roskams.