Heading to the beach/mountains/lake/shore this weekend? How about out on your yacht? You'll need to make sure the outdoor furniture is up to snuff. But where to begin? And how to know what to do to best extend the life of your collection -- whether it's teak or stainless. We wanted to share these great maintenance tips from Royal Botania. The twenty year old company, founded by engineers Kris Van Puyvelde and Frank Boschman is known for its optimal comfort and innovative designs. Here are tips to make your outdoor furniture last for many more summers to come.

-Teak (pictured above) is strong, lightweight, and resistant to outdoor elements. It has naturally high oil content, which creates a built-in resistance to the elements so that it does not decay and will not splinter. As such, teak does not need to be sealed or treated to protect the wood. When left outdoors, it will gracefully turn to silver patina to harmonize with its surroundings. Royal Botania uses mature, high quality, kiln-dried teak that has been harvested from sustainable sources. Teak is used in Royal Botania's Solid, O-Zon & Kokoon collections.
To keep teak looking chic, Royal Botania recommends a freshening every 6-12 months. When teak furniture first arrives any "teak dust" on the furniture should be wiped off using a damp cloth, otherwise it can leave marks on clothes and cushions. For standard cleanings, scrub with a soft brush and natural soap. Rinsing with fresh water regularly is also encouraged. Many stains can be removed by using a diluted bleach mixture with water, in a 4:1 mix. Scrub with a soft brush and rinse with fresh water. Do not fear a change in color of the stained area. Thanks to teak's natural oil content the wood's color will even out within a month after cleaning. For frequent stains, use products like Semco Clear Coat.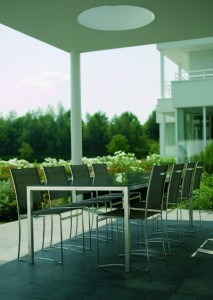 -Stainless steel, featured in O-Zon, Ninix & Flexy (pictured above), is durable and stylish and will hold up to frequent cleanings. Royal Botania offers a 304-grade as well as a 304-EP electropolished or marine-grade stainless steel. The latter offers the same quality and performance as 316-EP stainless steel, yet comes at a more affordable price point. This treatment increases resistance to corrosion and helps prevent salt water and chlorine damage. To maintain its luster, Royal Botania recommends regular washings using fresh water at a high hose frequency. For a deeper clean, the company suggests a mix of baking soda and dish soap or some white vinegar. Towel dry and voilà!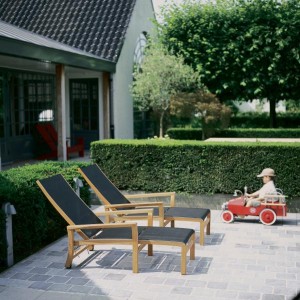 -Batyline is an extremely flexible, high quality and durable material that is nearly impossible to tear. It consists of a polyester fiber covered by a coating of PVC. Mildew and UV resistant, it is a great alternative to cushions and perfect for outdoor use in wet environments like a swimming pool. Equipped with a 3-year warranty, the material is part of Royal Botania's most popular collections including: Alusion, E-Z, Kokoon & Mixt (pictured above). To clean the Batyline, Royal Botania recommends simply washing it with a mild natural soap and fresh water then rinsing and dry with a cloth.



-COAXXS ® exceptionally strong weave and composition make it an all-weather material. It will not loose its suppleness in low temperatures and will not feel sticky on the skin in hot. It is resistant to the damaging effects of chlorine and salt water, stretching or cracking, UV rays and stains from suntan or the locations. Royal Botania's Sunday collection (pictured above) features CoaXXS® hand-woven over an aluminum frame. To freshen up the synthetic fiber, Royal Botania recommends washing with natural-based soap and a sponge then rinsing with fresh water. Plus, CoaXXS® only needs to be cleaned once a year! To avoid scratches, do not clean using any type of abrasive agent or scouring pad.

Stop by Giati at the PDC and Inside Out at DCOTA to see these designs, and the helpful salespeople can surely answer any lingering questions!