Now that we're in the thick of summer hosting, we're sharing Dering Hall's recent article of tips for curating the perfect guest accommodations. Take note!
Some people love hosting — while others loathe it. Whether house guests spark your joy or ruin your mood, the summer months often bring a steady flow of visitors, who rely on their hosts to help them feel at home. "We like to consider the guest's need and what would make their stay most enjoyable and most productive," says Andrew Cogar, president of Historical Concepts, an architectural firm in Atlanta. "It's not only about providing a great place to sleep; the waking moments are equally important." Here, we explore what makes a guest bedroom comfortable, functional, and charming.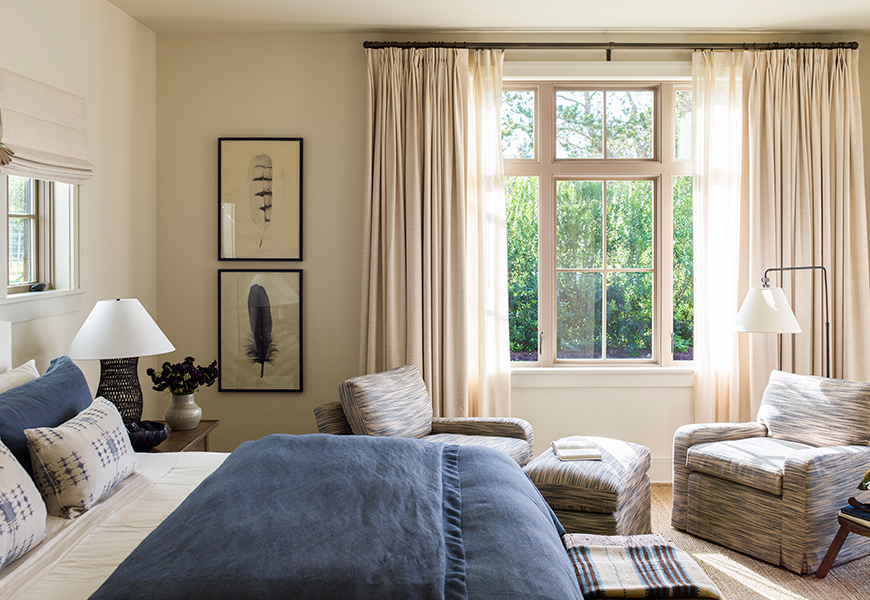 (Above) San Juan Island, Washington / by Kylee Shintaffer. Photography by Eric Piasecki.
1. Put Versatility First
One of the most obvious challenges of designing a guest bedroom is that the space should suit the needs and personalities of multiple people and multiple kinds of people, from friends to parents to children, and more. "We approach guest rooms very similarly to a master bedroom in terms of quality and materials, but often we try to add extra versatility to the room by creating spaces that can be used in multiple ways," says Kylee Shintaffer, an interior designer based in Seattle. "A large bedside table or console that can also double as a desk is a great example of this." Guests can use their computer on a flat surface or rest a glass of wine on the table as they read, depending on their needs and desires.
For Kristine Irving of Koo de Kir Architectural Interiors, a Boston-based firm, a desk can help transform a guest room to serve other purposes if space is scarce in the home. "It's a great way for your guest room to do double duty as a sitting room or den when not occupied by visiting friends and family," says Irving.
"The only challenge is when clients have limited spaces — that's when I prefer the room to be multi-functional," says Lisa Sherry of Lisa Sherry Interieurs." A den or study day-to-day that converts to a guest bedroom when visitors come."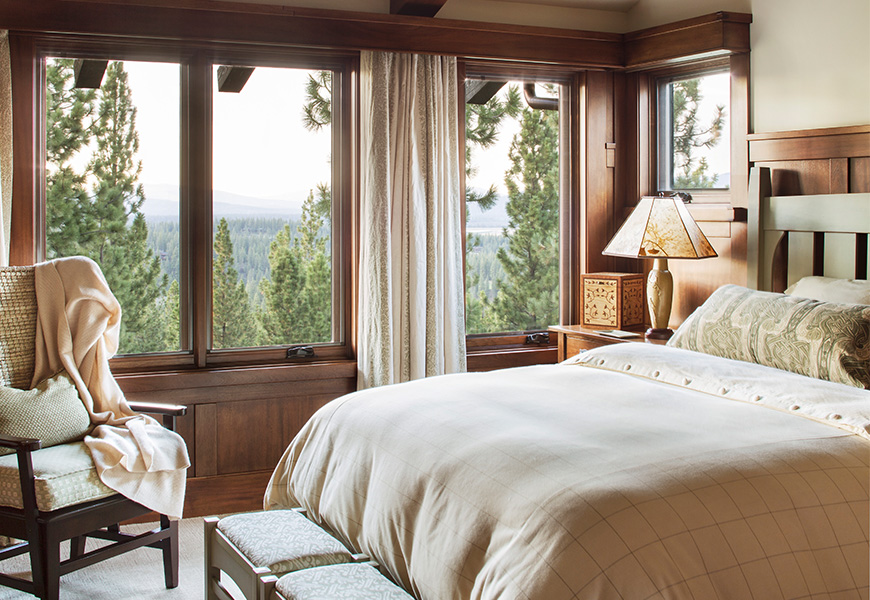 (Above) Truckee, California / by Brown Design Group. Photography by Laura Hull.
2. Include Space for Luggage
When guests arrive, they'll need somewhere to unpack. "I think it is important to have a bench at the foot of a bed to be able to roll off a comforter, but in guest rooms, they are also great for opening out a suitcase," says Corinne Brown, owner of Brown Design Group in Mammoth Lakes, California.
"Functionally there are some little things that can be done to make a guest room feel welcoming, such as closets that are designed for light unpacking and include a built-in luggage rack, and bathrooms that provide open shelving or big drawers for guests to be able to put away their toiletries," Shintaffer adds.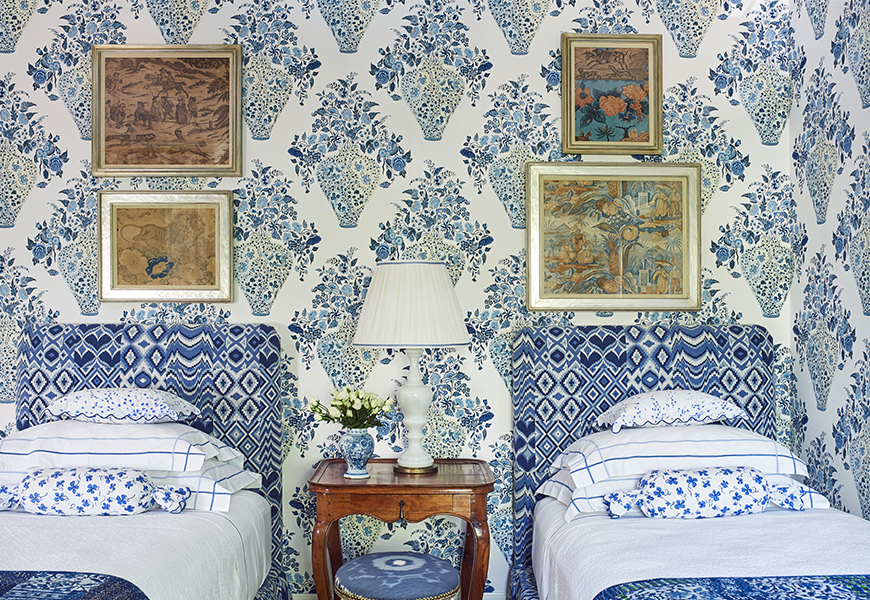 (Above) Houston, Texas / by Ann Wolf Interior Decoration. Photography by Tria Giovan.
3. Think Carefully About Pattern
Designers are divided on the question of pattern. For some, a guest room offers an opportunity to explore maximalist patterns that may suit a guest for a few days but not a client who would live there for years. "A guest bedroom is the perfect room to take risks and to be bold decoratively," says Ann Wolf, owner of Ann Wolf Interior Decoration in Houston, Texas. For a guest room in her own home, Wolf playfully layered patterns to achieve a unique look. "It takes a certain bravado to layer patterns as I did in my own house's guest room," she says. "But why not? Guests never stay long enough to tire of it." However, experimentation should never detract from the comfort of a space. "Of course, one should never experiment with comfort," Wolf adds.
Other interior and product designers believe that a guest room's style should be less extravagant than that of the master bedroom, in order to please guests who might be easily overwhelmed by a maximalist aesthetic. "I think the key to a welcoming guest bedroom is to keep it simple and clean so that it appeals to all your guests," says Crystal Maki of Silverwing Interiors in New Jersey. Personality, for Maki, comes in the form of intimate, artful objects that can be placed on a side table or textured blankets thrown across the bed. "Since guests with different tastes will sleep in the space, it is a safe bet to go with a softer color palette or a more neutral pattern that is not gender specific," says artist Alex K. Mason, co-founder and principal designer at Ferrick Mason. Mason recommends subdued patterns, like the brand's Louis Stripe and Alex wallpapers and fabrics, to ground a guest space.
"If you simply must have pattern — keep it dreamy," says Angela Simeone, an artist with a wallpaper line based in Nashville, Tennessee. "My own bedroom has Cloud Drip White Wallpaper — which has an ethereal feel due to the blurring effect from the blending and dripping of color."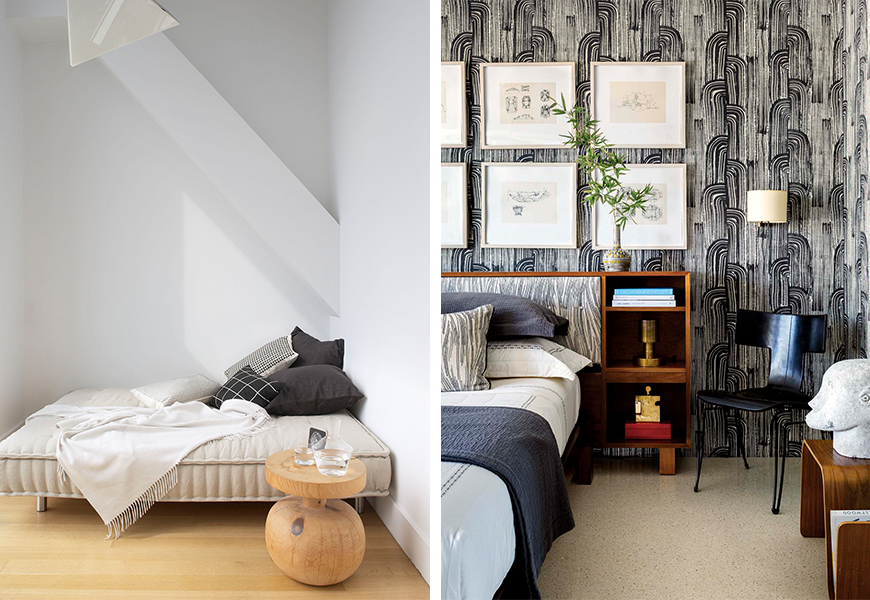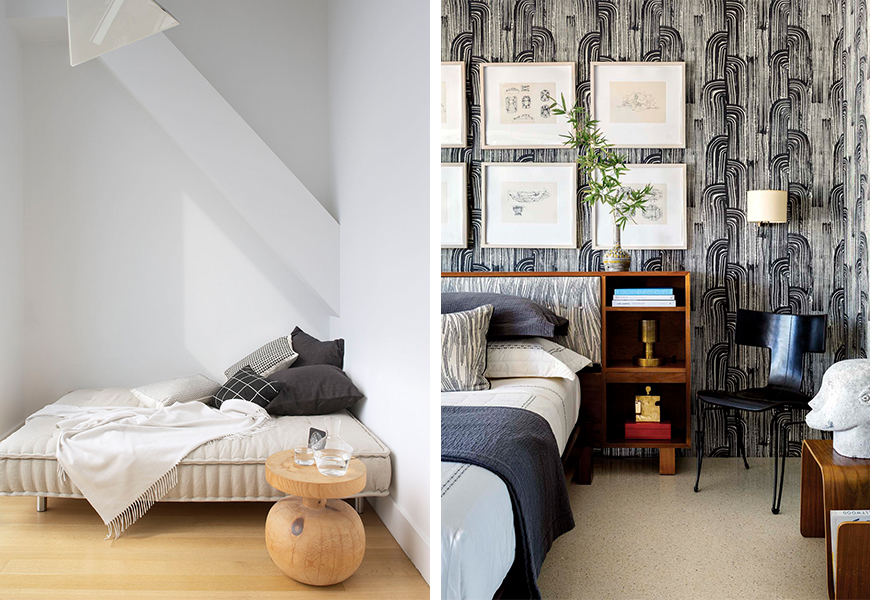 (Left) New York City, New York / by Magdalena Keck Interior Design. (Rright) Palm Springs, California / by Harte Brownlee & Associates.
4. Intrigue is Everything
Whether you experiment with pattern or not, a guest bedroom should never feel boring or uninspired. "Just because it is a guest bedroom, it does not have to be basic or neutral," says Jessica Ayromloo of Jessica Ayromloo Interior Design. "You want guests to sleep well, but to also sleep in an environment they can't find anywhere else."
Above, Sheldon Harte from Harte Brownlee & Associates brought in a brush-stroke wallcovering to elevate the intrigue of this guest room, while balancing the bold pattern with a relatively neutral color. "Before we did this room it was all white and felt cold and uninteresting," says Harte.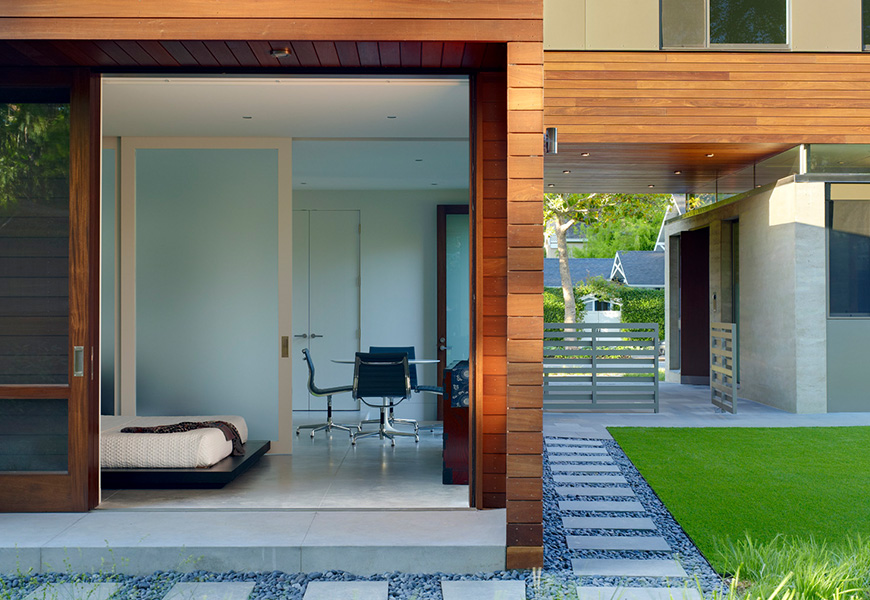 (Above) Palo Alto, California / by Cass Calder Smith | CCs Architecture
5. When it Comes to Square Footage, More is More
A guest bedroom is not less important than the master bedroom, and guests shouldn't be made to feel that it is. Ample space helps accomplish a sense of serenity and ease in the bedroom. "I would say it's most important is to make it as spacious as possible, so it feels more like a master bedroom," says Cass Calder Smith, founder of Cass Calder Smith | CCS Architecture in San Francisco. "I like small walk-in closets rather than two-door closets."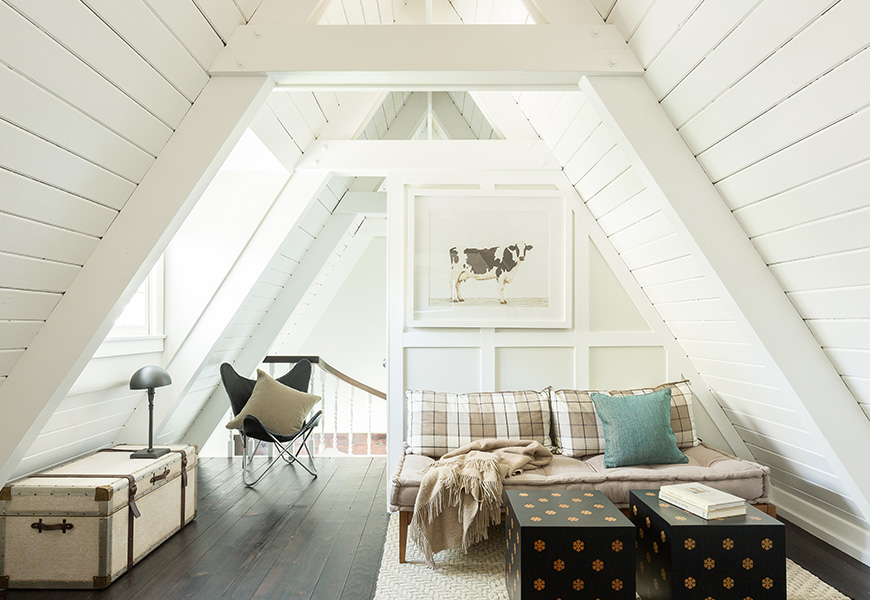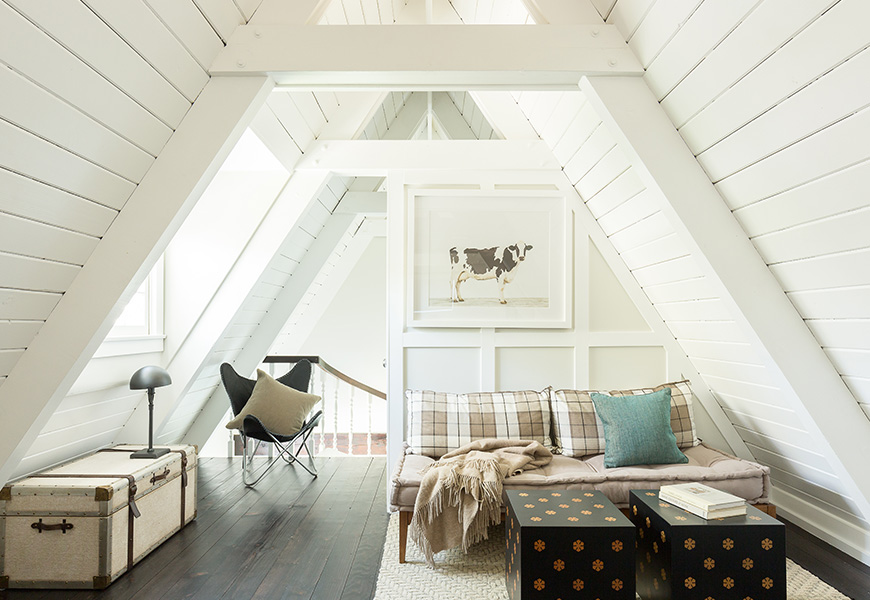 (Above) Los Angeles, California / by Gilmore Design Studio. Photography by Gilmore Photography.
6. Unconventional Spaces Make Great Guest Rooms
If extra space isn't possible, guest rooms can also work in unconventional spaces, such as attics or studies. However, additional elements like a sitting area or desk vignette can help make guests comfortable and at home. "In this guest house attic, we were able to include a lounge space in the bedroom, which is great for guests," says Tracy Gilmore, owner of Gilmore Design Group.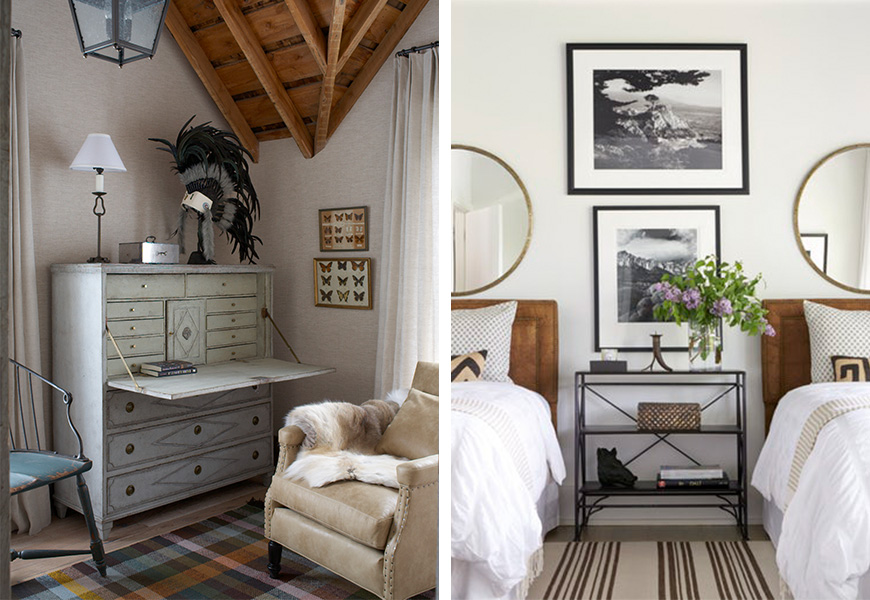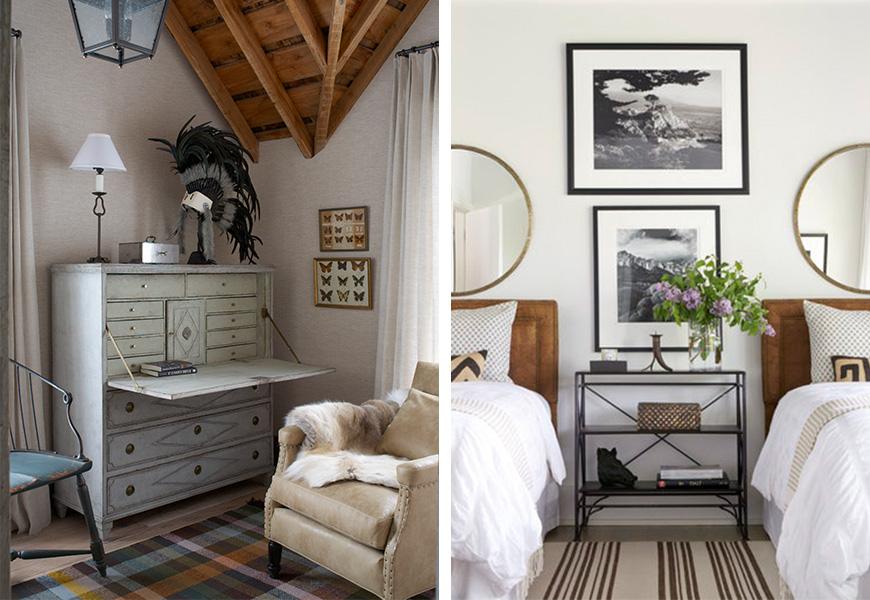 (Left) Montana / by Koo de Kir Architecture Interiors (Right) Smith Lake, Alabama / by Andrew Brown Interiors.
7. Texture Goes a Long Way
Since guest rooms won't include personalized elements, texture can serve instead to bring intimacy to a space. "Layering is a key element of all our interiors," says Irving. "For a guest room, try seeking out cozy, textured area rugs and great bedding with stitching or some other detailing to create warmth, and if your budget allows for wallpaper, that is the fastest path to texture and warmth. Other easy tricks to create a layered and textured space include placing a small flowering plant or even herbs next to the bed, a few well-selected books, and a throw in case your guest gets chilly."
For texture on the bed, Deborah Sharpe, owner of Deborah Sharpe Linens, suggests a silk charmeuse, linen, velvet, or cotton voile quilt. "A decorative pillow or two in a fabric like linen, velvet, or woven silk adds another dimension to the crisp cotton sheets underneath, the texture or pattern on the quilt, and the fluffiness of a down duvet," Sharpe says.
8. Accessories are not an Afterthought
Like texture, accessories work double-time to fill in the gap left by personalized objects. For the bed, Andrew Brown of Andrew Brown Interiors in Birmingham, Alabama, recommends a comfortable headboard, bedside tables that include storage space, a reading light above the bed, hotel-stacked pillows, and layered bedding "so that your guests can add or remove depending on if they are hot or cold."
According to Brown, outlets should be easily accessible to the bed so that guests can charge their devices overnight, and reading material and a nearby carafe paired with drinking glasses add to the comfort of the space. A notepad and pencils give guests the ability to plan out their days — and writing materials are often forgotten at home when traveling. The artwork in the guest room should be "on par with the artwork in the rest of your home, and not like an afterthought," says Brown. Finally, black-out curtains or blackout lining allow for the ultimate relaxing experience.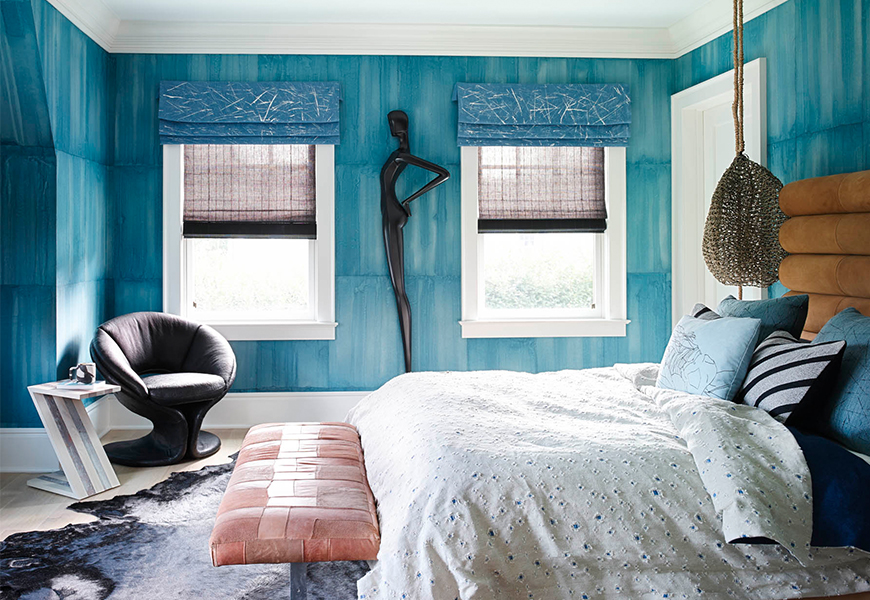 (Above) Southampton, New York / by Jessica Ayromloo Interior Design. Photography by Annie Schlechter.
9. Fit in Hand-Crafted & Flea Market Finds
"For a guest bedroom, my approach is to make it both comfortable and fun," says Ayromloo. Like Brown, she battles blandness with accessories, and she adds that vintage and artisan objects can further enhance the intimacy of a guest space. "Incorporating some elements that aren't simply store-bought, like hand-painted textiles and flea market finds, will make the room feel more personal and more like a home away from home for your guests," she says.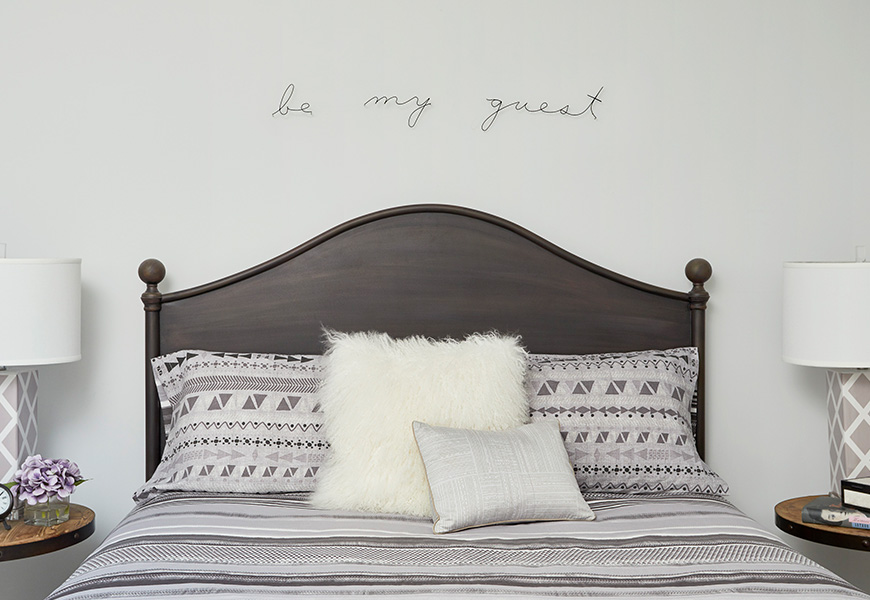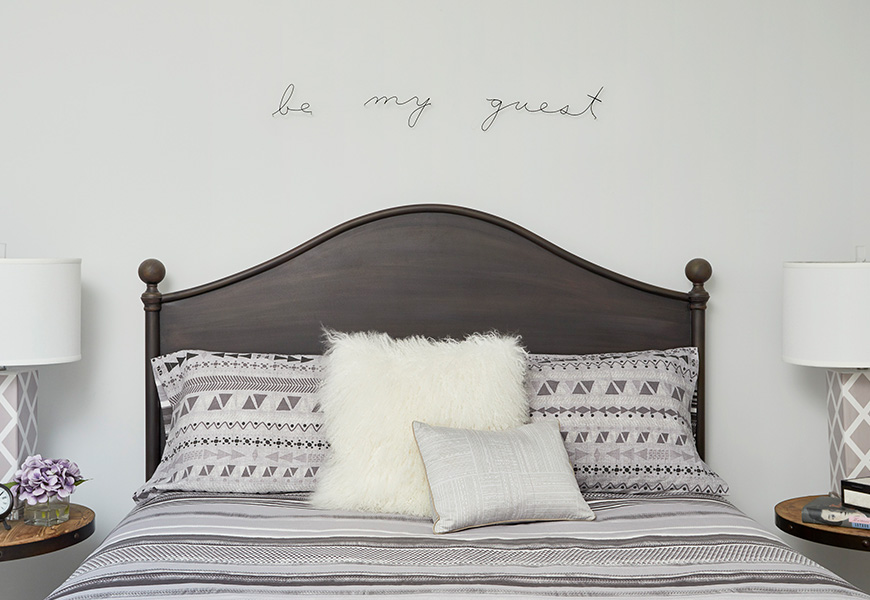 (Above) Larchmont, New York by Silverwing Interiors. Photography by Emily Gilbert.
10. Prioritize Luxurious Linens
Guests may be more likely to remember how they slept than how their room looked, which is why luxurious bed linens are essential in a guest bedroom. "Bedding is extremely important — the softest sheets, down comforters, and perfect pillows," says Sherry.
"A guest room should be a welcoming space that combines the amenities of a hotel with the intimacy and charm of a home," says Alan Weiner, COO at Elegant Strand, a high-end linens brand. Bright whites in fine-combed cotton, like those of the St. Moritz collection from Elegant Strand, complement any space, Weiner suggests.
Maki agrees that quality linens make a difference in a guest room. "I love Matouk and Annie Selke for guest linens," she says. "Matouk has a wonderfully fresh crisp feel to them, and Annie Selke is great for the price point."
"We wouldn't put anything in our guest's room that we wouldn't want to sleep on ourselves in the master bedroom," says Colleen Mistry, product line director at Matouk. "With that in mind, easy-care linens are always a great sheeting choice given that minimal ironing is required." Mistry recommends Matouk's Portofino line, which features an embroidered scallop edge, as well as colorful — yet subdued — prints like the brand's Margot or Alexandra featuring winding foliage.
11. Every Object Has Potential
Since a guest room is generally just that, one room, the design of each object is infinitely important to the overall design and should be selected with care. Minimalism pays careful attention to each object, and pares it down so that its function is clear and integral to the aesthetic. Although not every guest room should be minimalist, each can rely on minimalist tools to create a comfortable, clutter-free area where function is immediately obvious to a guest who isn't familiar with the space. "A minimal approach works well in guest bedrooms because it allows to focus on the very essential needs and execute them in a thoughtful way, paying close attention to quality rather than quantity," says Magdalena Keck, owner of an eponymous boutique design studio based in New York City. "All or some pieces of furniture can act as engaging objects in the space."
For the room pictured above, "all pieces are not only functional but have visual interest, and there is a bit of tension between them," says Keck. "Together these objects were intended to engage with each other as well as with the room's inhabitant in order to make the space feel welcoming for the guest."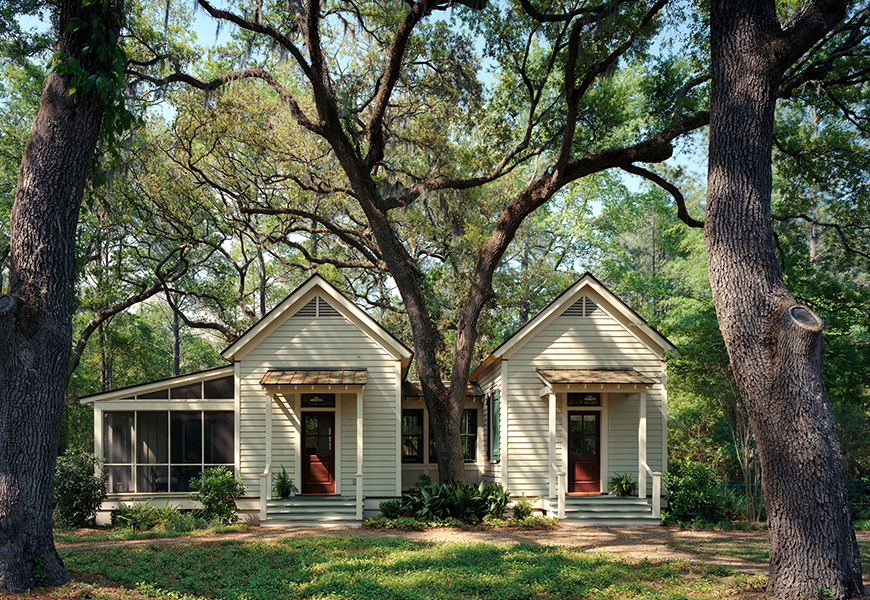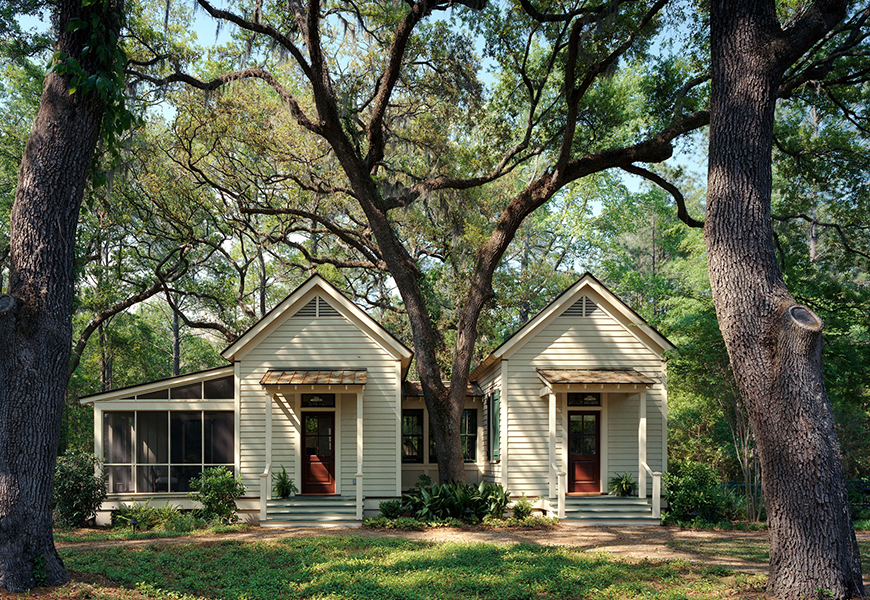 (Above) South Island, South Carolina / by Historical Concepts. Photography by Richard Leo Johnson/ Atlantic Archives
12. Offer Independence
When possible, an entirely separate retreat is a luxurious experience for guests. "Giving guests a fully independent retreat is the ultimate solution for privacy and comfort," says Cogar. "Beyond giving the guest more elbow room, a separate space takes the pressure off both host and guest. Each can function independently, rising and retiring on their own time schedule, for example. A well-designed, separate space is the ultimate in hospitality, encouraging guests to relax and enjoy their visit, without feeling like they are imposing."
A separate house gives guests a sitting room and kitchen, as well as potential outdoor spaces like a porch, and the ability to live their own life without constantly sharing space with the host. However, architects and designers also create ways to structure interactions between guest and host in communal areas. "With separate structures, we also have the opportunity to define the site by framing views or create charm via connective spaces, such as shared porches, pathways, and gardens," adds Cogar.
If a separate house isn't available, vignettes can help create a sense of independence for guests, even if not on the same scale. "I always try to fit in a chair and side table so that the room feels more like a private suite," says Corinne Brown.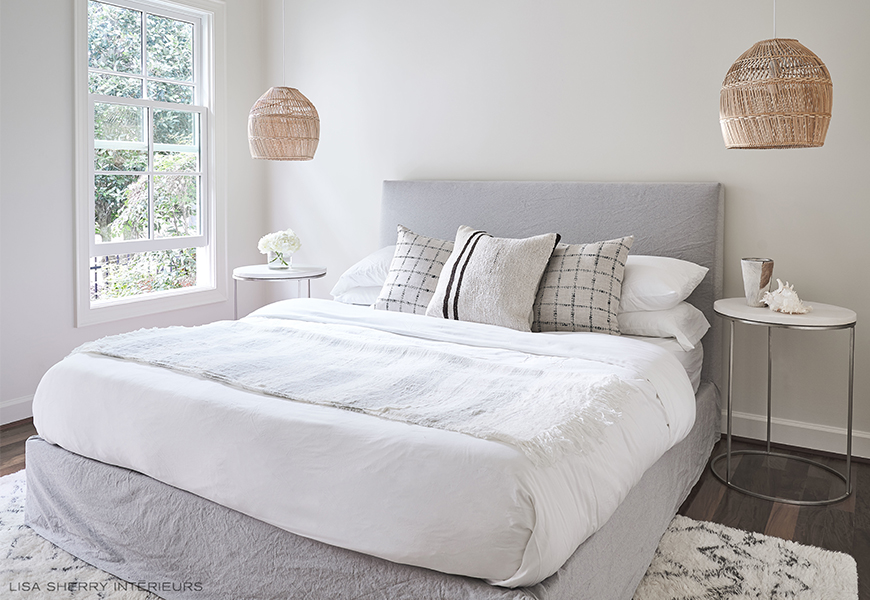 (Above) Wilmington, North Carolina / By Lisa Sherry Interieurs. Photography by Michael Blevins.
13. Keep Calm
Although hosting can be stressful, a beautiful and organized guest room can promote a sense of calm. A guest bedroom should ultimately communicate "serenity and comfort," says Shintaffer. "Great bedding and beautiful objects go a long way in addition to the little functional things like having a place to put your feet up, plug in your computer and unpack."
​​​​
One of the goals of good design is to make our lives easier, and easier means calmer, too. "A sense of calm is always key for sleeping or everyday life," Sherry says. A serene guest room helps with serene living, for both guests and hosts.
See the original story on Dering Hall here.