RELAUNCHED. REDESIGNED. REIMAGINED.
Since 2009, Go Design Go has been a valuable online Trade resource dedicated to covering the happenings within the four Cohen Design Centers; New York's Decoration & Design Building (DDB), Los Angeles' Pacific Design Center (PDC), Texas' Decorative Center Houston (DCH) and South Florida's Design Center of the Americas (DCOTA). GDG is a virtual passport to the world of design and explores news, events, and innovations in the interior design industry across the country and beyond.
Now, the beloved blog is back and better than ever with a new Editor, look and energy, featuring fresh content and bold visuals. Through in-depth articles, show stopping imagery and engaging, reader-focused navigation, Go Design Go is your new morning must-read. The 360º features on the inspiration, production process and creative minds behind new collections and spotlights on the who's who of yesterday, today and tomorrow allow unique access to all disciplines of design.
Included in the re-launch are several new features including the series, Behind The Glass that explores the world of creativity within the confined spaces of the CDC display windows. Explore top events On Tap, and virtually stroll through our Gallery.
---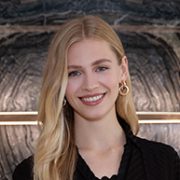 Isabelle Harrington is the editor of Go Design Go. She has a B.A. in journalism from the University of Oregon with a minor in interior design. Her passion for magazines and interiors support her pieces.
_______________________________________________________________________
PDC – West Hollywood, CA
DDB – New York, NY
DCH – Houston, TX
DCOTA – Dania Beach, FL