Life is never boring for Caroline Kopp, the principal and founder of her namesake Westport-based design firm. From a young age, Caroline's desire to find beauty in the world, induced travels far and wide. After attending New York's Parsons School of Design, Kopp continued her education with a sabbatical at Sotheby's Institute of Art in London, studying decorative arts.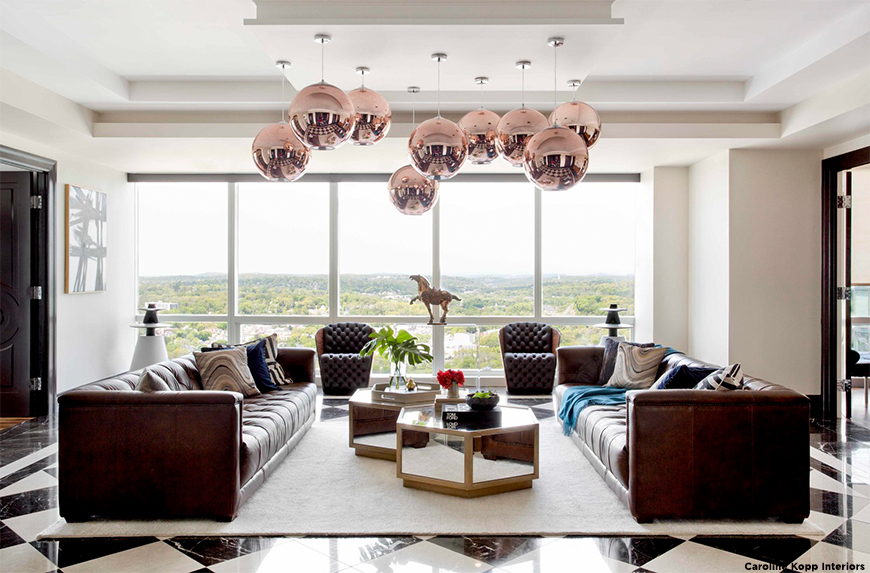 Well-trained and learning from the best in the business, such as Thomas O'Brien, Victoria Hagan and Foley & Cox, Caroline's design philosophy calls for a fresh approach, mixing texture, color and compelling silhouettes. Caroline brings confidence and creativity wherever she goes – and her schedule is jam-packed. GDG follows Caroline for a day in her life, where it's clear that work and family are cherished. Check out her 6-5 day!
6:00 am
Laying in my bed I can see the orange glow of the sun coming up. I am awakened by the sounds of my baby requesting his breakfast. Soon he and his sister are piling into our bed for snuggles.
6:45 am
I am a breakfast person, as well as a coffee person. My signature drink is a soy latte with flavored nespresso and grated nutmeg on top. YUM! I drink water and don't forget to take my vitamins!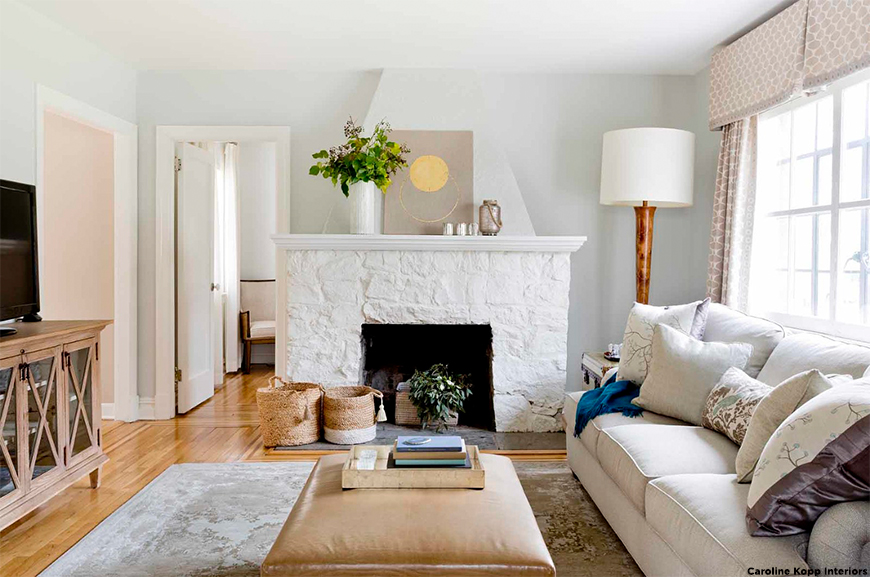 7:30 am
Two words. Bar. Method. – I have become addicted to this workout. The studio in Westport is brand new and beautiful, with awesome music. During my workout I visualize rooms in my mind — I often discover a breakthrough design or business idea in the midst of exercising.
9:00 am
Time to get organized and focused on project logistics. Each workday I start by checking in with my team, clients, contractors and vendors. This business is all about frequent status checks and temperature taking. Keeping the lines of communication open and being constantly available to answer questions is a must. I'm always mindful of staying ahead of issues and deadlines.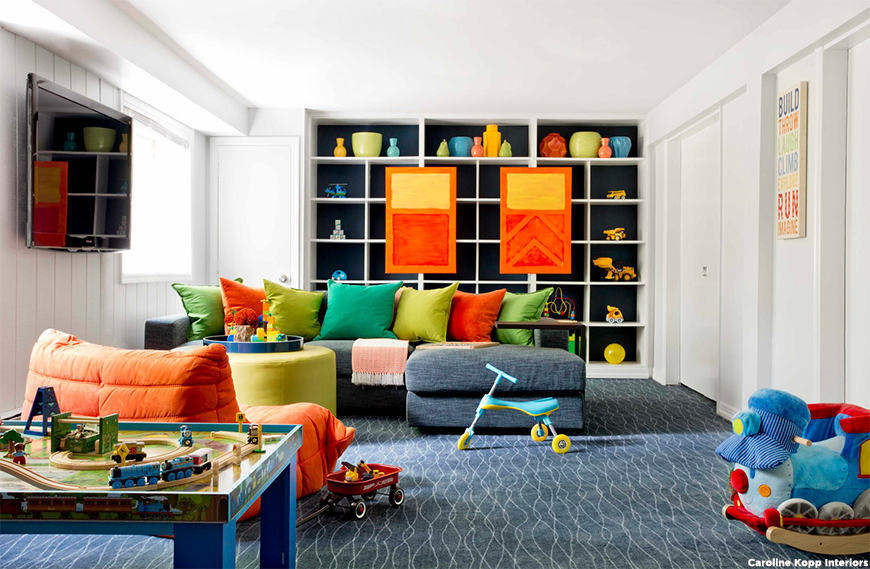 11:00 am
Sometimes my job involves begging. Today I am asking Pierre Frey to make a strike off of a custom fabric without a firm order, because my client is having trouble pulling the trigger without seeing a sample in her chosen colors. Pierre Frey is an amazing fabric house that carries Le Manach, a 190-year-old French manufacturer. They do a gorgeous line of wovens that can be ordered in custom color combinations. My client and I walked into their display and just fell in love. Soooo luxurious…..
11:30 am
Head to Everest Marble in Norwalk. I absolutely love stone — a visit to pick counters at a stoneyard is a total treat for me. I have long wanted to hang up a marble slab on the wall as a piece of art. The guys there are really cool, Rob shows me some awesome fireplaces they have provided stone for, as well as some new slabs with a linen texture incised into the surface. I come away inspired by the things I've seen.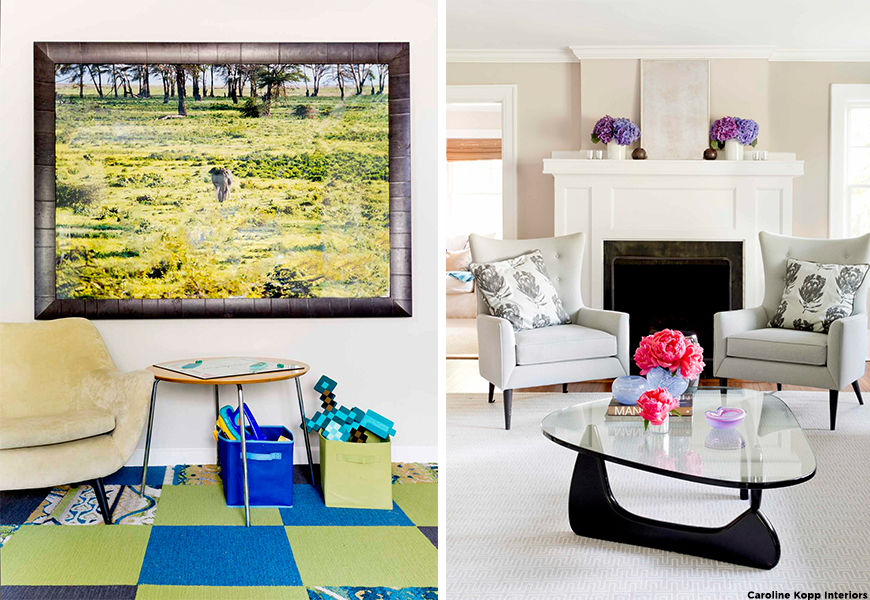 12:15 pm
Pop over to Knock on Wood to check on a table I am having made. They are right in the same neighborhood. I love efficiency so I plan my week to minimize driving. Knock on Wood is a super cool woodworker who creates custom tables and other unique pieces so there are always new things to see there. They also have a presence at Brimfield and Round Top and have a great eye for vintage pieces, which they sell in their showroom. While I was there they were in the midst of negotiating a large purchase of Juju hats that came straight from Africa.
I love chatting with passionate craftspeople — it always gets my creative juices flowing.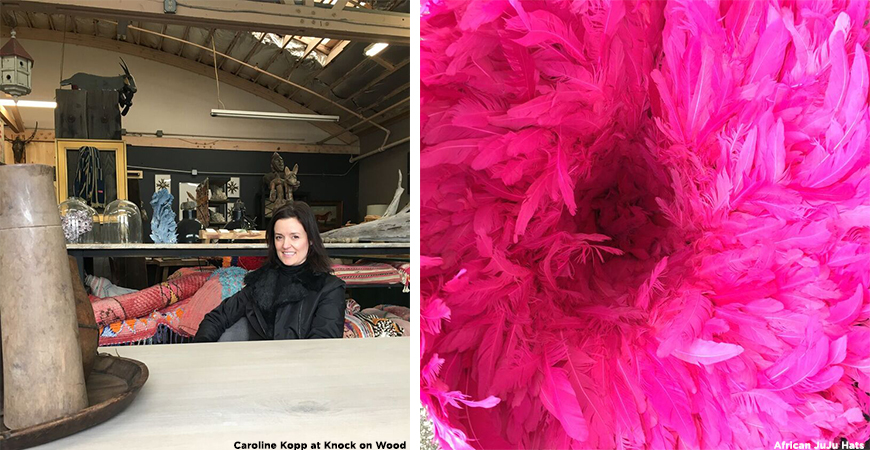 1:30 pm
I am suddenly ravenous, time to hit the Starbucks drive-thru for some delicious sous vide egg bites. I work through my email while I wait. In my town of fit-focused women these custard-like egg bites are so popular the red pepper ones sell out by elevenish. But I love the bacon and gruyere ones! Now I'm re-fueled and re-charged to get through the afternoon.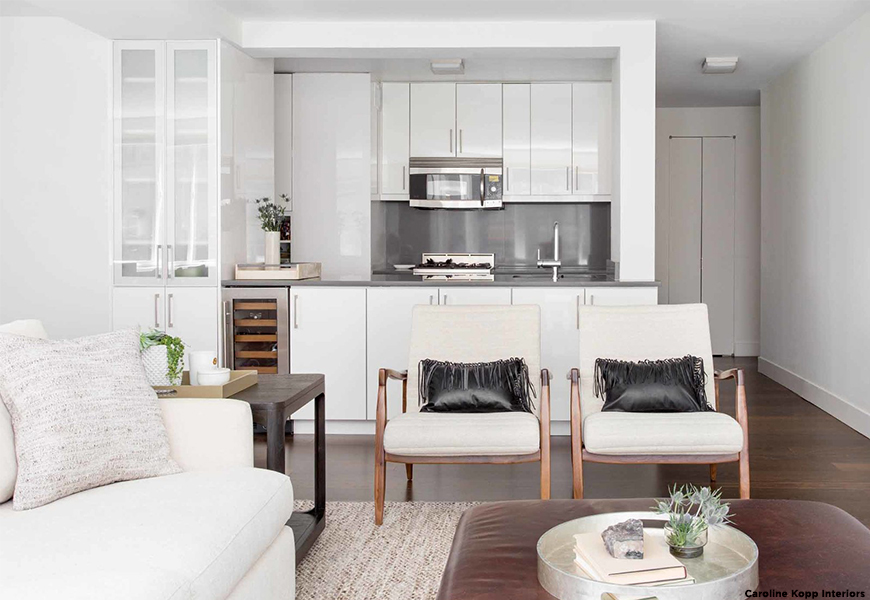 2:00 pm
Meeting at my architect's office to review interior elevations for the new house we are building in Westport. This is the ultimate project – I am obsessed. Working on my own build has given me tons of insight into what it's like to be on the client side. Fortunately, I have assembled a team I really trust. Looking forward to getting to the fun part of decorating the home.
3:30 pm
Posting to Instagram and ticking off marketing to-dos. Self-promotion does not come naturally, but I think I am getting the hang of it.
4:00 pm
Log onto the Lee Jofa website to quickly check status on some fabric orders I placed on my last visit to the D&D. So hard to make people wait in this day and age, but good design takes time. Thankfully order tracking is super easy to do on their website!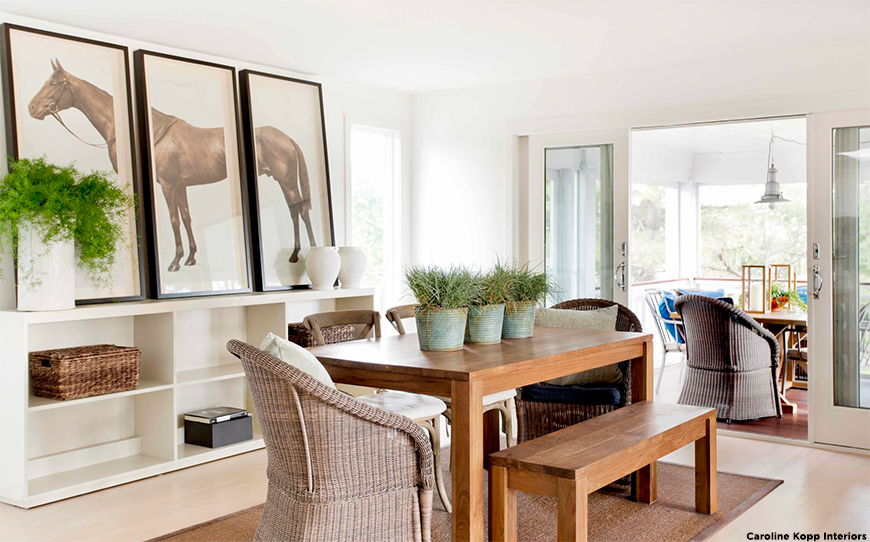 5:30 pm
Time for some fun. Fairfield County has a close-knit design community and lots of great design events. Tonight I am going to a Connecticut Cottages and Gardens event. Editor DJ Carey is an excellent speaker and it will be great to catch up with my design friends too!
Enjoyed seeing the design world through Caroline's eyes? Stay tuned for more A Day In The Life features coming soon! Shop Lee Jofa at DDB Suite 234, PDC Suite B639, DCOTA Suite C-150 and DCH Suite 150 and Pierre Frey at DDB Suite 1611 and DCOTA B-101.