"After more than 40 years in the industry, people ask if I see myself slowing down – I DO NOT. As an active designer, photographer and passionate traveler with two businesses, I truly enjoy feeding my curiosity and remaining active."
– Vicente Wolf, Vicente Wolf Associates + VW Home
Born in Cuba, Vicente Wolf moved to New York City at 18, first working in advertising, modeling and acting before becoming self-taught in interior design. Influenced greatly by David Hicks and Jean-Michel Frank, this AD labeled 'undisputed minimalist master' has a range of design talents demonstrated within his commercial projects including the Luxe Rodeo Drive Hotel in Beverly Hills and six restaurants for the Wynn Hotels and luxury private residences such as the penthouses at Manhattan House.
Vicente Wolf is known for elegant, relaxed and peaceful homes, restaurants and commercial properties – always infused with his special brand of drama. For over four decades, Vicente Wolf Associates has fostered the global development of his brand, earning many, many design-industry accolades along the way, appearing in numerous publications and opening a new venture – VW Home.
From owning Frida Kahlo's family albums to being a designer for Ann Sacks and Baccarat, Wolf has basically seen and done it all. But, GDG wanted you to see what Vicente Wolf does in one day.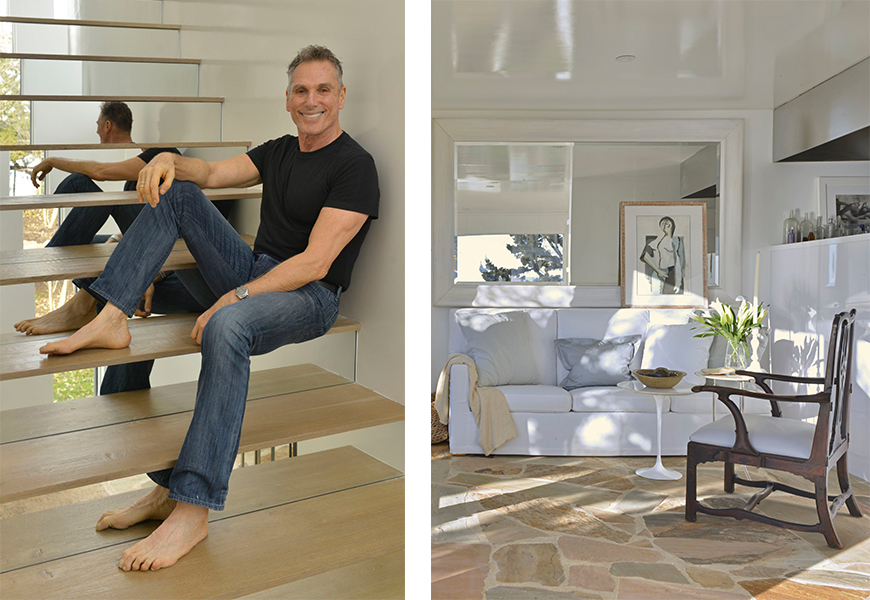 5:33 am – Get up, never with an alarm and get ready to go for a one-hour run. I return and do sit-ups and feed the cat and fish.
7:27 am – Meditate for 30 minutes and get ready for the day.
8:31 am – Make tea and head to the office, just down the street.
8:43 am – Go through emails and messages and greet the staff as they filter in.
9:25 am – Put finishing touches on a bedroom in Seattle, which requires one of our interns to go to Donghia in the D+D Building to source a fabric for the headboard. I'm sure she'll come back with a nice selection of soft blue-green options to choose from.
10:05 am – Prepare plans for an outdoor barbeque for a job in Old Westbury, Long Island and explain details to my assistant to draw it up.
10:17 am – Jump next door to my VW Home shop to review the new elephant heads I purchased from a tattoo parlor in Bangkok and inlaid pieces that just arrived from India. If I do say so myself, they are wonderful. Discussed updates with Trudi Romeo the manager.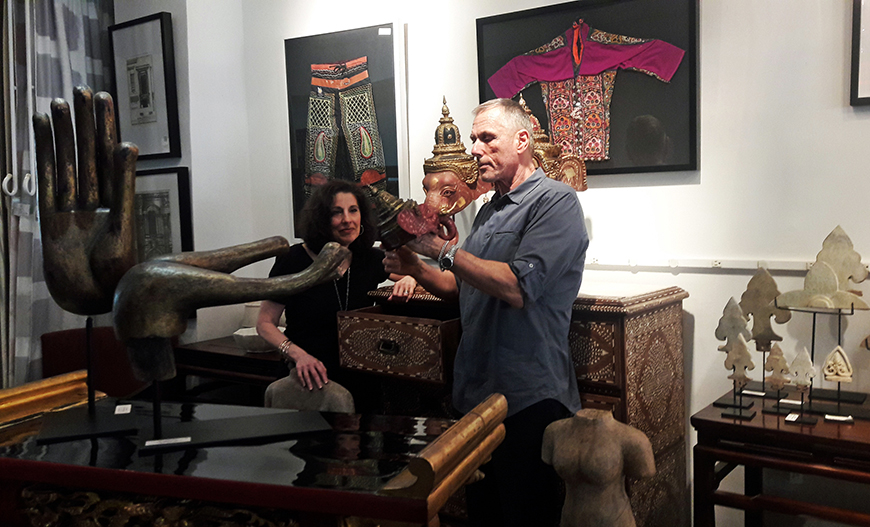 10:41 am – Go over photos with staff to determine which are of interest for my Instagram posts.
10:50 am – Meet with Stark Carpet rep at the office with the design staff to see the new product presentation. Very impressive!
12:03 pm – Listen to phone messages and return client calls in my comfy chair.
12:25 pm – Enjoy my salad and cantaloupe in the lunch room. I do not have my own office at the studio and enjoy the downtime mixed with friendly banter with my staff.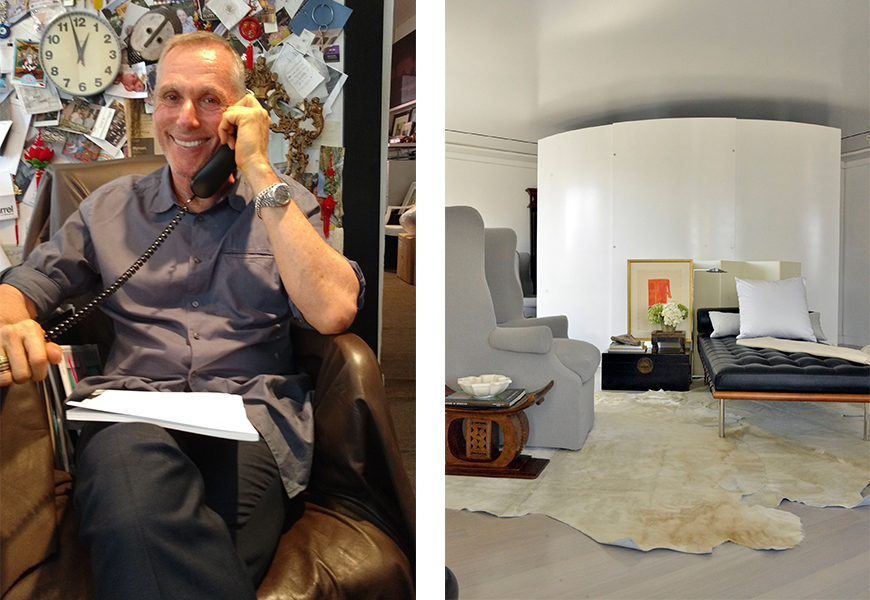 1:05 pm – Walk around to each of the designers for updates and to weigh in on the projects they are working on.
2:14 pm – Move into my marketing director's office to go over various items: contest judging requests, media outreach, PowerPoint presentation for upcoming speaking engagement and the website design for my newest venture, The VW Collective.
2:52 pm – Sit down with one of the designers to go over color new concepts for a restaurant design in Macau, China.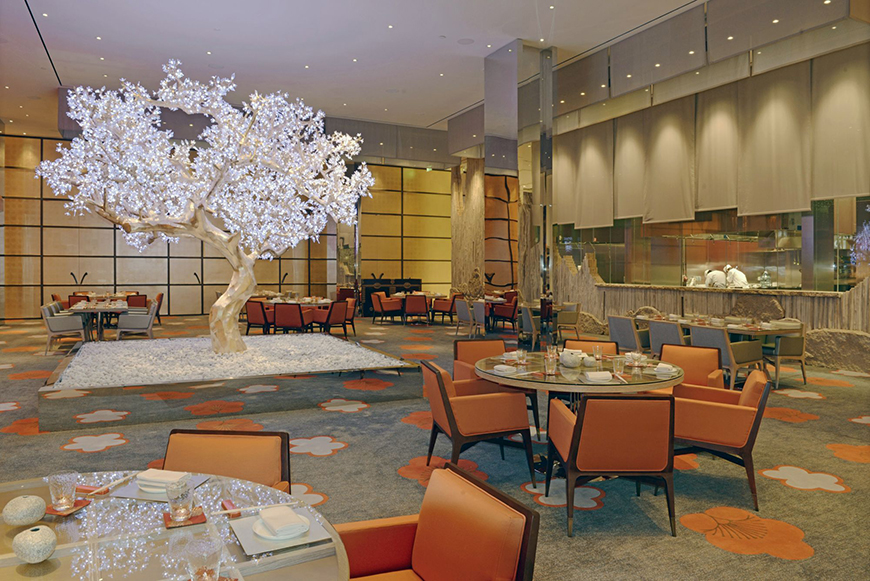 3:00 pm – Reviewed intern's finds from Donghia…excellent choices!
3:08 pm – Go to a job site on 5th Avenue to deal with an unforeseen problem, which got worked out with everybody putting their heads together.
4:20 pm – Skype conference call with overseas client and contractor to discuss project solutions and progress.
5:15 pm – Go home and get ready for my trainer to work out for an hour.
7:00 pm – Head to the theater to see Three Tall Women with an old friend.
10:45 pm – Go to bed!
Goodnight Vicente! Thank you for letting us peek into your full design day. Continue the fun by wearing a touch of Wolf every day and shopping for your home today.