You can think that paint is paint is paint – but you can't think it about Atelier Premiere – NY, the American branch of French paint group Atelier Mériguet-Carrère. GDG sat down with the leaders of the company and learned that there's more beyond the plastered, gilded, embossed, or metalized surfaces; The magic that meets the eye are layers of a perfected paint cocktail, mixed and applied by the hands of artisans, some with years of skill and seas of knowledge, and some who start with none. But Atelier Premiere casts a wide net in its aesthetics, styles, employees, and clients that there's a place for everyone there. Now there's a place for them at the DDB.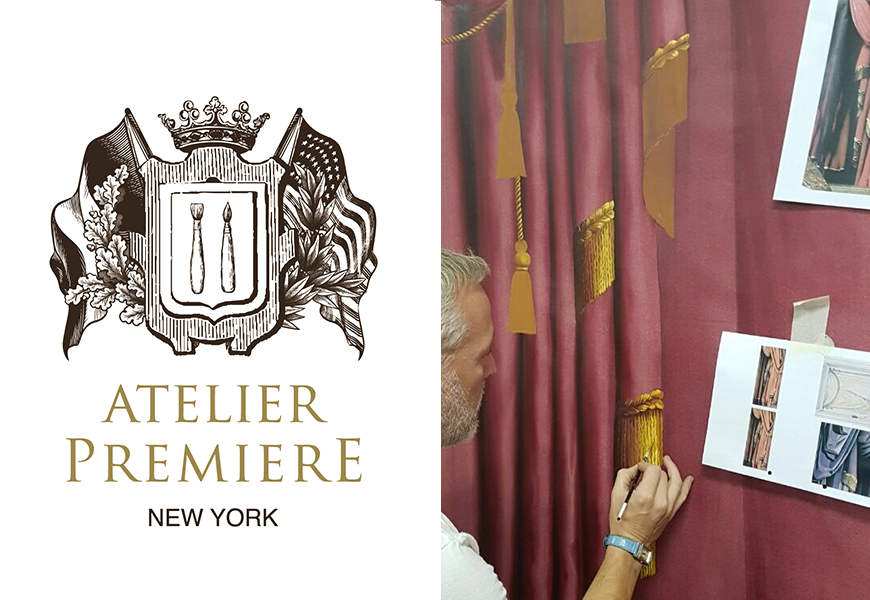 Whoever said "it's not how you start, it's how you finish" was wrong – at least in this case. "The work preparation is crucial. You can have the best decorative painters in the world, but if the prep is not done properly they won't be able to finish anything nicely," said head of business operations Nicolas Garnier, as he and CEO Philippe Courtois educated GDG on almost everything we needed to know about their company's product and innovation of traditional paint applications.
After crossing paths in real estate multiple times in France and moving to New York around the same time about six years ago, Courtois and Garnier decided it was time to work together. Courtois, whose brother founded the paint group 15 years ago, moved Atelier Premiere to the States to grow its base. "We needed a place to get us somewhere," Courtois said, "Six years ago we arrived with Nicolas to try to transform Premiere. [We came] to settle a brand new company which could be independent of the group and from Paris with our own clients, our own decorative painters, etc."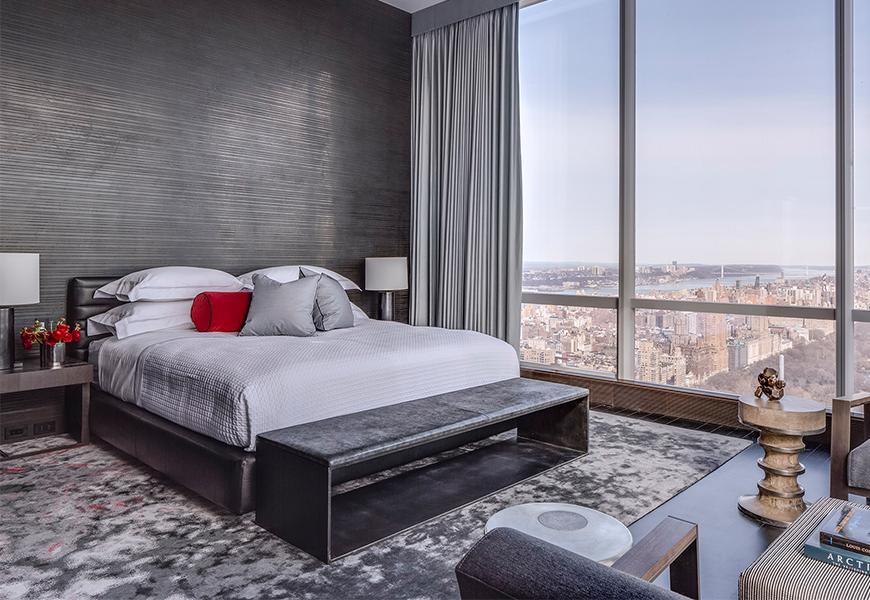 (Above) Residential Project at One 57 for DRAKE ANDERSON
"To know that you have a French company dedicated to decorative and high-end finishes like this, but based in NY for the US market, is an asset to everyone," said Courtois. He also mentioned that their paint decorators in France are confident with the work happening in the states, as they're unable to travel back and forth for every project. "We can be their eyes and hands, which is very comforting," Courtois said.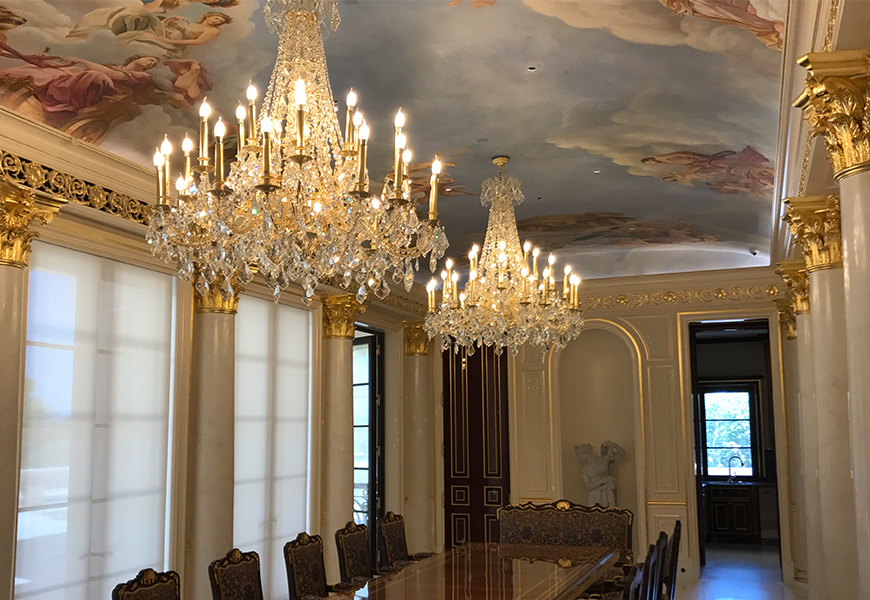 (Above) Palais Royal in Florida
Courtois and Garnier's first project together, soon after they arrive to New York, was the French Embassy's Albertine bookstore. Atelier Premiere was in charge of the painted space, recognized for the exquisite star-painted ceiling. Courtois worked with another familiar face on the project, French Interior designer Jacques Garcia. "I've worked with him for decades. It was like a sign. It was very welcoming to feel directly part of something having just arrived in NYC," Courtois said.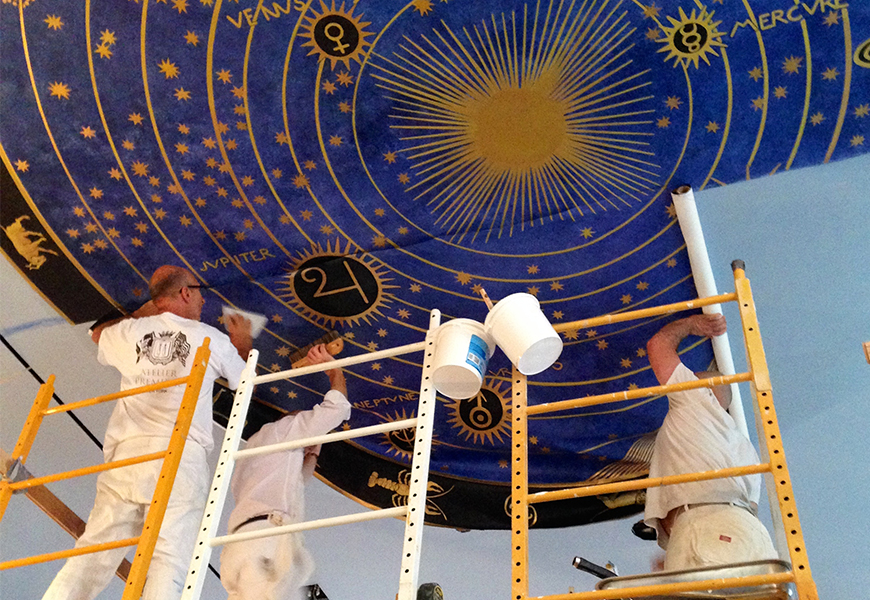 "We are decorative painters. We don't do fine art but the result can be artistic," said Garnier.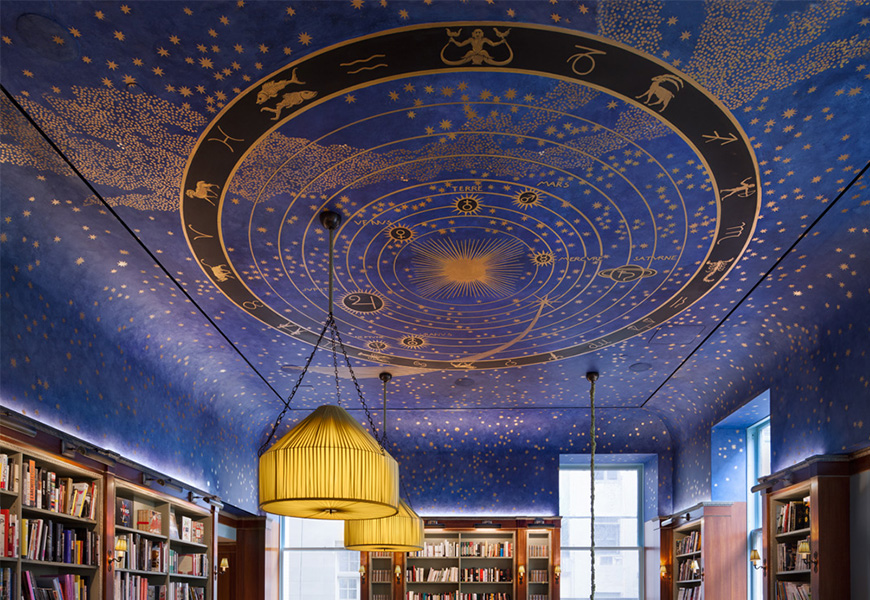 (Above) The French Embassy's Albertine Bookstore, Painted by Atelier Premiere
Other public and notable Premiere projects include the Oval office during the Obama Administration, The Qatar Mission at the UN, and retail flagship store for The Row and Balmain. Some of Atelier Premiere's most talented and experienced artisans have applied gold leaf painting in Louis XIV's bedroom at Versailles.
"It's very interesting to be involved in public projects like the stores because you can speak about it and people know what you're talking about. For example, The Row [Mary-Kate and Ashley Olson's fashion line]. Each time I speak about The Row to clients they'll say "oh my god, yes, of course, it's the most beautiful thing in the world," Garnier said. He and Courtois both love residential projects, but they are more private, meaning it's a bit trickier to share once the project is complete. "It's just between you and you," Courtois emphasized.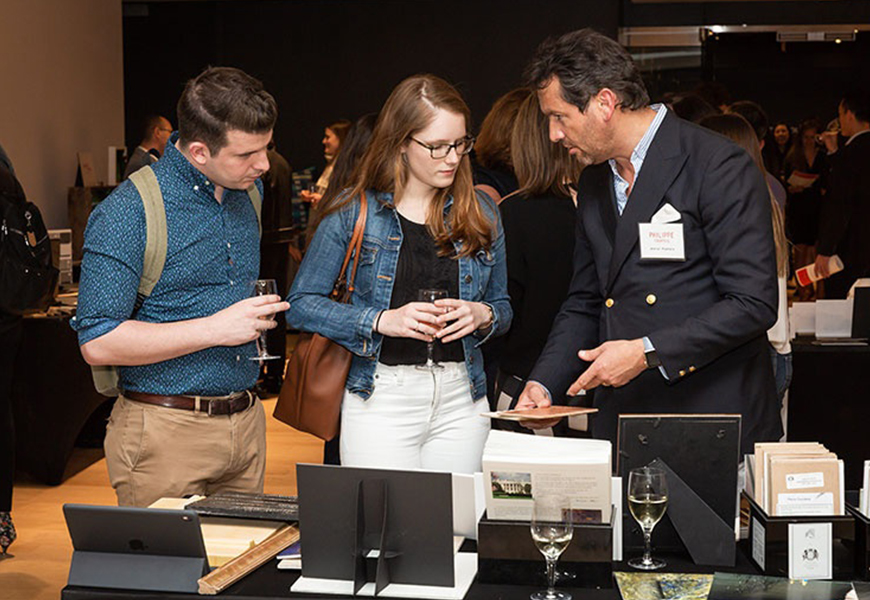 (Above, Right) CEO Philippe Courtois
For Courtois and Garnier, no project is too small or too big. For instance, they consistently return to past projects to make small touch-ups. "Especially in New York, the buildings move a lot," Garnier said. They want their work to be in the best condition possible, always. "The fact that we're always coming back 'on the crime scene' is because we want everyone to be happy before we leave," Courtois said.
(Above) Paint by Atelier Premiere and designed by DRAKE ANDERSON for Kips Bay 2018
Their roles in the company play a part in their goal of client satisfaction. For instance, Garnier is in charge of managing job sites and seeing projects through. "My role is to identify the need and to the best painter for a job," Garnier said. They mentioned that many of the painters join the company with basic painting skills and train under them. They pair low skilled painters with highly experienced artisans to give the trainees exposure. "Our objective is to find [painters] with a good state of mind and with the ability to improve themselves," said Courtois.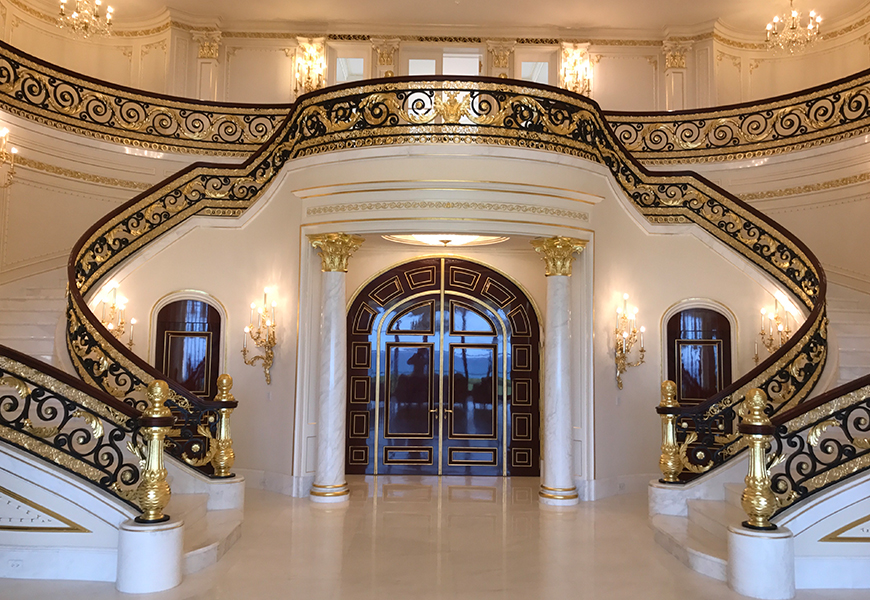 Atelier Premiere's project in Miami, Florida
Courtois takes on a complementary role to Garnier, being the face of the company and liaison between everyone involved on a project. The two of them enjoy the collaborative efforts that come with the painting process.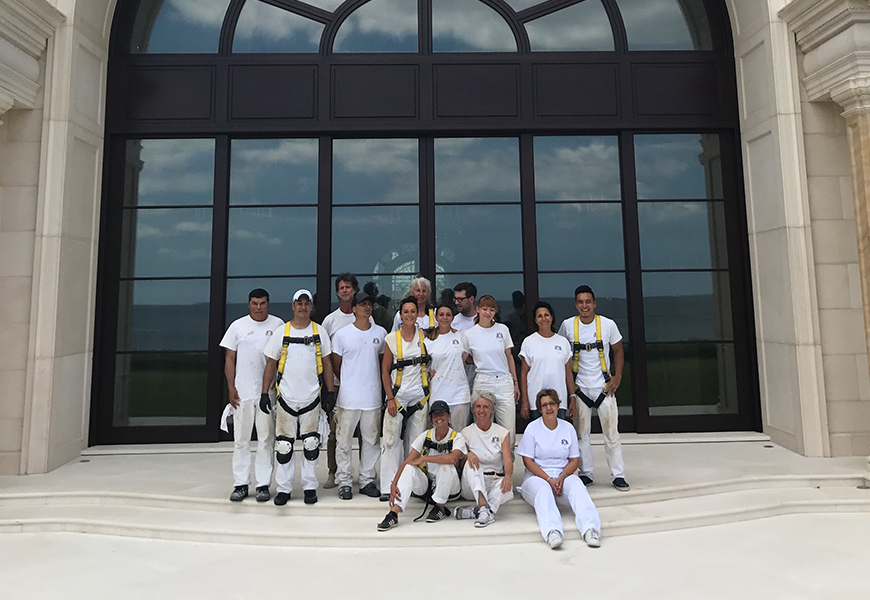 (Above) The Atelier Premiere team
"We're not painters, but after all this time, we pretty much know exactly what should be done, how it should be done, etc. Our position is important on the project field because the experience shows you really need someone between the designers, the clients, and the artisan. They don't speak the same language. We know the context; We are the translators," Courtois said.
(Above) ARISTONE special finishes on walls for a private penthouse in Tribeca
Nothing was lost in translation in everything Courtois and Garnier shared with GDG – they did what they do best.
On Friday, January 25th Sotheby's co-hosted an event with Atelier Premiere in The Gilded Age Revisited exhibition. Atelier Premiere created a faux stone feature wall which showcased property from the Collection.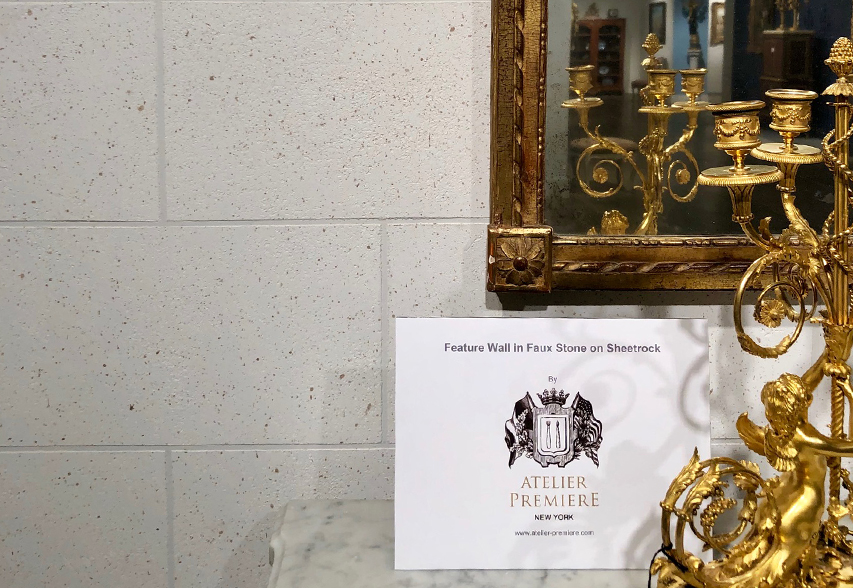 Sotheby's invites you to place your bid now in their single-owner live auction, The Gilded Age Revisited. This auction honors an important American collector who spent decades assembling a fine group of paintings, ranging from Old Masters to Impressionists, exceptional pieces of 18th and 19th Century continental furniture, decorative arts and Asian art.
Register to bid live online during the sale or place your bid now before the live auction begins this Saturday 10:00 am EST. As the live auction begins, enter the "Bidding Room" to bid in real time or follow the action remotely. Or attend the auction in person! Your online registration will also allow you to seamlessly pick up an in-room paddle.
Learn more about this new way to bid early.
For assistance with registration and bidding, please contact enquiries@sothebys.com or phone +1 212 606 7000 from the US or +44 (0) 20 7293 5000 from the UK.
The Gilded Age Revisited
Exhibition 25 January – 1 February
Live Auction 2 February 10:00 AM
Sotheby's New York
Meet Atelier Premiere's Philippe Courtois and Nicolas Garnier in their newly opened DDB Showroom, Suite 1600! Stop by on Thursday, February 7th for their grand opening soirée from 10 am- 8 pm. French pastries, drinks, and painting demonstrations await you!
Peruse their website and Instagram here!