"We're really into comfort. Not some abstract idea of what a comfortable room should be, but real comfort – the kind where you can happily drift off for an hour or two with your dog at your feet."

–Jeffrey Alan Marks
Jeffrey Alan Marks proves that fresh informality is the key to livable interiors. From London townhouses to Malibu beach compounds, Jeffrey's spaces are purposeful and authentic, and basically being begged to live in. But, besides his artful interiors, his playful charm often finds itself within "JAM Approved" collaborations, as well.
JAM has picked up where he left off with his soothing second collection for Kravet, Oceanview. GDG takes a deep dive into this coastal chic collection that is creating waves (while also being inspired by them).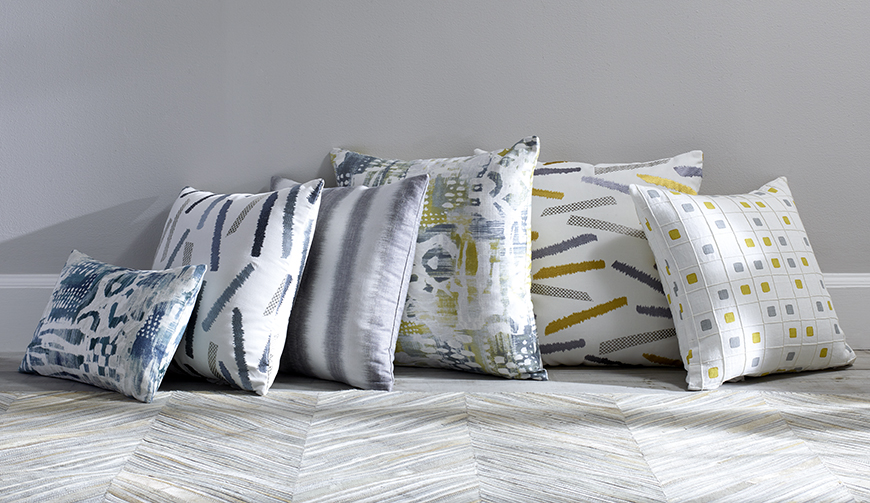 "For my second collection, I felt the client and the house in which the fabrics would live was a more contemporary, clean environment. Less cluttered and more transitional in feeling," Marks said. "The ideal house would overlook the sea, or at the very least create a coastal feeling in their home."
Inspired by serene sea waves, the collection offers powder, "JAM" blue and subdued chalk white as a classic pairing, while incorporating linen and grey neutrals with pops of citrine, indigo and teal. In particular, a major color inspiration for Marks was him imagining the sea under the shining moonlights.
Some of Marks' favorite pieces within this collection include Whitecap in Dune, Immersive in Pewter, Surfwood in Ocean and Gridwork in Ocean, but the collection is vast and versatile. Tramonto in Oyster was even used to make a raincoat for Marks' dog, Coal!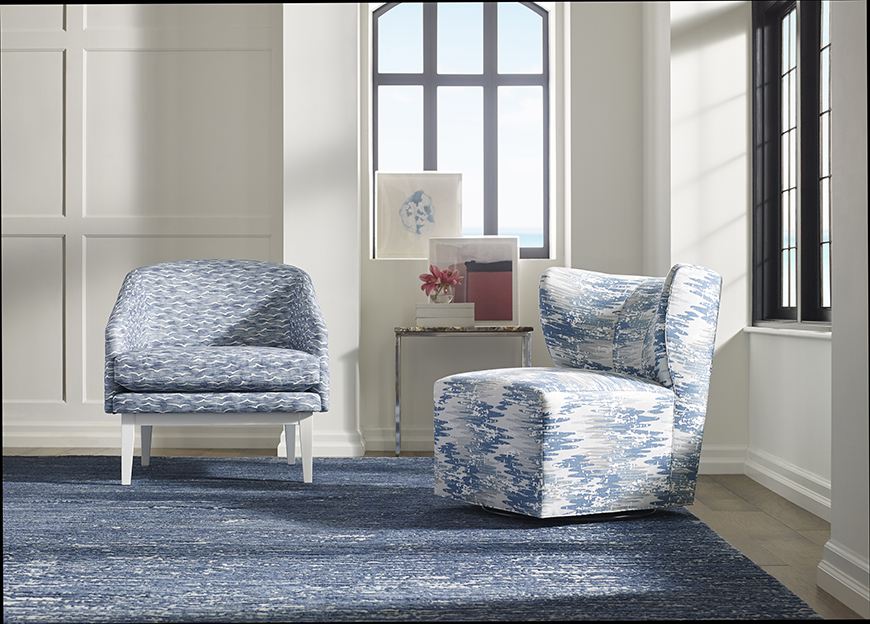 This collection aims to create traditional patterns in a modern way highlighting a variety of printed and woven textures, as well as contemporary sheers. Gridwork is a modern print that is pin-tucked with embroidery pleats, while Kahuna and Littlerock are textured velvets. Lachman is a contemporary take on a fishing net, except its made of 100% silk. Lunada and Temescal are two washed linen sheers offered in soft neutral colorways.
In addition, Immersive, one of Marks' top picks, is a heavy jacquard chenille, while Whitecap, another JAM approved choice, is a screen-printed pattern that aims to mirror its tidal namesake.
The previous collection for Kravet has also received a few prime updates; Surfwood has a new modern teal color, while Branches, a best-selling modern silhouette of trees, and Chromis, an ethereal print with metallic accents have received updated color stories as well.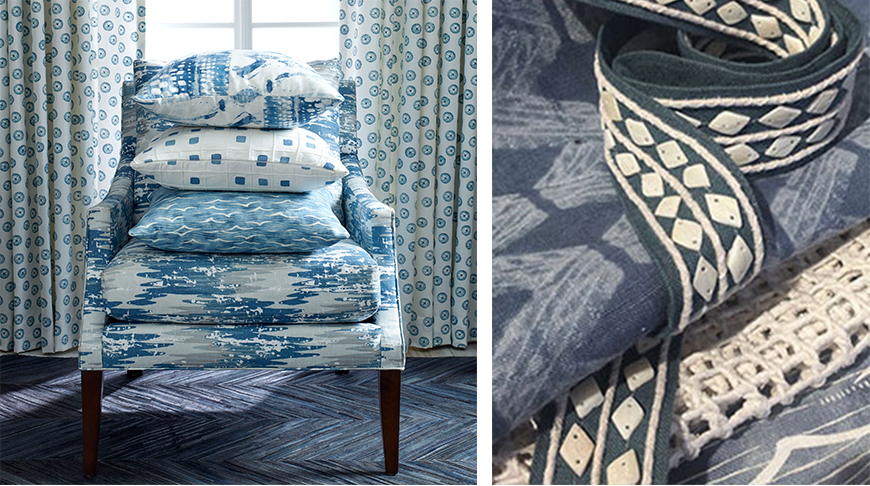 Lastly, three unique trimmings top off this seaside collection with options to personalize each design. Fisherman's Net uses a wide cotton border with natural twine cording that resembles an actual fishing net; Shell Collector is a naturally dyed cotton indigo ground that is embellished with seashells and cotton rope; and Wave Curl features an embroidered design inspired by rippling ocean waves.
Inspired by the desire to create a more sophisticated palette for the new beach house, Marks said, "I use many fabrics every day for every client. I strived to create a collection that not only would be selected by the masses, but also selected and used by my design studio as well! Fabric plays a forefront role in my designs. It is so natural for me to plan a design around a fabric. This collection will help provide inspiration for my future projects."
To be swept away by the waves within this collection visit Kravet in the D&D Suite 1202, the PDC Suite B690, the DCOTA Suite B-180, and the DCH Suite 150.