20 years ago, artist, product designer and founder of Weitzner Limited, Lori Weitzner met artist Pamela Smilow and fell in love with her work. Fast-forward to present day, and Weitzner Limited has released a "Painter Series' textile and wallcovering collection which features work from various artists, including Pamela Smilow. As a painter and lover of handmade craft, Lori Weitzner set out to create a fabric line that's close to home, honoring artists alike and pushing major boundaries with dynamic pattern and color.
Lori Weitzner believes in every piece of her work: "I love all of my collections, they're kind of like my children." But Weitzner said she was looking forward to getting back to the brand's roots of handmade work while still leaving room for growth.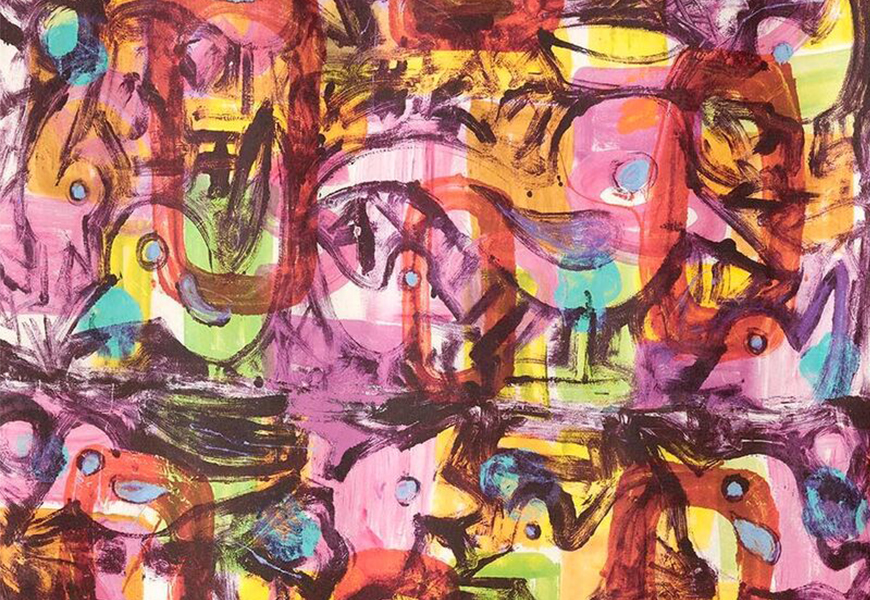 (Above) 'Aviary' Design Inspired by an original Smilow piece
"We wanted to get the soul back into the product, and best way to do that is by hand. We wanted to do something more dramatic in our wallcoverings. We wanted to just blow it all, with more color and more expression. It's a time to be more expressive right now."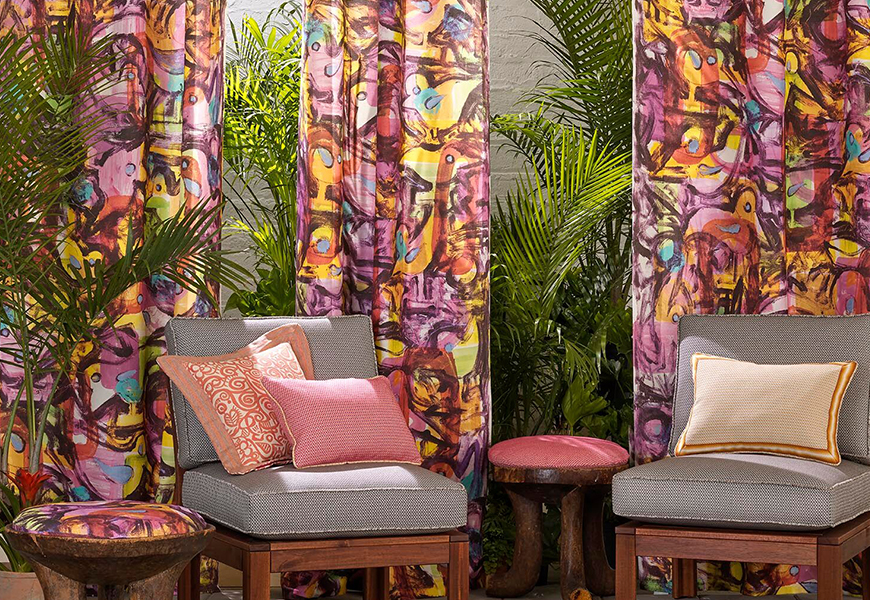 Weitzner found joy in Pamela Smilow's work and wanted to replicate it in the collection.
"If the process is fun and joyful, then the end result will reflect that. It's sort of like cooking. You put in all the right ingredients and you enjoy it, the prep and the process. It's just like anything. You can tell if there was joy behind it," Weitzner said.
Lori Weitzner and Pamela Smilow's longtime acquaintance, which blossomed into a friendship and eventual collaboration, gave life to the new collection of wallcoverings and textiles, many inspired by Pamela Smilow's original pieces. According to Weitzner, it was the first time Weitzner Limited had worked with a designer who wasn't on the internal team. "It kind of liberates you to do something you don't always do. That was an advantage of working with an outside artist," said Weitzner.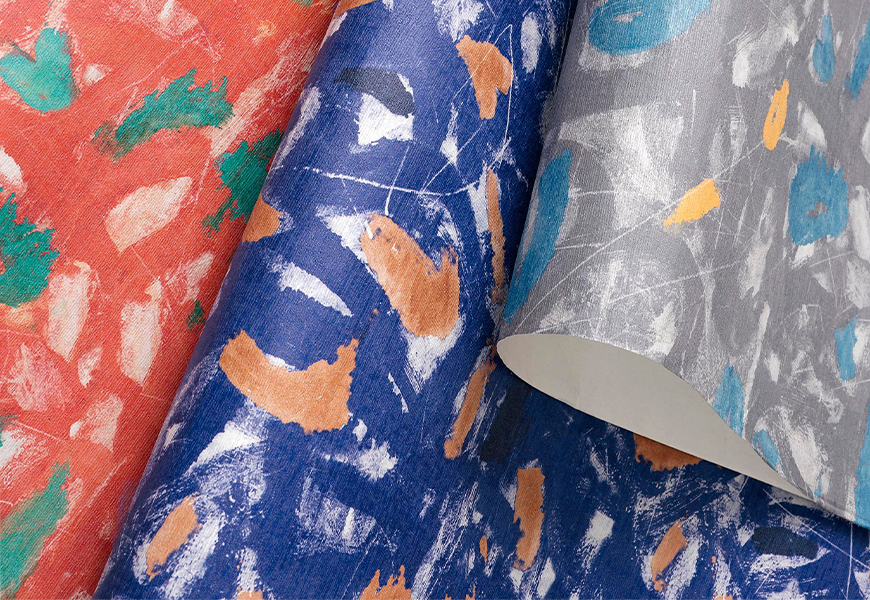 (Above) 'Expressions' design inspired by original Smilow piece
That's not the only thing different about this Weitzner collection. Not only do Weitzner and Smilow agree that it's much brighter than typical Weitzner collections, it's also the first collection that implemented digitally printing.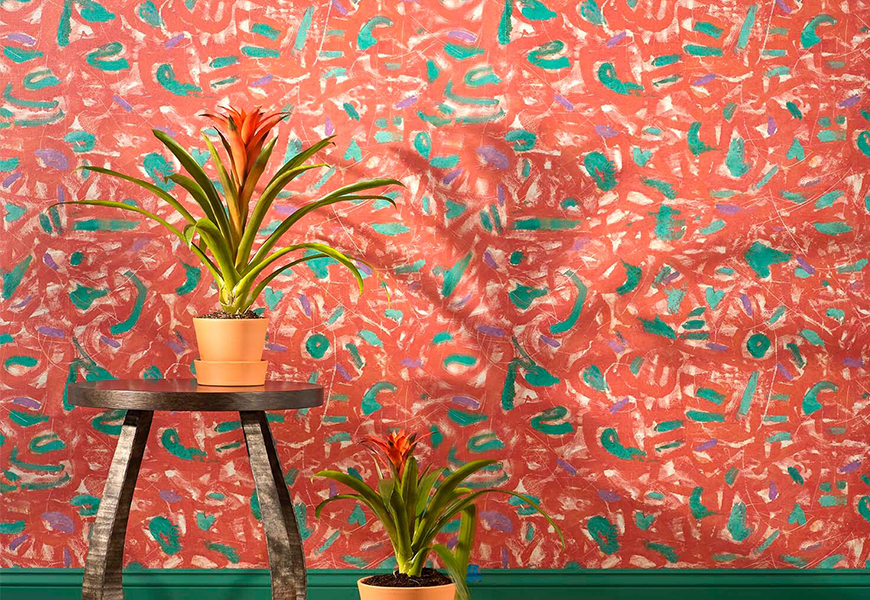 Weitzner and Smilow worked together through the sourcing and enhancing of Smilow's diverse artwork. Smilow trusted the Weitzner team to capture the nuances of her layered work, especially Lori Weitzner's knowledge in what colorways would sell best in the market.
When GDG spoke to Pamela Smillow, the artist was just as excited as Weitzner herself. Smilow, along with her late husband, life-long artist Gert Mathieson, founded their company, Smilow + Mathiesen.
"We did our own work, and we also collaborated on work. Smilow Mathieson is a company that came out of product related to our art." Smilow and Mathieson engaged with the design world early in their careers and created various wallpapers and wallcoverings. They were also early adopters of pop-up shops within the home. Soon after Lori Weitzner met Pamela Smilow, they hosted a pop-up shop in Smilow's studio and Smilow gifted Weitzner her first piece.
(Above) 'Freehand' Pattern inspired by Smilow's scarf design
"I've always been interested in how my art interacts with the world around it. Most artists don't care, but I care. I've approached my art in an unconventional way. Galleries aren't practical models to show art. All my neighbors are in the same boat. [They say] 'Why don't you' show in my home and invite all of the neighbors?' They want us to contribute to the atmosphere of their home," Smilow said.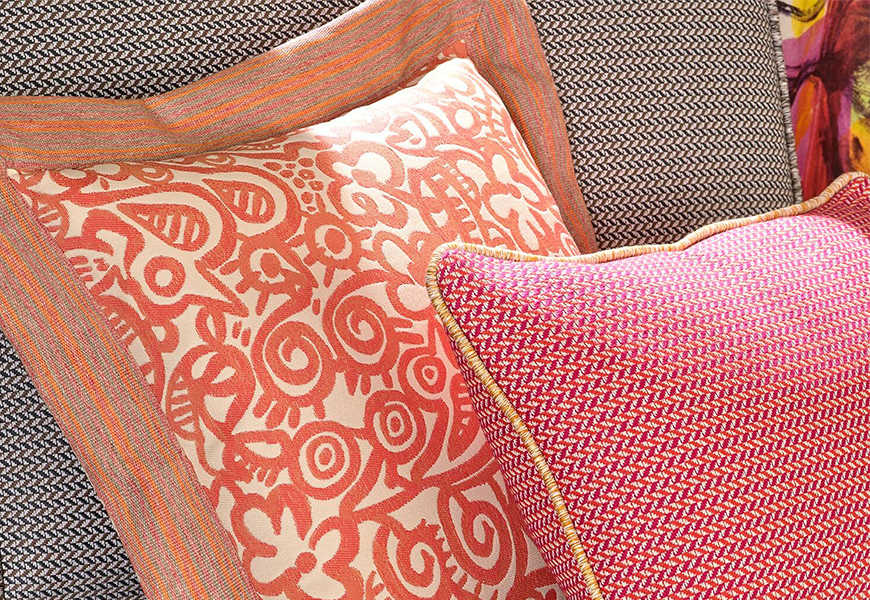 Smilow said that she enjoys getting involved in the decoration and art placement. In fact, she prefers it.
"I see a room as an extension of my palette. Paintings have a way of finding their right spot."-Pamela Smilow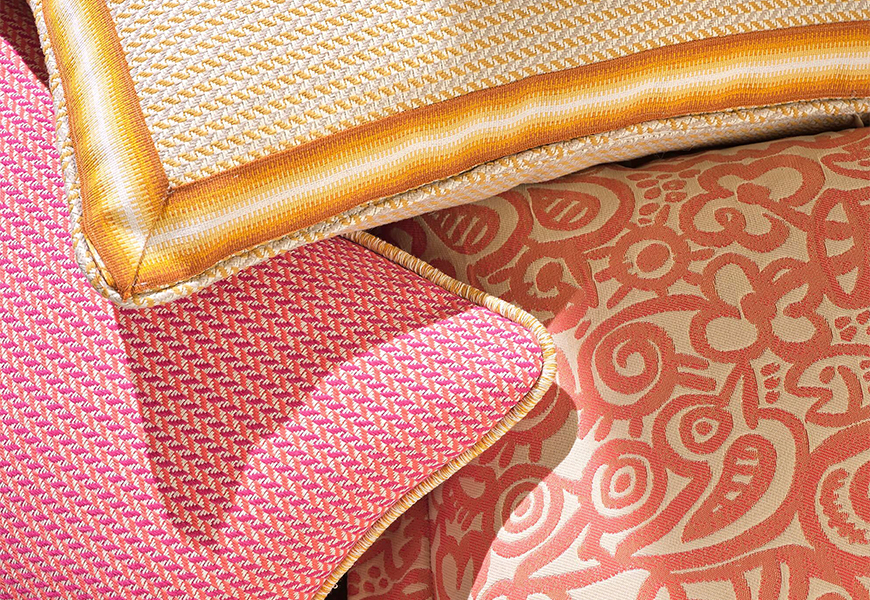 Weitzer Limited created a collection in which art could sweep the home but not just on the walls. "I don't like to make a distinction between art and craft. Alexander Calder made the utensils in his kitchen! I'm interested in surrounding myself in beauty. Lori [Weitzner] has afforded us that possibility."
Smilow and Weitzer, with a lot of passion for the arts and respect for each other, celebrate the 'Painter Series' and the potential for what's to come for Weitner, the textile industry and artists everywhere.
"When [Gert] he passed away, I went into full gear determined that his work would live on forever." Smilow said her dreams came true when the Henry Heerup Museum in Denmark expressed interest in showcasing Mathiesen's work a few years ago. The 'Heerup & Mathiesen' exhibition opened September 12th, 2018 and will run until January 2020.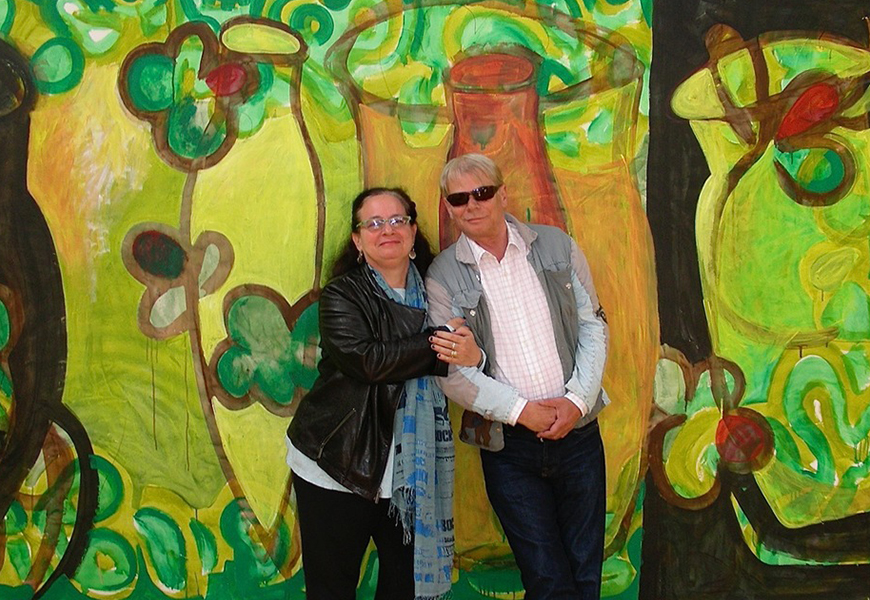 (From Left) Pamela Smilow with her late husband Gert Mathiesen
See more of Weitzner Limited 'Painter Series' here or in person at the Pollack Showroom, Suite 1722, in the D&D Building. Learn more about Pamela Smilow and Gert Mathiesen's work on their website here.