"We sort of freaked out" is how Interior Designer Beth Dotolo of Pulp Design Studios described how she and design partner Carolina Gentry reacted to S. Harris proposing a collaboration together – which later transformed into a collection they're not tired of talking about just yet. S. Harris Creative Director, Jodi Finer discovered Pulp Designs on Instagram. "It was so cool, [S. Harris] ended up reaching out. We have been using their fabrics our whole careers," Dotolo said.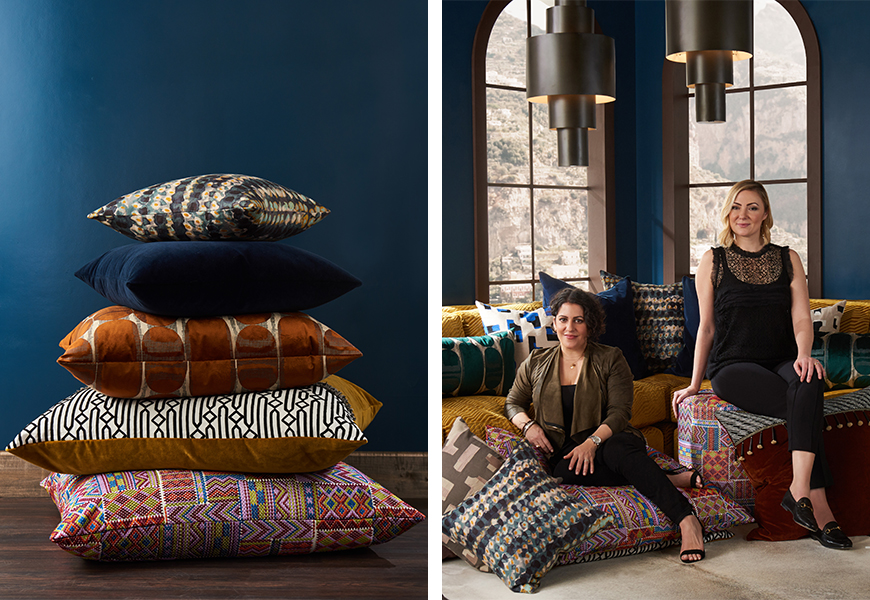 (Left) Pulp Design Studio textiles for S. Harris. (Right) Carolina Genry (left) and Beth Dotolo (right) posing with fabrics from their new collection.
Pulp Design Studio's new S. Harris Collection fearlessly juxtaposes edgy geometrics and bold colors to highlight global artisanship. They're so in tune with their brand's zealous soul that they knew their collection's direction within the first couple hours with S. Harris.
"We started grabbing things we'd see on the wall but thought 'oh, this could be great if we changed this'. Before we knew it, we had a collection laid out on a table in the first meeting," Dotolo said. "It was the beginning of something really amazing," Gentry mused. Soon after, Pulp Design Studios was offered a private label with S. Harris, which both Gentry and Dotolo agree was an incredibly fun and organic process, mostly because of the brands' shared values.
"I don't think that we had to worry so much about keeping in mind S Harris brand during the process. We have a similar approach to luxury, we are travel oriented…it flowed naturally. We were always on the same page when it came to the style and approach," Pulp Design Studios said. It was the ultimate creative safe zone. "They were just as interested as protecting our vision as we were," they added.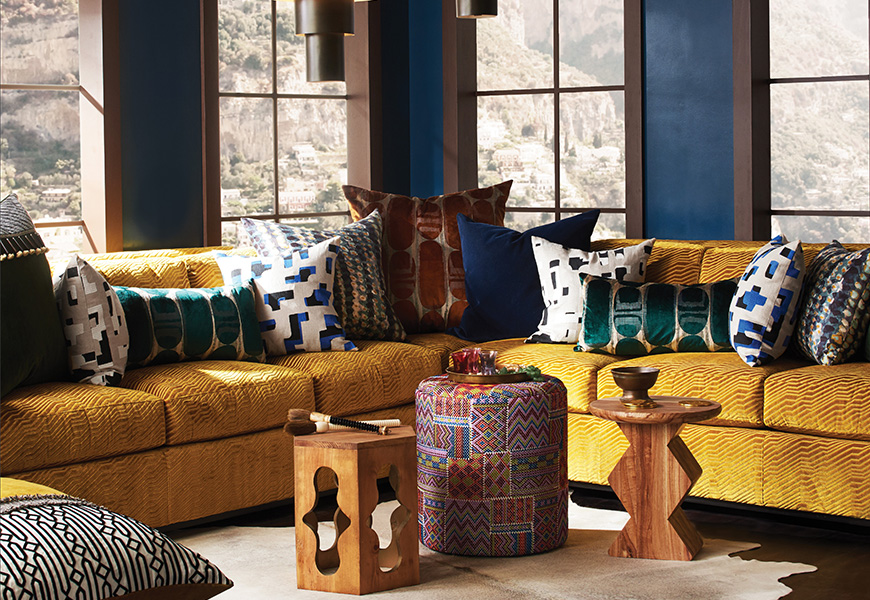 "The heart of this collection is to design fearlessly"-Beth Dotolo
The adventurous collection appears to be an assortment of special souvenirs collected over time from one's travels. Like in any home, these mementos can tell a story alone or collectively.
Carolina Gentry shared how her past travel experiences formed part of the collection. "I grew up going to Mexico as a child and was greatly influenced by that. The Hidalgo print was inspired by Indigo fabric, but a deconstructed modern version of that," Gentry shared.
(From Left) Carolina Gentry and Beth Dotolo with drapery in their Hidalgo fabric
GDG asked Pulp if the collection referenced past travel or wanderlust. "[The collection was inspired by] places we've been and places we want to go. In the realm of an "influencer", we have been asked to travel places for work all over the world. We've been places together but also separately and it has added to who we are as people and designers. We have an eclectic palette and like things from different places," they answered.
Pulp Design Studios ultimately wanted a collection with strong positioning and character, but also one that can be mixed and matched and "watered down". They also wanted to make a collection that designers would actually turn to and adopt themselves.
As we were wrapping up the conversation, Gentry and Dotolo, who were calling in separately from two of Pulp Design Studios' office locations in Seattle and Dallas, joked about how much they've improved at answering questions about the new collection because they've been asked so much about it in the last few months. But it "still has life" according to Dotolo and Gentry, so if people still want to talk about it, they did something right. "The heart of this collection is to design fearlessly. Be bold about bringing those things home that inspire you and have those heart happy moments," Dotolo left us with.
See more of the S. Harris X Pulp Studio Designs collection on the S. Harris website here or in Fabricut, Suite 915, at the D&D Building.