This year's Decorative Center Houston "Shift in Design" Fall Market doesn't just reflect the way we're becoming inspired or the way we design a home. The shift in design is impacting our morning routines, which affect our headspace for the day. The shift has fostered visionary ideas from where to place flowers to how to store our shoes. Big and small, the shift is moving toward quality experiences in the way we live; People are opening their minds to different design and the DCH is hosting innovative designers to present the change.
"It's about efficiency and enjoying the experience all at the same time." –Courtney Elias
(From Left) Carleton Varney's books 'Mr. Color' and 'In the Pink', Carleton Varney sitting in Dorothy Draper
In the Keynote 'Decorating Never Ends with Carleton Varney' the Interior Designer and President of Dorothy Draper & Co., Carleton Varney and Architecture and home design editor of Houston Chronicle Diane Cowen discussed Varney's book In The Pink and how Varney uses color contrast and contrasts traditional modes of design. In the discussion, Varney challenged designers to embrace colors that they gravitate towards.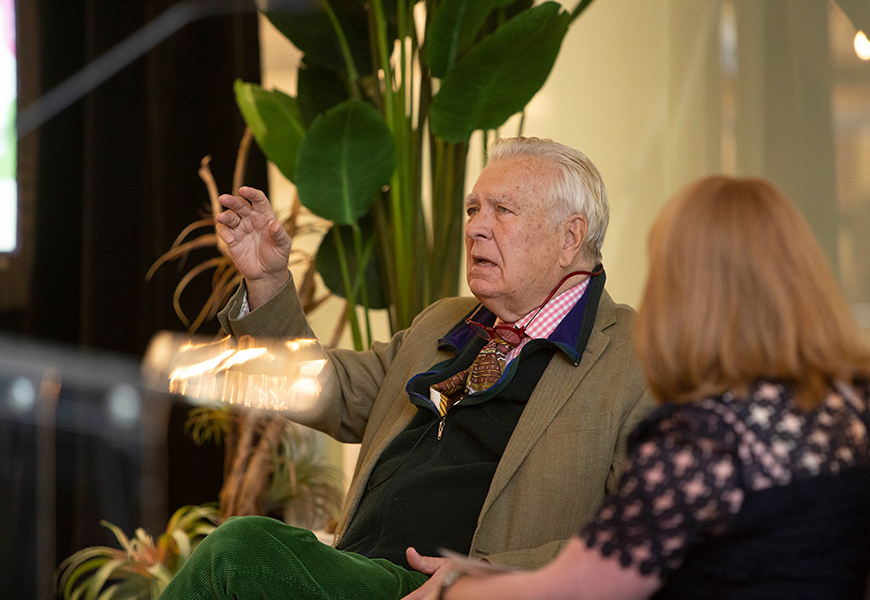 "There's a color in everybody. There's a color that makes you special. It can be your skin color. It can be almost anything. Children are so good with their little paints. I was at the Crayola Company last week. I looked at all these little children doing the Crayola experience. When we grow up, we get to be fearful. We want to be a part of the country club. But a Ritz Carleton is all formula. There's a certain idea of what elegance is but it isn't you! The 'you' isn't that! The 'you' has something else that was there before. Do not neglect where you came from. You cannot rewrite your history," said Varney.
(From Left) Jennifer Cope, Jamie Beckwith, Allison Eden, Ellen Blakeley, and Rhonda Reinhart
To continue the theme of rebelling design ideas, the afternoon Keynote 'Bending the Realm of Design, Art and Innovation' featured an electric group of creatives. Described as "trendsetters in the design community," Rhonda Reinhart, Editor- In Chief of Modern Luxury Interiors Texas and designers Jamie Beckwith, Ellen Blakeley, and Allison Eden will talk about how they continue to invent through their own forces of style…particularly in terms of color.
Color queen Allison Eden talked about how people are experimenting more with bold colors. "I feel like color is coming back…Color is a sense of happiness, it's electrifying. It's something that I've always loved using," Eden said. Ellen Blakeley believes color should be instinctual and that it's dangerous to follow the color of the year trends. "If it's not a color you're feeling, don't use it. Color comes from in here [internally]. If I love colors together, my core is happy. If it's a wrong combination for me, my stomach does a flip- the bad kind," Blakely said. The group agreed that they feel challenged in the design world right now and sharing ideas and stories help them think differently about design.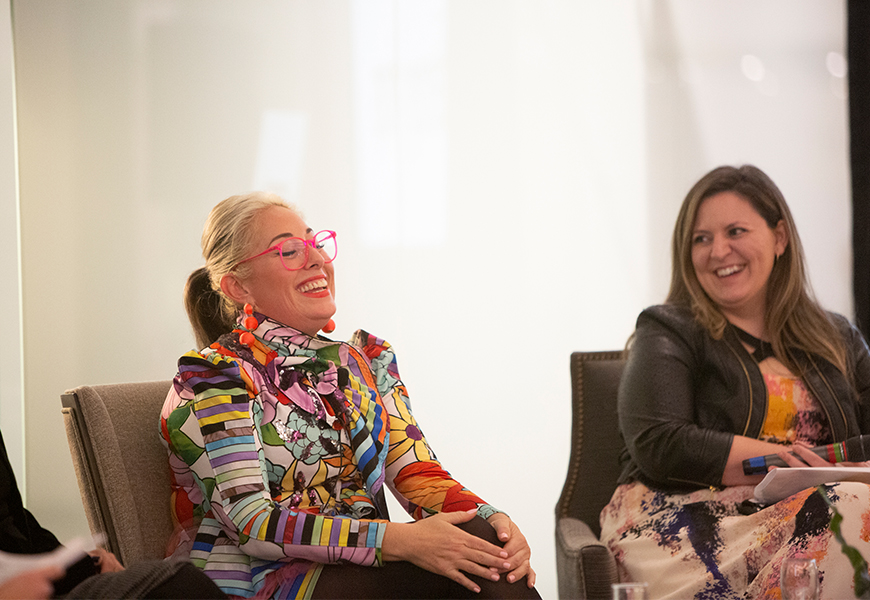 Social media is now conducting clients' home projects. Join designer Laura Umansky in her showroom experience "Social Media's Influence On The Client Experience With Laura Umansky" to learn how social media molds client expectations and how to better navigate these platforms. "We're going to talk about social media platforms and how they're beneficial to their client base. Every platform has different benefits and uses for different clients," Umansky said.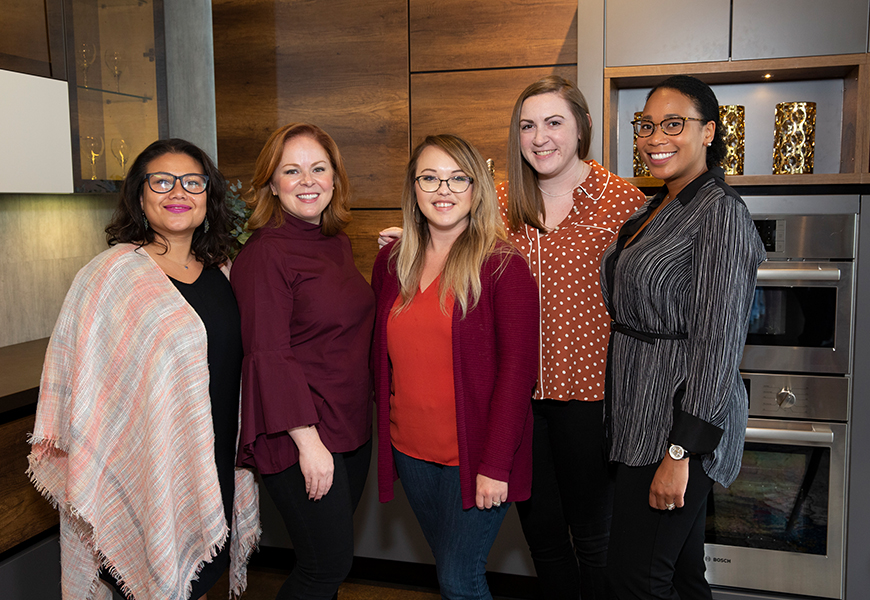 Laura Umansky (second from left) after her showroom experience 'Social Media's Influence On The Client Experience With Laura Umansky'
Umanksy, who focuses on Instagram the most for her business, told GDG that she and her team try to create an authentic, on-brand image to set the right expectations for her clients. "A lot of these platforms are an offshoot to your products. If you're putting content out there to gain clients, which is what we're doing, consistency is key," Umanksy said.
In the showroom experience 'From Storage to Sanctuary: The Transformation of the Closet As Living Space', Interior Designers Courtnay Tartt Elias, Meredith Xavier, Lucinda Loya and Marie Flanigan talked about how we can rethink universal spaces such as closets.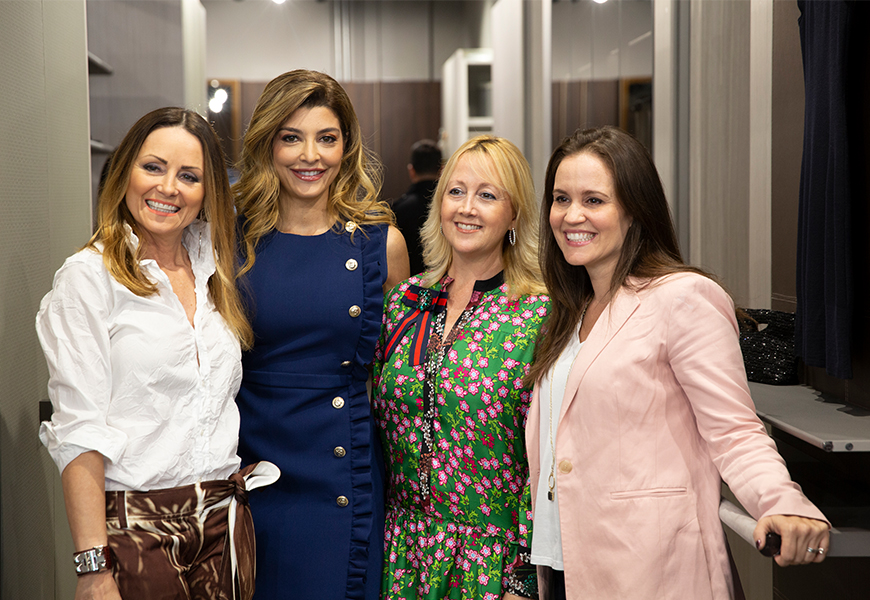 Courtnay Elias encourages her clients to incorporate designs that will improve their daily routines. "Most women spend a good amount of time in their bathrooms and getting dressed for the day. Rather than spending time in an ordinary area, I think it's so important to turn a space into so much more. They might think 'Oh don't worry about my closet, I'll deal with this later' but to sit down and educate your clients and say this is where you spend a lot of time. [We hope] to have the form of the closet fit the form and function of the client," Elias said.
Attendees also witnessed the shift in design through the handful of showroom experiences ranging from handmade crafts, such as SKLO hand-blown glass and Tibetan hand-knotted rug making in Scott Group Studio, to new digital advances in DEDON and Crestron.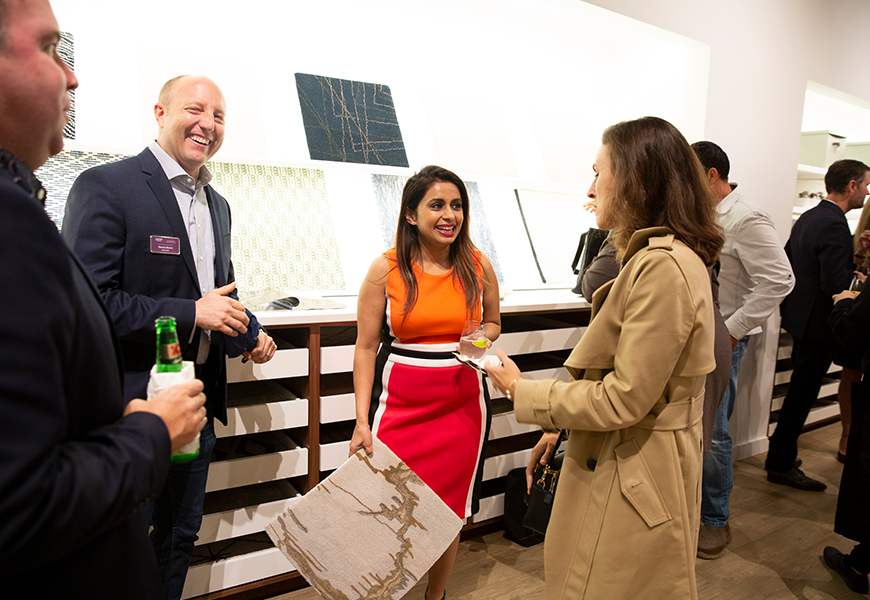 (Above) Scott Group Studio grand re-opening party
Designers and attendees came together to experience the shifting of mindsets, work, and lifestyle in the design industry during this year's DCH Fall Market! Read more about the DCH Showroom news in the Market Resource here or on the DCH website here.
Photography by Jenny Antill