Art is in the eye of the beholder, and so is its beauty. Artwork starts as a blank canvas, as do the spaces in which we live and design. Both act as an opportunity to play with form, shape and color to produce a feeling, but when they work together that's when the true emotive power shines through.
Since interior design is the art of our everyday lives, GDG chose 7 spaces with an artistic flare that merge everyday life with fine and modern art. Some spaces are defined by the art and others use art as the final touch, but each of these interiors inspires the art aficionado in all of us.
GDG chatted with Long Island, NY-based to-the-Trade Art Consultant extraordinaire, Anita Abrams of Accetra Arts LTD about what her designer clients are sourcing lately. Boldly expressive works that are über-oversized in scale, grouped grids, and geode-inspired abstracts are on the top of their wish lists. A true believer in the idea that art makes the room and enhances the décor, Abrams says, "Like jewelry is to an outfit, art is the ultimate accessory. It makes a style statement without saying a word and can be a window into the soul." With design trends airing on the side of neutral, art is an opportunity to create a centerpiece in any space.
Go Bold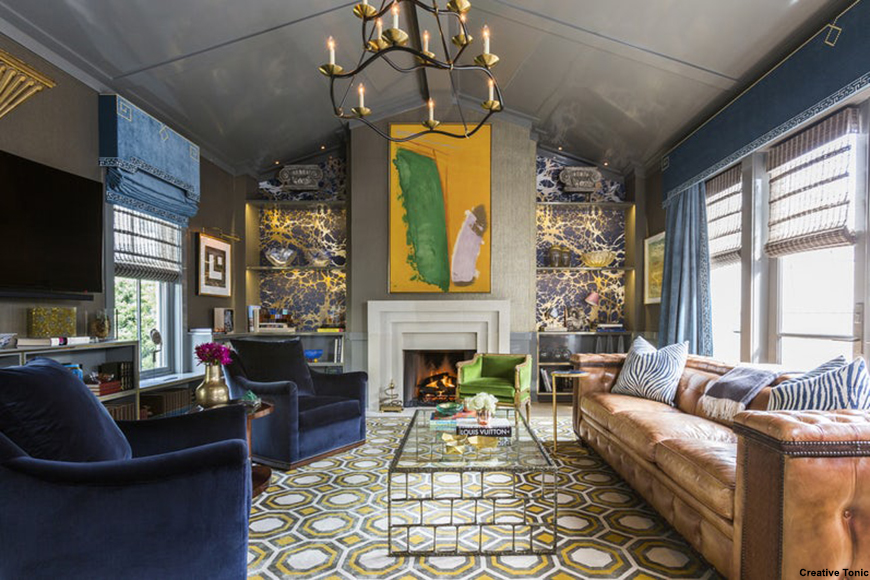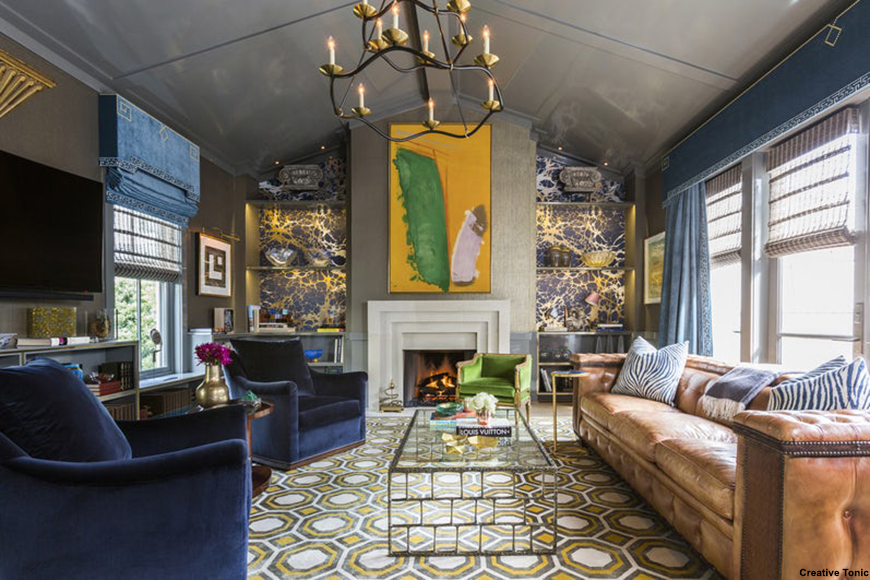 Creative Tonic creates a bold living room, without sacrificing livability. Playful pops of color dance around this design that features rich leather and plush velvet seating, matching the periphery Kravet velvet drapes. A fun and functional Stark carpet brightens the floor with pattern and color. However, the eye can't help but zoom above the modern mantle with a daring statement artwork in yellow, green and pink that truly brings the room together.
Window(s) Into The Soul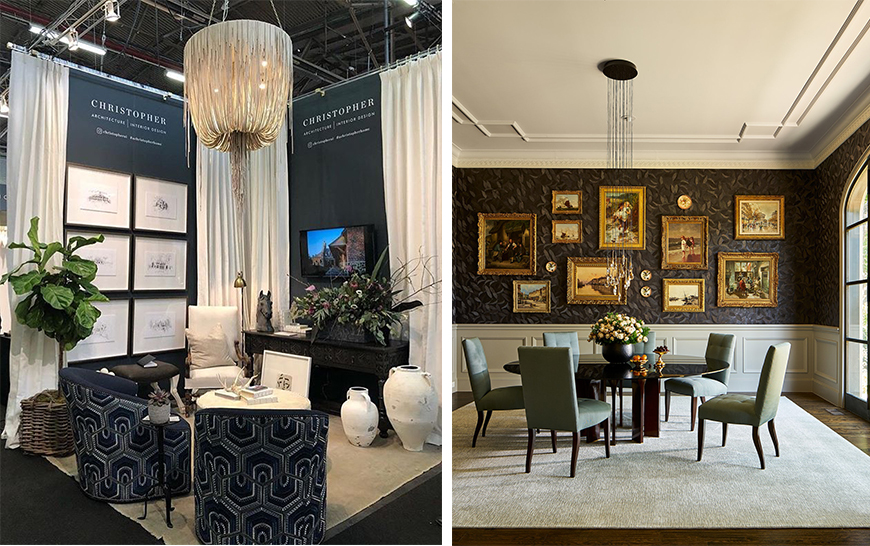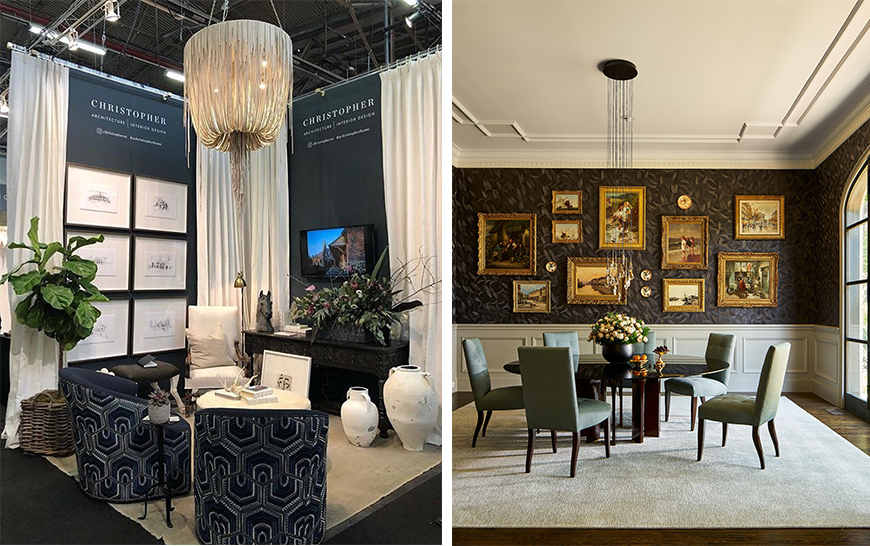 (Right) This dining room by Denise McGaha, famous for "designing with a deadline," paints a modern interior with a touch of the traditional. A bold Ochre chandelier acts as an art piece itself, floating above a Thomas Pheasant tabletop with a Baker base. The golden-framed classical style original oil paintings on the adjacent wall brighten subtle green chairs from Artistic Frame. The composed collection of art tells a layered story, unique to this homeowner.
(Left) The Christopher Architecture and Interiors vignette at the recent Architectural Digest Design Show offers a look at another gallery wall trend – if you can take your eyes off the stripped leather chandelier, that is. Grid-like galleries made up of relating individual elements hung in perfect alignment offer a big impact.
Seamless Statements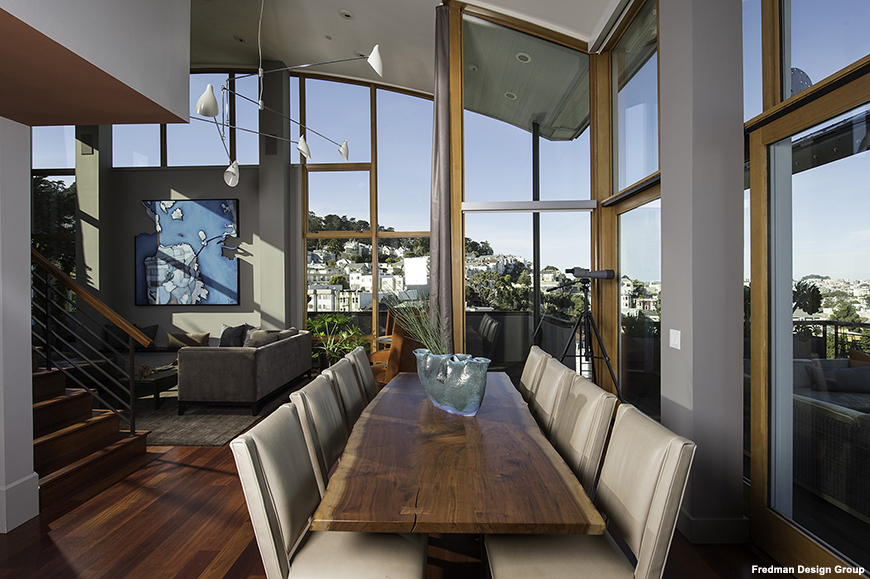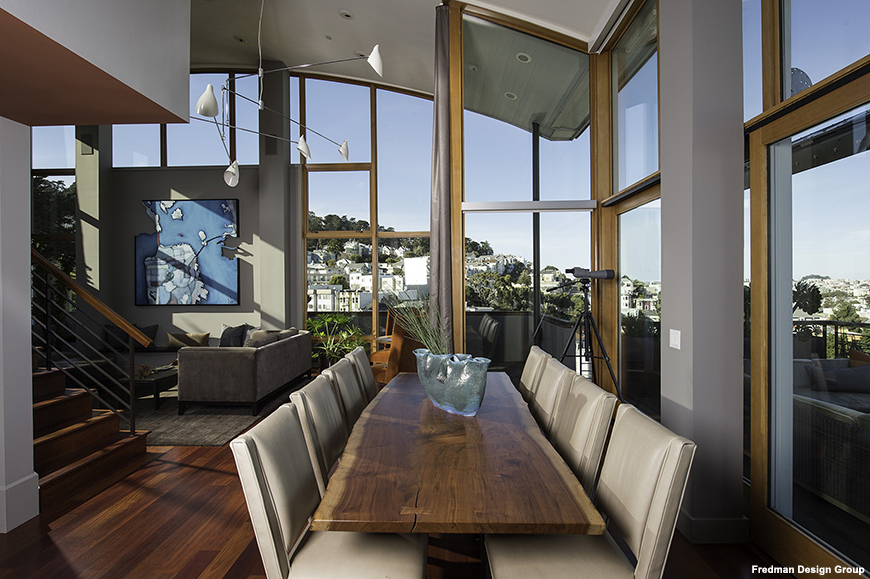 Fredman Design Group used the sweeping vista of this West Coast home as the focal point, but the periphery oceanic blue sculptural wall art in the adjacent living room serves to enhance, not take away from, nature's art. The space is grounded by a zen palette of natural woods and neutral colors, yet the vibrant piece doesn't distract from the overall design scheme.
Pop of Color

Katharine Posillico McGowan's sitting room is full of texture and soft tones, accented by the show-stopping vibrancy above the mantel. The Hickory Chair sofa covered in a dusty mauve Duralee velvet and Duralee accent chairs subtly contrast the pop of Ultra-Violet hues in the powerful piece. The cool white Benjamin Moore paint allows for the modern art's colors to truly take center stage.
Photography by: Kimberly Muto
Masters of Design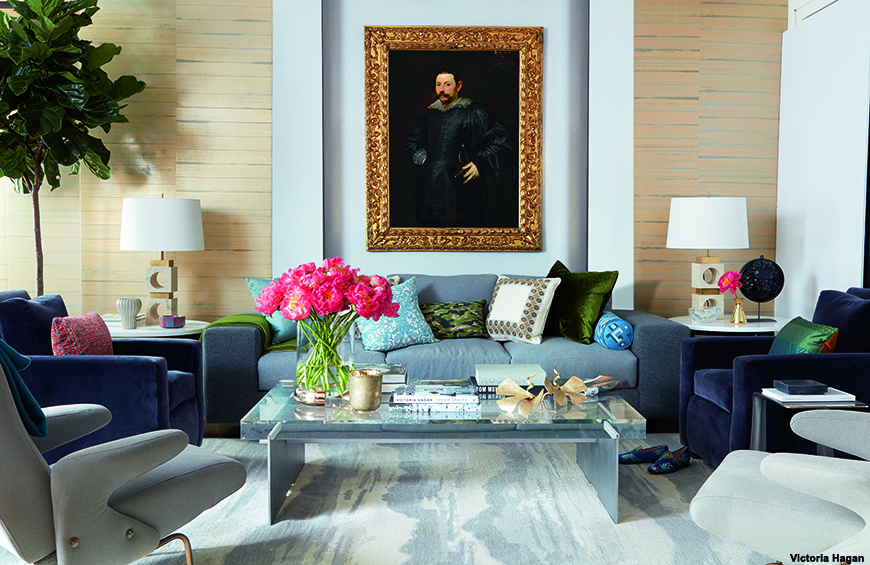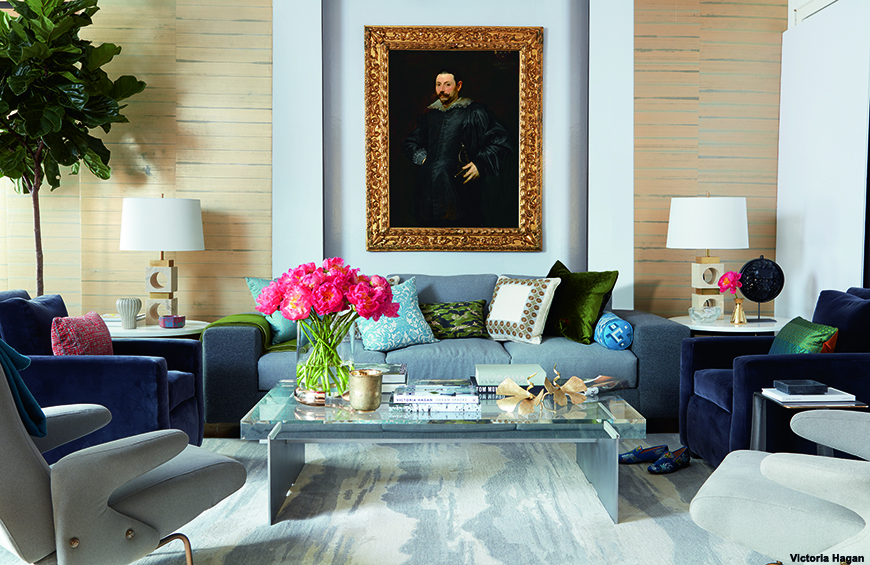 A Master of Old Master Paintings and Design, Victoria Hagan created this vignette in the DDB's Holland & Sherry showroom in collaboration with Sotheby's, celebrating Old Master works and modern design. Contemporary and shapely furniture with vibrant pops of color is balanced by the regality of this Grand Master painting by Sir Anthony Van Dyck, Portrait of an Italian Nobleman. The Designer Forum Series "Masters of Design" event shared some pro-designer tips on working with collectible art. Tip: Don't design around a masterpiece, it doesn't have to match the room, it should feel like a living, breathing co-inhabitant.
Embarrassment of Riches

Rona Landman, Interior Designer for Real Housewives of New York star Ramona Singer, completed this Upper East Side residence earlier this year. A husband and wife hired Rona to help them relocate from Chappaqua, New York. Majorly downsizing, Rona worked hard to incorporate and consider their extensive art collection and George Nakashima furniture. Rona expertly incorporated two custom-made Tai Ping rugs and a Holly Hunt custom Mesa sofa with a Donghia mohair into the rich palette. The result; a multi-focal point, open-concept space, with design moments throughout, creating a truly unique new home for their beloved possessions.
Photography by: Alex Staniloff
The Finishing Touch

In this kitchen by designer Joseph Delpercio, the room would seem almost incomplete without this graphic, visually arresting piece. This iconic "Men in the Cities" print by Robert Longo sourced by art consultant Anita Abrams, extends from the ceiling to the base molding, a massive statement and necessary element. This monochromatic choice brings new life, a sense of movement and complexity to the space.
Palette Play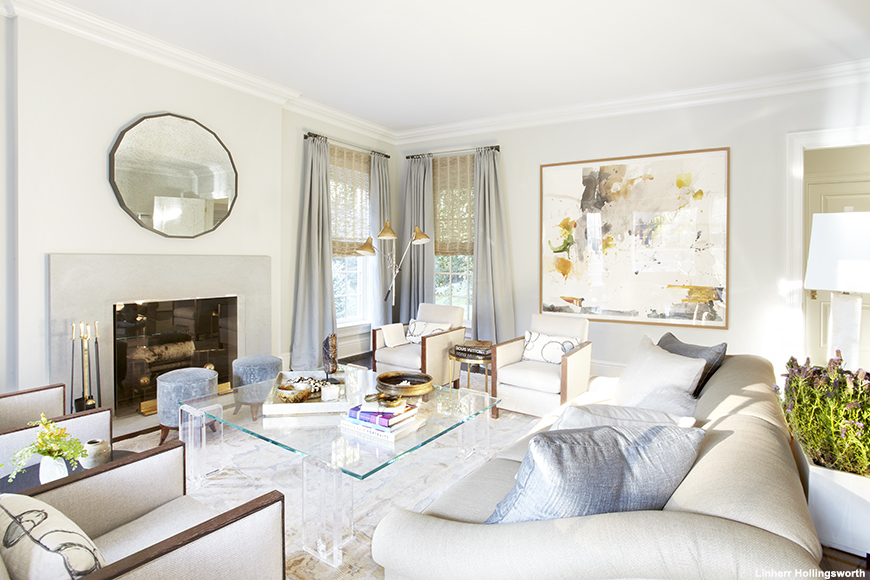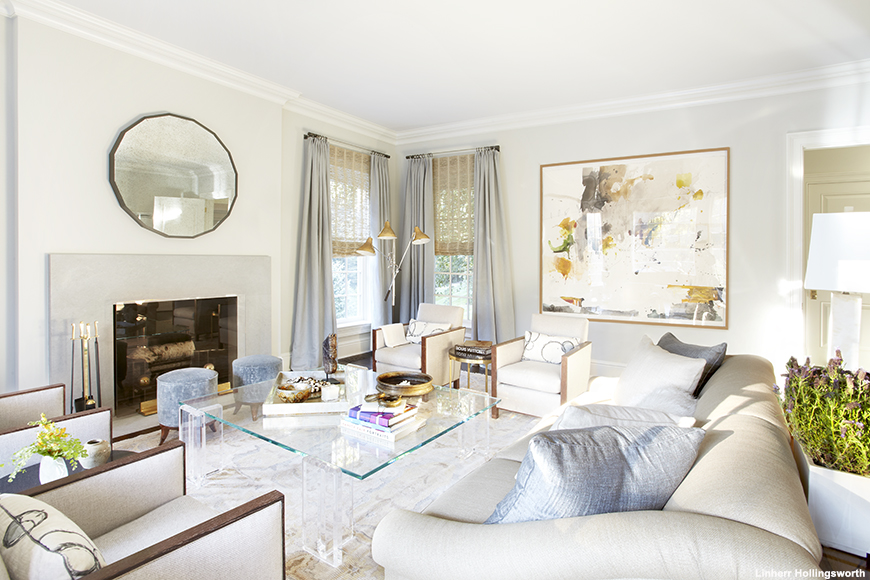 A signature crisp, clean living room by Linherr Hollingsworth is accented by subtle hints of soft colors. A soft, yet icy powder blue velvet by Donghia covers vintage ottomans and the Donghia, Fortuny, Rogers & Goffigon and Claremont Fabrics pillows sitting atop the Holly Hunt. Lee Jofa draperies are enhanced with the neighboring abstract artwork "Song of the Dog," by Michael Rich. The hints of gold against the muted tones and plush textures allow this work to flow seamlessly with the rest of the décor.
For more artful insights read about Victoria Hagan's tips for incorporating Grand Master paintings into Modern spaces or take a look at the new Andrew Martin wallpaper that can definitely be considered a work of art.