Interior designer Beth Diana Smith dazzled with savviness in her recent conversation with GDG. Smith shared her tricks and tips of the trade, what to expect in her upcoming Design on a Dime vignette, and how she got her start in the industry with the influence of… Halle Berry?! More on that in a bit, but a few things about Smith shined through in every topic of conversation – that she trusts her vision, stays true to herself, and is passionate about bringing cultures together through her work.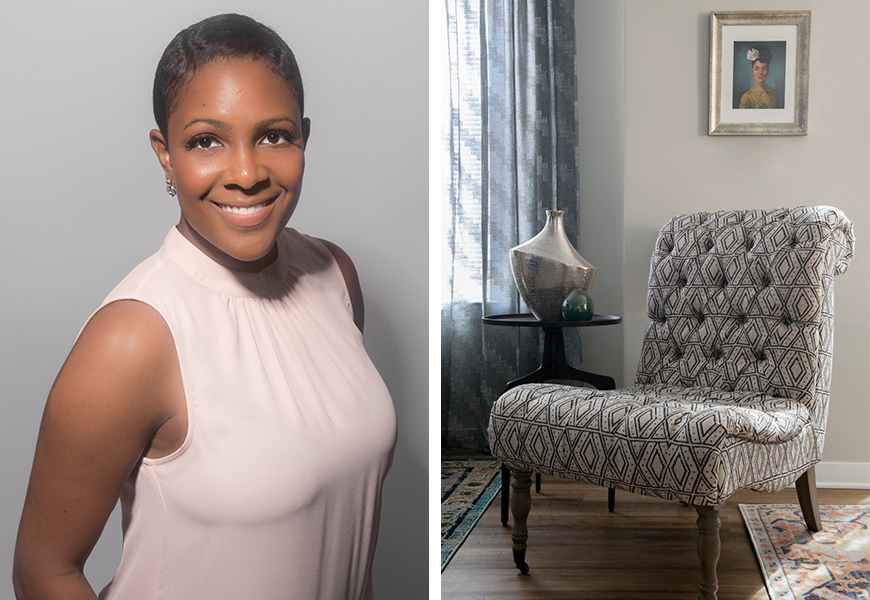 (Left) Beth Diana Smith (Right) Four Hands chair
"I swore up and down that I would be CFO one day," said Smith, telling us about her corporate finance career before embarking on her design career. At the start of her finance career, Smith started at Cendant then later landed at Johnson & Johnson. Smith left Johnson & Johnson for Viacom, already having had six years of corporate experience under her belt.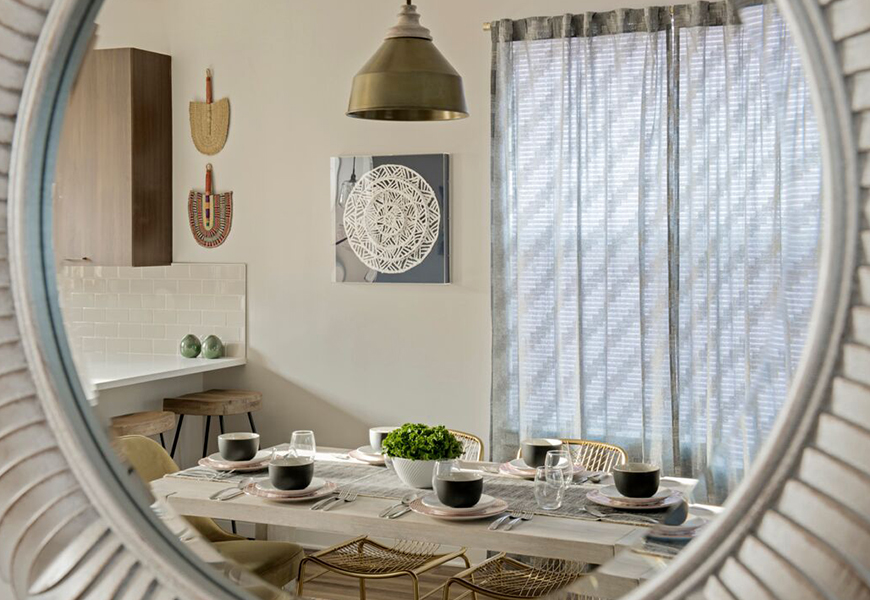 (Above) Smith's Piscataway Project photographed by Rayon Richards
"When I got to Viacom, I felt grounded in my career, but it also made me see all the things that I'd like to change," said Smith. "Through that journey, I realized so many things like, 'Can I really retire doing this?' There were times I was in the office and it was 11pm and I was like, 'am I really going to get home and it be tomorrow?'" Rewind almost a decade prior to these realizations at the beginning of her corporate endeavors, Smith bought her own home at just 22 years old.
"You start off where you can. I remember the first year in my home I slapped a mattress on my floor. And I was like, 'I have nothing, I don't even have salt!'" Smith said. From home growing pains like swapping out Ikea furniture to changing the paint, Smith learned what it was like to work on a house by herself, an experience that later on would reflect, and contribute to, her career renovation.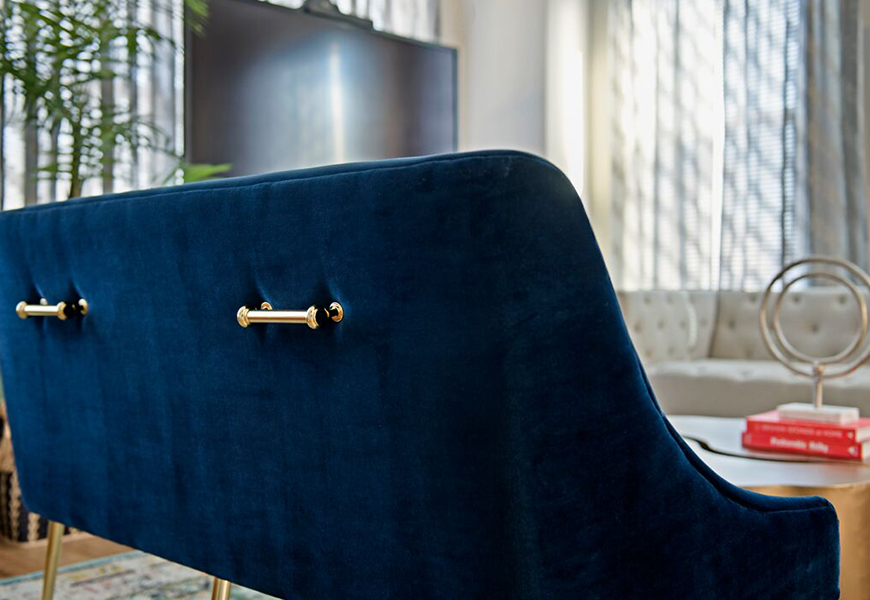 (Above) Smith's Piscataway Project photographed by Rayon Richards
Toward the end of her time with Viacom, Smith knew it was time to get closer to creativity. Smith began mastering the side hustle. She started as a professional organizer and helped friends with their homes, recalling a particular time working on organizing her friend's apartment, which proved to be her initial (and hilarious) recollection of falling for design.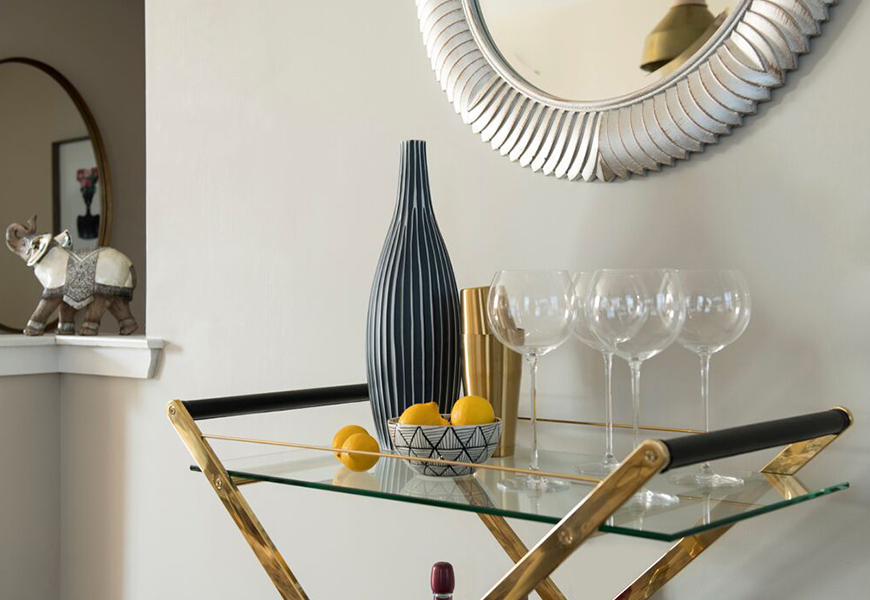 (Above) Smith's Piscataway Project photographed by Rayon Richards
"At some point, we started talking about his bedroom. I couldn't understand how this man had a more than life-sized poster of Halle Berry in the corner of his bedroom. It was one of those posters printed on a foam core. I can't even remember what she had on or if it was more than just her head," Smith told us. "We got into this whole thing about his Halle Berry Poster, his bed, his bedding, and somehow that coupled with doing things in my own home, and it opened my eyes to knowing I was way outside of his closet. So, next thing I knew I fell in love with design. And because I'm so extra I thought 'Oh, I should go to design school' because I like all the technical aspects of things. It was a whirlwind process."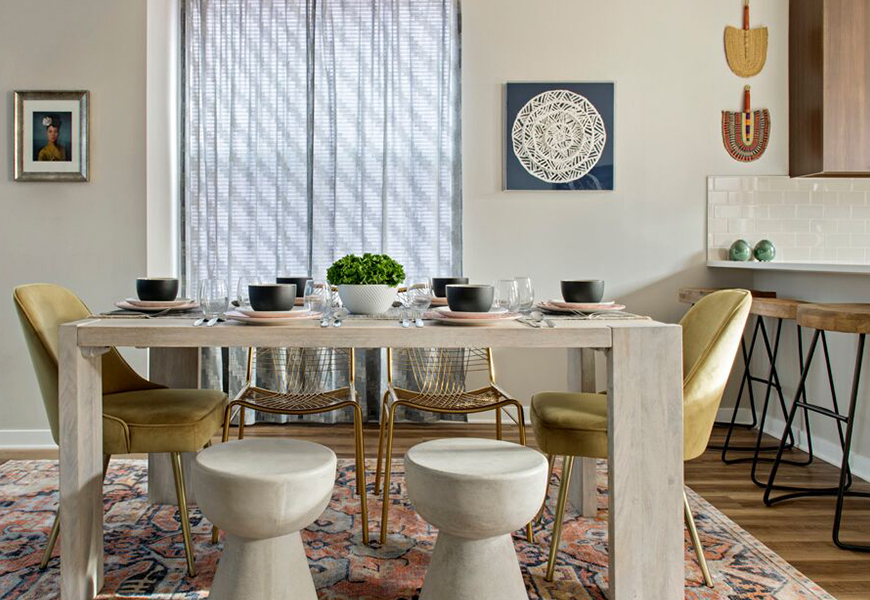 (Above) Smith's Piscataway Project photographed by Rayon Richards
Smith started her business in 2009, started school in 2011, and in the same year was introduced to the D&D Building due to the "Blogfests" Kravet used to host for design bloggers, designers and entrepreneurs. Yes, Smith found time to blog, too, and these early Blogfest conferences largely contributed to her early design promotion and relationships. "That kind of propelled me forward. Everyone had different levels of experience. Some people were just bloggers, there were people who were designers who also happened to have a blog. It was such a mix that pushed me. I met [the late Kimberly Ward], the founder of The Black Interior Design Network at a conference, she became rather pivotal to my career," said Smith. Her connection to Ward led to Smith's HGTV pilot "Restoring Glory" that aired in May 2017. "That taught me the importance of networking," said Smith.
Since 2015, Smith and her eclectic work have graced a plethora of plaftorms, publications, and panels. Just in the month of February 2019, Smith was published in House Beautiful, Elle Décor and most recently, Real Simple's "20 Black Interior Designers You Should Definitely Be Following on Instagram".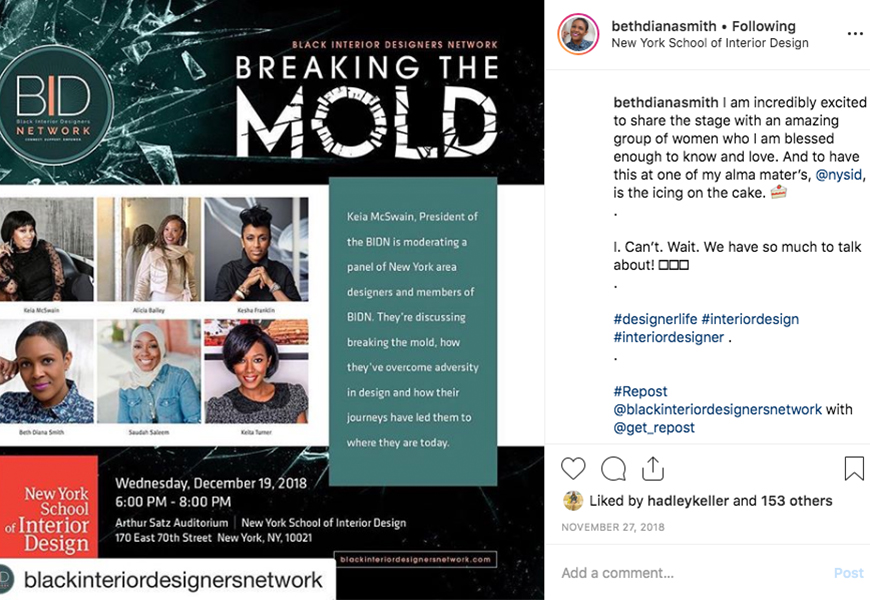 (Above) Smith's Instagram about the "Breaking the Mold" panel she participated in last December 2018.
GDG was curious how Smith wanted her interiors to look, feel and live-like. "I want them to look fun. I always want it to feel good. And then it has to be functional first. Every space should be conducive to how you live, even down to the details. When you come home, do you want to kick off your shoes and throw your keys on something? Part of our jobs as our designers is to make sure that person feels like they are living what's most comfortable to them and going with their natural rhythm," said Smith.
GDG asked if Smith thought her love of processing and organization came through in her aesthetic, not just in how she runs her business. Smith didn't think so, but her organized practice makes it possible to bring the fun to fruition. "It's not like you'll see a lot of symmetry. It's not like you're going to see a bunch of white walls. I'm a maximalist. I like stuff. I want to see a lot of it but I also don't want it to feel cluttered." Smith posted a time lapse video on Instagram last month of her mapping out a fun and lively gallery wall, showing us the editing process of how she controls all the elements going into the project.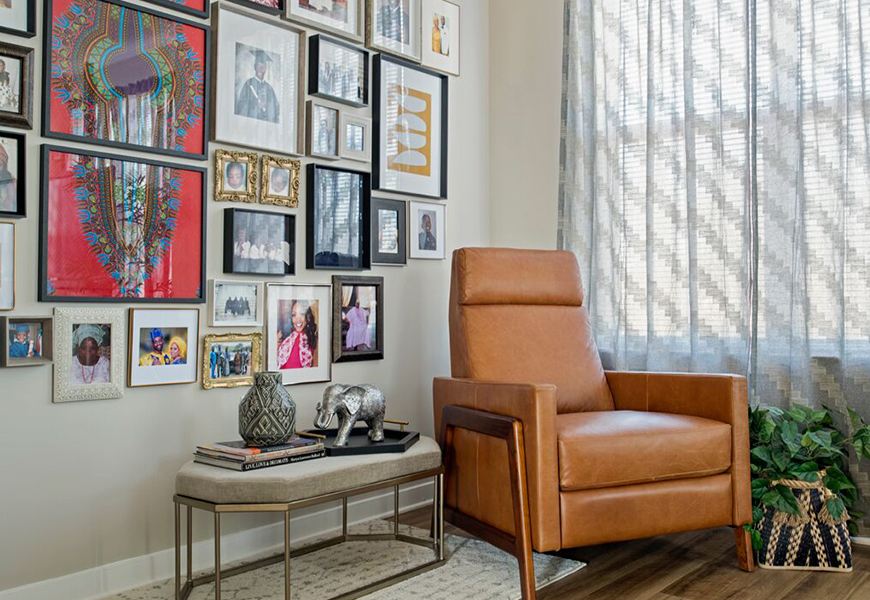 (Above) Smith's Piscataway Project photographed by Rayon Richards
More importantly, it's what Smith puts on the walls –and everywhere else- that matters most. In an earlier conversation, Smith mentioned that it's important that she not only incorporates the client's culture in their project, but culture in general. "Let's say my client also happens to be black, so I get black culture because I live it. But there are so many other elements and design principles that impact black culture. So I know for me, any time I've traveled it has always influenced me and my family not being from America has heavily influenced me. It's important to introduce that aspect to the client base because I want them to be able to see outside of their world. I want them to come home and see another realm of possibility." Her recognition of the cultures of the world, and the milieus within each, comes through in her work and her brand voice. "Culture can't just be in what we traditionally think, it can also be in the untraditional elements. We want to just inspire the client to think outside of their own box, as well," said Smith.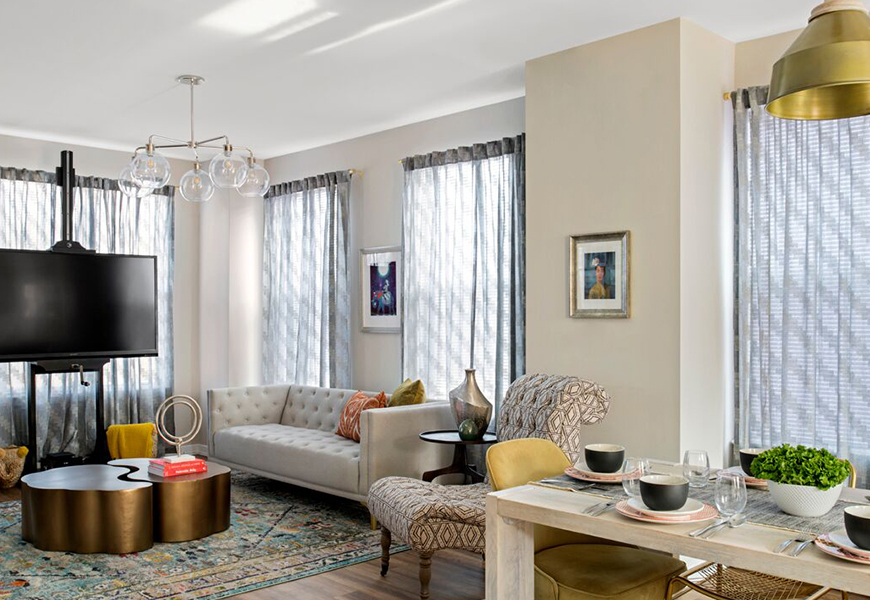 (Above) Smith's Piscataway Project photographed by Rayon Richards
Smith hopes to see a larger, thoughtful effort to have diversity represented in design. "It's really important to show diversity in gender and race. I don't ever want to feel like I'm consciously or unconsciously leaving out another group of people because it's just not the right thing to do. There are all these elements that we just have to be cognizant of. I don't expect someone to step into my shoes if they don't know what my shoes feel like, but I do feel like we should be cognizant of everyone's shoes," Smith said.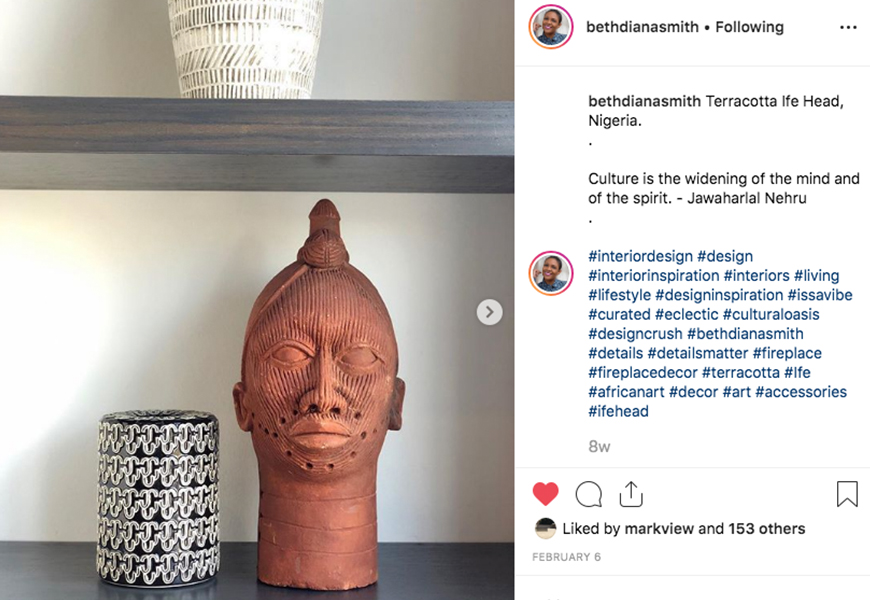 Smith promotes the potentiality for herself and clients to actually learn from the pieces she introduces to them. "I always leave an elephant in my clients' spaces. That's my signature thing because I want to wish them good luck in their new space. There's the African elephant, but then there's the Asian elephant. So sometimes I'm deciding which type of elephant I want to use in their space and explain to them why or where certain pieces come from. People like the story behind things that are in their home," said Smith. She understands the importance and impact of storytelling, which makes her curiosity about a piece's history even more admirable. By knowing the deeper story, Smith allows her clients to continue an authentic narrative.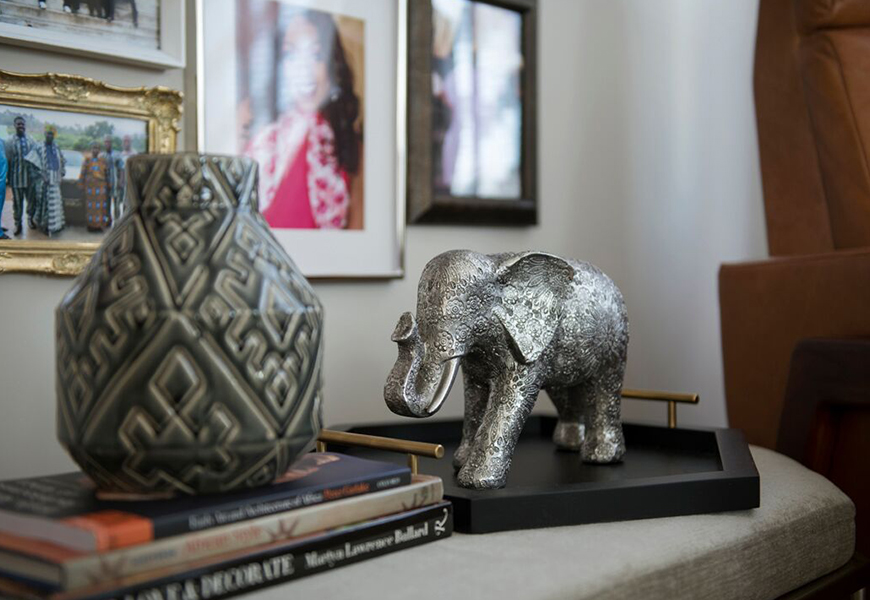 And you thought you were busy. You're probably thinking- how does she do it all?! One app, in particular, keeps her focused. "I literally live my life via an app called "2 do". So whatever 2 Do is telling me I have planned for the day, is literally how I know where I have to be, when and for how long. I've been using to do app for about eight years. It's the only way I keep my life organized. My friends will be like, 'Do you even know [your schedule]?' And I say 'Uh, no, [2 Do] tells me what to do,'" Beth said. Smith encourages others, including aspring designers, to use digital platforms and apps to their full potential to operate their brands and network with others as she has.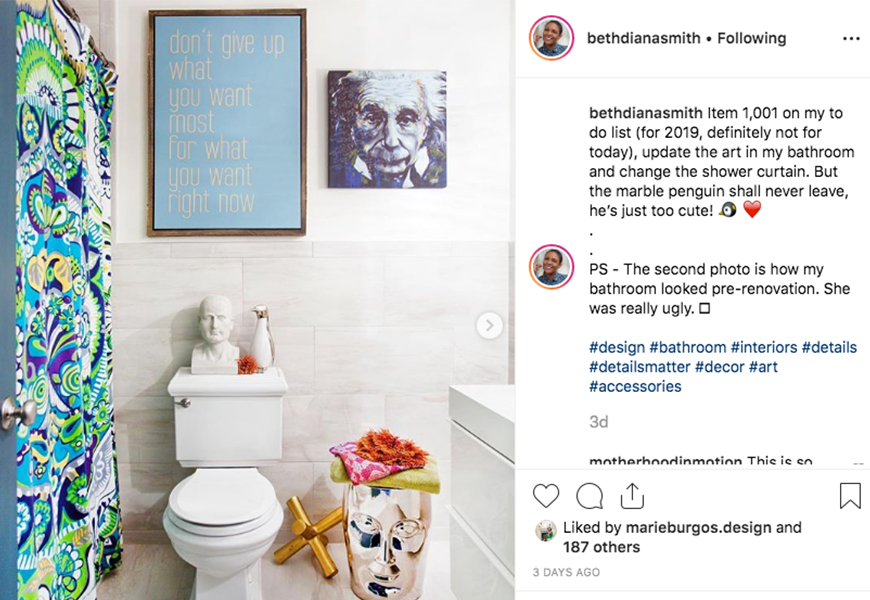 On that topic, Smith hopes design brands improve their digital experience in the future. "I would hope for better websites. I don't want to blindly go into your showroom and hope there's something I may like, I'm going to check out your website first and see if there's anything I'd be interested in seeing," said Smith.
Smith is participating in Design on a Dime this year for the second year in a row, using pieces donated from one of her favorite DDB showrooms, Made Goods.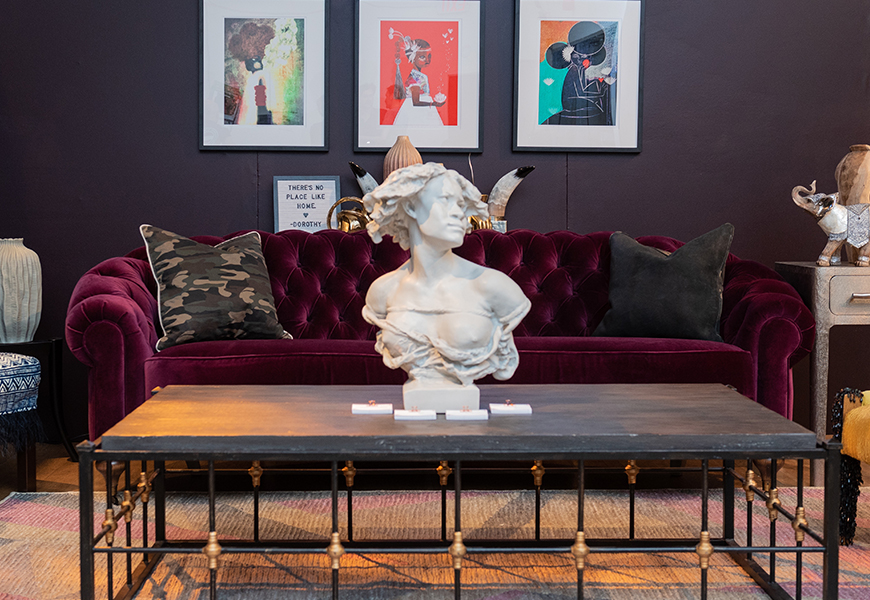 (Above) Beth Diana Smith's 2018 Design on a Dime vignette
"This year, my design concept is "Cultural Oasis"- of course! I chose it for a multitude of reasons. My house was on Open House NYC in February of last year. In my segment, I refer to my home as like "my own cultural oasis". That's how I want people to feel. I have everything from a ginormous buddha head in my room to a Japanese warrior. And I thought, you know what, I'm going to make my Design on a Dime vignette for 2019 cultural oasis II," Smith said.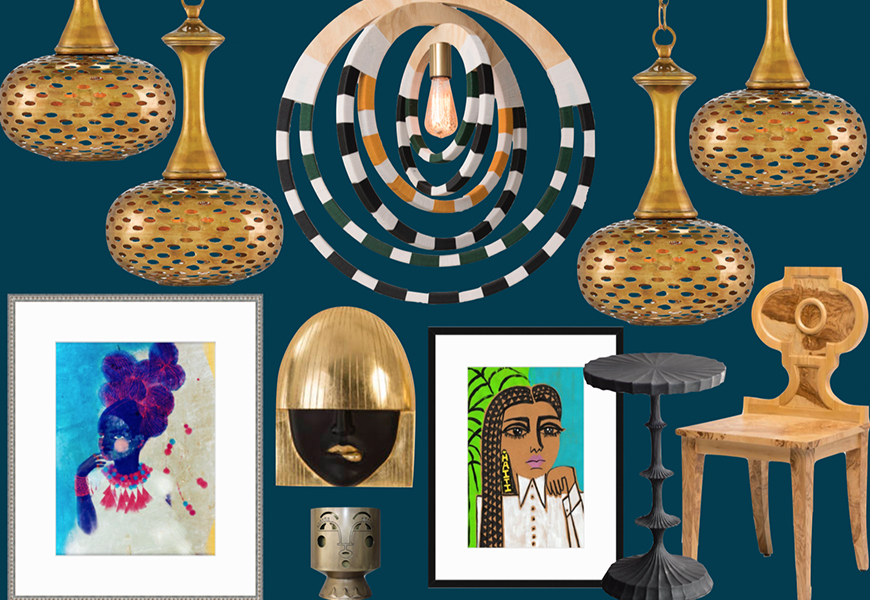 (Above) Smith's "Cultural Oasis II" mood board feat. artwork by artist Brooklyn Dolly (Left) and Natalie O'Decor (Right).
"I'm going to have a heavy Black influence through art and by the use of Black makers. The aesthetic will be eclectic (which is my style) with jewel tones, really funky pieces, gold elements, and a lighting installation," she said, "This will be all about the details."
Prepare to see much more of Beth Diana Smith, because she's sure sticking around and making her mark. Hear more of her story through her vlogs found on her website, along with other design tidbits, work, and press. Visit Smith's vignette in the 15th annual Design on a Dime, opening April 24-27th. Proceeds from Design on a Dime are donated to Housing Works and benefit their efforts to end AIDS and homelessness.