Mally Skok is a Boston-based interior designer with new collections carried by Brunschwig & Fils that reflect her design aesthetic and serve as a great home accent. Skok also happens to have a great speaking accent – and no, it's not from "Bah-ston."
Skok grew up in South Africa as the eldest of four. At 11, Skok lost her father and was ultimately given a lot of responsibility around the house. She attests her love of a well cared for and orderly home to those formative years in Johannesburg.

"Life in Johannesburg was pretty social. We hung out at each other's houses, and I remember the houses of the friend's parents we visited like it was yesterday. Weird, I know!" laughed Skok. "I loved to take in the little details, the art collections on the walls, a beautiful pillow that was made of interwoven silk ribbons, what people ate, and the way people lived!"
Skok was entranced by her neighbors who were entertainers and collectors, saying, "It all seeped into [her] soul," during the anti-apartheid movement. She also recalls hidden gems like the local craft shops near her house in Plett that worked with rural areas to aid their communities. These childhood visions of home in South Africa hold special solidarity in her heart.
"South Africans in general, are very aware of the individual responsibility of everyone to help lift up the lives of others," she said.
British roots also ground Skok's design style and passion. Skok's grandmother was "a marvelous English woman" who had lived in Botswana, while working for the British High Commission.
"She taught my mum how to sew, pick whatever you can find in the garden and put it in a container for your table, how to crochet a throw from scraps of wool, how to cook delicious, wholesome food," Skok explained, "I think I got her practical, can-do gene! I consider it a great gift!"
England was also where Skok connected with her lovable and exuberant design mentor, the late Giles Swarbreck, who was an old friend and "fearless" interior designer, also from South Africa. Skok was freshly divorced and had a newfound freedom to choose what she wished to pursue in life.
"Giles was slightly mad, but an oh-so-talented designer. It was all a big party for him, with a bit of design thrown in. He let me follow him around to all the snooty antique shops and fabric showrooms all over London. I learned so much from him," Skok said.
From London, Skok has consistently traveled, but rather than a frivolous bucket list, she travels with intention. Why go somewhere just to check it off a list or scratch it off of a map?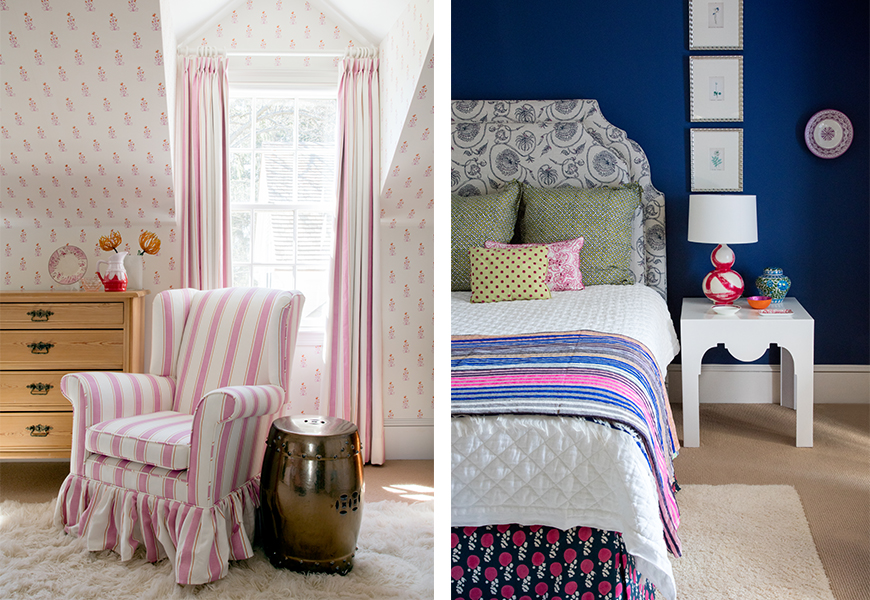 India and Istanbul are beloved by Skok for their craziness, color and marvelous people, but she always returns to her hometown of Karoo, South Africa, her "spirit animal" destination. She loves everything from its dry heat to the colors of the desert sand and vegetation, but most importantly "the way time slows down so it barely moved forward in these quiet, little, left behind towns."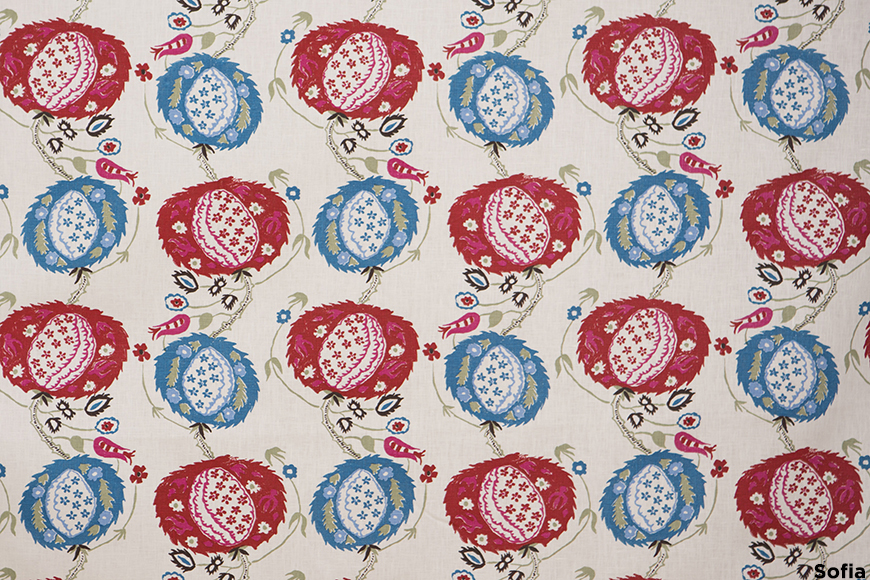 Her collections available at Brunschwig & Fils are also inspired by her travels and her love of white space. Sofia was stirred by a trip to Istanbul, while Botanica is a recent addition that she imagines as a bedroom curtain fabric, that is not too stiff, but has a hint of chintz inspired from her London days in the '80s.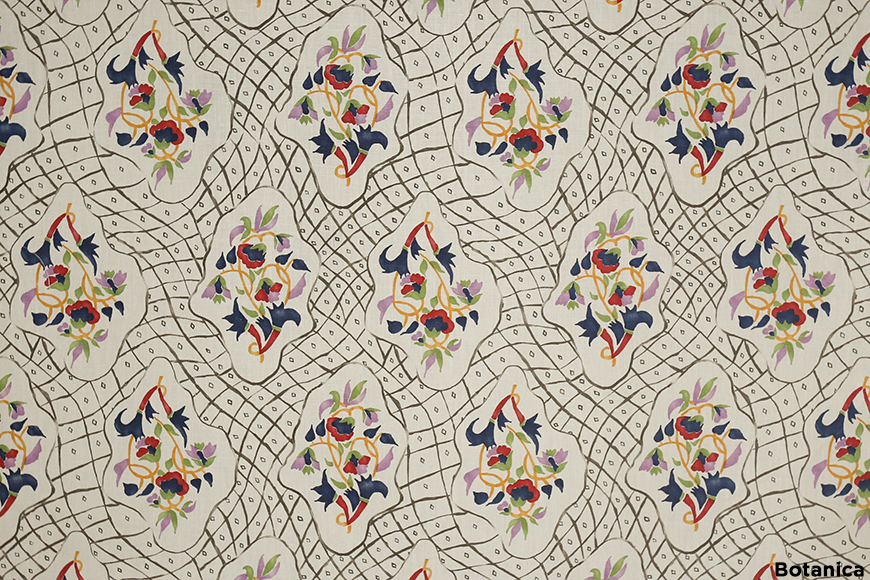 Additionally, although the animals were amazing in Africa, Skok was drawn to the trees in Botswana in all of their "incredible African-ness." Photographs from this trip informed the paintings that led to the Botswana Tree fabric. Oh yeah, did we mention that she paints her designs first?
"When I came back from India, I didn't want to just pick a few of the block print fabrics I bought in my travels and have the studio make them into clones. I felt the need to repaint and reinterpret them," Skok said. "I had honestly no idea what I was doing, I just felt it was the right way to go. There is a lot of me and my story in these designs!"
Skok aims to stay away from trends with her collections and to keep her individual voice strong and loud. Although a self-proclaimed sponge, Skok balances soaking up inspirations with staying true to her personal aesthetic and upbeat, can-do spirit.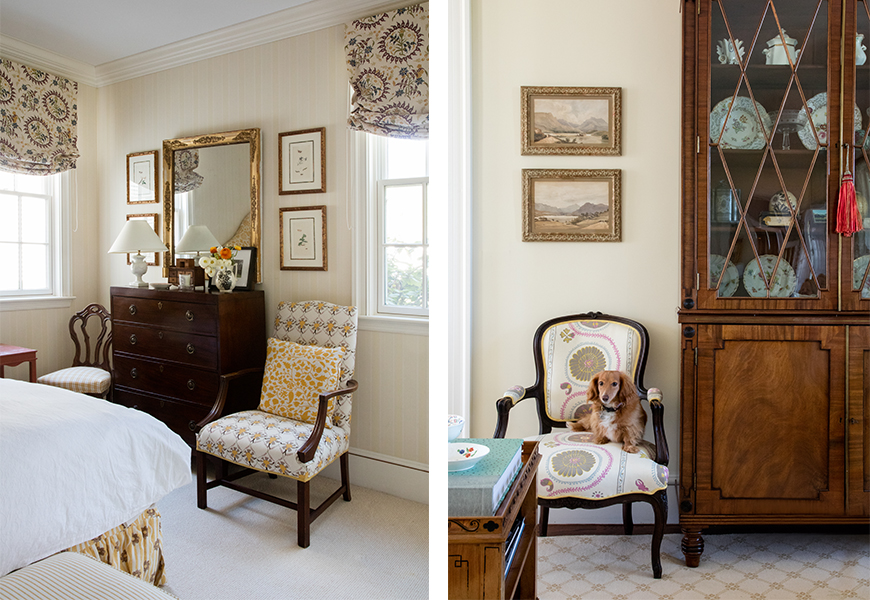 Her design motto really says it all: "These are good problems to have!"
Shop Skok's collection available in Brunschwig & Fils within the DDB Suite 234, the PDC Suite B639, the DCH Suite 150 and the DCOTA Suite C-150,