Marie Burgos has a lot to say about living harmoniously. Between running a bicoastal design business and parenting full-time, Burgos has learned the necessity and joy in finding balance. It's fitting that Burgos started in the industry studying Feng Shui, a system of creating the balance of energy and movement in a space. Stemming from her rich upbringing around art and nature, including her fascination with how environments affect our well being, Burgos enveloped elements of a harmonious lifestyle in her design firm and products.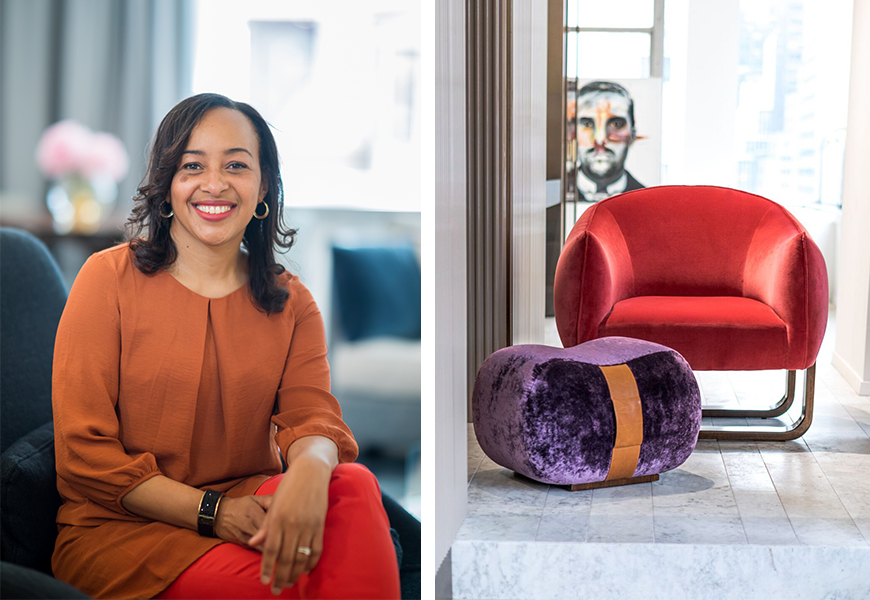 (Left) Marie Burgos (Right) The 'Milo' chair and ottoman
"I'm French. I was born and raised in Paris. My family originated from the beautiful island of Martinique, which is in the French Caribbean." Burgos said that she unfortunately didn't grow up in the Caribbean, but fortunately grew up in Paris and benefited from its culture and art scene. These two places are intrinsically a part of her. "In terms of my upbringing, I really got inspired by two kinds of aesthetics. On one side, the very chic architecture and fashion of Paris. And on the other, the nature and colors of the Caribbean," Burgos said.
Burgos started in business and marketing before entering food industry management, where she trained and managed teams in Luxemburg, France and London for about seven years. When she first arrived in New York in 2002 with the company she was with at the time, part of her job was opening and managing stores, which included making spatial decisions. Many people looked to Burgos for creative direction, including for their own apartments. "I know I was one of the managers in the company who was about having impeccable uniforms, displays, color coding everything, having labels for everything, down to the aesthetics of things. How it looks, how it presents," Burgos said.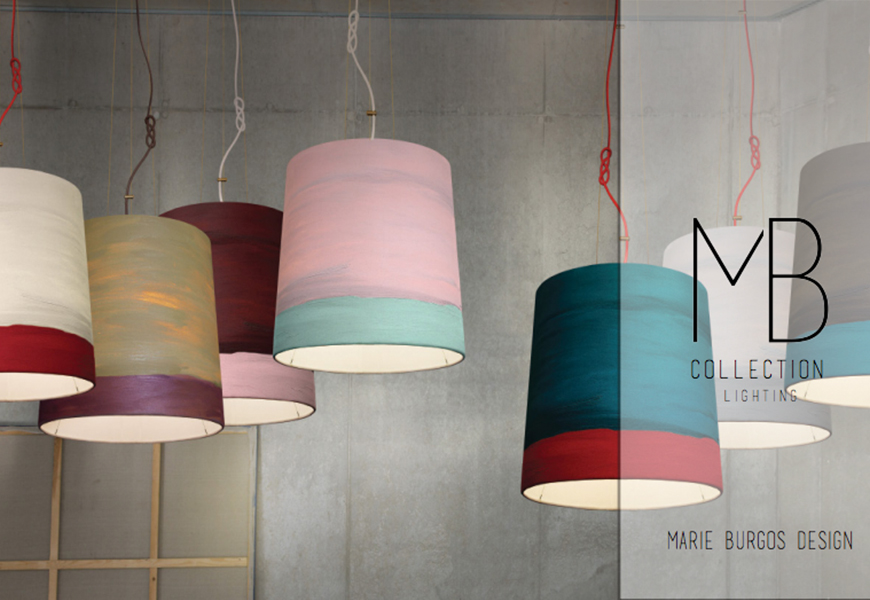 The apple doesn't fall far from the tree; Burgos might just have the most creative chosen and unchosen family. "My mother's a painter and she's the daughter of a fisherman as well as a sculpture. My grandfather used to sculpt instruments. One of my brothers is an executive chef. My other brother is a musician. My husband is a photographer. All of these creative people surround me, so it was always in me. I was the one who was shying away from it. And then one day, because after a while it just kicks in, you need to explore, you need to use your creativity, you need to feel happier, you need to feel whole." Sure enough, creativity kicked in. Burgos dedicated her evenings and weekends to NYU design school while still working full time.
"I was very interested in Feng Shui and I was really passionate about creating more balance in my life because I was working crazy hours. So, one day I fell in a book Move your stuff, Change Your Life. It kind of made me aware of the effect of my direct environment on me. Any imagery should be what you aspire to do and what you aspire to be. It's about what direction you're going because it supports your dreams. What you look at really plays on your psyche. It really impacts your mood and your decisions, and ultimately your life." Burgos allocated her vacation time to go to Feng Shui seminars in order to become a Feng Shui expert. After receiving her Interior design degree, Burgos landed a job with World Bride Magazine as a photo shoot stylist and coordinator for the birth of their home décor section. "So, I had to quit the day job!" Burgos said, "and the rest is history."
The Queen Floor Double lamp
Down the line, Burgos launched her own design firm, Marie Burgos Design, with her husband Francis Augustine, who photographs for the company. The two met in New York when Burgos was first practicing Interior Design. "It's kind of the American dream. I met my husband in New York, because everything happens in New York. We're not only are from the same island [Martinique] but from the same town. Our family homes are on the same street." With harmonious lives, come harmonious stories we suppose.
This past year, Marie Burgos Design launched their first furniture, lighting and accent collections. Two lines of seating pieces include the 'Cayenne' and the 'Milo'. The 'Milo' is named after Burgos and Augustine's son, Miles, whose nickname is Milo.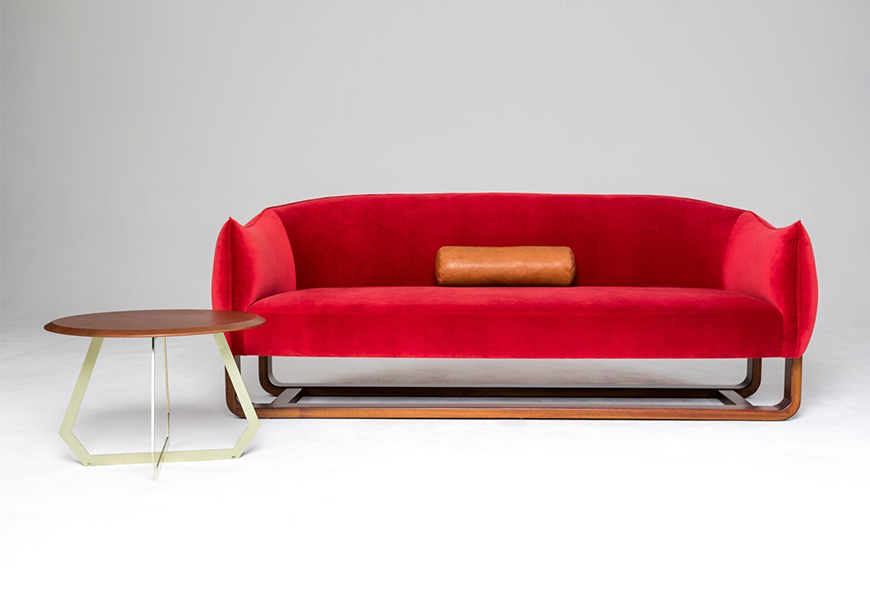 The 'Fetish' table with the 'Milo' sofa.
Burgos integrates the five natural elements in her projects and pieces; Wood, water, fire, earth, and metal. Burgos said these elements can come through literally or metaphorically. Water, for example, can be represented in the water-like movement within a painting, sculpture, or pattern. "If you look at the Milo collection, it has clean lines and it has curves. It has hardwood legs, but we have very plush soft fabrics," Burgos said. Creating these balanced combinations is congruent with Feng Shui conduct.
"You have to have a sense of well-being of the space that you walk in and you have to have a sense of well-being in the chair you sit in. It's about the why; it's not about what. It's why you're doing it. Were not just creating beautiful spaces [for our clients], were creating spaces that will support their lifestyle and aspirations. You want to be the person that will add to their lifestyle," said Burgos.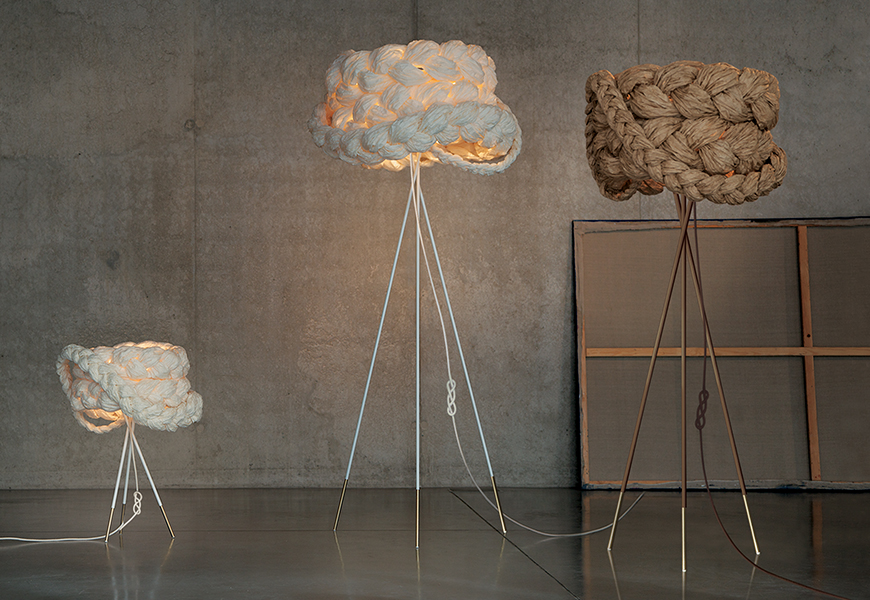 The 'Bride' lamps
This focus on balance translates in her life at home with her kids. Burgos and her family recently relocated to Los Angeles to broaden their professional and personal horizons…and to advance in a warmer climate. "We have two young children so it was important for us to give them an expansive life so they could blossom in freedom. Family is important and feeling balanced is important. I want these values for my children. You can do sports, music and mathematics, but you also can play."
Burgos hopes to introduce more pieces, but feels like the company is still in the development phase and should focus on the exposure of the first collections. In early February, Burgos was invited to display her pieces at Décor NYC for the Black Artists and Designers Guild Pop-up exhibition and cocktail party, where many gathered to shop the vignettes and celebrate the launch of the Black Artists and Designers Guild, founded by Malene Barnett.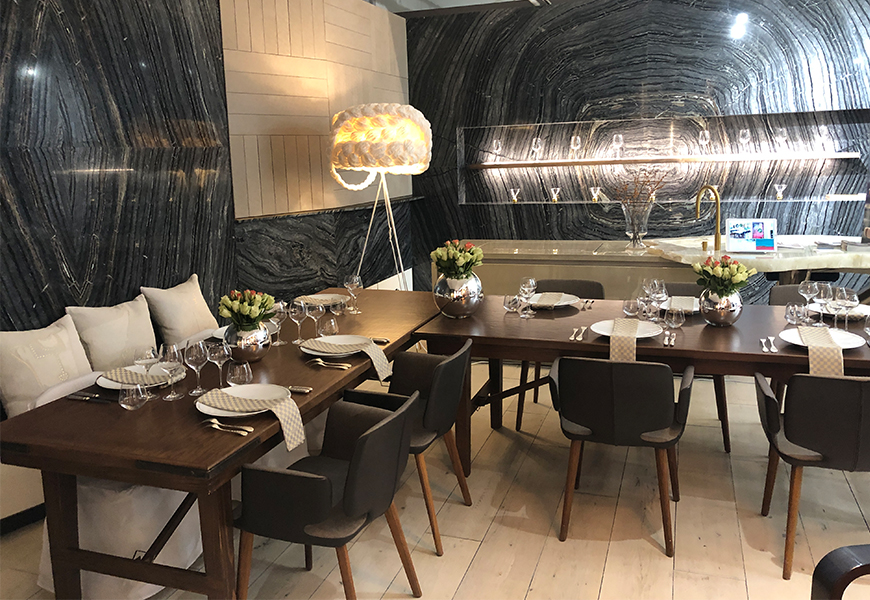 The 'Bride' lamp on display in Matteo Genarri Showroom at the D&D
"I was so amazed by the Decor NYC BAD Guild [Black Artist & Designers Guild] event and by all of the creativity. I wanted to be part of something bigger. It's not only about the individual clients that like what you do, it's about giving opportunity to other artists of color and to be seen and considered for jobs. It's really important because we have things to share, too. I'm proud of the movement and proud of all the opportunity. Hoping there will be more joining and more people enjoying the work we do and giving it value and buying our pieces," said Burgos.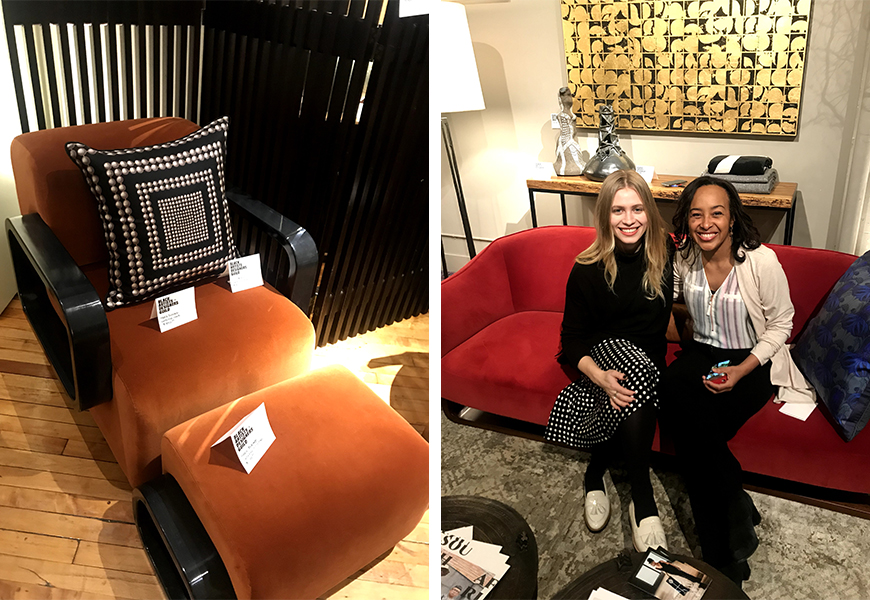 (left) the 'Cayenne' chair and ottoman on display at the Badguild event (right, from left) Go Design Go Editor Isabelle Harrington and Designer Marie Burgos sitting on the 'Milo' sofa.
In the upcoming future, Burgos plans to grow the company more, travel back and forth from LA to New York, make a trip back to the Caribbean, gain exposure, work on home projects in their new house in Malibu, and spend time with her family. She'll do all of that and in good equity.
"You have to focus on the positive, on your craft, what makes you happy and what makes people happy around you. It's about raising your energy level to a frequency where you want to feel good, so more goodness is happening," Burgos said. Burgos left us walking away on the sunny side of the street.
"It's really an exciting life. I can't complain."
See more of Marie Burgos and her work on her website, Marie Burgos Design. Her Milo and Cayenne pieces are on display in Matteo Genarri, Suite 923 in the DDB!