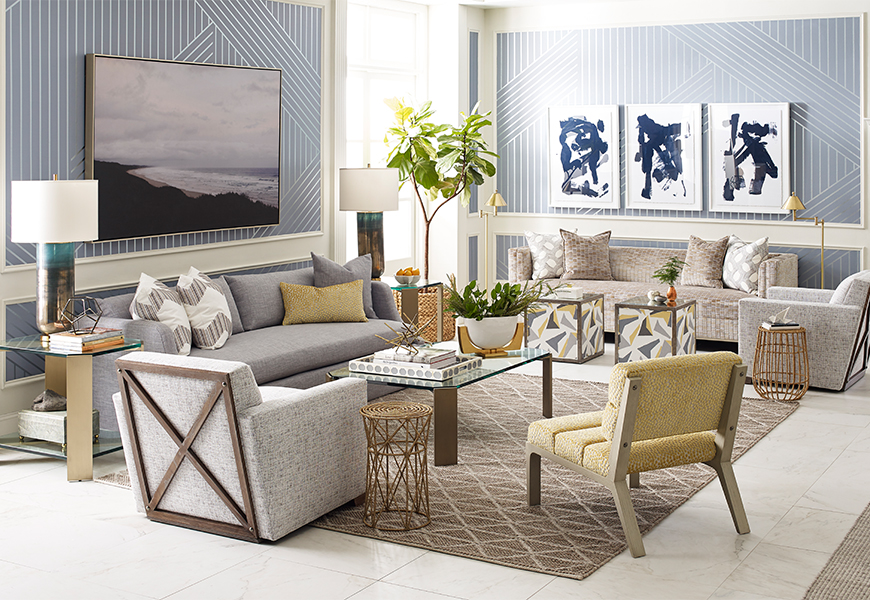 Altitude, Thom Filicia's latest fabric collection is complimented by introductions of furniture, drapery hardware and wallpaper. The collection reaches new heights for the latest Thom Filicia for Kravet partnership. This introduction responds to a need Thom saw in the market for furniture and fabrics that are sophisticated yet subtle, clean yet classic and elegant yet earthy.
Taking it beyond purely textiles, timeless silhouettes are captured in every aspect of this collection. Drapery hardware offers a mix of wood and metal with transitional shapes for a room's finishing touch. Furniture frames evoke strength without ending comfort. Three new wall coverings complete the lifestyle collection with their versatility. PROXIMITY and KUSA create clean lines and geometric shapes, while PELLE presents natural and textured interior dimensions.
Colorways range from summery sea spray blues to citrine yellow and neutrals, making room for serene sophistication.
Go Design Go editor, Holly Speck talked to Thom about his takes on this head-turning, depth-defying design collection.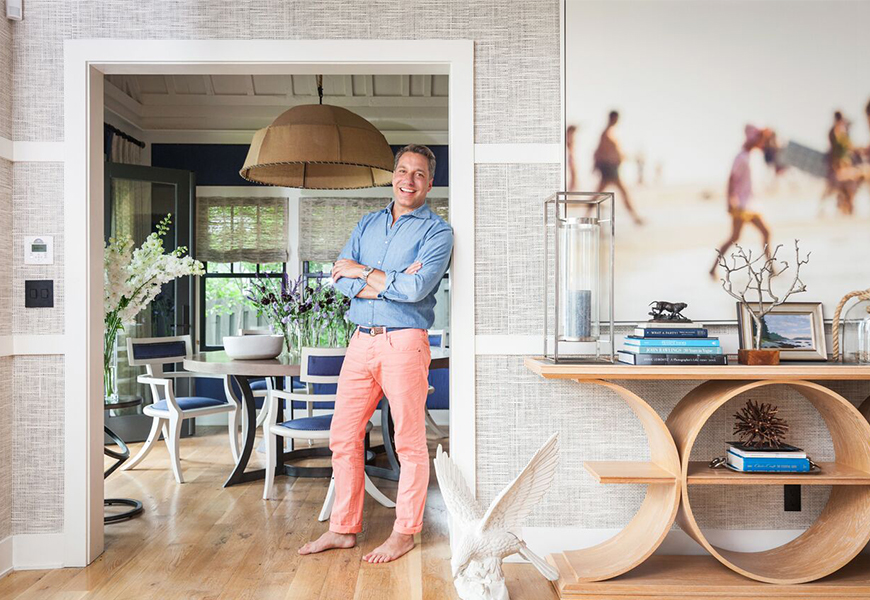 HOLLY SPECK: What inspired ALTITUDE?

THOM FILICIA: I am constantly inspired by all around me and loved the idea of this collection being called "altitude" because I feel like it has a wonderful birds-eye perspective on my design aesthetic, which blends raw with refined, clean with classic, and elegant with earthy.
HS: Describe this collection in three words:

TF: Stylish, timeless and livable
HS: What is your favorite piece? Why?

TF: I love the scale, proportion and the materiality of the Filmore Chair. I think it feels both timely and timeless in its overall sensibility and style.
HS: Any interior design tips on the mix and match look for the drapery hardware?

TF: I love a mix of materials in my designs and the drapery hardware is no exception – mixing woods with metals, leathers and various finishes allows one to create a dynamic and personalized look that can complement and stand alongside any drapery.
HS: How does ALTITUDE represent Kravet and Thom Filicia style simultaneously?

TF: I've really enjoyed my partnership with Kravet and am thrilled to continue building upon the strong foundation we've built together over the years to further our shared vision of providing high quality and thoughtfully designed product that can inspire others to live life more beautifully! Our goal was to create a stylish new collection of furniture with timeless and classic silhouettes that exude a modern sophistication while feeling effortlessly livable.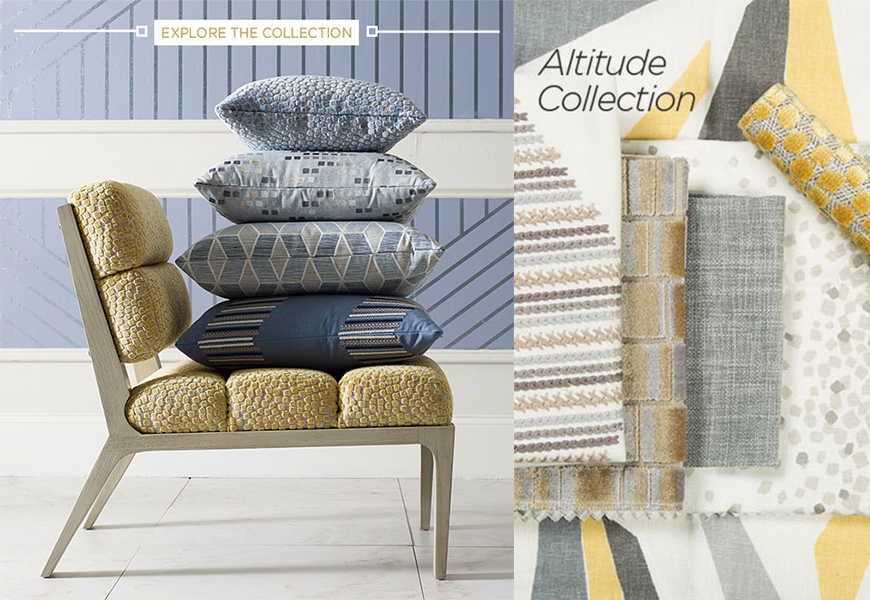 HS: How have you and your brand evolved during your many years as a designer?

TF: I feel like I'm constantly evolving and growing as a designer and brand and have loved working at all levels of the design business, from developing product for the Thom Filicia Home Collection to doing high-end residential and commercial interior design all over the world, working on television, writing books and running my own to-the-trade showroom, called Sedgwick & Brattle. I believe in the democracy of design and am excited by the growing interest in design at all levels. I strive for my home collection to not only be exceptional, but accessible as well, and I'm honored and excited to see my product in homes, hotels, restaurants and bars all around the world!
Visit Kravet in the DDB Suite 1202, PDC Suite B624, DCH Suite 150 and DCOTA B-180, to feel the light and optimism exuding from Thom's new collection.