Sometimes a cigar is just a cigar, or so the saying goes. In design, however, as with any discipline that has a history, each object carries the weight of those who created and cultivated it into its present-day iteration. For the legends of British design, including artisans, clients, and the furniture they both helped conceptualize, this history can span several centuries, from the oaky living area of a 17th-century Earl to the posh dining areas of Soho House in contemporary London. In a story originally seen on Dering Hall, lean into the George Smith furniture, inside and out.
Meet the Chesterfield sofa by George Smith. You might have heard of the famous sofa's name, but its history is often more obscure, as are the amount of work and attention to detail necessary to craft a single Chesterfield sofa. Here, we delve into the history behind the Chesterfield sofa and follow the team of artisans at George Smith as they carefully construct this historic design staple.
The Famed Politician Behind the Name
Lord Philip Stanhope, the 4th Earl of Chesterfield (1694-1773), is believed to have been the first person to commission a Chesterfield-style sofa with a low seat, deep buttoning, and quilted leather upholstery. A skilled diplomat and patron of artists, Stanhope was also known as a worldly wit who left a trove of letters upon his death, many of which were published posthumously. His lengthy letters to his son ranged from advice on philosophy and love to decorum. Centuries later, his reputation succeeds him, rather than precedes him, in the clever, visually pleasing Chesterfield sofa.
The Famed Artisan Behind the Brand
In the late 1700s, another icon of British design was born: George Smith (c.1786–1826). Working for renowned clients like the Prince of Wales, Smith and other famed furniture makers helped establish the legacy of Britain's design community during the Industrial Revolution. Notably, Smith published several works, including the influential A Collection of Designs for Household Furniture and Interior Decoration, a compilation of 158 aquatint engravings of furniture designs considered the first of its kind to represent the full Regency style in everyday furniture.
Today, the company named in Smith's honor continues to be inspired by the designer's drawings. George Smith's contemporary work innovates on traditional British styles popularized by artisans like Smith and wealthy clients like the 4th Earl of Chesterfield. The influence of centuries of British design mastery, reinterpreted for a contemporary audience, are present in each of the brand's products.
Fabricating the Frame
Careful, hand-crafted work is the backbone of George Smith furnishings. Each Chesterfield sofa is crafted from high-quality natural materials in the company's workshops in the north of England, and it can take up to 50 hours to make a single sofa. First, the frames are constructed by hand from kiln-dried, responsibly sourced wood. Upholsterers then position and hand-tie cone springs to the seat and back to evenly distribute weight throughout, maximizing comfort.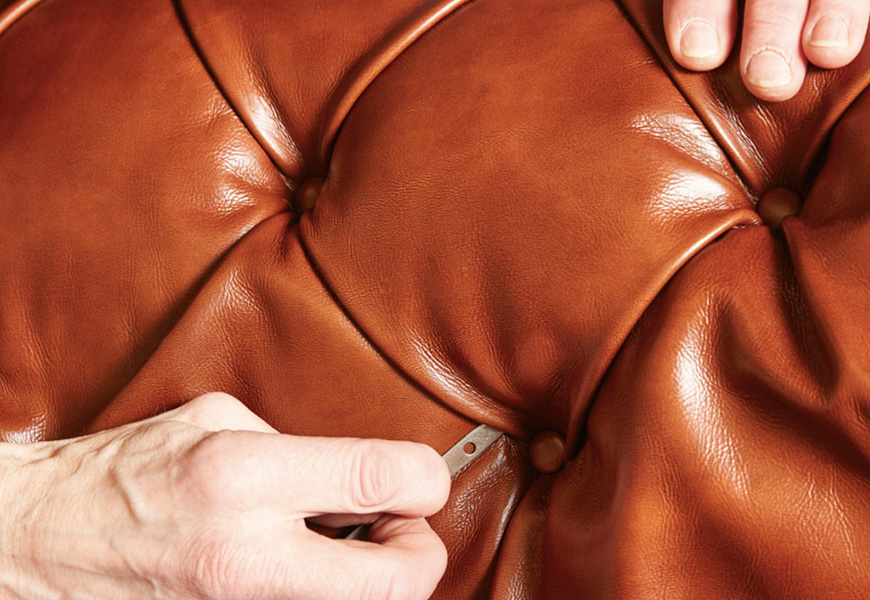 Upholsterers at Work
To protect the fillings and ensure correct placement, craftspeople wrap the springs in burlap and hand-tie them a second time. The grooves are filled with natural horse hair, bringing voluptuous depth to the deep buttoned seat and back area. The artisans fit a cotton lining around the horse hair to provide ease and minimize displacement.
Wielding 40-centimeter upholstery needles, artisans upholster tufted diamonds through the fabric by hand; each diamond tuft relies on buttons that are hand-crafted from the same fabric or leather. Upholsterers will use about 200 buttons for every Chesterfield sofa.
Consistency is Key
The history of the company and its sofa matter, and so do the histories of its craftspeople. Many of the upholsters who create these sofas have been working at George Smith for 40 years. Through their efforts and continued practice, a deeply consistent, luxurious sofa emerges. George Smith's Chesterfield sofas are used in various spaces, from outdoor patios to upscale restaurants, to reference historic British craftsmanship and bring an elegant edge to a room design.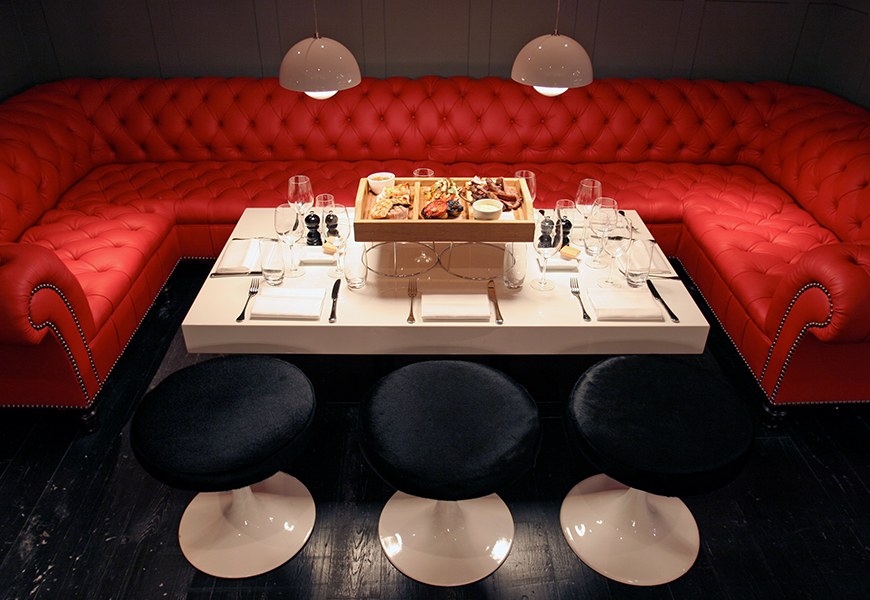 The Finishing Touch
Even a historic design will still feel personal through the selection of fabrics, finishes, and applications. Any exposed wood is stained with custom finishes, and castors can protect the sofa's legs if it's moved frequently. Optional visible nailheads provide a hint of shimmer and reflect an unconventional aesthetic. Stitching detail and piping application can also be customized. When the sofa is finally complete and installed, it's ready to begin a new story: the present, and future, of the new space it inhabits.
To learn more about George Smith and its place within the history of British luxury design, visit their page on Dering Hall, and browse their Chesterfield sofas below or contact George Smith to order a bespoke version.
Shop George Smith at the D&D Building, Suite 1615.