Thomas O'Brien eloquently shared the vision of his unique pieces that have a bit of old and new. Though we're not surprised, Patterson Flynn Martin was found to complete the suitable union as PFM and O'Brien both honor rugs firmly. Go Design Go chats with the designer about his passion project with PFM.
GDG: Noticing many curves, deconstructed key-like shapes, and calm colors in this collection! What inspired this seemingly earthy and organic collection?
Thomas O'Brien: I'm always looking and finding inspiration in so many different kinds of things. The true inspiration for each of the carpets is very unique. Iantha and Lanier started with midcentury modern ceramics. Luli began with a hand-painted book cover. Isadore is developed from my collection of hand blocked Indian handkerchiefs. For the Lotis and Phoenix carpet variations, I sketched and created patterns from midcentury modern paintings. And finally, Jansey begins with French modern gilded and jeweled mirrors by Lin Vautrin and bordered with a pattern from a 19th-century spode dish.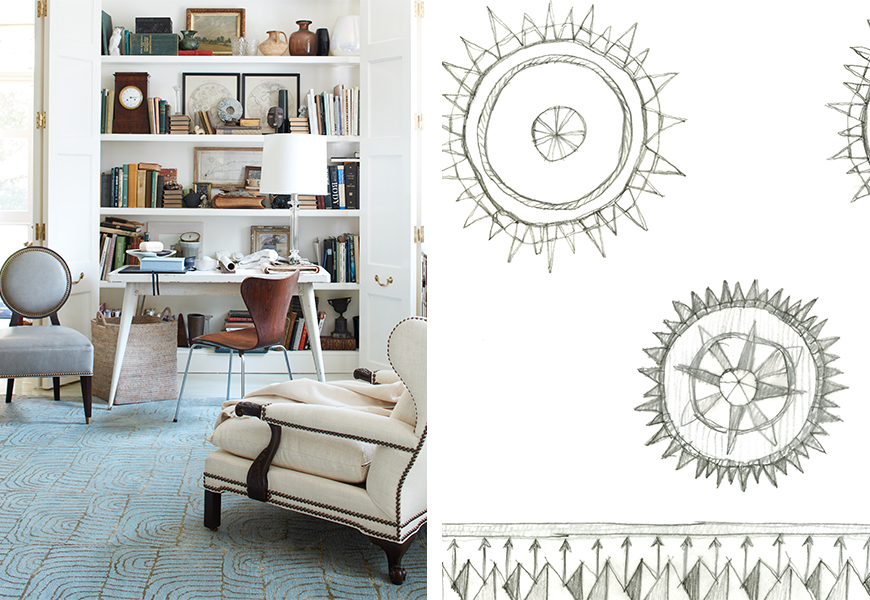 (Left) O'Brien's 'Iantha' Rug (Right) O'Brien's original sketches of 'Jansey' Rug
GDG: How did the collaboration with PFM come to be and what was the best part of the partnership?
TO: PFM has always been my go-to for carpets of all kinds. Since my earliest days at Ralph Lauren, I've always been impressed by their custom capabilities and how careful and meticulous each person at every step is about the special carpets and rugs they have available. I always have thought they have the chicest and most refined collections from simple to the most elaborate.
GDG: How do you approach designing a rug? What is your process like?
TO: It was once said to me that a rug is an object, not just a pattern. And a rug needs to be something like a painting. So every design needs to stand on its own almost like a window or a door in a way. Rugs need to feel individual.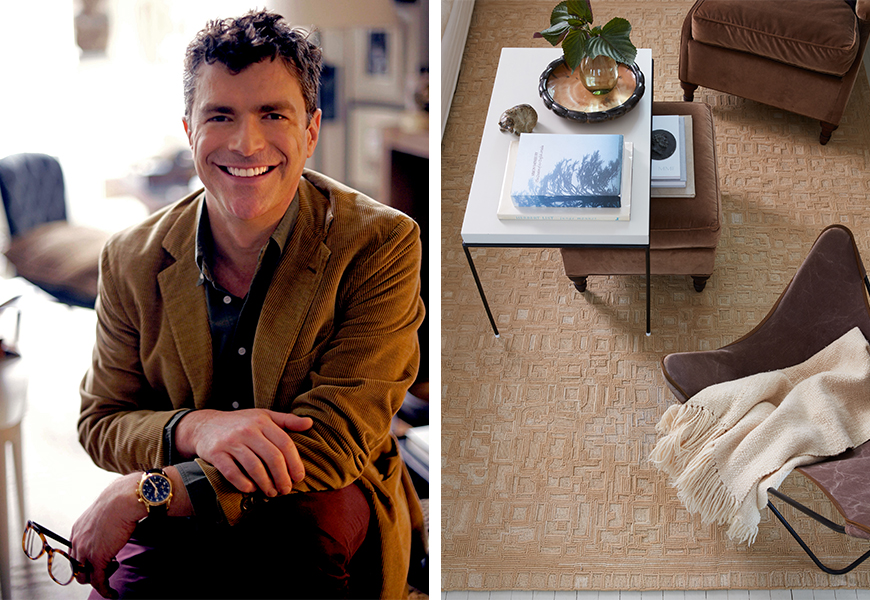 (Left) Thomas O'Brien (Right) The 'Phoenix' Rug
GDG: Do you consider any of them to be a favorite or represent the collection in its entirety well?
TO: I love the Lotis and Phoenix collections for being variations of each other and the patterns I was intrigued by. Phoenix, in particular, is both very elegant in the silk and wool construction and beautifully casual in the hand hooked cotton. The hand-hooked cotton is actually a favorite for me and unexpected in a modern design. Similarly, Lotis feels both elegant and casual whether in silk or wool. I love the glamorous raised silk versions and border options. I tend to always like to combine fine and easy things and blend traditional and modern styles. I see them not as opposites, but as complementary ingredients.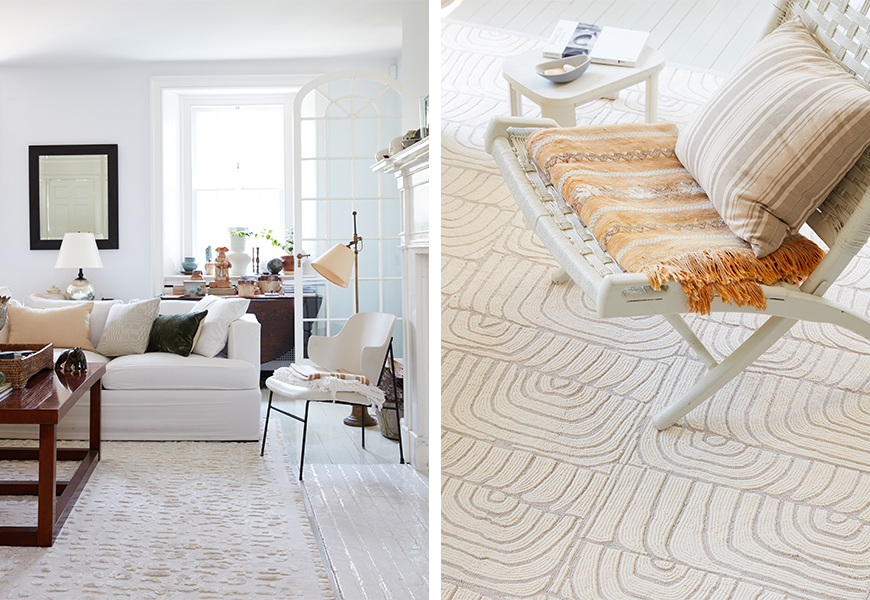 (Left) The 'Phoenix' Rug (Right) The 'Iantha' Rug
GDG: How did you decide to name the pieces?
TO: I've always collected names. Iantha and Jansey are names of two designers I've met along the way actually visiting design showrooms through the years. I have collections of naming books and lists of names. A name really has to feel like it fits the designed rug or piece of furniture. I do like when people remember a piece for the name just as much as the design.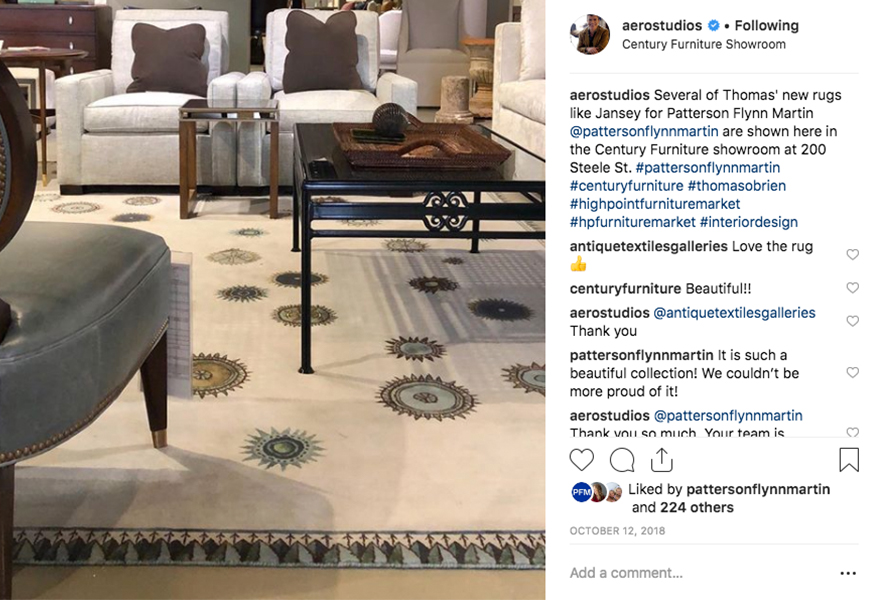 GDG: The 'Jansey' is currently showcased in the PFM window at the DDB. Did you have any creative direction in this? If so, why the 'Jansey'?
TO: Jansey, in ways is the most whimsical and elaborate of the carpets. I love the fun scatter of the starbursts and the detail of the border. I think it is the boldest of the group of designs and it is about the exuberant style of this time now. It's kind of a wild one for me.
GDG: How were these pieces similar or different to what you typically design?
TO: I'm interested in things from so many different eras, either modern or more historical. I'm always designing interiors and furnishings with these ideas in mind. There is an earthy, modern color and feel to the collection with some surprises like the pink and indigo of Isadore and the unique intricacy of Jansey. I am so pleased with the rich variety of the designs and constructions I was able to create because of the fantastic skill and craft of PFM.
Thomas O'Brien's Collection is available through Patterson Flynn Martin now, or in their showrooms at DDB Suite 632, DCOTA B-158, and PDC B523!