Dedar has had a big year. The family-run fabric house was founded in 1976 and expresses a personal style with cutting-edge contemporary collections, and now in Spring 2018 brings its Italian flair inside the D&D's illustrious halls.
Dedar experiments and innovates to attain product perfection characterized by seductive color palettes and unexpected patterns, and works closely with local craftsmen and textile specialists close to Lake Como. Did we forget to mention their partnership with Hermes? Or possibly their brushes with decorated Hollywood? We'll get there.
GDG chatted with the strikingly tall and fiercely stylish, Caterina Fabrizio and her equally engaging brother, Raffaele Fabrizio, the design duo now in charge of Dedar, after its founding four decades ago by their parents Nicola and Elda. From new collections to a new home, the download on Dedar is here.
First, to the big screens. Dedar's product has been featured in famed director, Luca Guadagnino's movies "I Am Love," and most recently, in the award-winning "Call Me By Your Name." Dedar's silk brocade, 'Dalie, Papaveri, Tulipani' had a worn out effect perfect for the walls of the film's library, while 'Artwork,' a print with a large-scale Ikat pattern, was used on the head of the bed.
"I met Luca for the first time at our Milano Showroom," Caterina said, "In our showroom he found in our sensitivity what he was looking for: fabrics, designs and colors that could catalyze and transmit emotions, that could be part of a Villa lived in by generations with a warm atmosphere coming from the past and from the travels of a cultivated family inclusive of different cultures."
Coincidentally, his choice of movie setting, the Villa Necchi Campigli, was also a location that Dedar shot many of their past collections.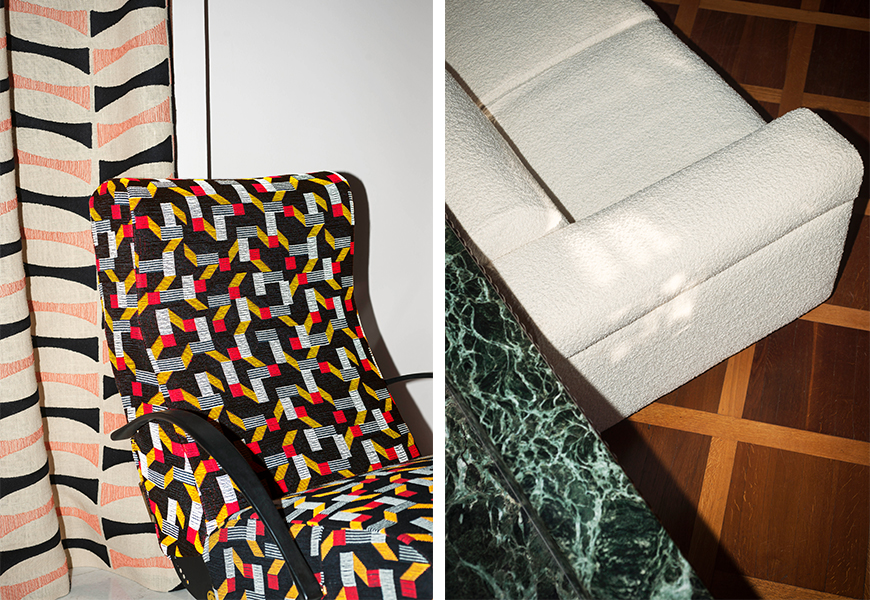 In their most recent collection, Dedar's new designs explore many different paths, traveled with equal passion. Bold, far-reaching geometrics, contemporary interpretations of historical archival fabrics, velvets that celebrate natural beauty, and an ironic, yet elegant collection of "classic" masculinity come together as the face of 2018.
"What makes the 2018 Collection fresh and new are our unusual designs, from geometric patterns to jacquards and prints reinterpreted with new bright color palettes, and the excellent material quality of our wide wools and silk velvets," Caterina said. "At the same time, the whole collection is quintessentially Dedar because it is modern and yet able to create new timeless classics."
Within this standout collection, there are definitely a few standouts. 'Cosmic Confetti,' features a 3D print on a linen that combines a traditional material with a cutting-edge technique, while 'Pazl' returns to the primitive, sourcing inspiration from primeval art in large-scale geometrics.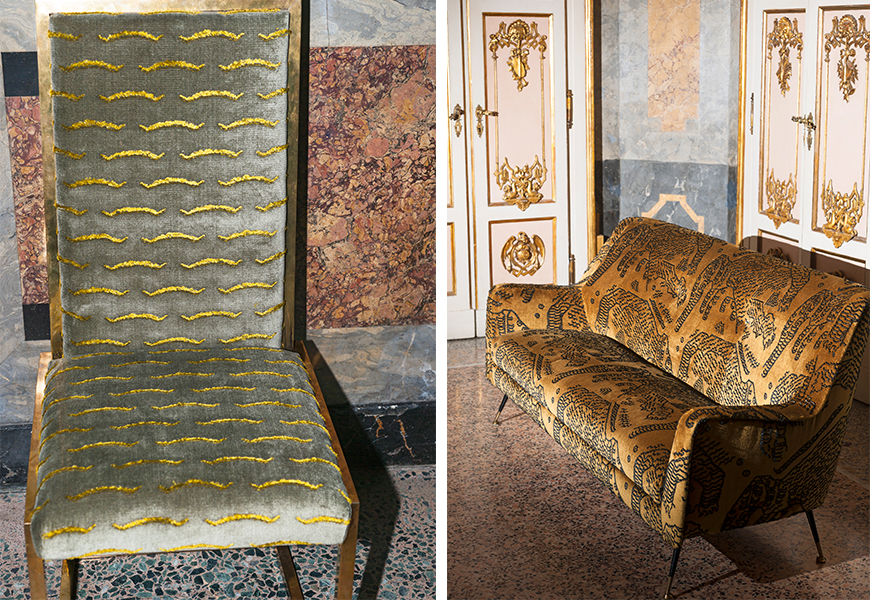 The real beauty of this print comes from "a second force at play: the contrast of the silk satin in the background with the burette of the weft design. The irregularity of this more textured yarn heightens the bold personality of this jacquard with great impact," Raffaele said.
Another collection favorite with innovative material usage is the 'Tussah Silk,' characterized by the rough, uneven effect of its yarn made from the cocoons of wild silkworms.
However, one of Caterina's favorite prints is 'Fresco' because each inch of the fabric is hand-drawn and hand-painted.
"This process determines its lack of uniformity but also its uniqueness, resulting from the exceptional ability of Indian calligraphers. At the same time, 'Fresco' represents a return to nature with its geometric pattern that reinterprets palm leaves in an abstract way," she said.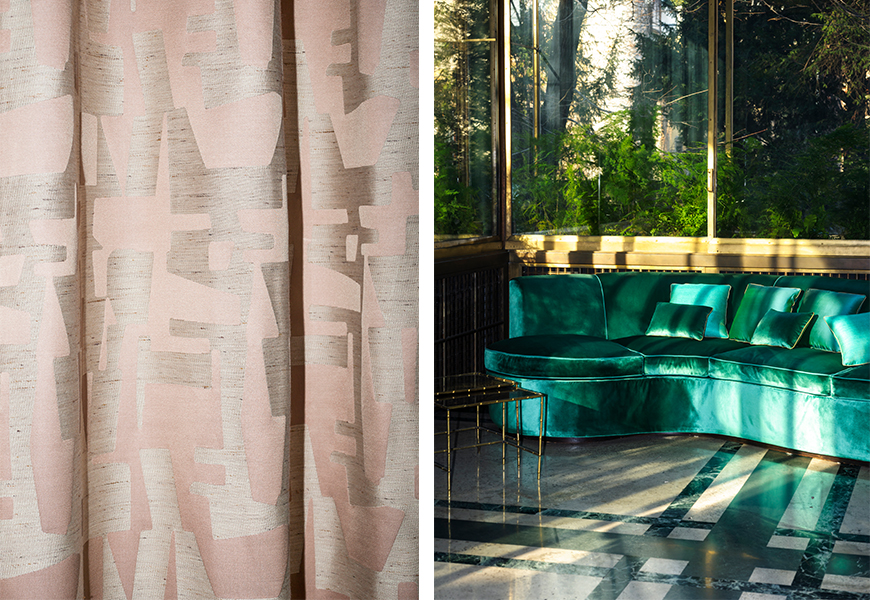 For this collection, the Fabrizio's advise to avoid monotony and 'be free,' combine soft and opaque fabrics with iridescent silky textures, and trust your instinct. If all else fails Caterina says imagine yourself choosing clothes. Especially within the 'Tie-Break' collection, which boasts a distinctive character, that celebrates men's fashion elegance.
Explore the 3,000 home fabrics, outdoor products, Hermes home fabrics and wallpapers and wall coverings of more than 3,000 colors in the new Dedar showroom within the D&D, Suite 1009, inspired by a lofted theatrical space "where shades of dark and light are dramatically used to enhance the protagonist of the scenes: fabrics."