The DDB Fall Market combined cheerful spaces, dazzling product and friendly faces of the industry that formally regrouped after the sweltering summer months. Regardless of time passing and the seasons changing, or the diverse range of topics covered in Keynote and program conversations, everyone seemed to be on the same page about what Luxury is rooted in: time and comfort.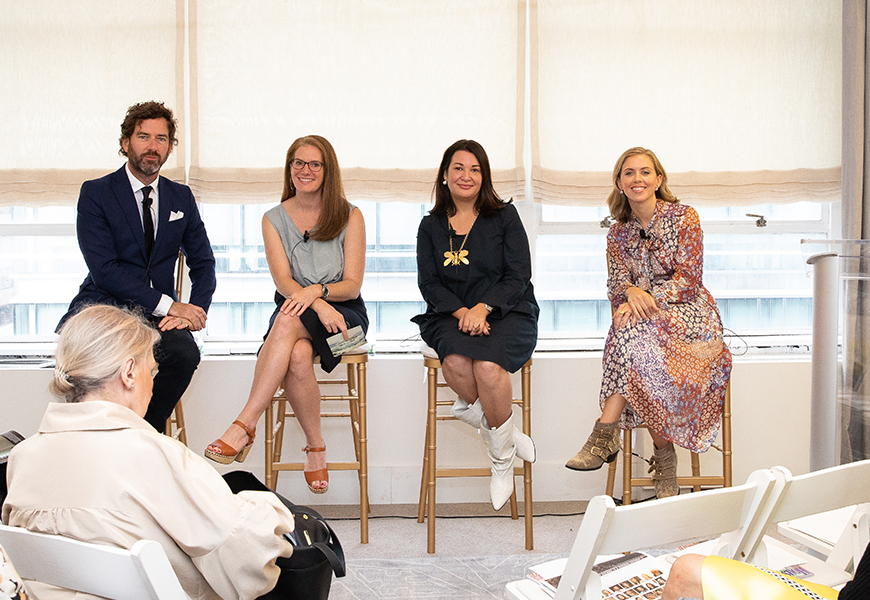 The 'Fancy That! The Shifting Definition of Living Fabulously' Keynote Panel. (From Left) David Netto, Sophie Donelson, Suysel dePedro Cunningham, and Anne Maxwell Foster
GDG's impression:
Luxury doesn't have to be complicated. It doesn't have to be sensational or at a high price point. Luxury is rooted in feeling, when our emotional and physical state is right where we prefer it.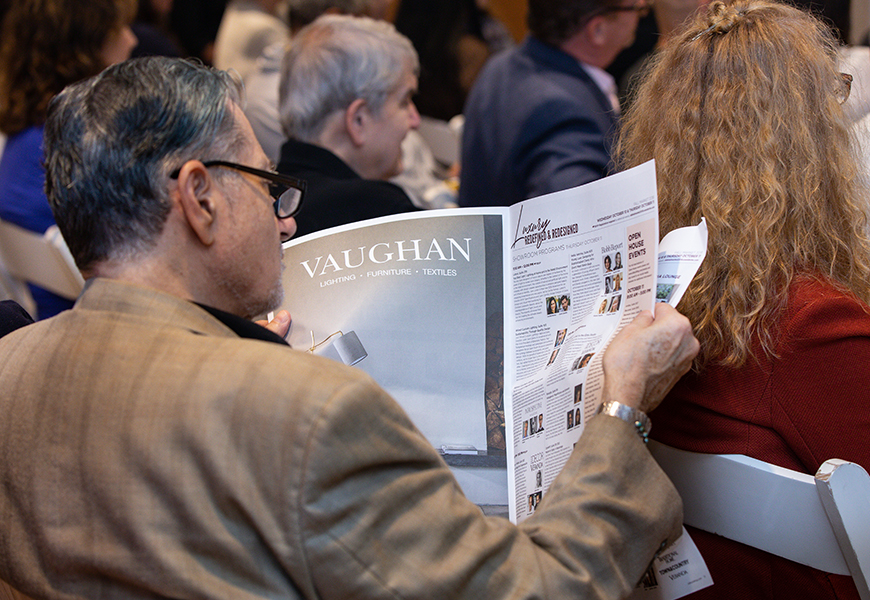 In "The Luxury Design Revolution" Keynote at Kravet, iconic designer Kelly Wearstler shared how she learned her luxurious tricks –many of which she shares with her clients- and it's from paying attention to others lifestyles or arrangements. For example, she has adopted the luxurious elements of hospitality such as the way the room service tray is presented or the accessibility of the creature comforts we all depend on. While she is mindful of the objects and materials, she emphasized the experience and the heightened lifestyle that can come from a detail like this and how we can adapt it to our own lives.
The 'Luxury Design Revolution' Keynote (From Left) Stellene Vollandes, Kelly Wearstler, and Cary Kravet
Designer and founder of Troutbeck Country Estate, Anthony Champalimaud hopes guests of his upstate New York getaway return solely for the experience, and it sounds like they do. "Everyone is met with a smile," says Champalimaud. He intends to create a peaceful experience at Troutbeck by encouraging individuals and families to unplug, unite and spend time outside. In the Keynote "Tangible Versus Intangible", Champalimaud agreed with Annastasia Seebohm, Richard Lambertson and Carolyn Mitchell that experiencing luxury is a personal and emotional feat.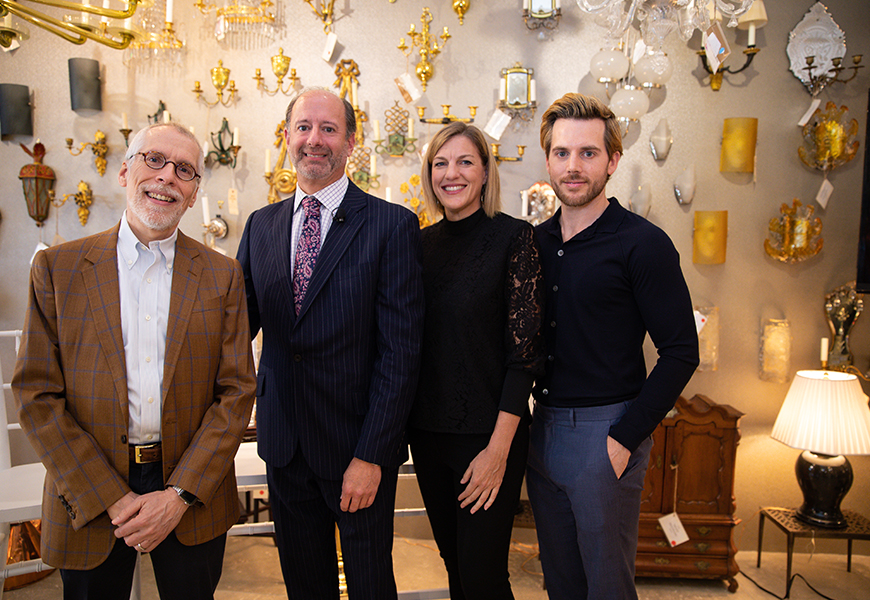 'The Role of Tradition in Luxury' group. (From Left) Michael Simon, David Reitner, Sarah Ramsey and Caleb Anderson
In the Keynote 'Global Luxury', worldly designer Sandra Costa shared about her childhood growing up in New Zealand and how everything was connected to nature. Costa said she aims to invite earth elements into the forefront of her designs and believes that too much drama in design is dangerous. In other words, if people want luxury, there must be air, water and sky; there must be safety.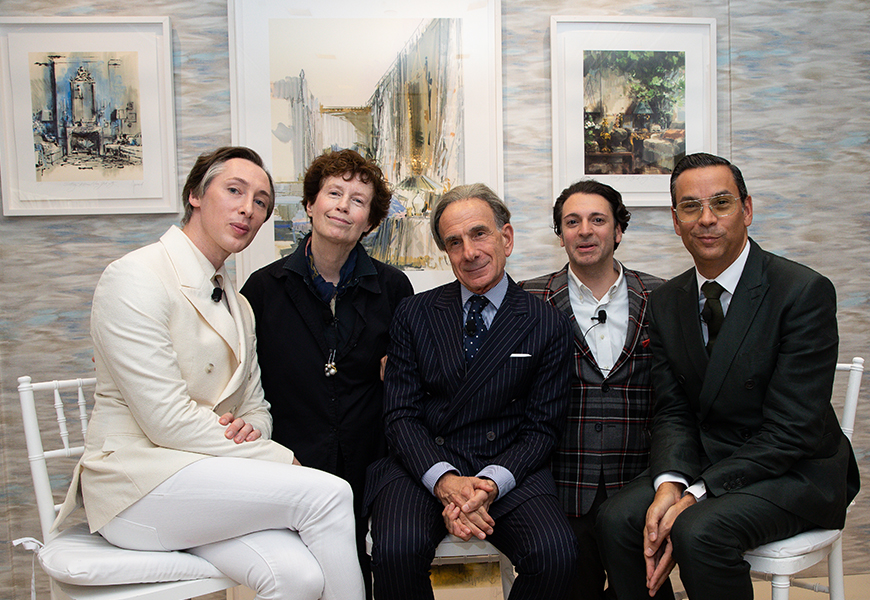 (From Left) Dean Rhys Morgan, Wendy Goodman, Robert Ruffino, Garrow Kedigian, and James Aguiar in JAB Anstoetz for 'Inspired Interiors' Reception
Late artist Jeremiah Goodman was honored through personal storytelling by close friends and colleagues at the JAB Anstoetz 'Inspired Interiors' event. Goodman used his memory and imagination to create his masterpieces. He and his work serve as a becoming metaphor to the market's takeaway of using our connections with people and nature to formulate luxury.
(Above) Magazines displayed at the Media Lounge hosted in the Coco-Mat showroom.
"Everybody likes a story. People want some background, its part of the nostalgia or part of the product." -Richard Lambertson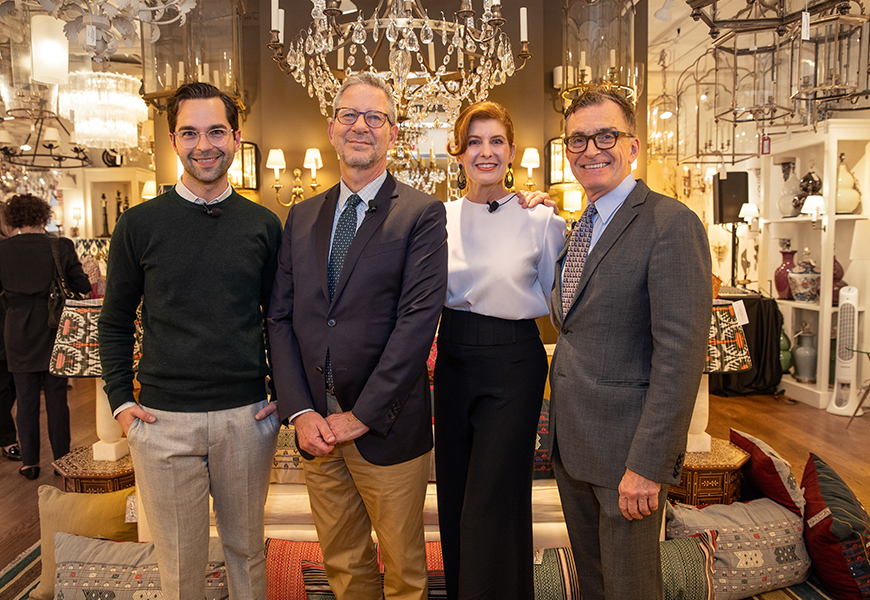 (From Left) Bennett Leifer, Michael Boodro, Amy Lau, and Glenn Gissler in Vaughan for the 'Making It Special' Special Event
In the "Making It Special" Special Event hosted by Vaughan, Dering Hall's Michael Boodro reminds us of a simple, yet a substantial piece of what designers set out to do."You hire a designer to enrich your life," says Michael Boodro. The enrichment can look different everywhere.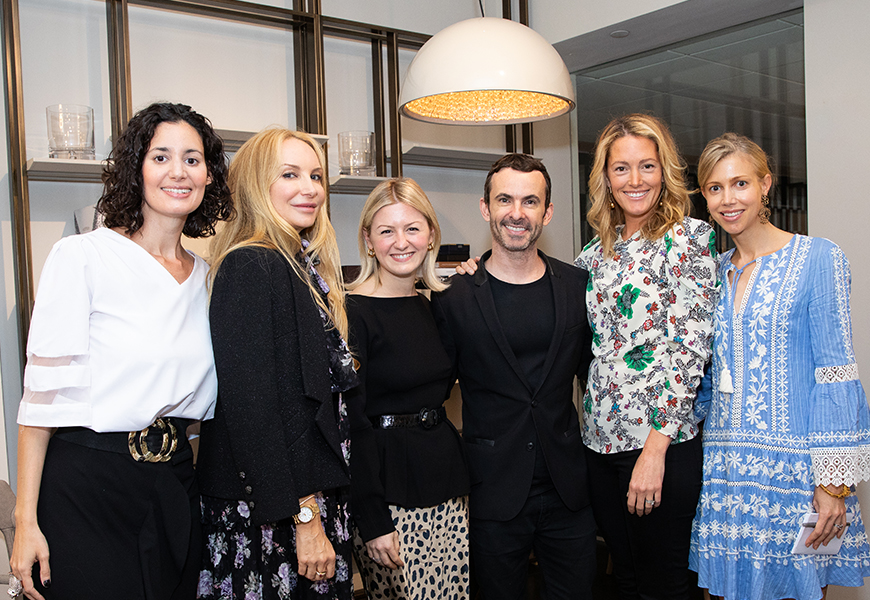 (From Left) Arianne Nardo, Nicole Fuller, Alyssa Kapito, Steve Brister, Sara Gilbane, and Virginia Tupker in'Young Luxe: Designing For Sophisticated Clients Who Don't Want Birkin Bags' Showroom Program in Nella Vetrina.
In Fabricut's showroom program "Luxury in Design" Pulp Design's Carolina Gentry and Beth Dotolo discussed how they enrich their clients' lives with re-purposing sentimental possessions or offering an accessorizing service to highlight every detail. In the Robb Report Showroom Program 'Young Luxe: Designing for Sophisticated Clients Who Don't Want Birkin Bags', the savvy designers discussed how they lean toward custom pieces in order to create personalized luxury for their clients.
(Above) Hunt Slonem at 'Book Signing with Hunt Slonem: Gatekeeper: World of Folly' .
Whatever the client, intention, or price tag, we can all agree that luxury is nice to experience. The DDB Fall market was a luxurious experience itself, as we all gathered for storytelling and connection to strengthen how we work and live.