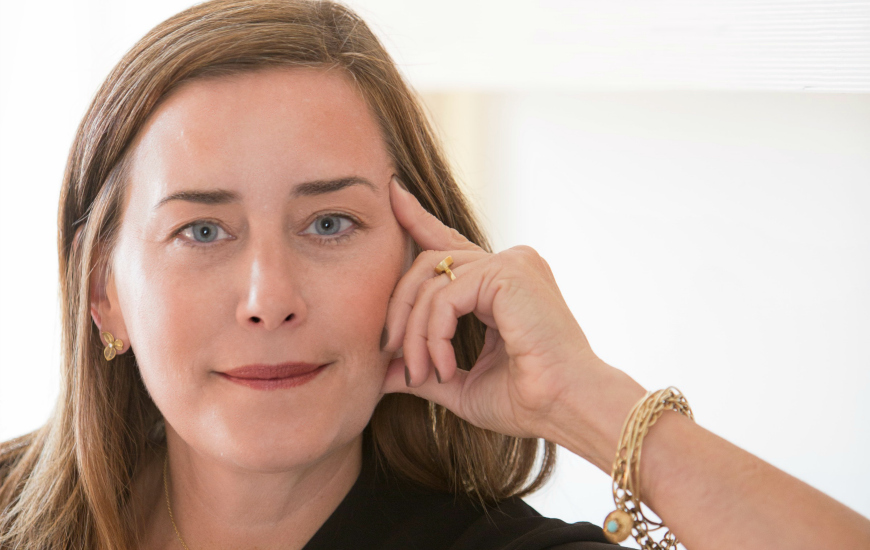 What do you get when you combine attentive processes with eclectic and luxurious interiors? Koo de Kir creative director and founder Kristine Irving and her current design state of mind.
With projects spanning from Massachusetts to the Kingdom of Bahrain, Kristine oversees all aspects of her South Boston–based firm's day-to-day operations. Her interiors have been featured in The Wall Street Journal, New England Home, Travel + Leisure, Domino and more. In 2016, Kristine was named one of Traditional Home's New Trads. Get better acquainted with the talented designer as she answers our 19 Rapid-Fire questions…
What is your chief characteristic? As a designer, I'd say my main characteristic is that I am very thoughtful. I'm not talking about gift giving—though I enjoy doing that a lot—what I mean is that I enjoy the process of thinking through all the questions: How will clients exist inside the spaces I design, how will the space feel, how will the light hit that wall—thoughtful.
Your favorite design motto? "Style is all in the edit."
What makes a house a home? The people who live inside of it, their stories, their history, their personalities… No matter how much money you spend on furniture and beautiful finishes, without the spirit of its inhabitants all you have is walls.
What is your most treasured possession? Surprising as it may be given my line of work, I'm not super fetish-y about stuff. My fiancé designed a beautiful ring for me using stones that both of our mothers gave to him, so I guess I'd say it's my engagement ring.
If you hadn't gone into interior design, what would you be doing? I have no idea. This has been my work since I decided to draw a huge mural of hieroglyphics on my bedroom wall at age 12. I cannot imagine doing anything else.
Who is your design hero? It has to be my mother. She gave me the encouragement and all the natural tools to do what I do.
Your favorite author? Milan Kundera
What is your favorite season? As a New Englander, it's nearly impossible to pick only one season, but I suppose that since I live at the ocean, summer comes out on top.
Your favorite food and drink? Cacio e pepe with a glass of Sancerre—a blend of my two favorites, Italian and French!
What is on your nightstand right now? My glasses, a half-eaten chocolate bar, a pile of design magazines, a glass of water, and my iPad
What natural talent would you like to be gifted with? I'd like to fly.
What is your present design state of mind? Moody, mixed, minimal and luxurious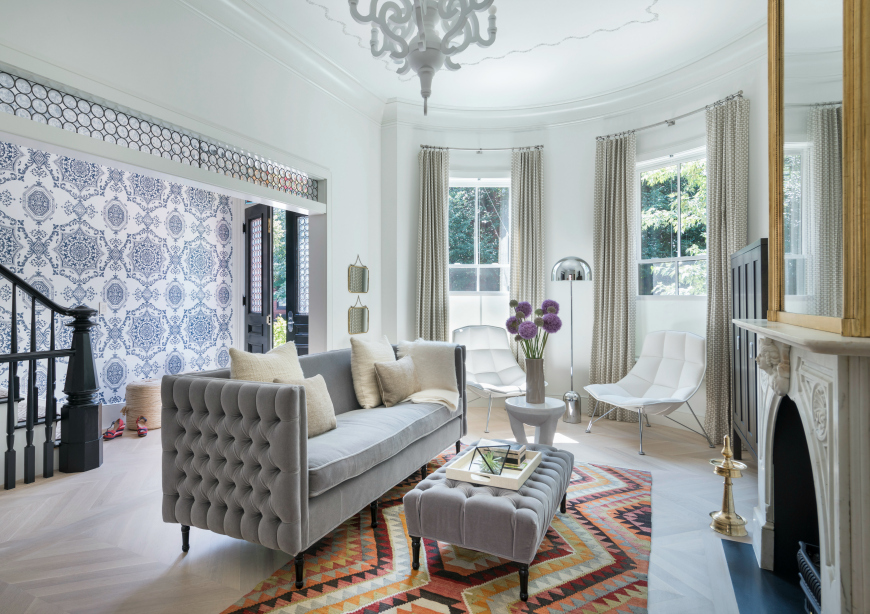 Your idea of happiness? Friday evening, watching the sunset from the front porch, sitting next to my guy, watching the waves, cocktail in hand, thinking about the week and dreaming about what's ahead…
When are you most content? When I'm asleep—otherwise my mind never stops.
What was your favorite trip? This past summer, I was in Italy for two weeks for a wedding in Umbria, and that trip was a dream from start to finish. That said, I'm heading to Cuba next week and I'm thinking that is going to be a pretty great trip too. (I'll let you know!)
What historical design period would you most like to visit? Hands down, no second thought needed: Ancient Egypt.
If you could change one thing about yourself, what would it be? It's taken me a lifetime to become comfortable with who I am, as I am. I think I'm pretty okay as is!
What is one goal you hope to accomplish in 2017? Maintain a better work-life balance. Oh, and I want to design my own line of housewares. (Good luck with that work-life balance thing, right!?) I'd also like to get more involved with bringing design to people who are not able to hire someone like me, but for whom an intentional, well-designed space could help through a difficult time.
In your opinion, how is design evolving? For me, design is always evolving, because I am a sponge: always looking, absorbing, dreaming, thinking and scheming.
The industry at large has changed a lot since I got started, specifically through tools like Instagram. Design has become so accessible to so many more people. I like that. I like that any person, regardless of their income, can find sources of inspiration, guidance and direction for their space.
More than that, I like how the public at large cares more and more about curated, intentional spaces and recognizes that a designed space is impactful in many ways. I personally struggle sometimes with an idea that what I do is frivolous or too exclusive, but the longer I practice, the more I understand how deeply meaningful good design is and how it can contribute to a sense of well-being.