There are 23 spaces at this year's New York Kips Bay Decorator Show House and we were transported in each one. Between the landscape murals, embossed mirrors and mirrored backdrops; there was no boredom to be had as we traveled between time zones and time periods. Trends accompanied us, as do the belongings of the imagined world traveler staying in Charlotte Moss's tented escape. See below some trends that surfaced throughout the towering abode housing one million fireplaces, we think.
(Above) 2019 Kips Bay designers
Animal Motifs
Even "fur babies" have a place in the Kips Bay Show House. Whether in the form of wallcoverings, paintings, and wall applications, the house is filled with animals. Look, but don't touch!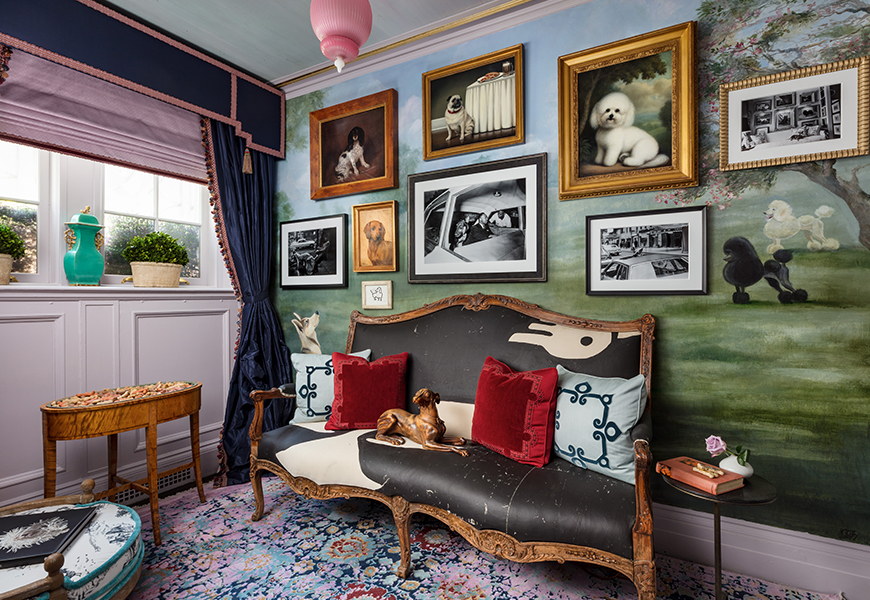 (Above) Sheila Bridges Design, Inc. Reception Room with powder room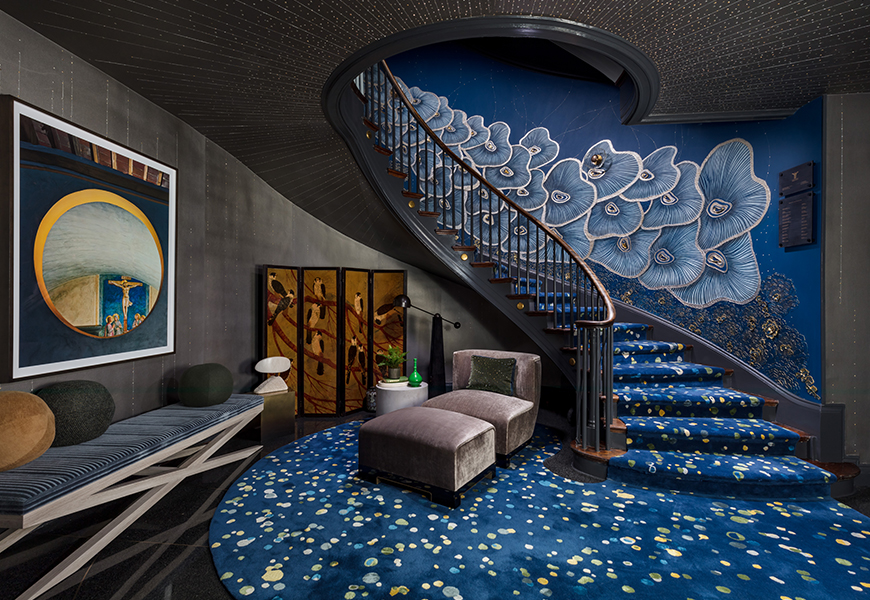 (Above) Richard Rabel Interiors + Art 'Peacock' foyer & gallery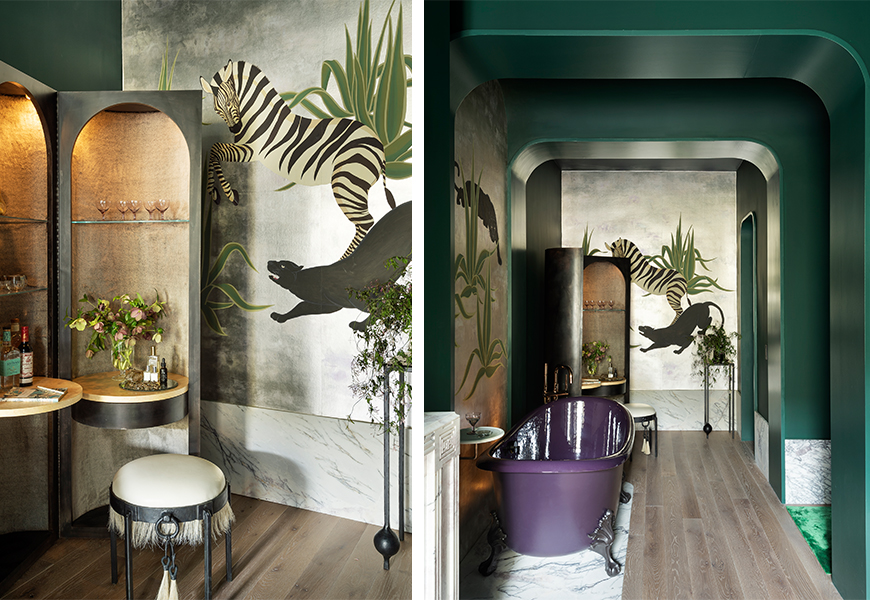 (Above) Studio DB's "modern interpretation of a sexy boudoir"
Busts
We've seen a reinvigorated use of busts in the home; they're a simple and regal touch to any room. Designers bust moves everywhere in the Kips House, from high and low to traditional and modern spaces.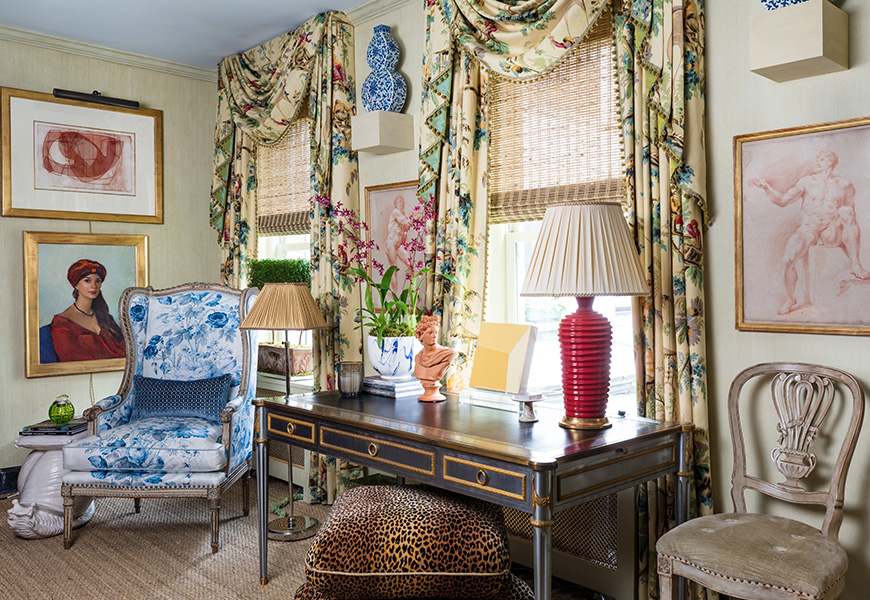 (Above) Matthew Monroe Bees's living room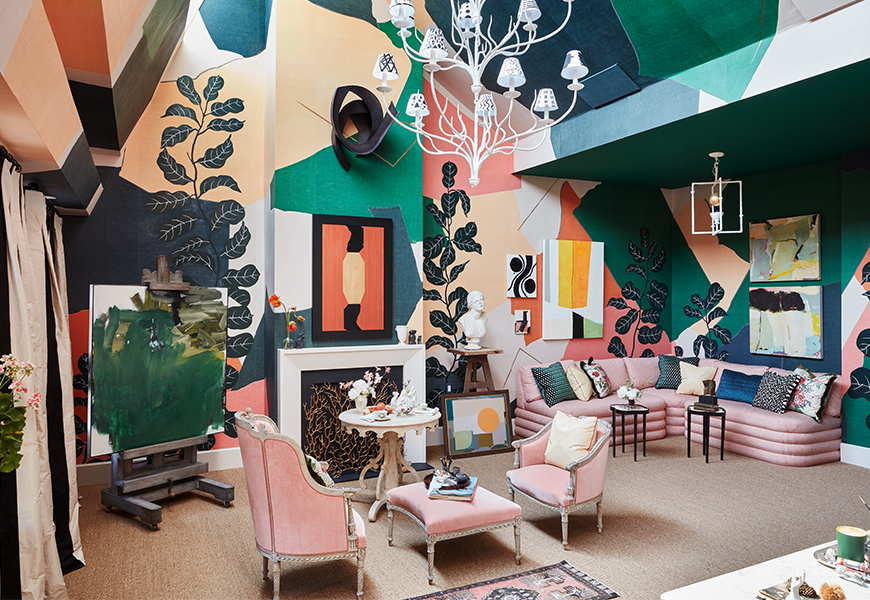 (Above) Young Huh's Art Studio
(Above) Vicente Wolf Associates' bathroom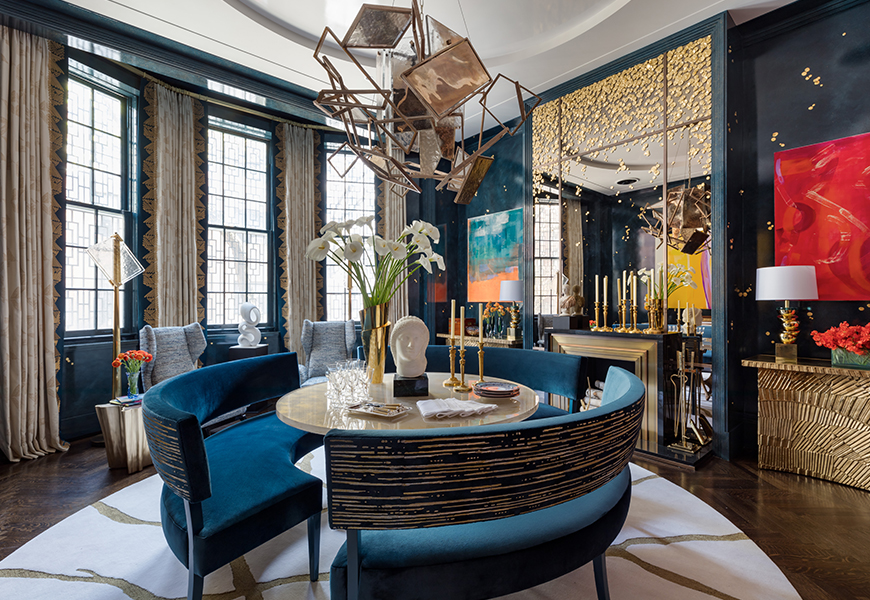 (Above) Cullman & Kravis Associates, Inc.'s Dining Room
In addition to the busts, Cullman & Kravis also incorporated gold porcelain wall applications over the mirrors and wall, a stone feature, a statement chandelier and a bar station.
(Above) Peter Pennoyer Architects' bedroom
Redefining Feminism
Female-dedicated spaces stole the show at the 2019 Kips Bay Decorator Show House. Not every female retreat looked or operated in one way. The spaces represented the dynamic modern woman who has many elements of her identity and daily responsibilities.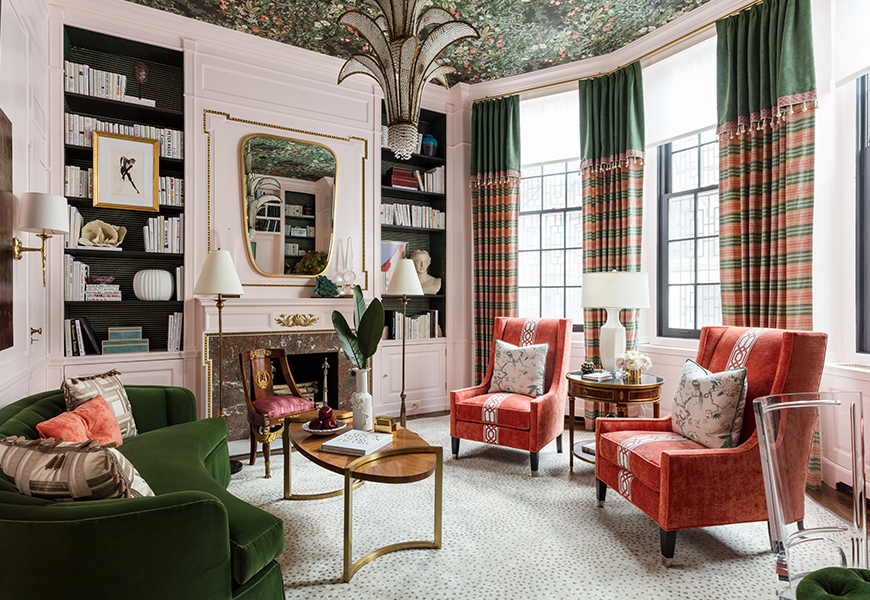 (Above) Corey Damen Jenkins and Associates, LLC.'s study
Corey Damen Jenkins talked about the importance of male designers uplifting women by creating supportive and conducive environments for the modern woman. Jenkins's space also has a "5th wall effect" and a bust.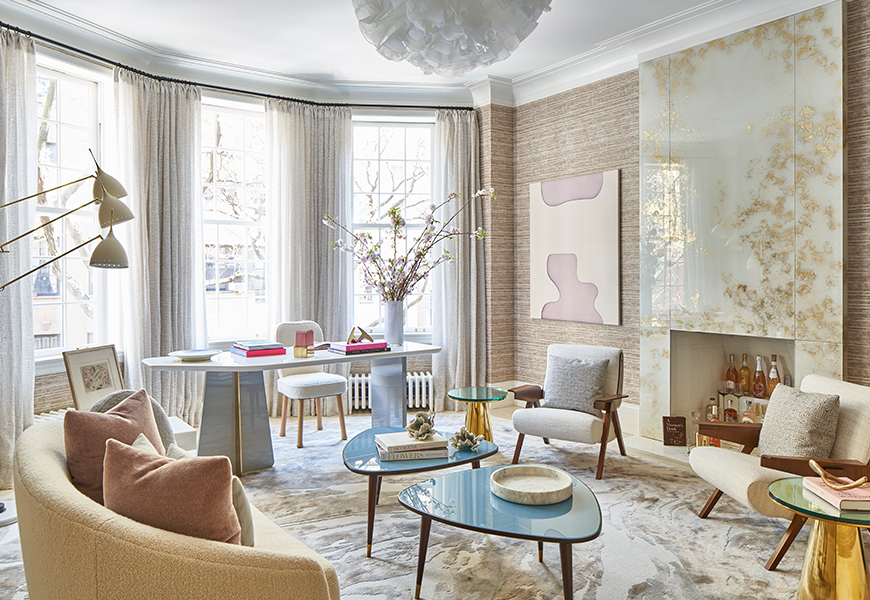 (Above) Eve Robinson Associates bedroom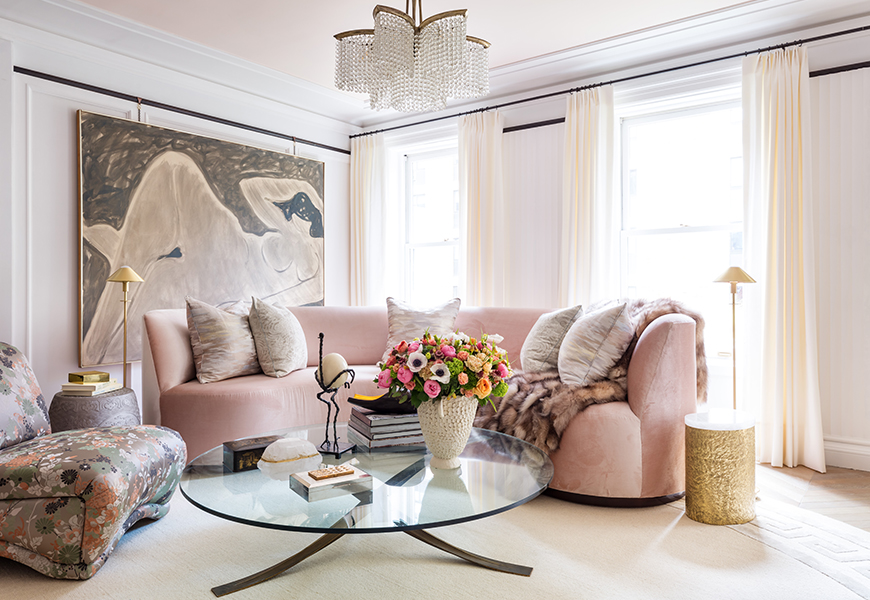 (Above) Robert Passal's living room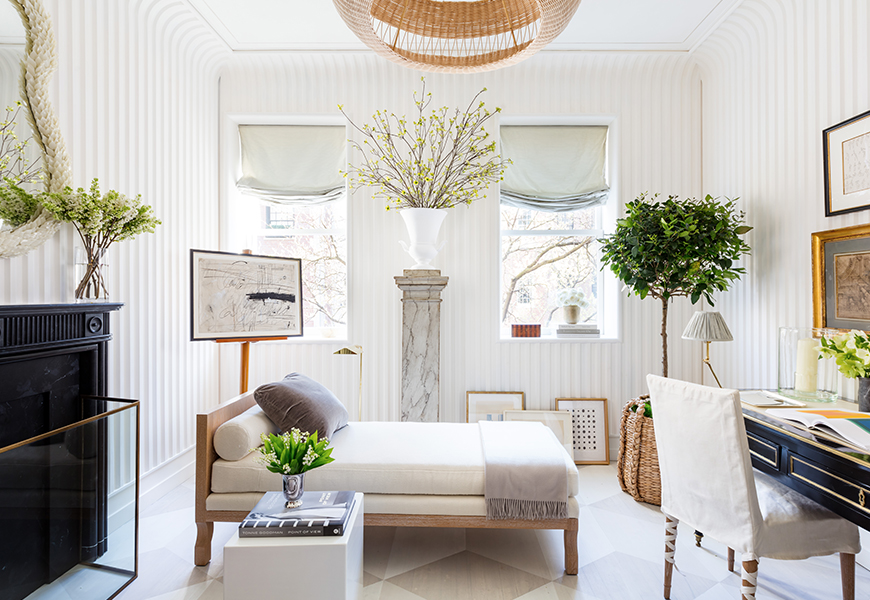 (Above) Sarah Batholomew Design, LLC.'s sitting room
Bartholomew's "A Room of Her Own" is a room that also redefines feminism, as she focused a lot on combining masculine elements with softer elements.
Paint Effects
Paint effects run the gamut. We see painted wallcovering that detail arches above doorways, phantom ceiling joinery, pearlized plaster walls, and of course effects that produce the "5th wall" in countless designs.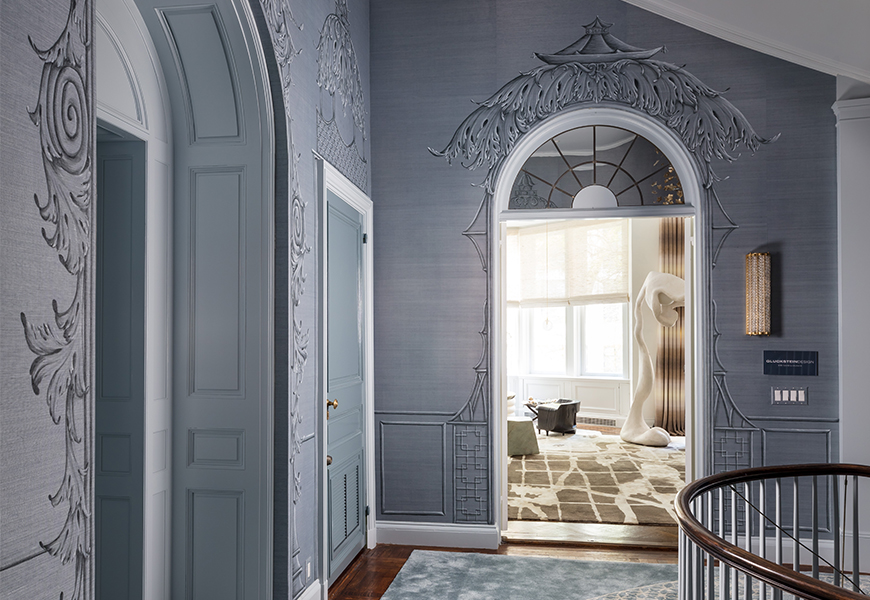 (Above) Gluckstein Design's staircase 2nd to 5th floors and landings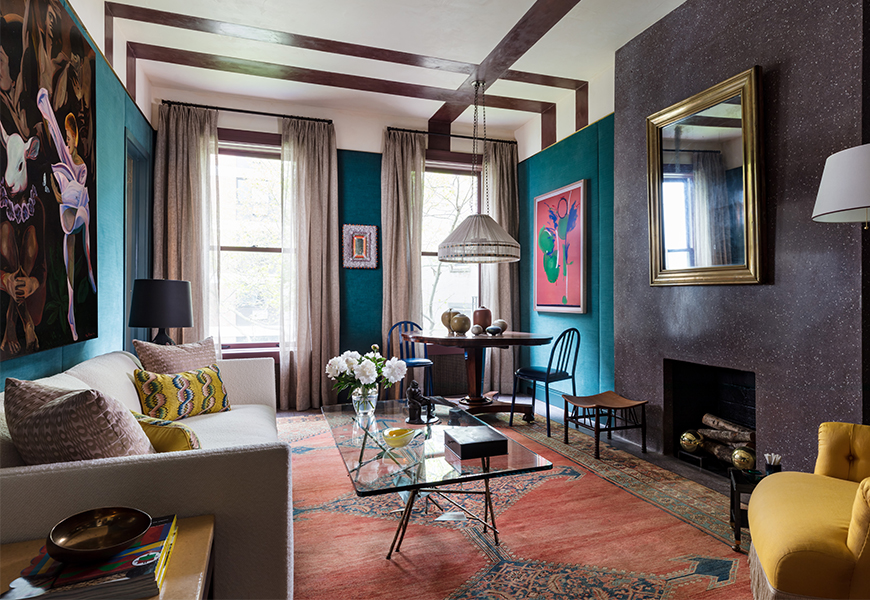 (Above) Pappas Miron Design's sitting room
Pappas Miron Design's cozy, den-like sitting room also sported an animal scene on the wall above the couch, nodding to the animal trend.
(Above) Charlotte Moss's Master bedroom with hand-painted landscape mural
Stone Features
Again and again, we see stone features take center stage. In addition to the stone sinks and pediments, many rooms displayed stone figures. Cullman & Kravis displayed a stone sculpture weighing 400 pounds.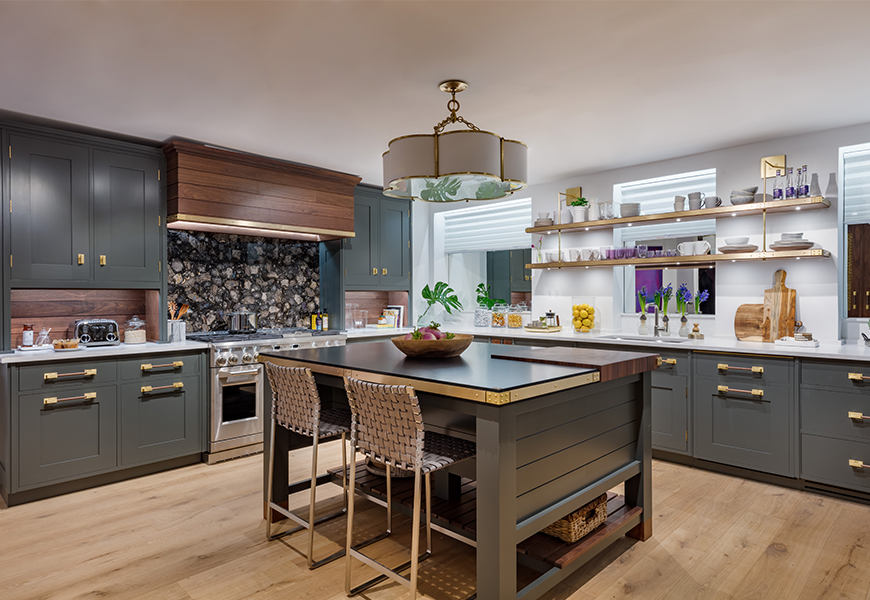 (Above) Christopher Peacock's Kitchen
Stone makes a statement in Christopher Peacock's kitchen backsplash.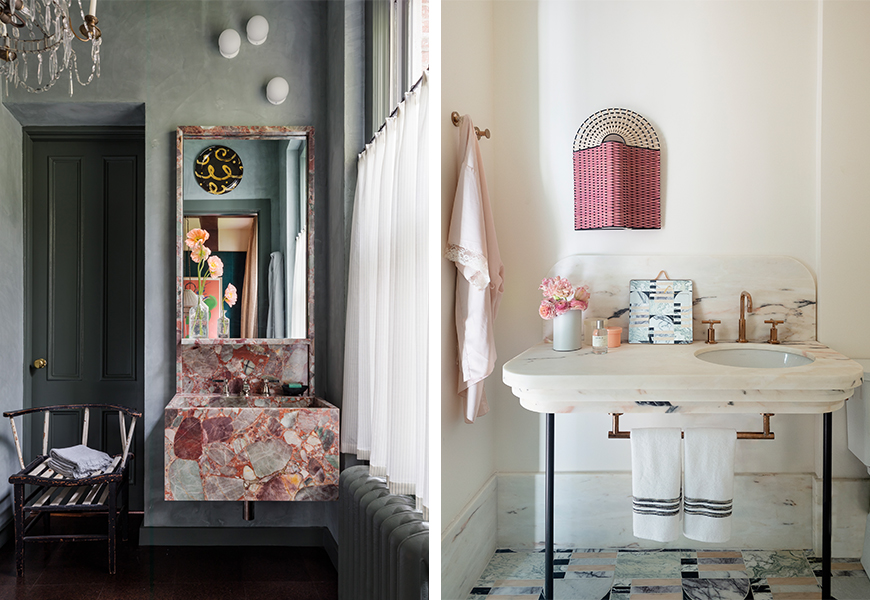 (From left) Pappas Miron Design's bathroom, Studio DB's bathroom
Statement Lighting
Large or small, designers brought their own variations of statement lighting to the show, many of which had a weightless, balanced appeal.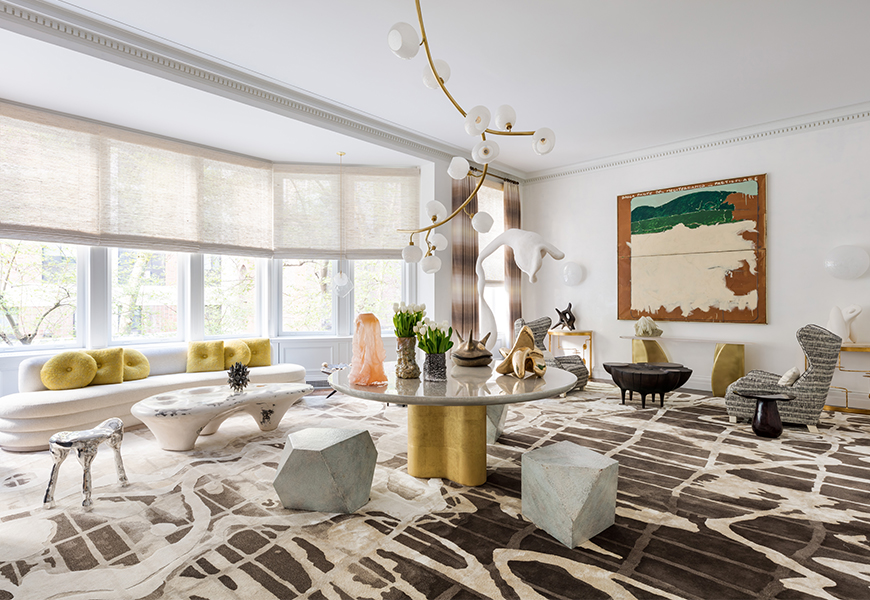 (Above) Jeff Lincoln Art + Design gallery's main living room
Every piece was a standout here! Jeff Lincoln incorporated multiple stone features in addition to his statement chandelier.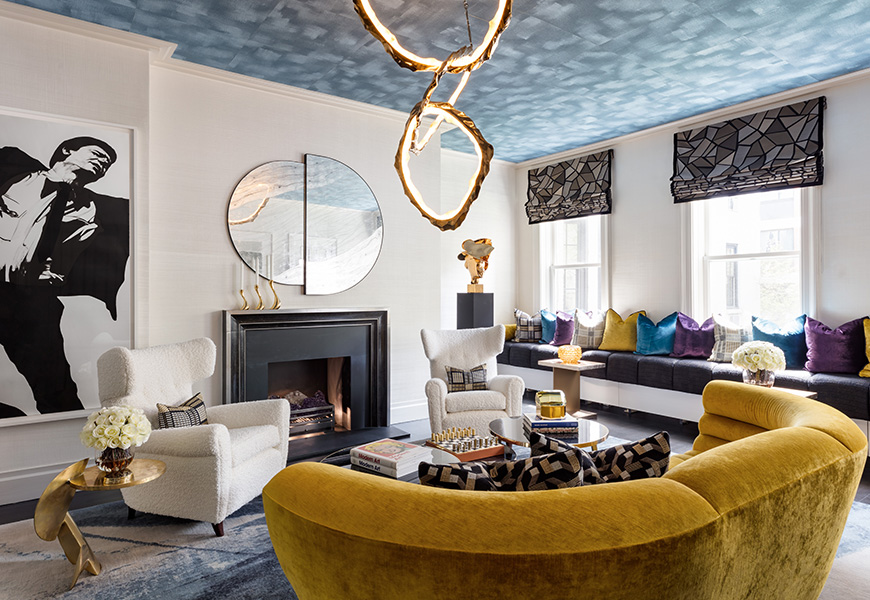 (Above) J. Cohler Mason Design's sitting room
J. Cohler Mason installed wine on tap in her credenza on the opposite wall of the angle you see in the image above, contributing to the drink station trend you'll see below. She also used Benjamin Moore paint to apply a pearlized paint effect on the walls.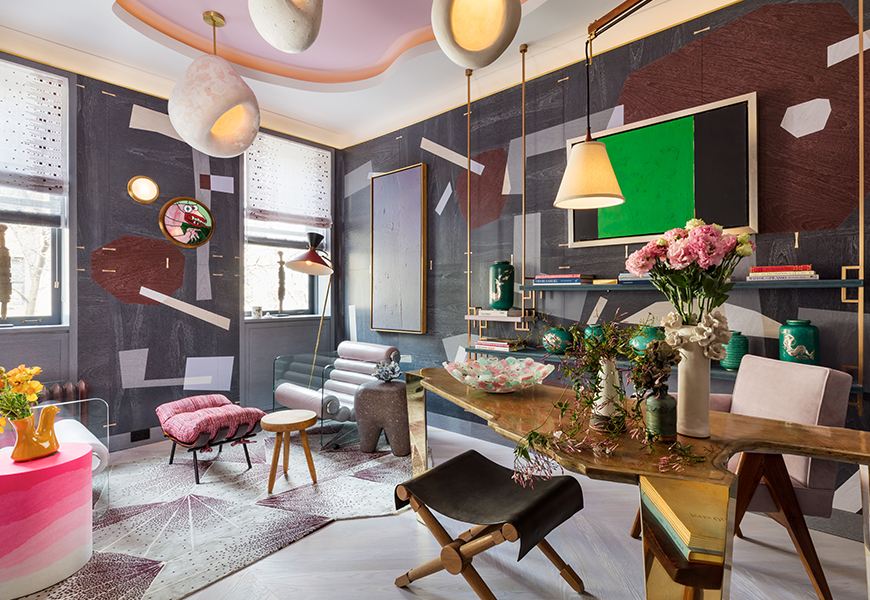 (Above) Katherine Newman Design's office
Katherine Newman Design's office is comprised of fun descending from the 5th wall. Her space also follows the "animal trend"; Can you spot the pink dragon?
Drink Stations
We can count rooms on one hand with dedicated drink stations that designers reconfigured from old closets, alcoves or butler pantries. Below is Jim Dove's "champagne bar" which was originally a butler's pantry and Pappas Miron Design's bar, which was originally a closet. As mentioned above, J. Cohler Mason installed a tap at the top of her credenza in her sitting room, one of the many creative transformations in the house.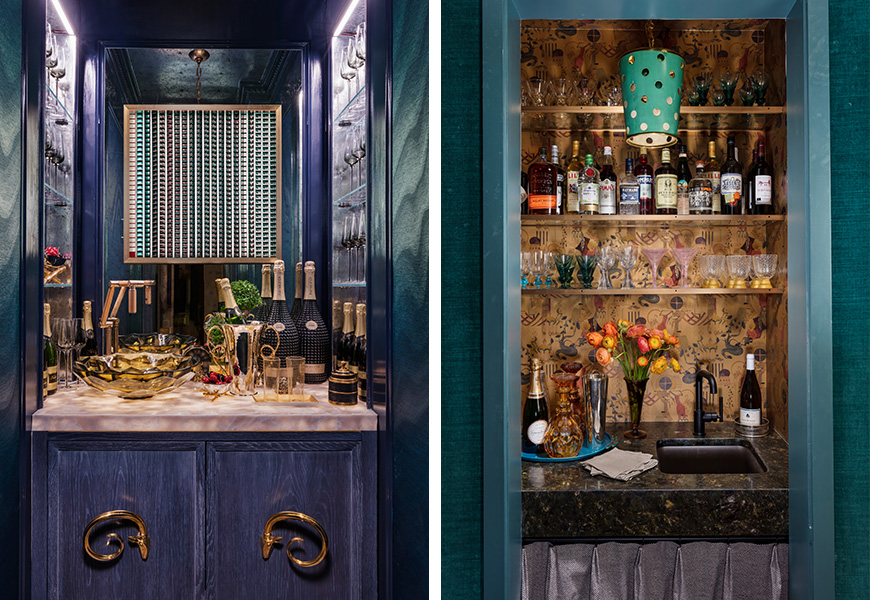 (From left) Jim Dove Design's Champagne Bar, Pappas Miron Design's bar
Screens and Chinoiserie
Similar to the animal or landscape mural trend seen, screens or panels displaying chinoiserie-esque designs appeared in spaces, creating a contrast and depth to the room. There's also screen in the main foyer hanging out by the peacock (See "Animal Motifs" trend above) and a screen in Corey Damen Jenkin's Feminine Study (see "Redefining Feminism" trend above).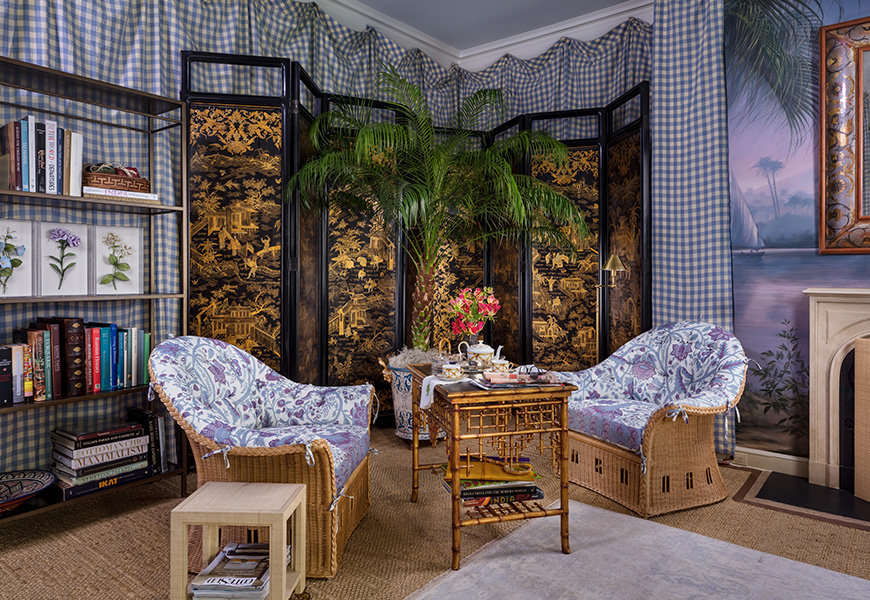 (Above) Charlotte Moss's Master bedroom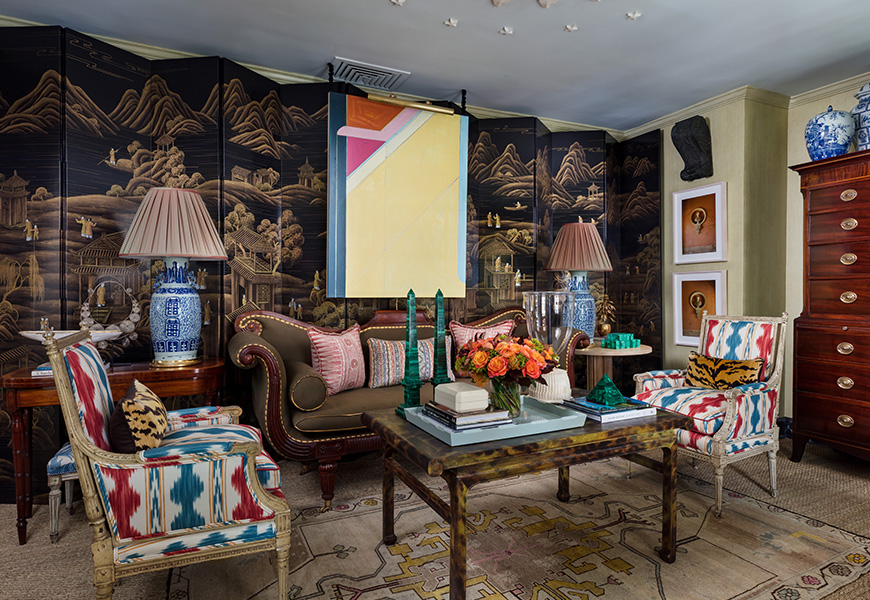 (Above) Matthew Monroe Bees's living room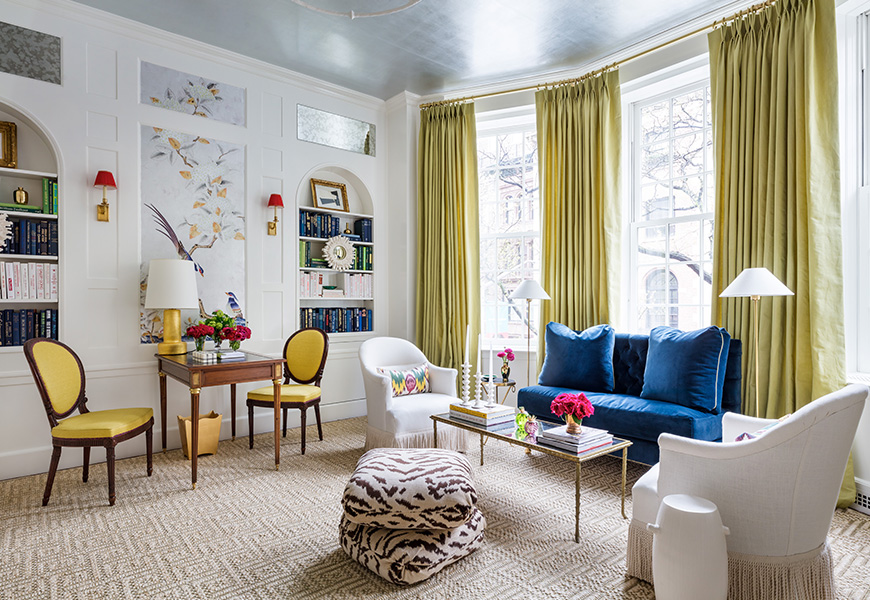 (Above) Paloma Contreras's 'Spring Awakening' study
Visit the Kips Bay Decorator Showhouse website here to view a complete list of designers who participated and images of their spaces. Spot any other trends? Chat with us on Instagram and Twitter!