"Flowers are alive. They breathe and absorb CO2 and in order to bring more life into the home, we, for a long time, have decorated our homes with freshly cut flowers. Flowers create a new life and refreshing environment in any living space."

–Olga Sahraoui, Sahola Floral Art & Event Design
The Party: Spring Fever! Lladró teamed up with Sahola Floral Art and Event Design to host a select group of designers for an intimate introduction to all things floral. Olga Sahraoui, founder of Sahola Floral Art & Event Design, brings new elements of European design to New York style using her creative flair and stylistic approach to manifest visually stunning arrangements from wedding bouquets to party displays. In addition, Sahola florals blossomed throughout the Hope Lodge gala, notably within designer, Arlene Angard's table.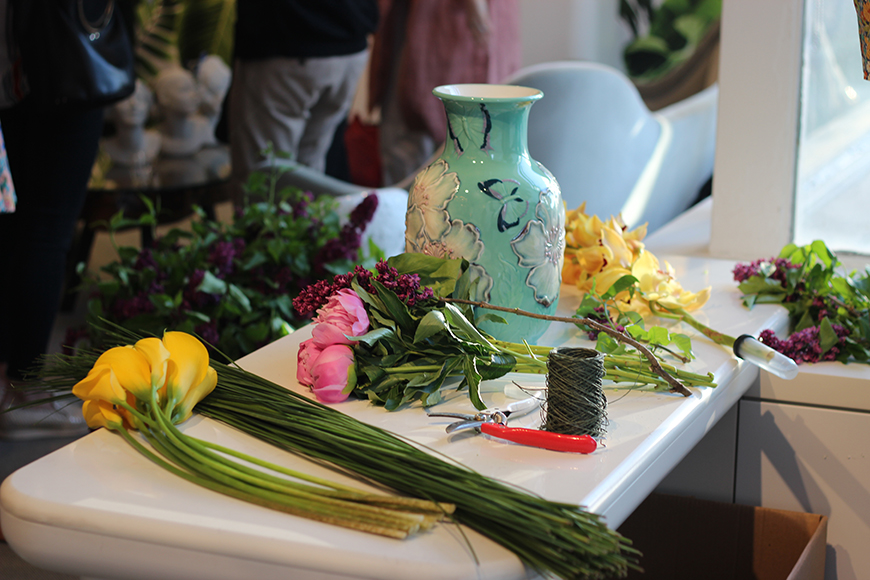 After being born and raised in Soviet Ukraine, Olga did not have many design options, but her grandmother developed her eye for beauty and aesthetics within their home garden. Her parents also instilled inspirations through their travels to Turkey, India, the Czech Republic and Italy. After her honeymoon trip to Marrakesh to see Jardin Majorelle, an exotic botanical garden formerly owned by fashion designer Yves Saint Laurent, her floral fantasy started to become a reality.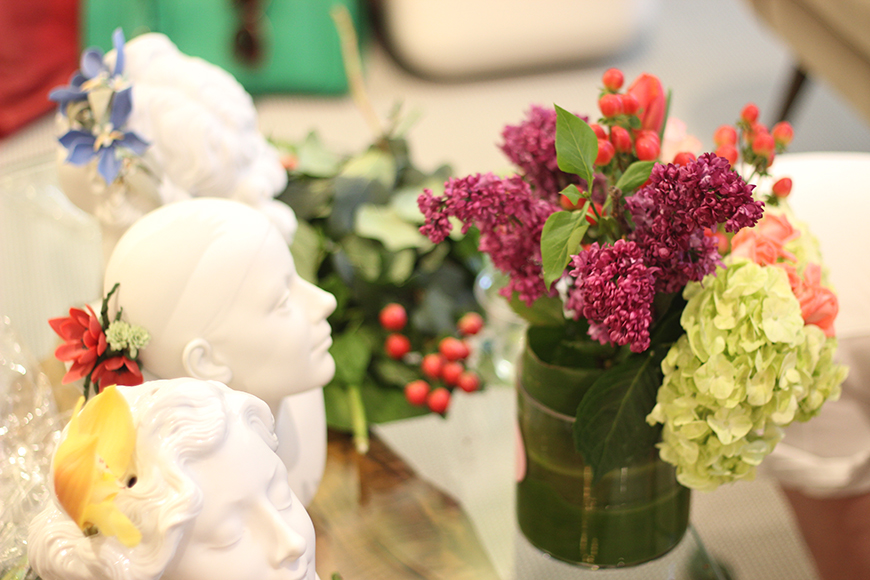 Wednesday night, Olga was invited to give interior designers a tutorial at the Lladró showroom, filling their fabulous array of porcelain vases with three distinct displays.
"The first vase was from our NaturoFantastic collection in white and gold. This collection was inspired by aquatic life and organic shapes. The second vase was our green vase from the Poppy Flowers collection. This gorgeous shade of mint green contrasted beautifully with the lilacs and peonies for more of a classic look," said Noah Pelletier, Lladró Showroom Manager and the event's organizer. "The last vase is from our popular Parrot Party collection – this vase has a modern silhouette with playful birds perched around it."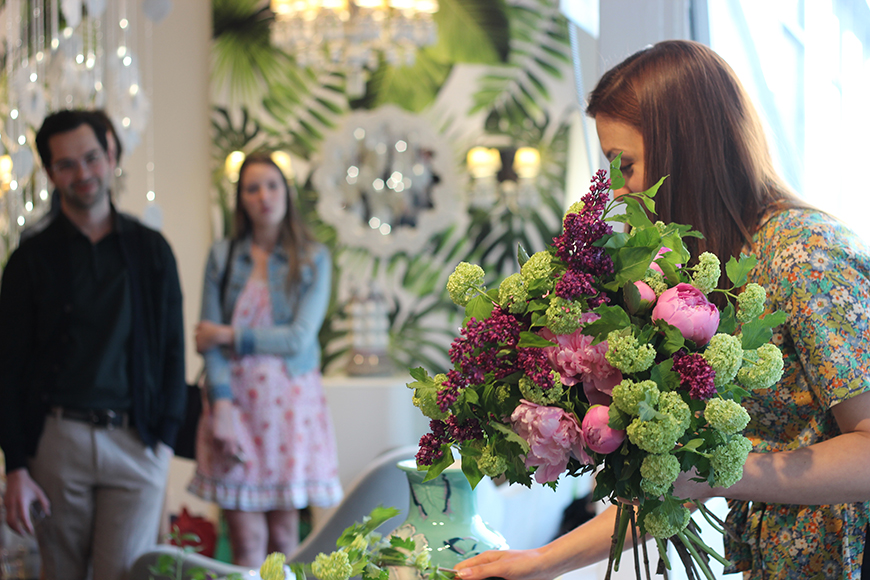 Olga's delicate touch effortlessly wrapped Calla Lilies around tall grasses, and hand-wrapped a tight floral bouquet giving instructions and tips along the way, as this GDG Editor and a hand-selected group of designer friends took some champagne sips.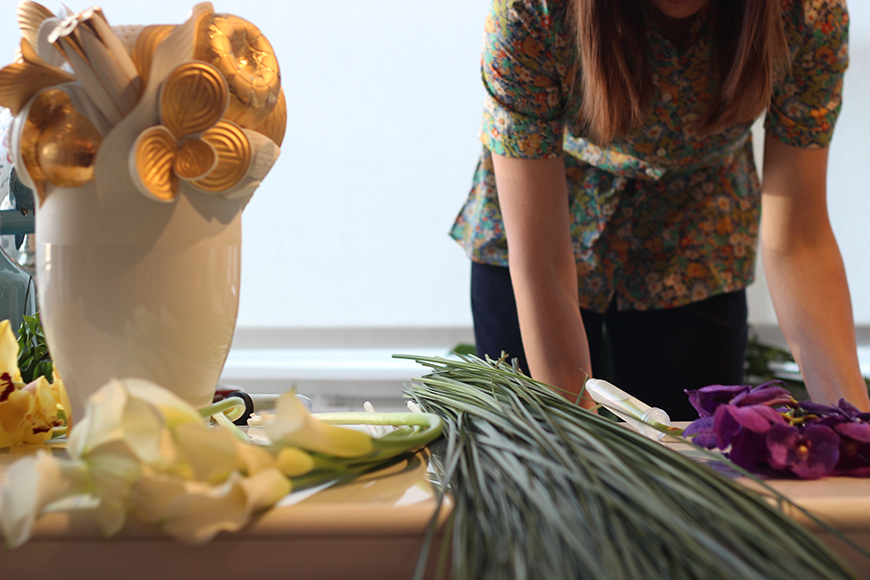 The tips: Did you know some flowers require a diagonally cut stem and others straight? Also, don't forget to cut those leaves off; they're stealing water from the blooms! Lastly, tape is your friend. Use clear tape to keep stems from splitting in the water or create a grid pattern across the opening to keep your arrangement in place within a wide-mouth vase.
"When arranging the flowers, try to use no more than 2-3 colors to keep a simple and refined look. Try not to mix tropical flowers with seasonal garden ones. Always use clean containers!"

–Olga Sahraoui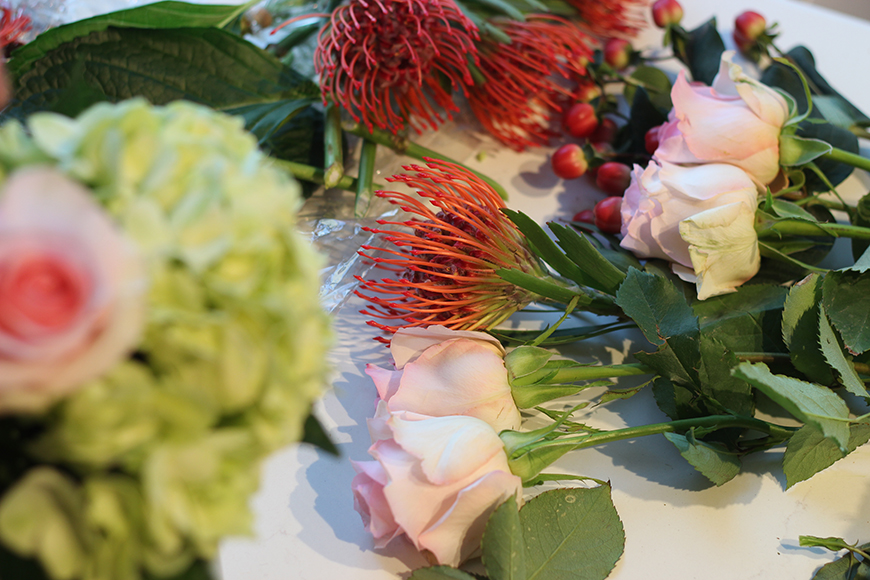 The People: Firmly planted! Invited guests included ELLE Decor A-Lister, Bennett Leifer and team member, Ellen Yersavich, Holiday House 2017's 'Throwback Thursday' designer Jaime Walters, designer and dear friend of Lladró Arlene Angard and DDB Stars on the Rise 2017 recipient, interior designer Rajni Alex. Victoria Hagan's team came out in force, along with designers Claudia Giselle, Rena Cherny and Mariem Horchani, and artist David Macaluso all watched their floral skills blossom.
The Top on Tap: Flower power! Each designer raced to their floral stations prepped with a glass vase, shears and endless possibilities, as Olga instructed which flowers to snag and how short to cut them. From there, everything else was up to the designer's vision and how well they listened to tips.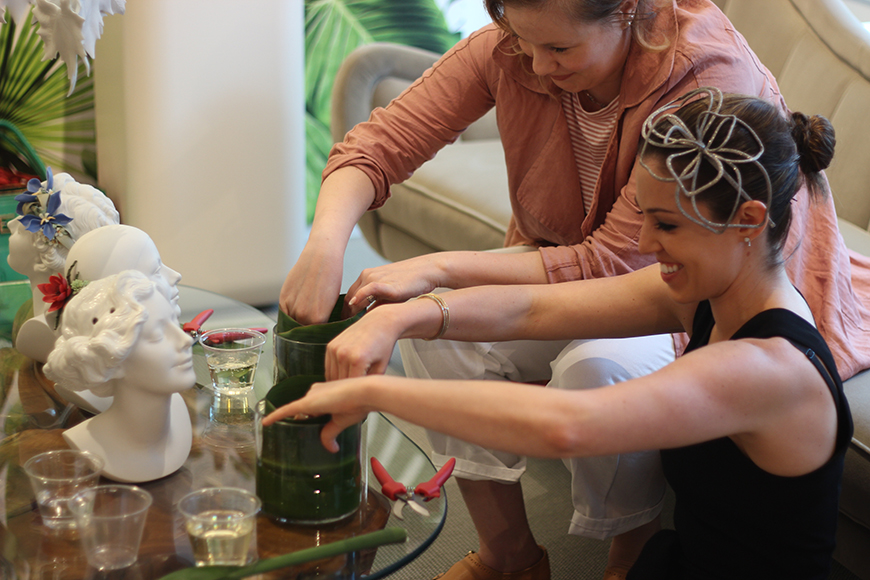 In the end, a beautiful meadow of varying designs was grown from the same flower selection and each designer walked away with a unique gift, just in time for Mother's Day!
Flowers flew and inspiration grew, as designers also viewed Lladró's new Light & Scent collection of small votive lights, table lamps, and home fragrances. These decorative items feature Lladró's unique color palette, and act as a colorful work of art for the home. Three words: Porcelain Cactus Diffusers.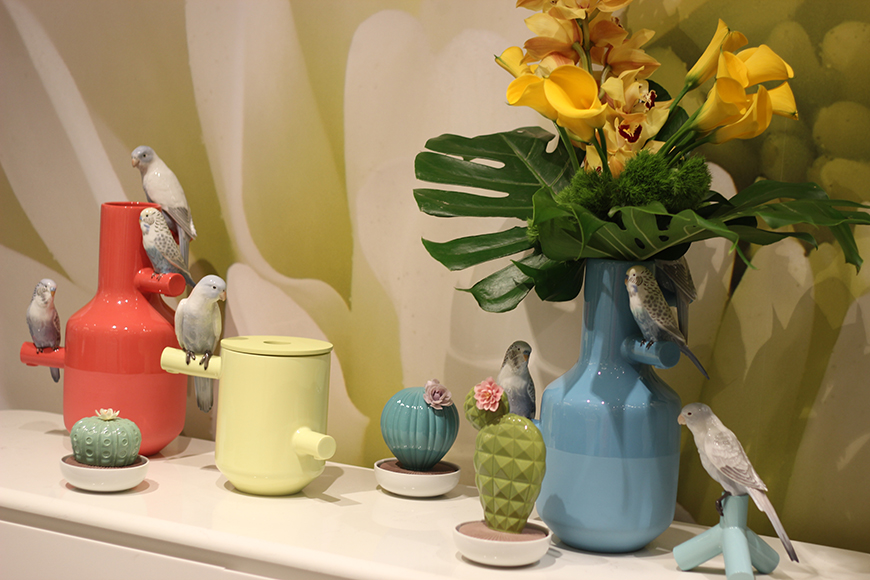 Visit Lladró in the DDB Suite 1507 to explore everything porcelain perfection.
Photography by: Alexandra Amarotico