Edelman Leather just recently announced its fresh website re-design, one that grants the same personal customer care online as in-person. Edelman engages with us through new search functions and resources, including a function to find inspiration. The new site, "infused with the love of leather…" was launched last month on Valentine's Day. Walk through the new features with us!
Edelman Leather embraces us upon first glance! On the home page, you'll first see this colorful scene, inviting you to learn about Edelman's roots.
In the first tab listed under 'Upholstered leather' you can choose to browse by color, which we never thought could be such a fun feature with leather. We took particular notice of a florescent purple, gold rattlesnake, and everything in between!
Many prefer to search by product, so Edelman offers a 'Browse by Product' feature, where you can see all the different leather materials, finishes, and patterns which create different products entirely. For example, search specific products such as Jumbo Crocodile or Glitter leather. Trust us, you'll be happy you did.
With the need for customization more than ever, Edelman created a 'custom Capabilities' tab, offering services like embossment, laser etching and perforation. Edelman Leather believes that "If you can imagine it, we can create it." See for yourself.
GDG's personal favorite, 'Guide to the Hide' (and no, not just because of the catchy title) is Edelman Leather's new resource for the hide-lovers. The guide offers friendly diagrams of hides and the dimensions of usable areas within each kind. The 'Guide to the Hide' can be viewed and downloaded under the resources tab.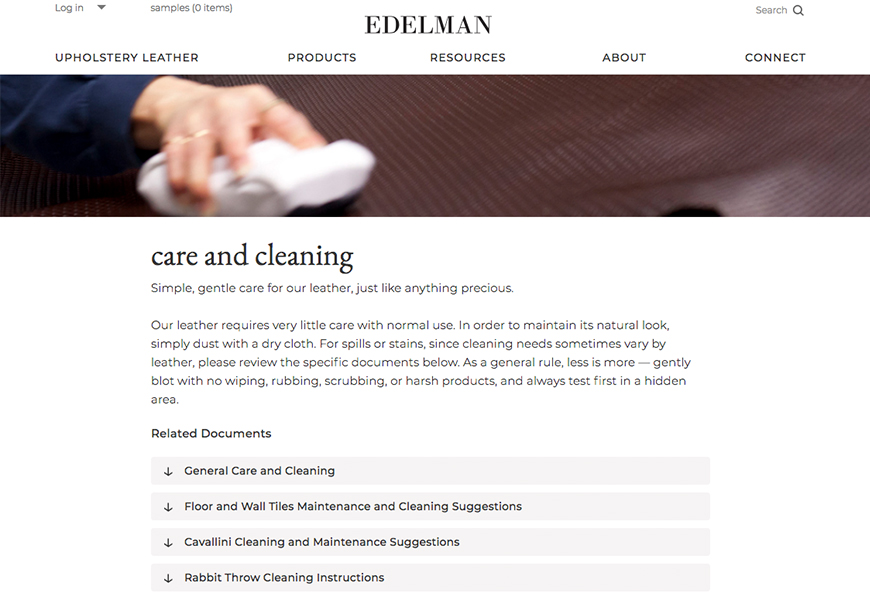 Since a little bit of cleaning is a part of it…get cleaning and care advice from one of the best leather sources. Edelman breaks down care for specific products, reminding you to blot and not to wipe or rub, as a general rule. "Less is more", they say!
Another new resource feature is the 'photo gallery' where you can search for inspiration! Scroll freely or search site-specific through residential, hospitality, aviation, and other places Edelman Leather makes an appearance.
In their website re-design announcement, Edelman Leather recognizes the opportunity for their digital experience to also be exceptional.
"We believe it's important that our brand is experienced digitally just as it is in the showrooms, designers' hands, and at the next hotel one visits. Great leather moves you, it welcomes you, and so should the website."
Click away the Edelman Leather website here and find your favorite new functions!