"Digital and social [platforms] aren't just for fun. This is real business." -Arianne Nardo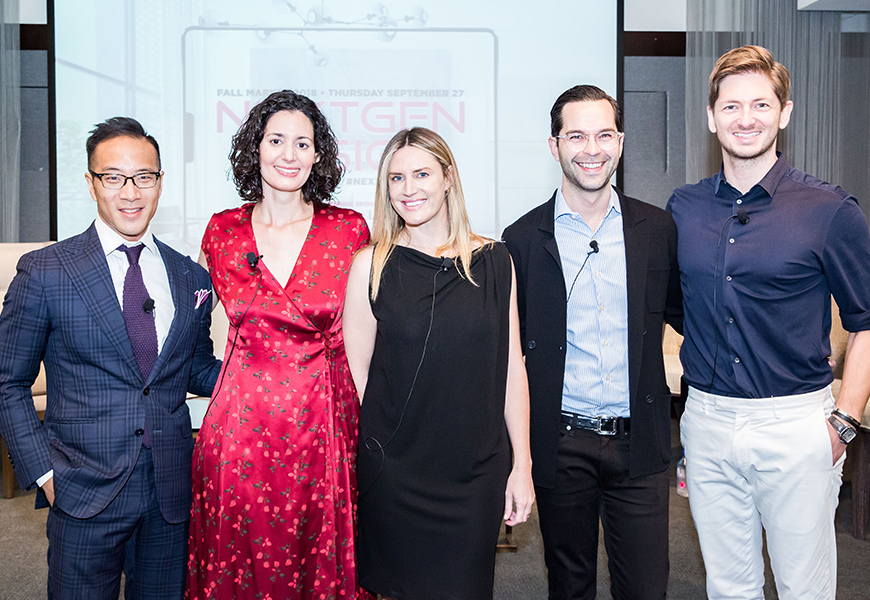 The 'Tech Savvy: Thriving In a Digital World' Keynote Panel (From Left) Eric Chang, Arianne Nardo, Courtney Wartman, Bennett Leifer, and Benni Frowein
On September 27th, Pacific Design Center presented 'NEXTGEN DESIGN' as its Fall Market 2018 theme, where real-deal designers and tech users collided. Setting the tone for an immersive day of related programming, PDC Keynotes 'Tech Savvy: Thriving In a Digital Age' and 'The Design Disruptors' clued us in on the deep thought, time, and personal passion required by today's brands in committing to an online existence or digital brand extension … supplemental to the tangible deliverables that ensure a successful design practice.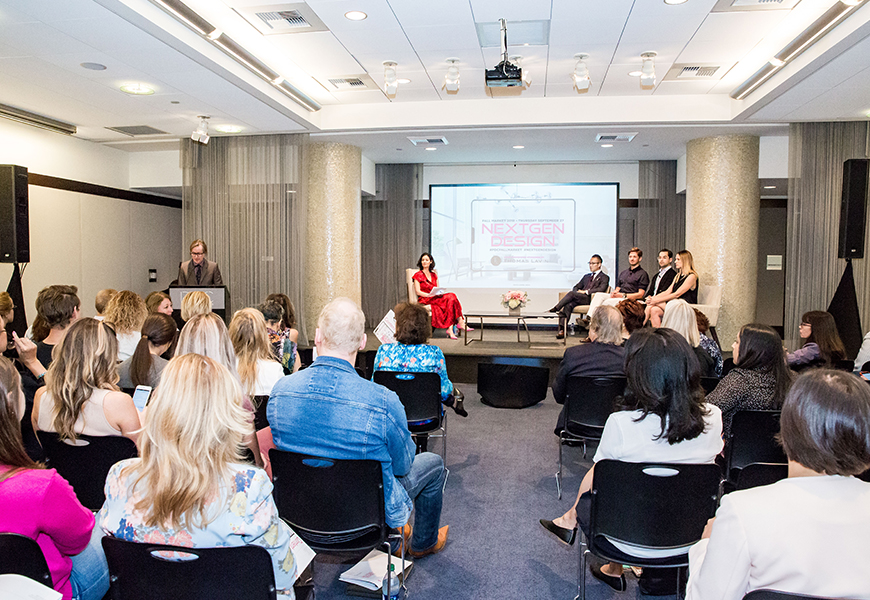 Launching the day, 'Tech Savvy: Thriving In a Digital Age' sought out influencers from every corner of the industry to understand their strategies, successes, and missteps in merging virtual with the actual business of design. Robb Report Home & Design Editor and moderator Arianne Nardo and panelists Bennett Leifer, Eric Chang, Courtney Wartman, and Benni Frowein shared how they pay attention to information online and user engagement differently.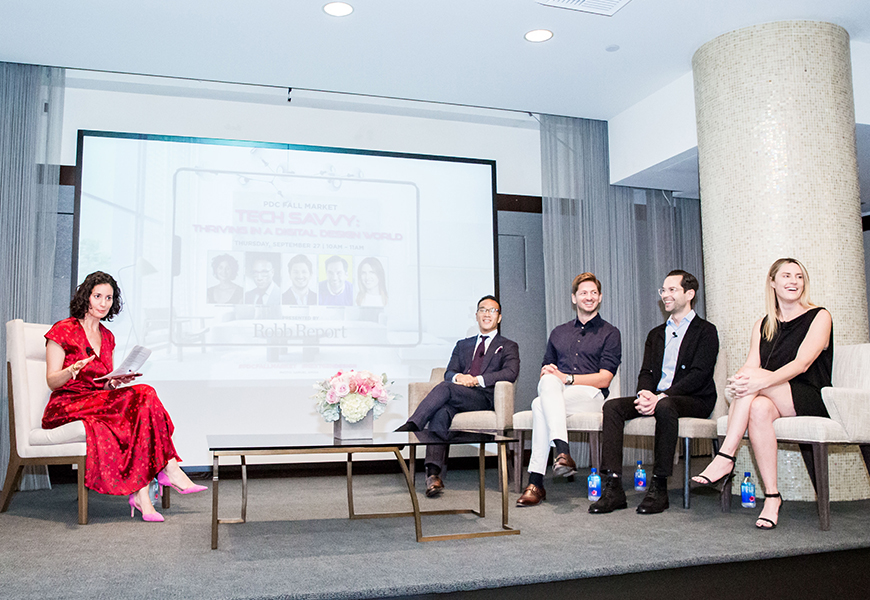 Courtney Wartman, Clique Brands SVP Commerce & Influencer Marketing, strives to create "snackable" content as she calls it, but also content that is useful. "We really use each channel to express ourselves in a different light but also prompt a different action from our users. It all has a purpose to evoke an action. It's our objective to bring as many unique eyeballs to the sites as possible," Wartman said.
(From Left) Arianne Nardo and Hellman-Change Founder Eric Chang
The designers discussed the importance of connecting to human emotion through digital storytelling and showing personality on their own platforms. Hellman-Chang Co-founder Eric Chang even points out the PDC's brand history.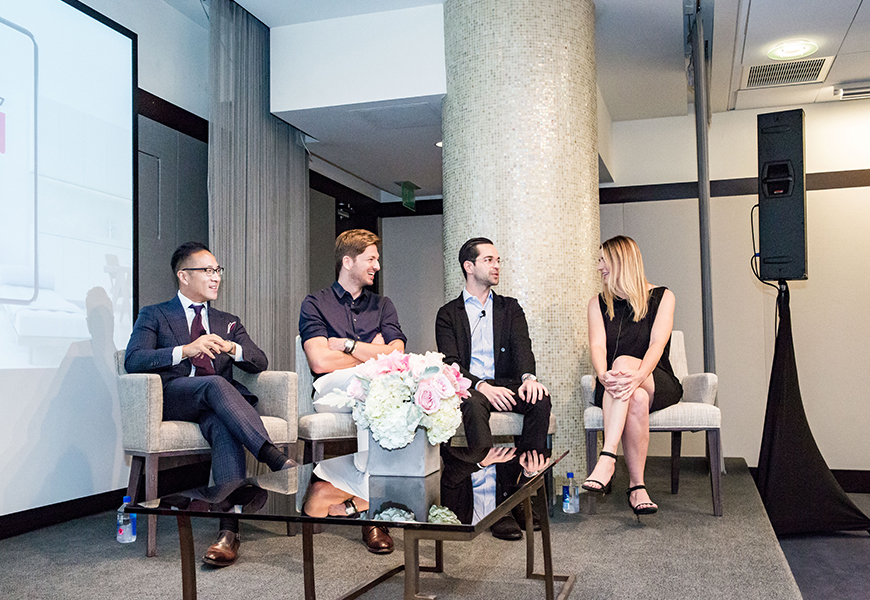 "The PDC itself has a million stories to tell. We are sitting on a wealth, a gold mine of brands. The internet is letting us open the doors to that," Chang said. And now here's an online story about the PDC, the Internet, and Chang talking about the PDC and the Internet. #internetception
President of Schumacher Benni Frowein keeps Schumacher's history in mind and what our industry is built on. "On the product perspective, we don't want to be a science fiction company. It's about art and craftsmanship, and beauty and inspiration. And we will not change that with the most incredible robots."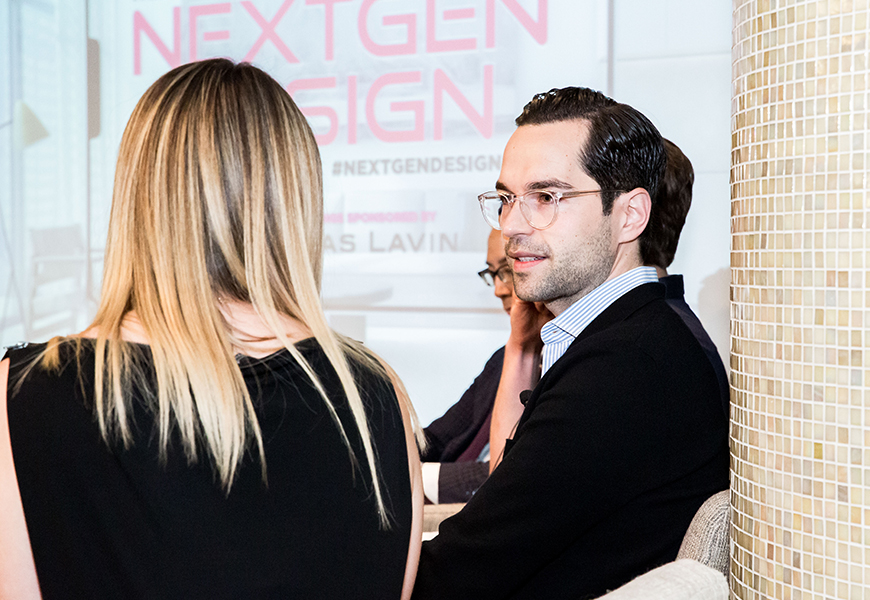 Bennett Leifer Interiors Principal, Bennett Leifer affirmed the importance of using tangible craft as the starting point and cautions listeners to use digital references wisely: "If you're using it [digital references] as a starting point to get into the tangible aspect of it and do your research, its incredible. If you're relying too heavily on it, it can be misleading," Said Liefer.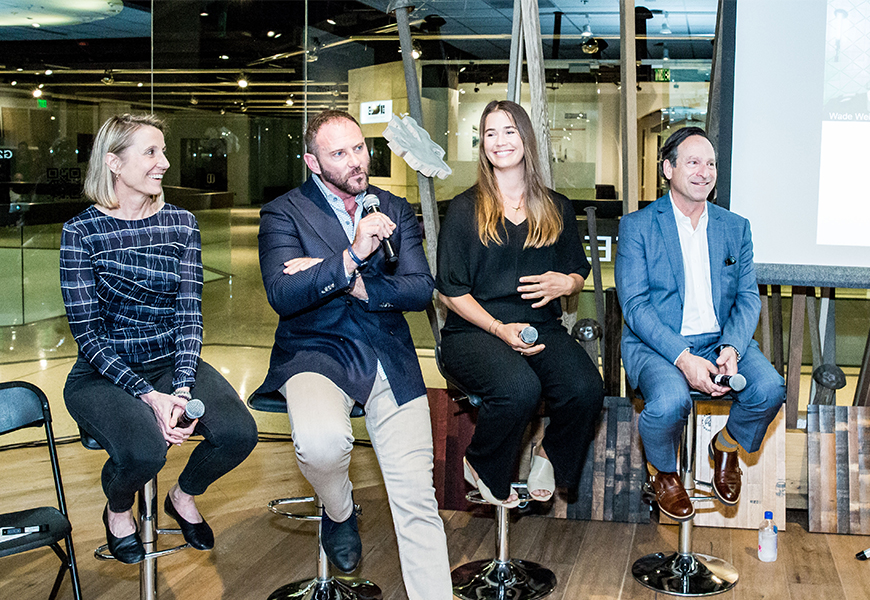 'Next Generation: The Business of Redefining Luxury' Panel (From Left) Hilary Stevens, Wade Weissmann, Lynnea Schwieters and Paul Willinger
Millennials are giving a lot of thought into what they consider beautiful and useful in a home. In the PERFEC Showroom Program 'Next Generation: The Business of Redefining Luxury', Luxe Interiors + Design Associate Publisher Vanessa Kogevinas moderated a conversation with design experts Lynnea Schwieters, Hilary Stevens, Wade Weissmann, and Paul Williger about the younger perspective and what is valued in design today.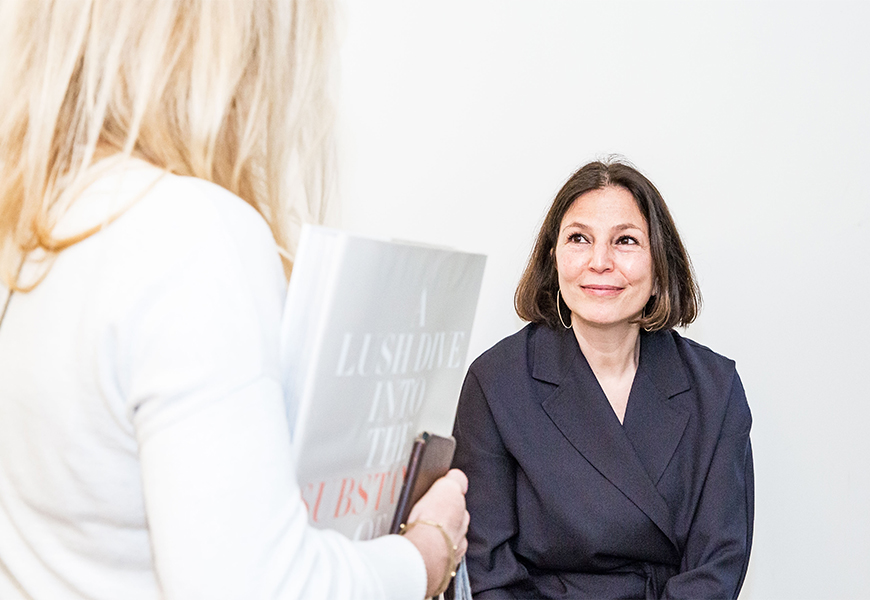 Dara Caponigro at the signing of her book The Authentics following her Keynote 'Authenticity in the Online Era'
For years, designers have tried to understand how people want to feel in their homes and have designed appropriately for their needs. In the DEDON 'Beyond Custom' Showroom Program, producer and author Kim Kuhteubl moderated a conversation with designers Shanna Kerr, Homer Oatman and David Salkowitz about this inherent characteristic of design in relationship to emerging design intelligence.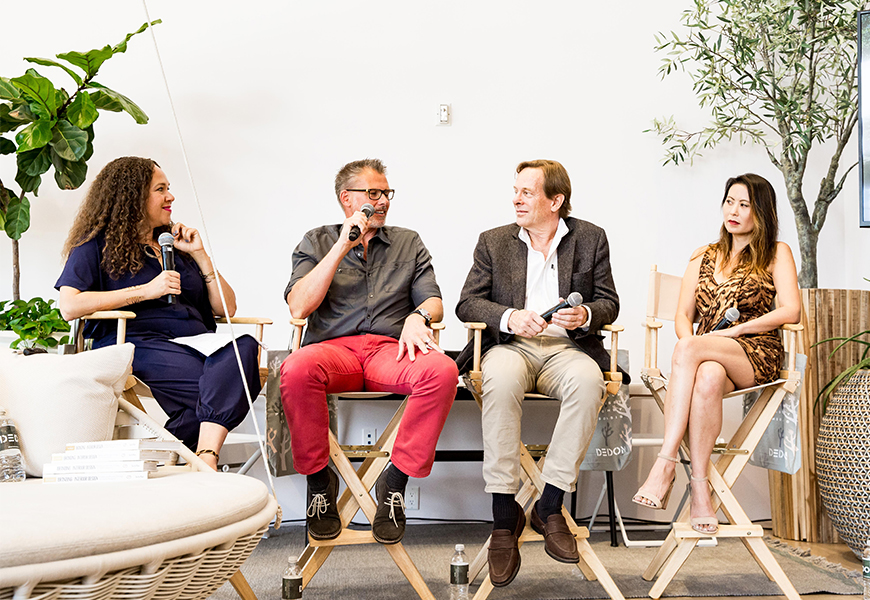 'Beyond Custom' Panel (From Left) Kim Kuhteubl, David B. Salkowitz, Homer Oatman and Shanna Kerr
During PDC's afternoon Keynote, 'The Design Disruptors,' California Home+Design Editorial Director and panel moderator Lindsey Shook and panelists Justina Blakeney, Samuel Amoia and Will Taylor go down similar tangents related to online authenticity.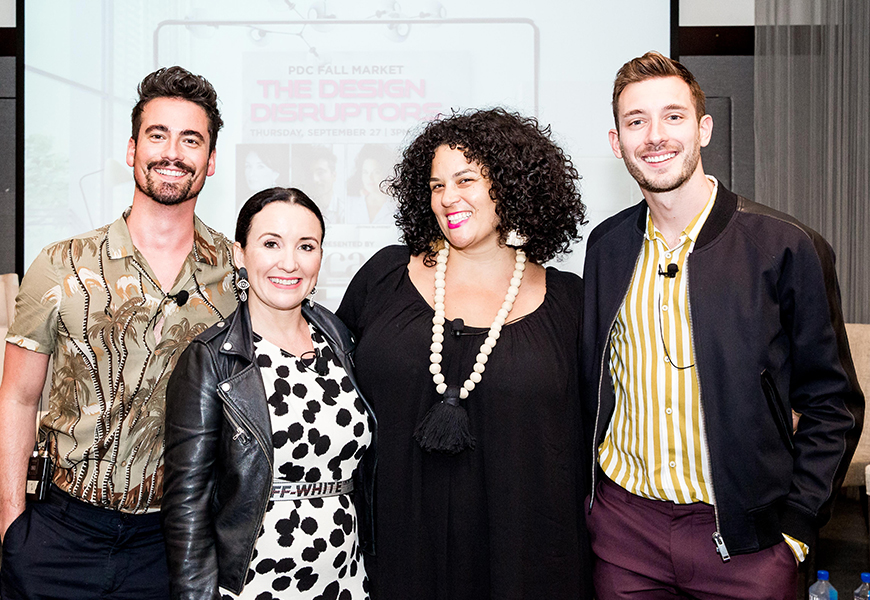 'The Design Disruptors' Panel (From Left) Samuel Amoia, Lindsey Shook, Justina Blakeney, and Will Taylor
Bright.Bazaar's Will Taylor talks about how people are attracted to transparency and realness on the Internet. "If you can find something that relates back to design, that is authentic, other people will collect to that," said Taylor.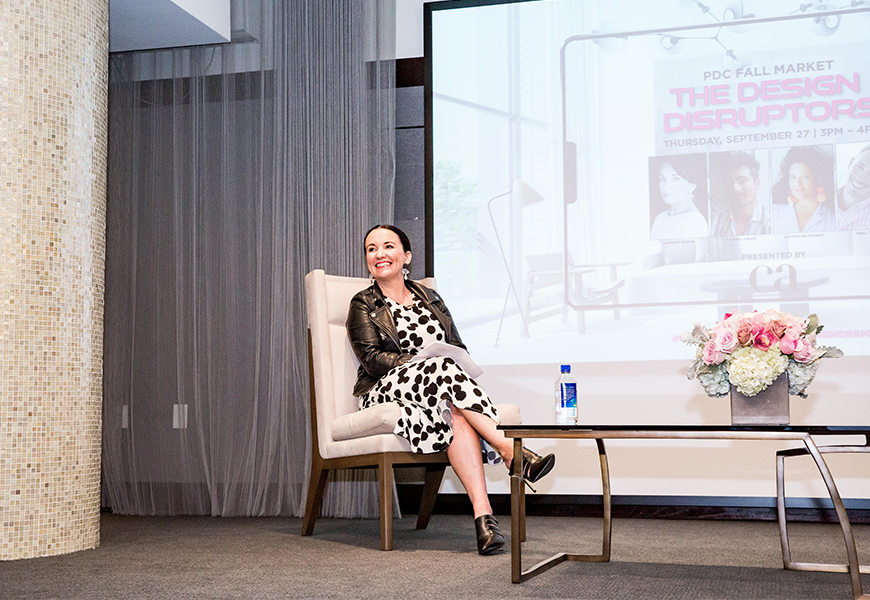 (Above) Moderator Lindsey Shook, 'The Design Disruptors'
Designer and author Justina Blakeney is also transparent about her online design success. Blakeney says, "My secret to success is really not a secret. It's really hard work. Surrounding myself with positive people. It's about consistency and sticking to a vision. I just feel #blessed."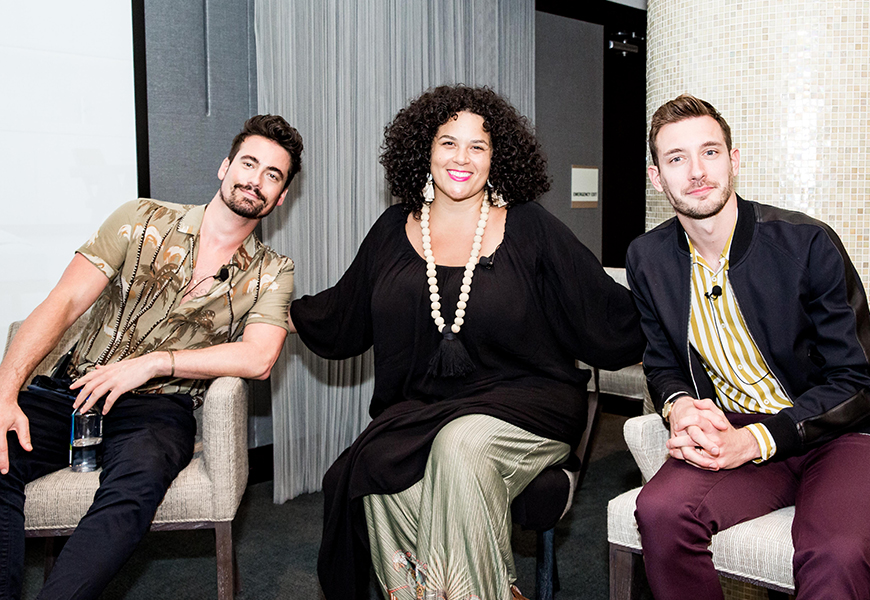 Blakeney also gave this powerful bit about how she overcame the negativity around blogging:
"It's been such a powerful tool. In the beginning of the conversation, you hesitated to use the word blogger. And I think that's a really important to note, which is that coming out as a blogger it has a bit of a negative connotation to it. I think it's very true, there was a bit of a stigma, and still is toward influencers or bloggers. '[People say] This isn't serious, it's just Instagram.' So, I, as a woman, as a woman of color, as a woman of color who came up in this industry blogging, I needed something where I could say no, I am serious, I am legitimate, listen to what I saying. So I wanted a big fat coffee table book that could say- 'No I'm not just a blogger!' That wasn't the aim, but that was a part of it."
With so many crossovers of our creative industries, there's plenty of room for creatives to be present and to advertise themselves online. The Internet has the power to uplift anyone who wants to share their craft, not just those on panels. In line with the designers' advice to those getting started, Lindsey Shook sums up the conversation with how people truly excel online. "Your social media should be authentic to who you are," Shook said.
Two lively Showroom Programs and receptions included 'Designing of Indoor/Outdoor Living' hosted by Tidelli Outdoor Living and 'Designer Mix-off' hosted by Cooper Pacific Kitchens. Designers mingled between the two soirées.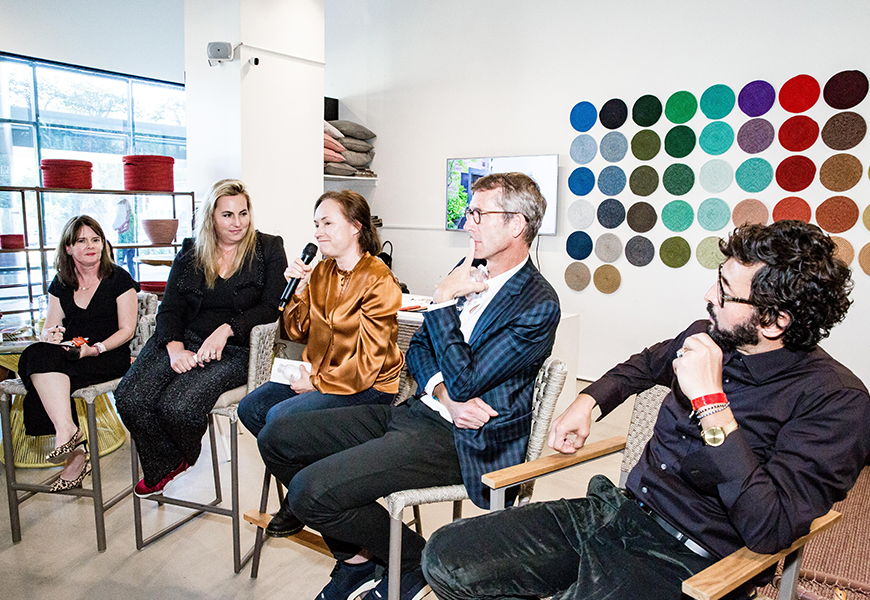 'Designing of Indoor/Outdoor Living' panel (From Left) Lisa Bingham Dewart, Anna Hoffman, Monika Haefelfinger, Franics D'Haene and Cesar Giraldo.
'Designing of Indoor/Outdoor Living' Program featured panel moderator, Luxe Interiors + Design Homes Editor Lisa Bingham Dewart and designers and architects Franics D'Haene, Cesar Giraldo, Monika Haefelfinger and Anna Hoffman. After discussing the evolving makeup of indoor and outdoor living, the panelists and attendees enjoyed Brazilian cocktails together.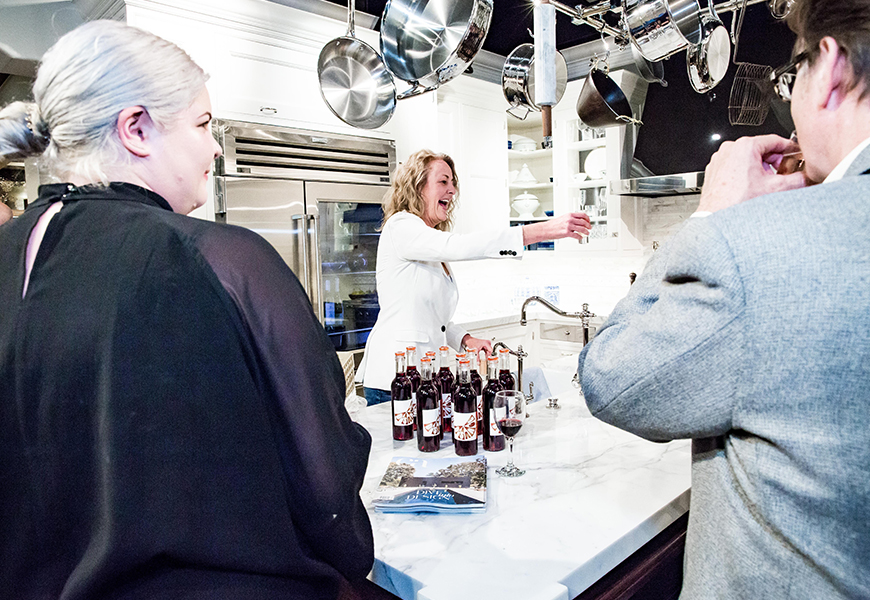 Shortly after, the conversation was a bit more cocktail-focused at the PDC's first annual 'Designer Mix-off' program, as designers playfully shared their best mixed-beverage with guests, who could vote for their favorite and also enter a chance to win prizes from the showroom. Coming together and having fun is never a bad way to ring in a market.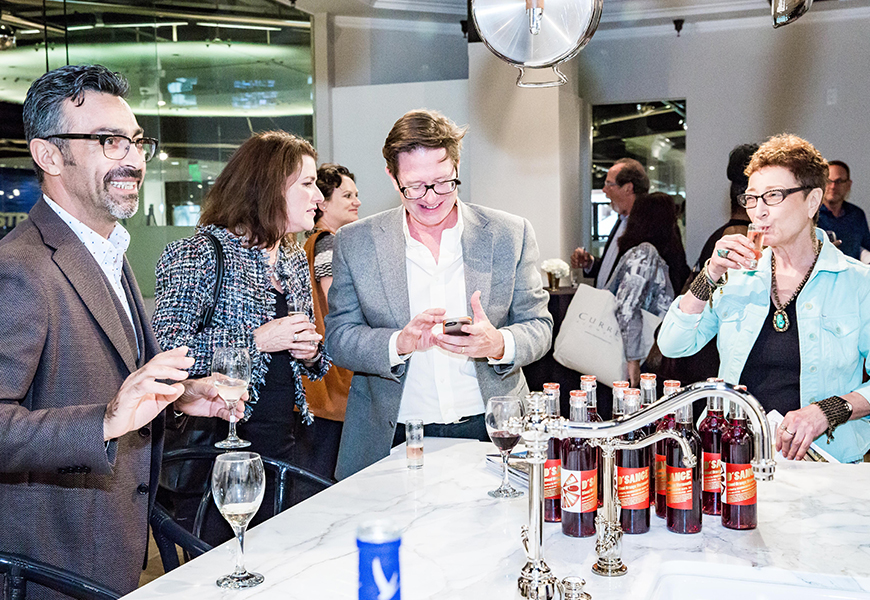 (Above) Attendees tasting designers' cocktails at 'Designer Mix-off' in Cooper Pacific Kitchens.
As discussed by everyone in the Keynotes, the takeaway is to:
Stay true to yourself and brand online.
Strategize Strategize Strategize!
These interdisciplinary individuals, brands and platforms are doing much more than just "disrupting" the industry with technology. They are innovating processes, material use, and the experience that comes with tangible products. The Internet is not going anywhere and they're excited about it.
Stay tuned for more PDC Product and Showroom updates that were announced at Fall Market!