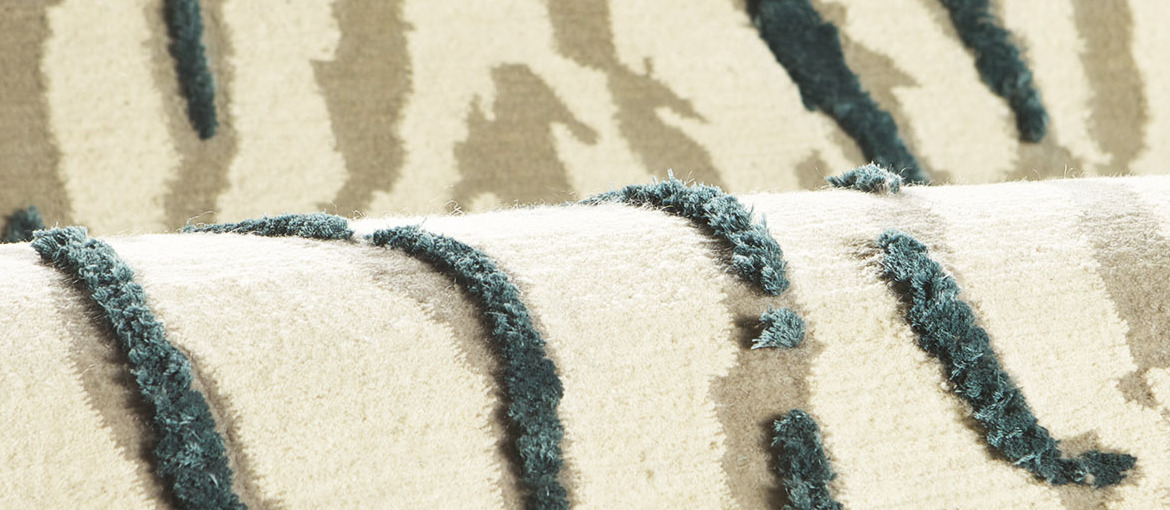 Customization is essential in the design industry. It's also a virtue New York-based retailer Rug Art fully embraces. The company's one-of-a-kind carpets and rugs can be seen in the homes of celebrities, in the lobbies of prestigious hotels like The Mandarin Oriental and MGM Las Vegas, and inside the Time Warner building, Fendi retail stores and many other exclusive locations around the world.
The husband-and-wife duo, Vidal and Sigal Sasson, pursued their passion for exceptional rug designs when they moved to the United States from Turkey and Morocco. A self-taught designer and artist, Sigal is the mastermind behind the designs, which heavily rely on her use of color and unusual mix of fibers.
To learn more, Go Design Go chatted with Sigal, who shared more about the custom options and what she currently has going on at Rug Art.
What inspired you to get into the custom furnishings business?
My love of art is the driving force behind the birth and development of custom rugs and carpets. As an artist I am always on the lookout for unique furnishings and items for the home. Many times these things lack that personal touch that I cannot compromise on, and the custom furnishing business enables me to add that personal touch on my own. The freedom to artistically express beauty and function in the same product is something I felt I needed to do.
How else are your offerings unique?
Our custom program options and abilities extend much further then simply matching colors and sizes to a client's taste, therefore we do not limit ourselves and thus we take on challenging projects. It's that fuel that drives us to create never-before-seen rugs and carpets. It eventually came to a point that everyone wants to have one. We also work with talented people whose out-of-the-box thinking makes collaborating process between us and the client not only complete, but a pleasing and interesting experience as well.
What inspires the designs?
I have always had the need to express my world, ever since I was a little girl. Design is a process. There is no recipe for inspiration, and you are not going to see me walking around with a pencil and notebook looking for ideas. It comes from a deeper place, and I usually follow my gut. I show up at work and inspiration starts to flow, the more I work the more I create. Travel, culture, food, fashion, drawing and painting are only tools that trigger what I already have inside.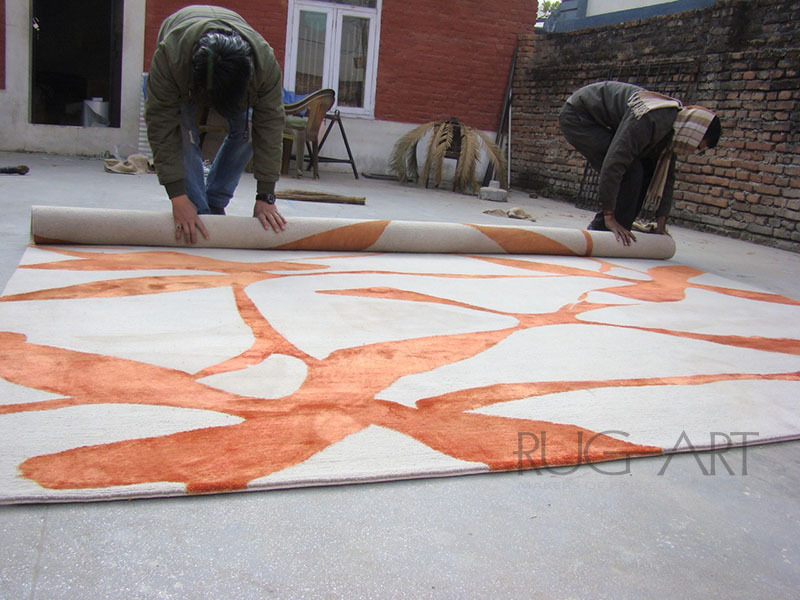 What makes a great custom piece?
In marriage, if after 20 years you still feel the same way about your spouse as when you first met, then you know you chose the right one to live with. The same principle goes for a custom piece.
Do you have any interesting projects going on right now?
Yes, though most of our projects are pretty interesting. Right now we have this big project where we weave a huge custom rug in an intricate pattern, then cut it to smaller pieces in custom sizes to fit floor inserts in a hotel lobby. In the end, it will look like a huge rug put together on the floor. We can't wait to see the results.
Another project that is very close to my heart is our sponsorship at my daughter's school in New York, where they are building a brand new high school addition. We are in the middle of creating a hand-knotted rug in Nepal as we speak, designed by the school students for the school students. All proceeds will go to GoodWeave. We will reveal the winner and the rug on the school's Art Walk project in April.
What is your favorite customized piece you have designed?
My rug Midnight, which was custom-made for this upscale NYC law-firm. The silk colors and over-size pattern in this open modern space look very sexy. I wouldn't mind sitting there all day.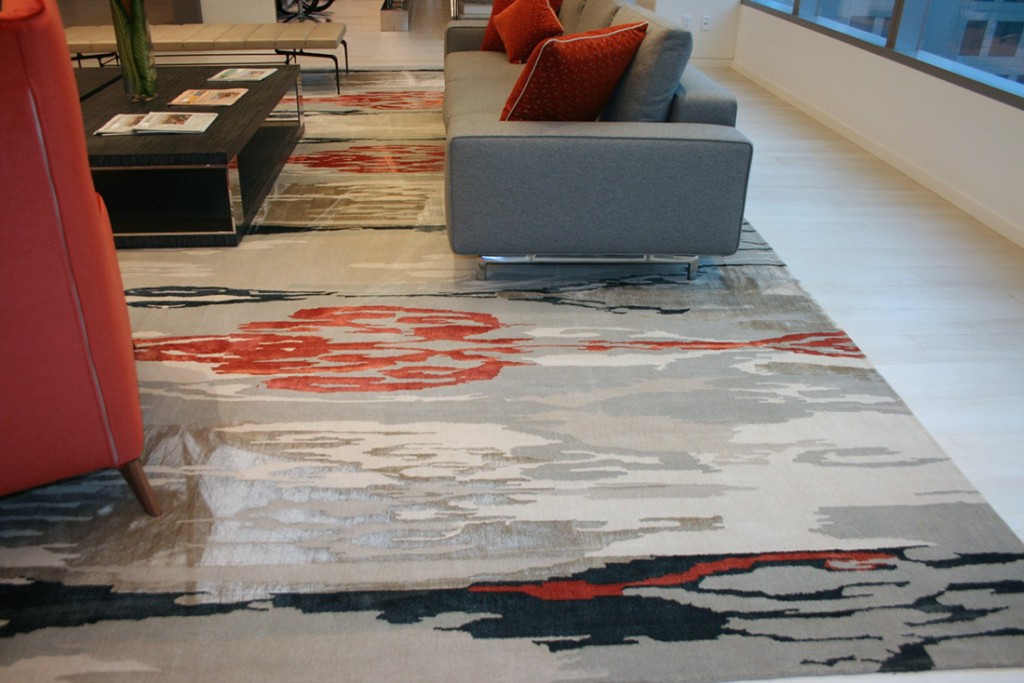 Midnight rug installation
How do you work with designers to make their vision a reality?
We are involved in every project and take every designer, regardless of the budget, seriously. We sit and listen—that's the easy part. The hard part is making sure we are on the same page. We ask a lot of questions—even if some might sound weird—because it's a good way to get to know the client. If needed, we visit the space too. We value diversity, which is why our unlimited custom abilities are such a great tool for our clients. They love it.
When the designer is taking an active and influential role in the work, it makes the process easier and fun. Our clients continually express profound happiness for the results and we are genuinely happy for them.
What custom options are available?
RUG ART offers so much to designers and architects and we constantly add custom options based on clients needs. We assist in creating a whole new design idea specifically for a particular project or modifying an already existing design that the client loves so much but would like to change it just a little bit and still keep the wow factor. Custom size is another. Our hard working looms can stretch up to sixty feet long and can carry the load like no other. We offer unlimited custom color options; you name it we make it. Custom shape is always fun. The more odd the shape of the rug the more challenging the project gets but the results are simply stunning and well worth waiting for. We offer custom everything for contract and commercial projects from start to finish while accommodating any size project for residential as well as commercial and from high-end to budget friendly.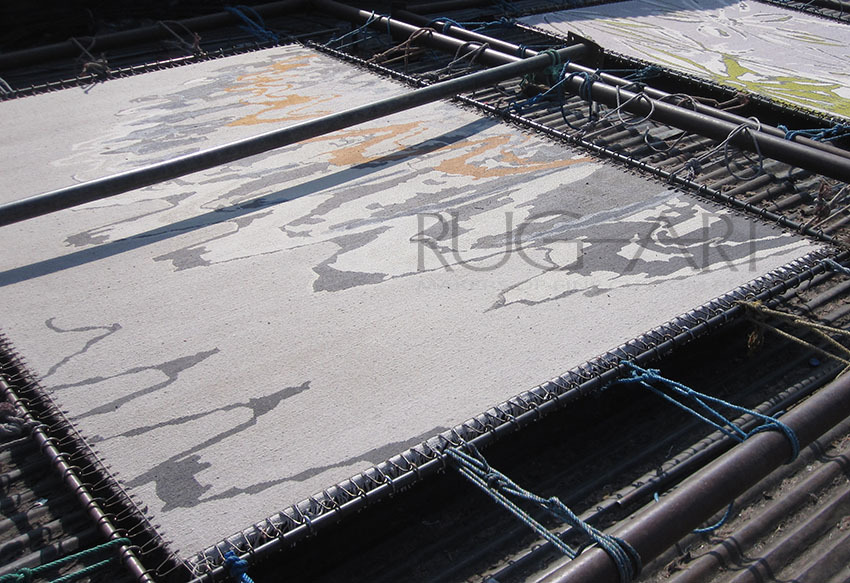 What materials do you use?
We use the best Himalayan wool available. It's thick, even in texture and rich in lanolin, yet soft and flexible. A beautiful yarn for a durable and long-lasting foundation. The best Chinese silk is used for highlights. It is soft yet strong yarn, and our clients love the touch and feel of lustrous silk. In our rugs we also use raw silk (mohair), pashmina and hemp. We also offer and create custom yarn blend based on the project's needs. Rug Art offers a fine, hand-crafted line of Hair on Hide rugs in undyed natural colors in custom designs. They are absolutely gorgeous.
What do you want designers to know about what you do?
Hand-knotted rugs are the most luxurious line we offer, but we also offer hand-tufted in most of our designs, and the customization possibilities are endless. Secondly: we never say no. Anything is possible, so just ask. Last but not least, when you buy a rug from Rug Art you are buying a piece of art for your personal space; a piece that requires multiple people with multiple talents and skills. It takes hundreds of dedicated hours and thousands of knots, all finely crafted by a dedicated hand, to create a commissioned beauty. Remembering this makes the whole process not only creative and fun, but also much more meaningful.
Interested in a custom rug design? Stop by Rug Art at the DDB, Suite 1518.