Although Thanksgiving is the time to give thanks for our loved ones – it's also the start of the family (read: drama) filled holiday season. GDG figured you may need a drink or two, in style.
Baccarat introduced the "Cocktail Party in a Box" collection during the 2015 holiday season as an opportunity to give the gift of holiday spirit. This year, the Château Baccarat Dégustation set proves once again that everything tastes better in Baccarat.
Taste the difference Baccarat makes, with four variations of the Pom Pear; classic on the rocks in the CB tumbler, a fresh and fruity Sangria in the CB white wine glass, a fizzy Champagne cocktail in the CB flute and a zesty mocktail in the CB red wine glass.
*Notice: The following recipe is from expert, Mark Addison's Cocktail Chameleon (Assouline 2017) and may not be reproduced or transmitted in any form or by any means without prior consent from the Author or Publisher.
POM PEAR
Although nutrition might not be the first reason to make this cocktail, it happens to be loaded with antioxidants. Green tea is beneficial to the heart and the brain, and pomegranate contains important vitamins and minerals. But health aside, this fruity concoction is refreshing and eminently drinkable.

glassware
Ten 8-oz. flutes
bar tools
1-pint Mason jar
Large glass pitcher
Plastic wrap
Mixing spoon
yield
75 oz., serves 10
ingredients
8 oz. vodka
4 green tea bags
1 bottle (750 ml) dry white wine, such as Chenin Blanc
20 oz. pomegranate juice
20 oz. chilled pear nectar
1 ½ oz. Lemon-Ginger Syrup (recipe below)
garnish
10 thin slices of green pear
5 oz. pomegranate seeds

directions
Combine the vodka and green tea bags in the jar. Seal and steep at room temperature for 4 hours.
Meanwhile, in the pitcher, combine the wine, pomegranate juice, pear nectar and syrup. Cover with plastic wrap and refrigerate for 4-8 hours.
When completely chilled, combine the two mixtures and stir well.
To serve, fill the glasses with ice and divide the sangria among them, garnishing each one with a pear slice and a tablespoon of pomegranate seeds.
LEMON-GINGER SYRUP
Yield: 5 oz.
1/2 c. granulated sugar
1/2 c. water
2 Tbsp. coarsely grated fresh ginger
2 Tbsp. lemon zest, without pith
In a small saucepan, combine the sugar, water and ginger and bring to a boil until the sugar dissolves, about 5 minutes. Remove from the heat and add the lemon zest. Steep for 20 minutes. Strain through a fine mesh sieve, without pressing on the ginger and zest. Funnel into a 5-oz. bottle and refrigerate.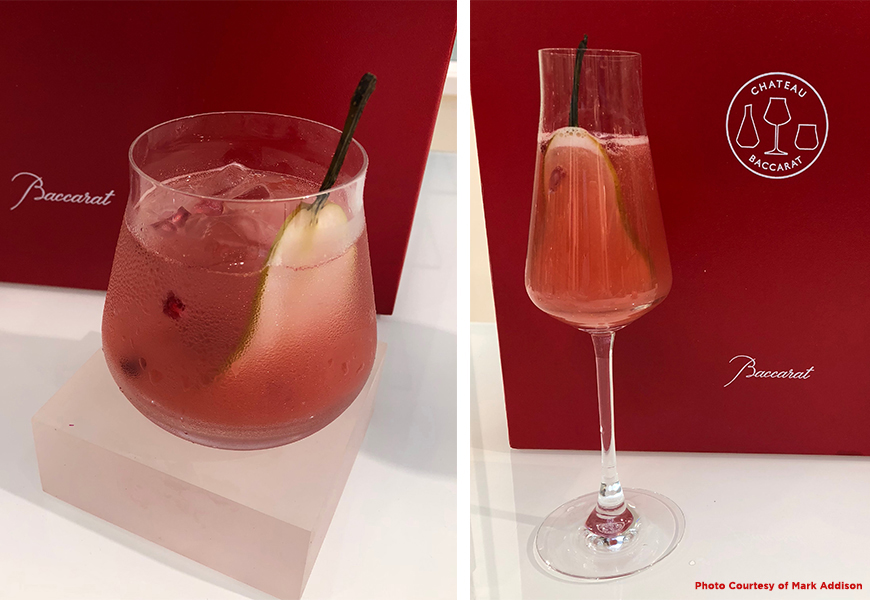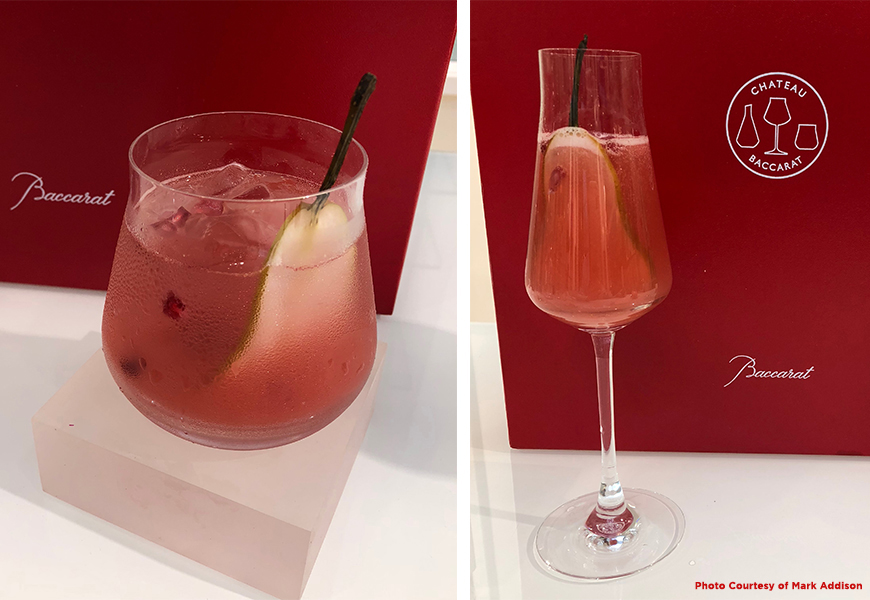 For more inspiration: Discover a world of Cocktail resources with www.MarkAddison.com/CocktailChameleon