The new collection by S. Harris for Fabricut teams up with Pulp Design Studios co-founders, Beth Dotolo and Carolina V. Gentry.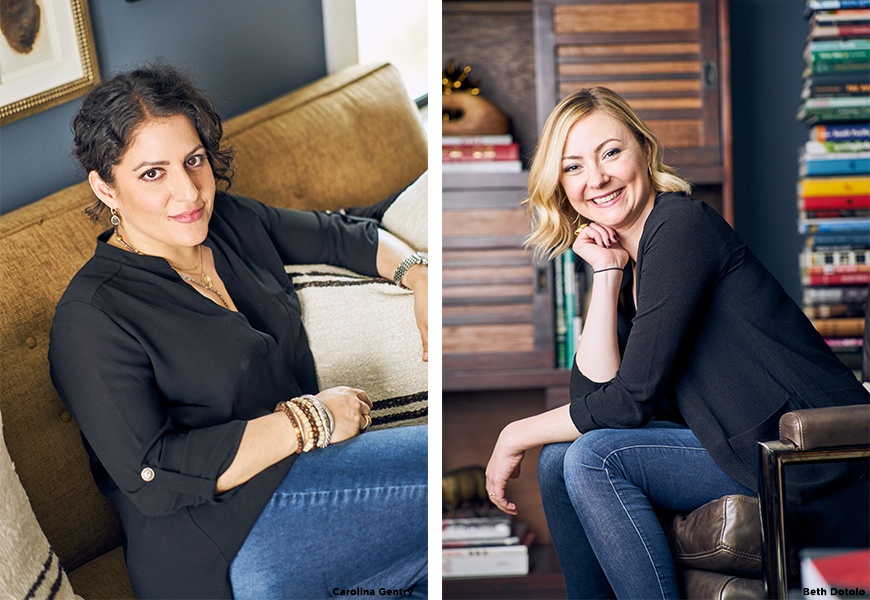 Dotolo and Gentry's signature adventurous flair for the unexpected comes alive in this new collection that is designed around the design duo's passion for travel and inspired by iconic destinations around the globe.
A capsule collection of 10 edgy, novelty textiles was developed and merchandised to reflect Pulp's design approach. The finished designs are both beautiful and functional!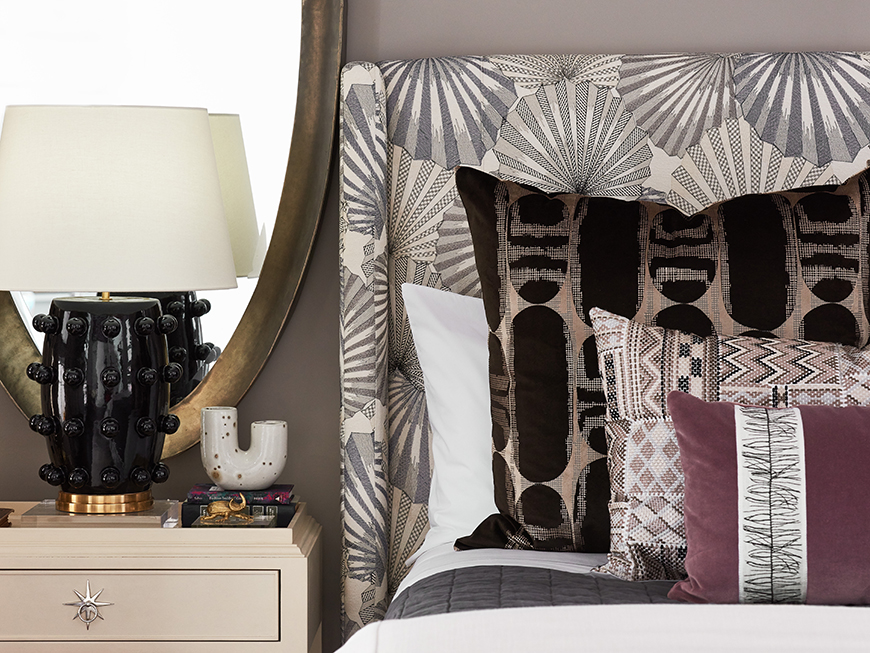 "Striking a perfect balance between function and style is an imperative part of our design approach. We call it 'Splendid Living,'" Gentry said. "We would never design a space for a client that looked good, but didn't withstand and elevate their lifestyle. We designed the collection with the same perspective."
Using high-quality materials and fibers, these designers ensured each textile was up to the Pulp standard!
The palette is a masterful line of artisan-crafted textiles, influenced by dream destinations seen through a modernized global lens.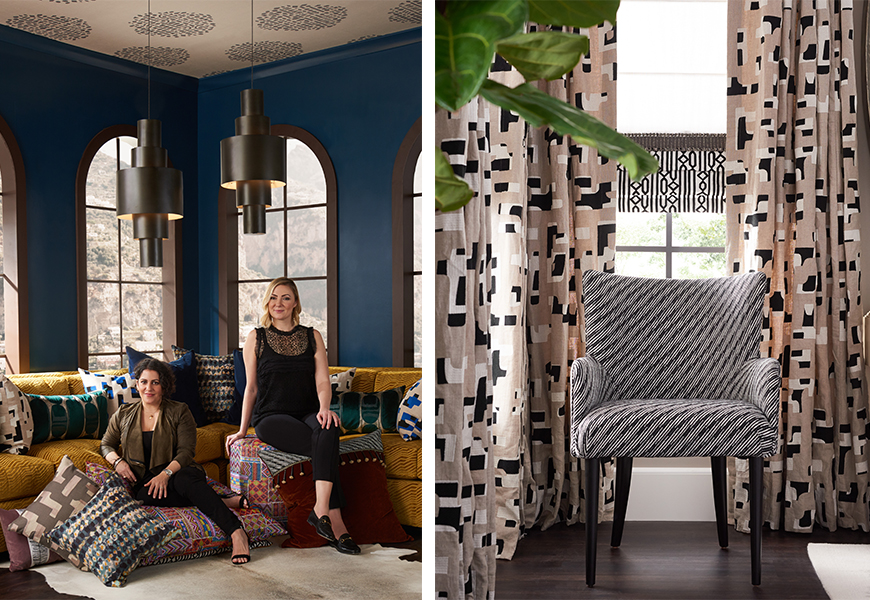 "Each of the 10 patterns was inspired by a unique destination, from Osaka, Japan to the Navigli neighborhood in Milan," Beth Dotolo said. "The collection feels like a journey around some of the most vibrant cities in the world, both that we've visited on design trips and that we're dying to go to."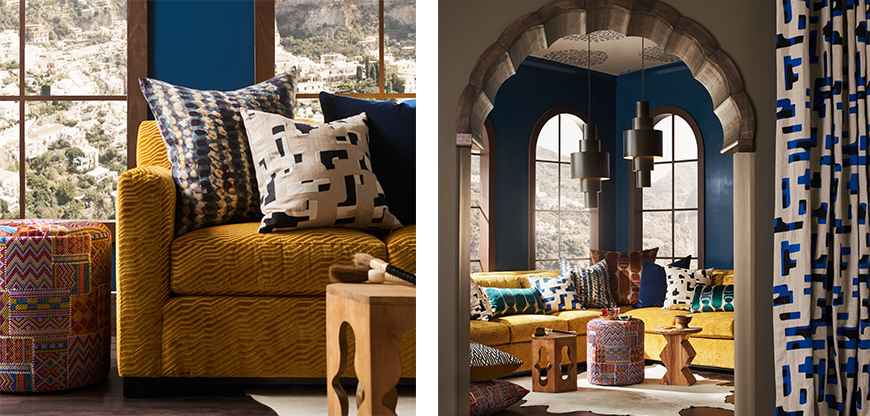 Altogether the collection includes creative interpretations of Egypt, Greece, Italy, Mexico, the U.K. and Japan. However, the pair found themselves overcome with inspiration by every twist and turn of their trip to Milan. The history, fashion and architecture inspired constant sketching on paper napkins!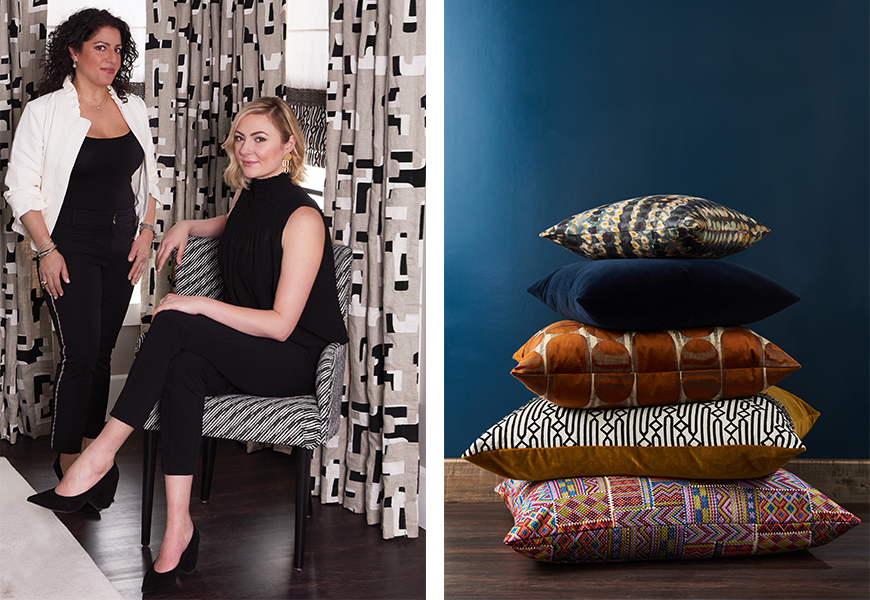 The most unexpected inspiration came from an unlikely source of beauty to the untrained eye. Stimulated by much more than the obvious, Dotolo and Gentry created the Scarab pattern based off the sheen of a beetle's back. On the other hand, splendors in the collection feature the worldly and beautiful, including inspiration from a stunning headboard upholstered in Osaka and custom pillows in Old Cairo.
"Global travel is captivating. It evokes a sense of wonder in just about everyone. Whether you've visited a place or have it on your list, global design is a way for people to emulate the alluring, the unexpected, and the simply splendid details from dreamy destinations," Dotolo and Gentry agreed.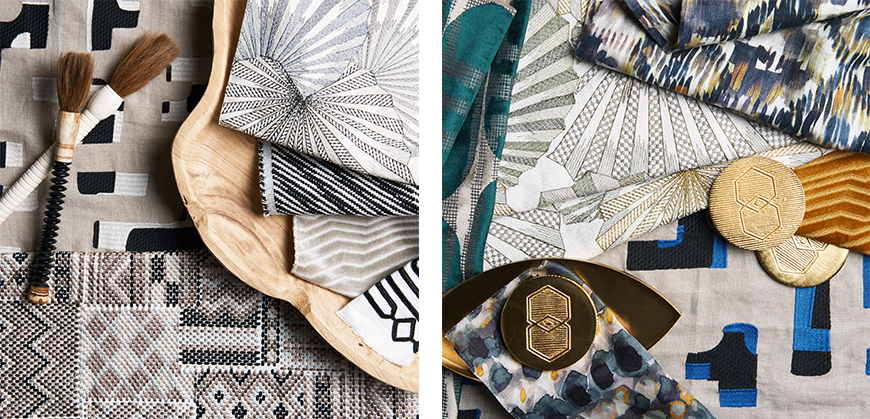 Travel gratis through the collection in Fabricut showrooms in the DDB Suite 915, PDC Suite B470, DCH Suite 3022. For more globally inspired design, check out our recaps of the PDC's "Design Is Global" WESTWEEK events.