Our friends at Dering Hall connected with various designers to discuss wise cleaning, organization and storage ideas to adopt into your spring preparation. Read the story below and see our own "Shop the Style" recommendations linked throughout!
In light of the hype around minimalism, the recognized positive effects of a decluttered home and lifestyle, and the frenzy surrounding organizing expert Marie Kondo, homes with edited interiors that are properly organized and feature a "clean" aesthetic are, frankly, what's fashionable. This all makes the arrival of spring 2019 the perfect moment to dedicate significant time to the process of spring cleaning, and to do it right. That means purging, editing, organizing, and streamlining your in-home storage solutions to achieve a decluttered lifestyle that will last you through the warmer months. Read on for some fresh inspiration from designers, as well as shoppable storage solutions, to bring to your home this spring when you throw open the windows, and begin cleaning away the winter mess.
SPRING CLEANING
"I think it's critical to edit and organize at least four times a year with the turn of each season," says Melanie Charlton of Clos-ette, a holistic organizational design firm. "If you want to achieve a truly holistic, healthy and organized home, make editing and organizing a part of your daily routine, and you will be witness to life-changing moments in your home. This habit not only creates calm and order, but also will eliminate chaos by way of your 'stuff.' This change may not seem monumental, but it usually has profound effects in other areas such as your health and relationships. Designing your way out of clutter clears up things you never thought possible!" says Charlton.
"Personally, I loathe clutter and tend to lean to more edited layers," says Stefani Stein of Stefani Stein Inc., who admits that with an inclination for a clean, minimal aesthetic, shows like Tidying Up with Marie Kondo or Hoarders are too stressful for her to watch. "I definitely advocate for a seasonal refresh, particularly in the spring. Even though we have mostly sunny days here in Los Angeles, there is something psychologically gratifying about shedding unwanted or unneeded items just as the flowers are blooming."
STORAGE SOLUTIONS
Cleaning and organizing can be made simple in two ways — editing, as mentioned above, and through carefully thought-out storage solutions for the home. Not only is creating a clean interior easier with these integrated solutions to your home, but it makes it a lot more enjoyable.
Armina Kasprowicz of Armina Interiors also considers storage and organization deeply when embarking on a design project for a client. "On most of my projects, I provide clients with storage and organization solutions. Many times, it becomes an integral part of the architecture of the space, such as built-in cabinets," she says. "One of the accomplishments of a well-designed home is that everything should have its rightful place. Home should look not only fabulous but also well maintained, so it is necessary to consider storage as part of the design process.
Stein also loves "when there is a place for everything and everything has its place," and therefore storage needs and daily functionality are always on the top of her mind when working on design-build projects and remodels. "Spring cleaning can be daunting, but also a bit cathartic. I recommend starting small and tackling one area at a time," she says. "Sometimes the chaos gets worse before it gets better, so keeping it contained can be key to keeping one's sanity during the process." When it comes to storage solutions — custom seems to be the way of choice by designers. While new custom solutions aren't always feasible, especially for a spring refresh, the ideas below cover a slew of other resources and ways you can reorganize, or use the built-ins you already have in your home in the most productive and useful ways possible.
Ready to get started cleaning and organizing? Let's break it down, room by room.
MUDROOM
Mudrooms are becoming more and more sought-after and recognized as an important feature for a family home because they are a perfect place to leave anything that doesn't need to be brought any further into a home and clutter up an interior. "For this client's coastal home away from home, there was a great deal of functionality needed in a small space," says Stein of a mudroom with custom cabinetry serving as functional storage.
"As a shoe-free household, a spot to immediately and comfortably remove and store their shoes, and perhaps hang a jacket or hat, was a top priority. A wishlist item was to try and incorporate bins for each member of the family. As we delved into household habits and preferences, it became clear that bins didn't provide the ideal visibility. I sourced the trays and designed the cubbies around their footprint. And, because it isn't a primary residence, only a small utility closet was needed. I used the remaining space along this wall, which was originally a dark and dated bookshelf, to squeeze in a narrow section housing a broom & canister vacuum, along with a small shelf for cleaning supplies."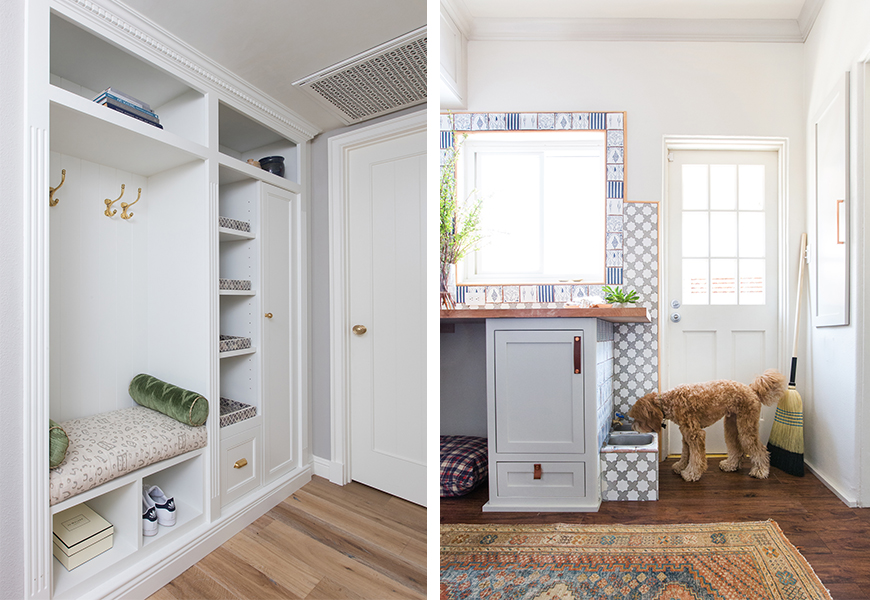 "If you don't have the luxury of custom solutions, grouping by categories using baskets and bins can be a fantastic alternative," says Stein. In this beach house mudroom by Liliane Hart Interiors, baskets within the storage space of a luxurious custom solution — a built-in bench in this case — add an extra element of organization and a stylish design touch.
Another way to easily incorporate storage solutions in a foyer or mudroom is through installed coat racks or hooks. In this mudroom by Molie Malone Interior Design, coat hooks transition with the season to become a sophisticated showcase for summer hats.
PETS
"Don't forget our furry friends!" says Blank, who recommends a pet area where food, vitamins, medicine, leashes and coats are stored. As mentioned before, a home destined to stay clean and organized is one with a home and a place for everything, including pets. This custom indigo blue and brass dog kennel by Murphy & Co. Design is a luxurious space for the family dog. "There should be a designated eating area for pets so one doesn't trip over their dishes." Spring is also the perfect time to refresh your dog bed, and provide a thorough cleaning to their cage, sift and throw away old toys, or donate untouched pet items to a local shelter.
"One of my favorite projects was a pet-centric mudroom with custom Tabarka Tile, a folding & drying center and an integrated food & water station for the family's dog, Cooper," says Stein. "Designing for furry friends (and their humans) is such fun!"
KITCHEN
"We consider storage and organization on every single job," says interior designer Sarah Blank of Sarah Blank Design Studio. "How do you design a kitchen successfully if you don't? It can't just be a pretty room — it has to function, and the way it functions depends on each client. I cannot tell you how many times a client comes to me and says that their last kitchen was not designed by a kitchen professional and the wall cabinets are not deep enough for the dishes."
Blank and her team considered intricate and abundant custom storage solutions for this contemporary kitchen. Besides storage design, she offers some tips for spring cleaning that can be applied to any home in need of de-cluttering for spring. "For a kitchen, spices only last a year so the older ones should be tossed."
"I always make sure that when storage containers are stored they have their lids on them and the pots have their lids on them," says Blank. "Why are we piling up tops and lids? If there is a stray lid or container at the end of the year recycle it. Frying pans with lids should not be stacked. Storage needs to be grouped in categories and work with the flow of the space. You don't want everyday dishes and glasses on the other side of the room. They need to go from the dishwasher to the storage area and then to the table. If there are no wall cabinets in a kitchen, then a nearby closet or a base cabinet."
"The kitchen is establishing itself as the special place — a perfect blend of the workroom and the place to be, the place to entertain, the place to dine. And a well-designed kitchen should have everything where you want it, stored in an accessible place, well organized, and with clutter-free surfaces. This is important in all design cases, but especially when fashioning a kitchen for a smaller house or apartment, condo or loft," says Kasprowicz. "A wine rack adjoins the upper cabinets adding convenience and style, while the open shelves below, hold additional accessories used for entertaining. The homeowner enjoys interchanging items on these shelves to keep the space interesting," says Kasprowicz. "I love designing kitchens that offer a solution for clutter-free countertops but some kitchen accessories are essential and can be functional and attractive." If you don't have a designated home bar, the kitchen is a great place to integrate wine storage. See below for some alternatives to built-in racks.
LAUNDRY ROOM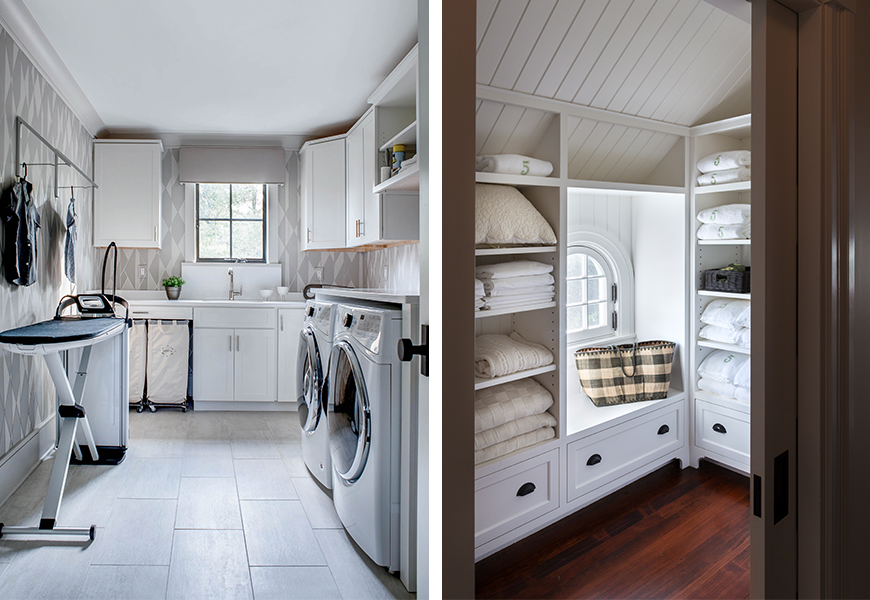 "Laundry rooms are an important supporting room. So make sure the cleaning supplies, ironing boards, and rotary irons have a home," says Blank. "A laundry room, much like a kitchen, needs to function and work like clockwork."
"Two laundry baskets isn't going to do the job," says Blank, who advises baskets for clean darks and lights, dirty darks and lights, and hand-washing needs. "You also need a hanging area and a sweater rack for drying. The laundry is folded and brought up into the rooms or the linen closets."
LINEN CLOSET
"Keep all your linens and towels categorized so each bedroom has its own section in the linen closet," advises Blank. Spring is the best time to clean untouched linens, or purchase fresh, crisp ones. This walk-in linen closet by Douglas C. Wright Architects is a luxurious option for storing all the necessary bedding for a home's bedrooms.
CLOSETS / DRESSING ROOMS
When it comes to creating beautiful, organized closets, Charlton says when it comes down to it, the most important thing is the inventory of the client. "Current and future inventory is our secret sauce. It's our unique and custom way of analyzing people's 'stuff,' whether a wardrobe, kitchen or collection, and then plan for the design," she says.
While built-ins are great for closets, dressing rooms and mudrooms, customized furniture can be used for vanities and bathrooms. If built-ins aren't an option, there are plenty of storage solutions you can purchase for the home, such as shoe racks, armoires, and dressers. "We chameleon into the project's aesthetic because we have no ego in the design intent — only that it be functional, organized, beautiful and high-quality." When it comes to keeping organized in the closet, Charlton advises: "Start by finding a partner or professional organizer to keep you honest. Edit and then edit again! Take stock and then begin to plan it out."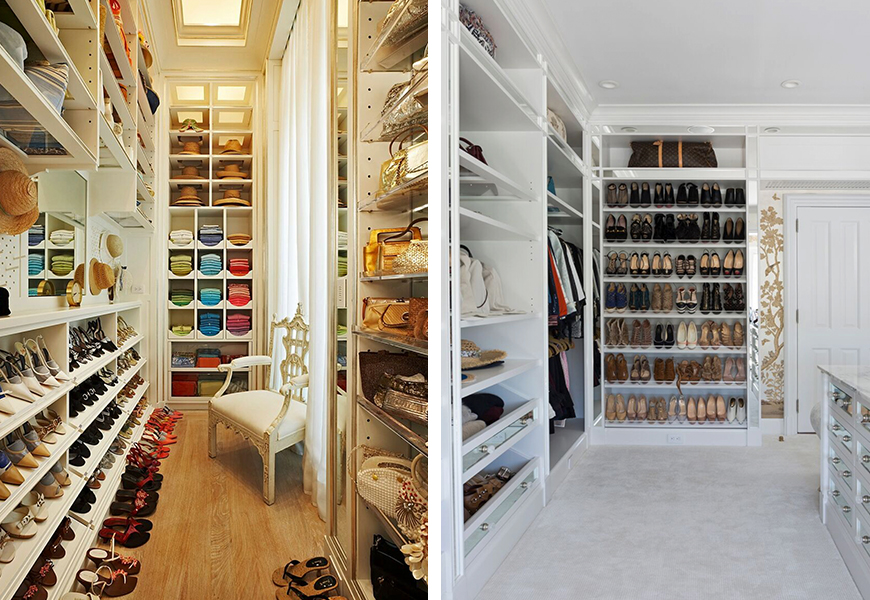 "For a dressing room, the process goes from getting dressed to putting on shoes and accessories," says Blank who designed this successful, organized and glamorous home dressing room. "You don't want to walk back and forth trying to find things. You also want to be sure your closet and drawers are organized each year. If you did not wear it in the last two years, it can be donated. Many clients also use consignment shops."
"I do love Marie Kondo's concept of thanking the items you are eliminating," says Stein. "My husband tends to have a bit more difficulty with the sentimental clutter than I do, so we tried this before a move several years ago. He may not readily admit it, but I think it made the process a little more palatable for him. And, for me, the thanking process made it that much more enjoyable. Since we always donate these items, thinking about how someone new may form their own great memories with an old party dress or gently worn blouse or a rarely used kitchen gadget helps me be much less precious about things I maybe, perhaps, sort of might still want to keep."
LIBRARY
If you're familiar with the KonMari Method, you know that one of the five categories of tidying is books. Don't overlook books when it comes to spring cleaning. If you glance at your library, you'll probably be able to pick out a handful of titles you haven't read, and which you probably will never open. This is the perfect opportunity to get rid of those — pass them along to someone that will enjoy them, or bring them to a local library.
If you're a book lover, this category may stress you out the most, but narrowing down to a collection full of your favorite titles will make you cherish your library even more. When it comes to finding a place for them, a library to suit the size of your collection is needed, and this structural framework will inspire you to purge when it starts overgrowing its designated space. Consider storing them by color to add a spectacular design statement, as seen in this library design by Nest Design Company.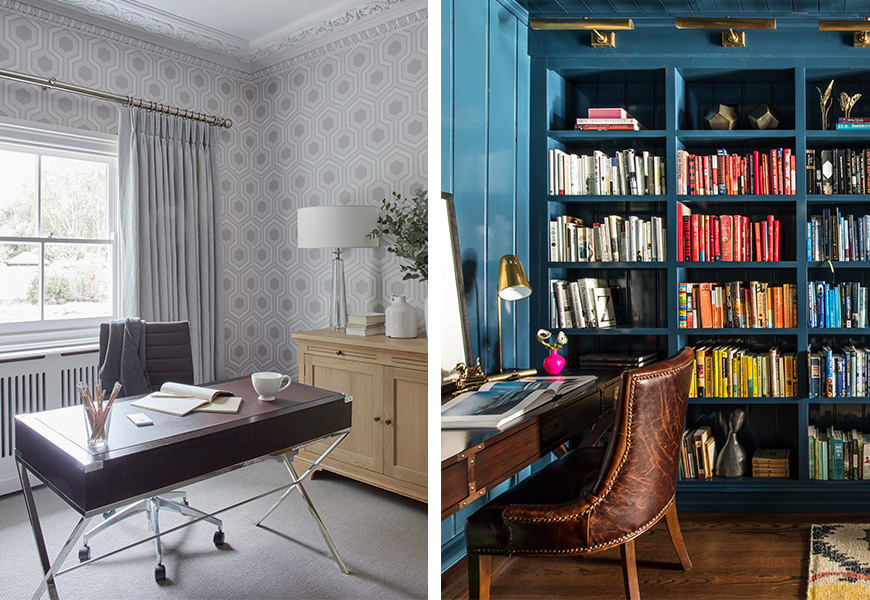 HOME OFFICE
If there's ever space in the home that should be de-cluttered, it's your home office. Analyze the storage and organization solutions you have in place in your office and how it affects your productivity. See if the office can benefit from shelving, cabinets or even simple paper organizers — anything to keep papers and books from piling on your desk and preventing you from having a clear mind to get your work done. Then, go through your papers and get rid of anything you don't need, file away important documents from the past year, and make a mental clean slate for the work to come this spring.
MISCELLANEOUS
You'd be surprised how much decorative storage can come in handy in the home — for bedrooms, coffee and end tables in the living room, display shelving, your home office and more. Decorative boxes make a statement and also provide a safe and convenient place to hide away items that you may not have the perfect place for. In the KonMari method, Marie Kondo refers to miscellaneous items as komono, and applies her cleaning concept to the miscellaneous items all throughout the home. These random items can be different for every household, and it's your job to sort out your method of organizing, but the best place to start is by providing small boxes and bins for them to have a home. This vignette by Maureen Stevens Design features vintage accessories that most likely double as storage for a stylish homeowner.
GARAGE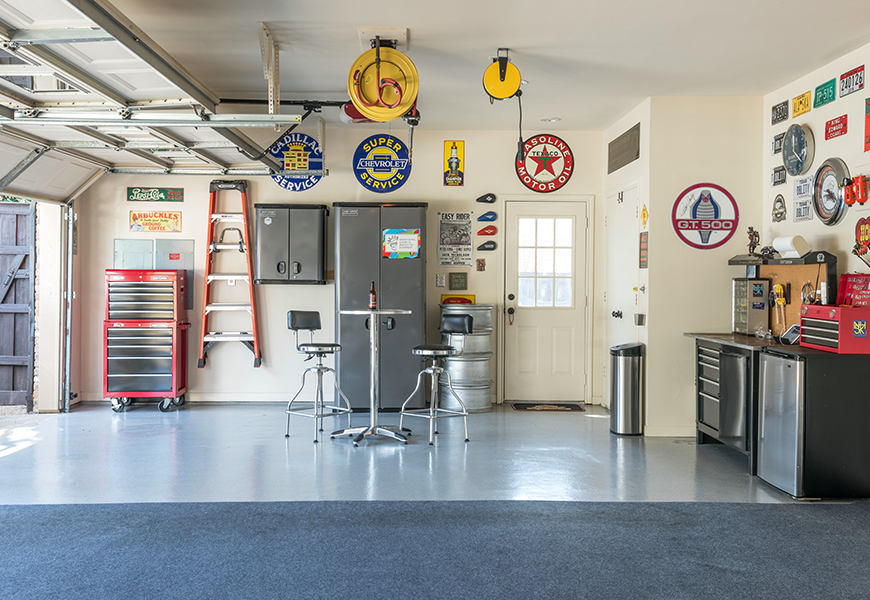 In the spring, you should also give some attention to one of the most neglected, and probably disorganized spaces in the home: the garage. Garages are useful to store things that shouldn't be brought into the home, or can't fit in the home. But in reality, a lot of the items in the garage can be thrown away or donated, especially if it's been untouched for months or years. What better time to clear away the clutter and make some room for activities that can be moved to the garage, or to finally have a home for your car?
See the original article posted on Dering Hall here.