In the latest installment of Dering Hall's Studio Visit series, Timothy Mellema and Daniel Termini of Trella Studio, represented by Studio Van den Akker, talk about The Arthur Pendant, a glass lighting fixture handpainted in unique, stunning patterns.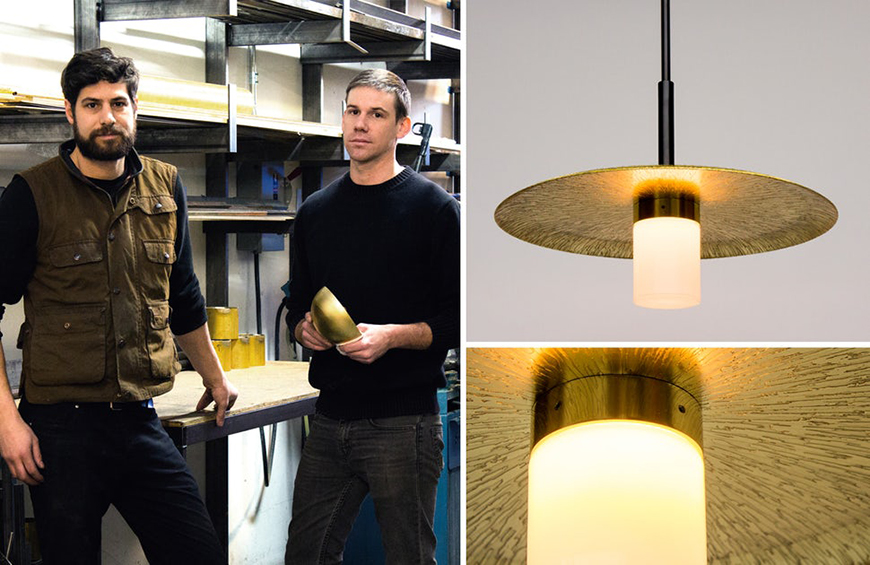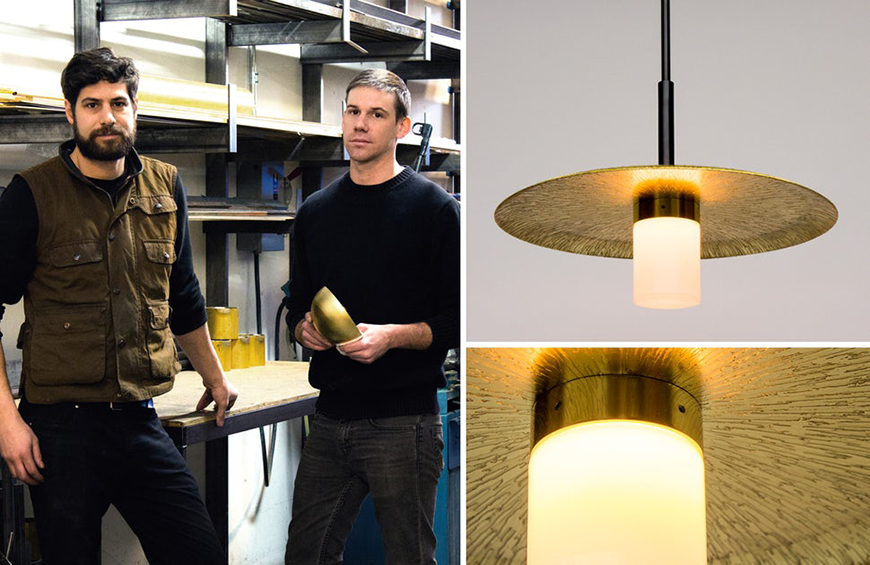 Q: What inspired you to design The Arthur Pendant?
A: The inspiration for The Arthur Pendant came out of experimentation of various etched patterns that arose from hand-applied techniques we were developing in our Brooklyn workshop. One of these experiments resulted in a polished sunburst pattern. Seeing the way the polished pattern caught and reflected light, we decided we needed to design a fixture which showcased and celebrated this effect. We felt a flat plate with a subtle lip on the edge would give us the surface we needed and allow the etched pattern to be the centerpiece of the fixture as the eye looks up from below.
Q: Did you see a void in the marketplace, or did you design it for a particular project and then realize that it had broader appeal?
A: We see a lack of texture in the lighting market in general, specifically pieces fabricated from brass or bronze. These copper alloys have so much to offer and it's important for us to play with technique in order to unlock that potential. For us, etching is another way to create a visual and tactile interest in our work that we feel takes our metalworking to a higher level of artisanship.
Q: What is your favorite feature or detail of the light fixture? What makes it so special?
A: Without a doubt, our favorite aspect of the light is how the warm glow of the hand blown glass illuminates the polished texture. As well, each shade being hand-painted makes every Arthur unique in its pattern. Each piece being one of a kind is truly something special to us.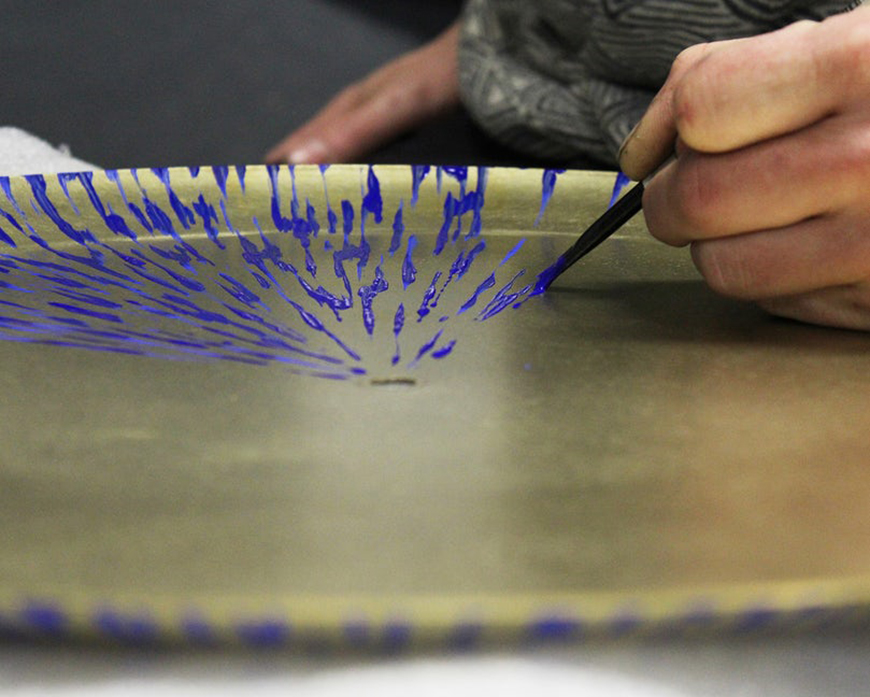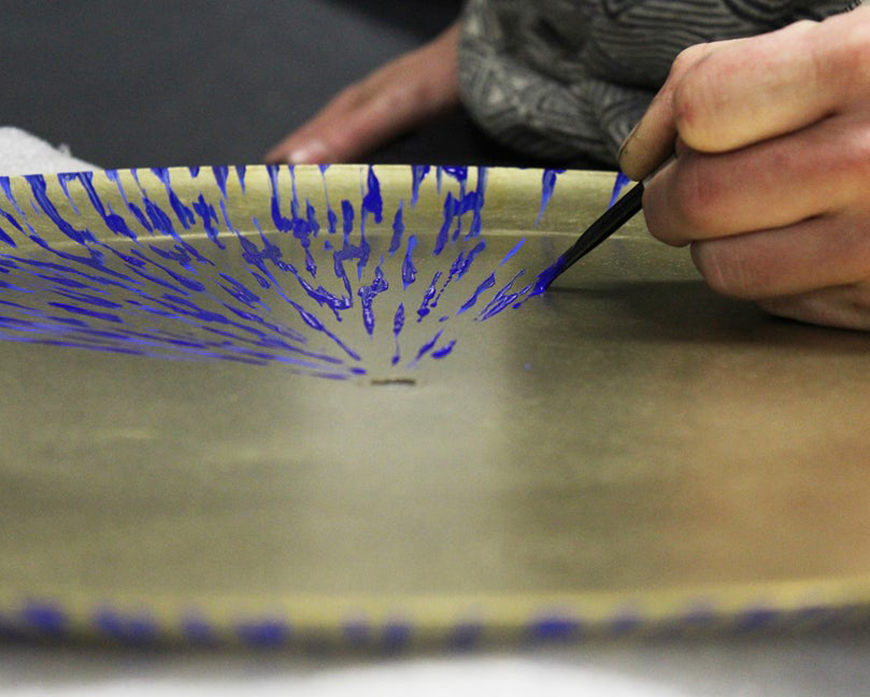 Q: The pendant really makes a statement, so ideally, how and where would you like to see it used?
A: A mid-sized pendant like The Arthur is really versatile. It can function as a solo attraction hanging above a small cocktail table or in a reading nook, but can also make a statement in a linear series of three above a kitchen island or dining table.
Q: How does it coordinate with other items in your collection?
A: Trella Studio was created as an outlet for us to experiment in our workshop and design studio. We want to create unique fixtures which are tied to the capabilities of our shop using the techniques we chose to develop. The Arthur Pendant is but one of the various pieces that evolved from this long process. I would not go so far as to say that the piece itself directly coordinates with any other fixture in our collection, but we try to ensure that the same level of considered technique is evident in all of our work; whether it's in machining and production, or the application of layered finishes. This creates a basic language of detail and scale that we feel is just beginning to define the look and feel of Trella Studio as a whole.
Q: Tell us about the three finishes that are available and why you decided on these specific colors.
A: The three finishes we chose to showcase are a polished sunburst etch with blackened brass details, hand stamped ginkgo leaf etch in a medium brown patina with polished brass details, and a white powder coat with blonde brass details. Our main goal was to showcase two etched textures that we grew to love as well as a more traditional finish as shown in the powder-coated fixture.
Q: Are you able to offer customized versions?
A: Yes! All Arthur Pendants are made to order. Clients are free to mix and match finish options on all aspects of the fixture. In addition, we welcome inquiries for custom etchings. If a client has a specific pattern they would like applied to the fixture, we are willing to work with them to create their unique one-of-a-kind pattern.
Visit Studio Van den Akker's new home in the PDC Suite, B355 and the DDB Suite, 1510.