When you step off the D&D Building's elevator on the 12th floor, you're immediately immersed in the cool, refined, and luminous world of A. Rudin. Greeted by their floor-to-ceiling glass entry, which offers unobstructed sightlines throughout the entire space, it's clear this is no ordinary showroom. Go Design Go traversed the sun-filled sales floor with Showroom Manager and Sales Lead, Tony Olsen, who shed some light on how A. Rudin translates their signature style to their showroom design.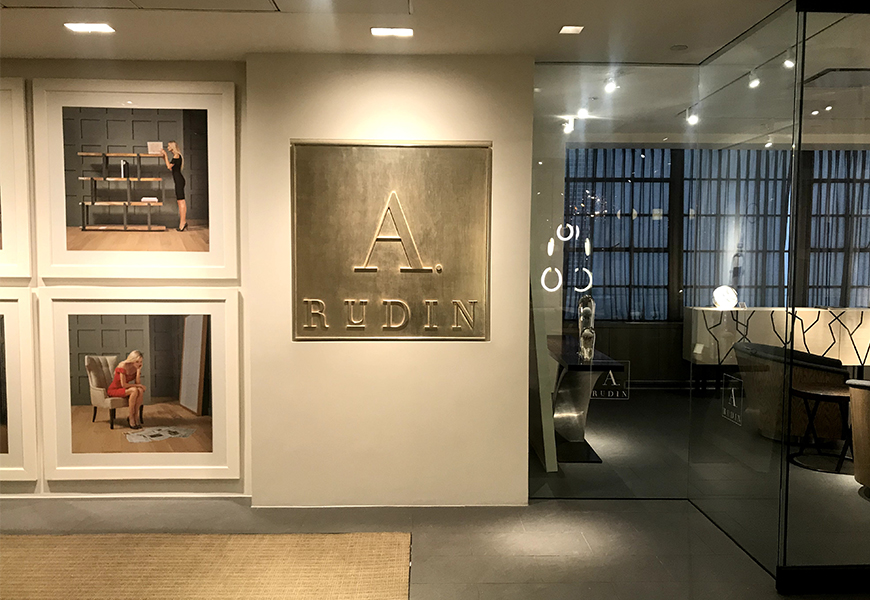 "We're trying to create a showroom that feels welcoming and warm. We want you to walk in and feel like this is your home, that it's totally livable and approachable," said Olsen.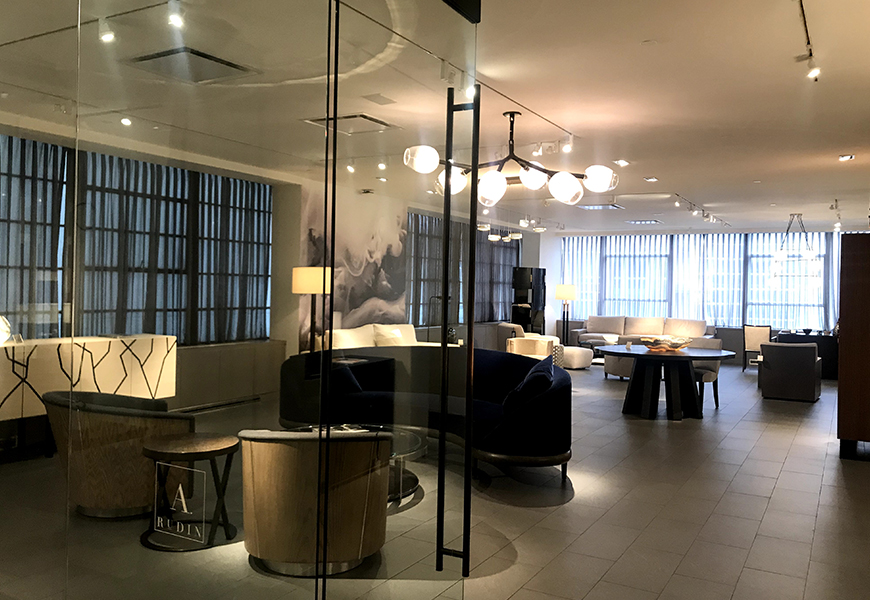 A black lacquered credenza sits to the right of the entryway adorned with a single glamorous lamp, making a statement and luring us in to further explore.
"You want to grab their attention. We want the newest, best, most exciting pieces in front and then they'll walk through and see a story happening. We're also trying not to overly pack the showroom with furniture. We want you to actually walk around and see it. It has an open floor plan right now to keep that feel," said Olsen.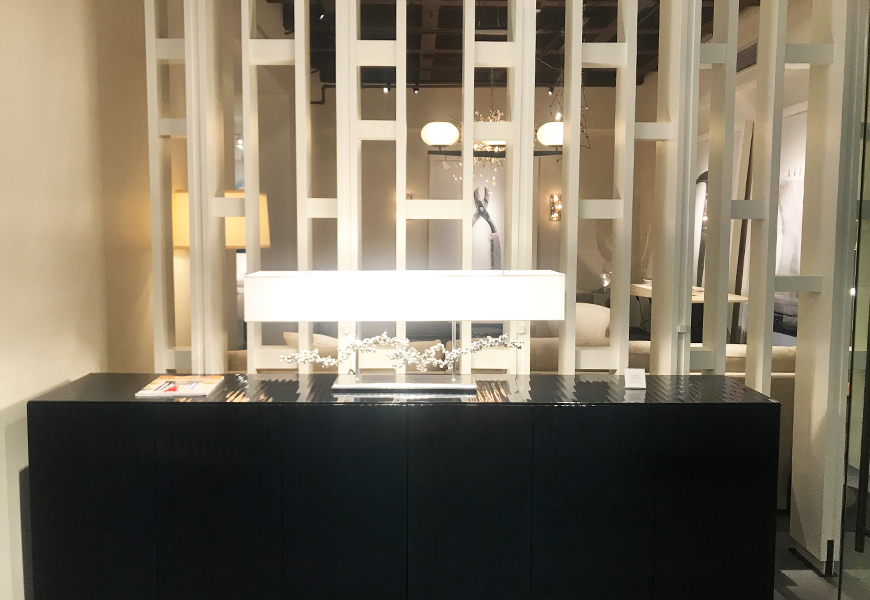 Olsen, who's been with A. Rudin for 12 years, the same amount of time the showroom has been open at the D&D Building, has seen the showroom evolve over the years. "As far as styling goes, coming from a salesperson perspective, we kind of see and know what works better together than anyone else, because we're around it every day. We know scale, and what works together and mix of materials," said Olsen.
Olsen and his team try to keep things edited. "When we opened 12 years ago, we maybe had stronger accessories, and then we faded out to have a slightly cleaner, less cluttered look. It's very easy to shop a showroom when everything's cohesive," Olsen said.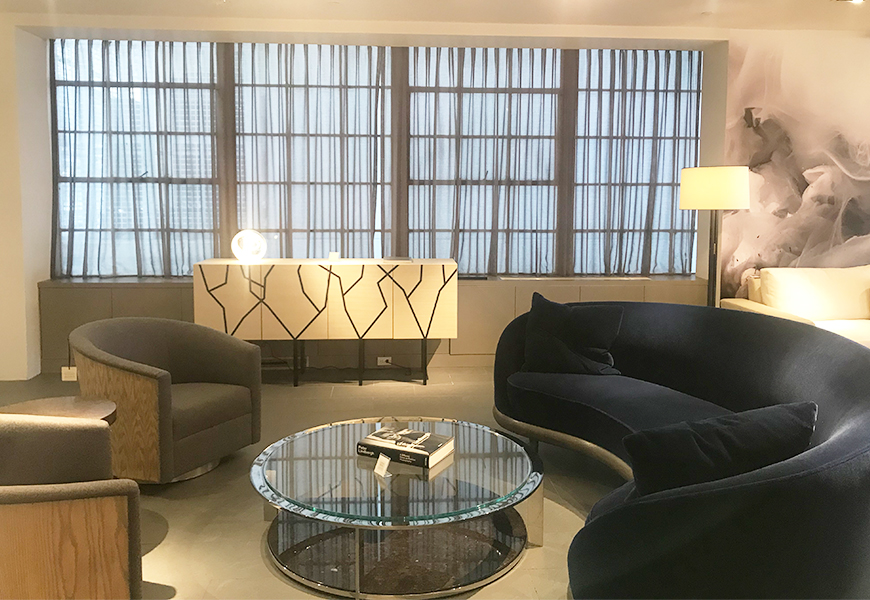 "You want to see what you're actually coming in to look for. We've gone through phases of tabletop accessories, having more and less [on tables]. You need something, but I don't think its good to have too much," said Olsen.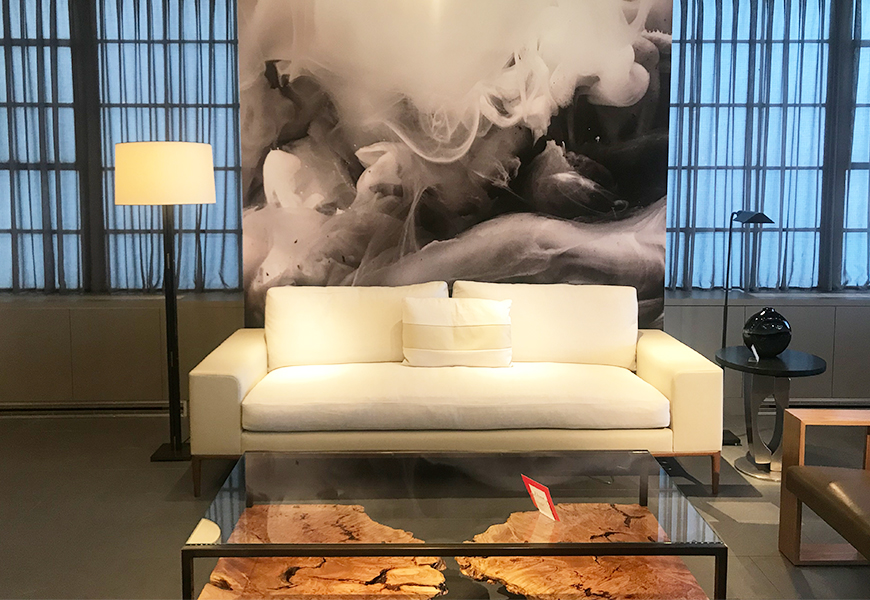 The rest of the showroom is similar to the entrance; easy to shop, easy to stroll and easy on the eyes. The showroom features vignetted areas separated by walls. "The intent was to make it very gallery-like as you walk into different rooms," said Olsen.
(Above) area within A. Rudin Showroom showcasing tool photography.
The mention of galleries got us talking about walls and wall art display. Olsen said that some time ago they went back to white walls and hardly any art, except these on-brand pieces created by A. Rudin craftsmen, for A. Rudin.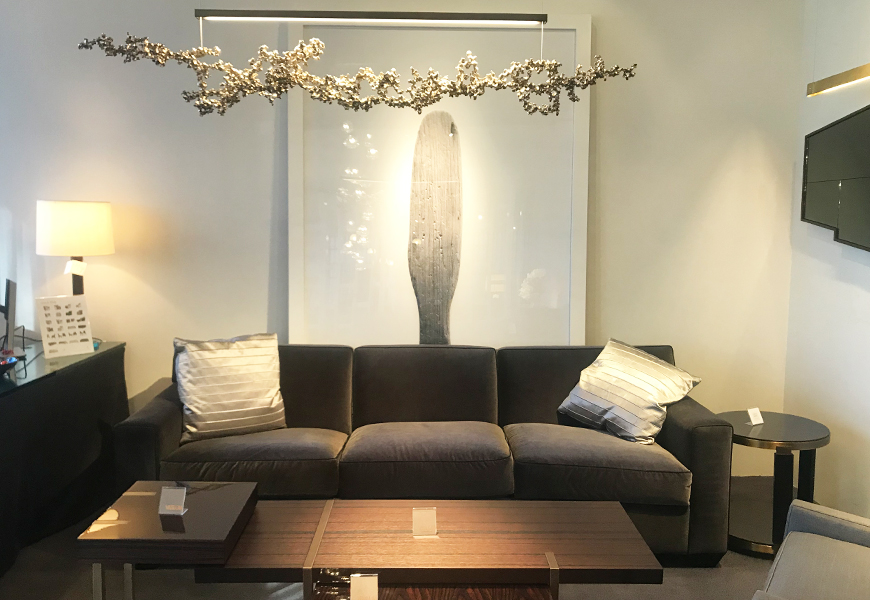 "These big photos are incredible in that they photographed the tools the guys work with at the factory, some that they've made by hand. Some of them have worked in the factory for over 25 years. The company has been around for over 100 years. " A simple, elegant and raw way to represent the brand with art. These pieces are leaned up against the walls, whereas they're styled differently in some of A. Rudin's larger showrooms in California, where the brand was founded, and has a different look and feel altogether.
A. Rudin's showroom merchandising typically happens twice per year as a full transition. In the past, new product has been accounted for on a floor plan prior to moving the product into the showroom, but naturally things are shifted and experimented with once they're in the space. Olsen said there's a power in rearranging pieces in showroom to make them look new again. Speaking of shifting things around, Olsen is making his own rearrangements in the company. "After 12 years, I'm transitioning out of sales and into a creative position with the company," said Olsen.
A. Rudin is planning to do a spring refresh just in time for DDB Spring Market. Come see the stylish space for yourself during their "Toast to the Glamorous Life" Cocktail Reception to celebrate interior designer Jeff Andrews with his A. Rudin collection and new book The New Glamour: Interiors with Star Quality. Also, you'll want to stop by their Experiential Event to meet the talented team behind the new ART & ALCHEMY pieces spotted throughout the showroom. DDB Suite 1201.
*Cover image ART & ALCHEMY