An outdoor space is a luxury, particularly as the weather hopefully gets warmer. Whether you have expansive grounds or a tiny city terrace there are plenty of ideas to expand your open-air space!
GDG has curated patios and porches where you can sense the sunshine (and sips of Prosecco). Soaking up every second of spring and summer looks a lot more enjoyable in these outdoor designs:
Wicker Wonderland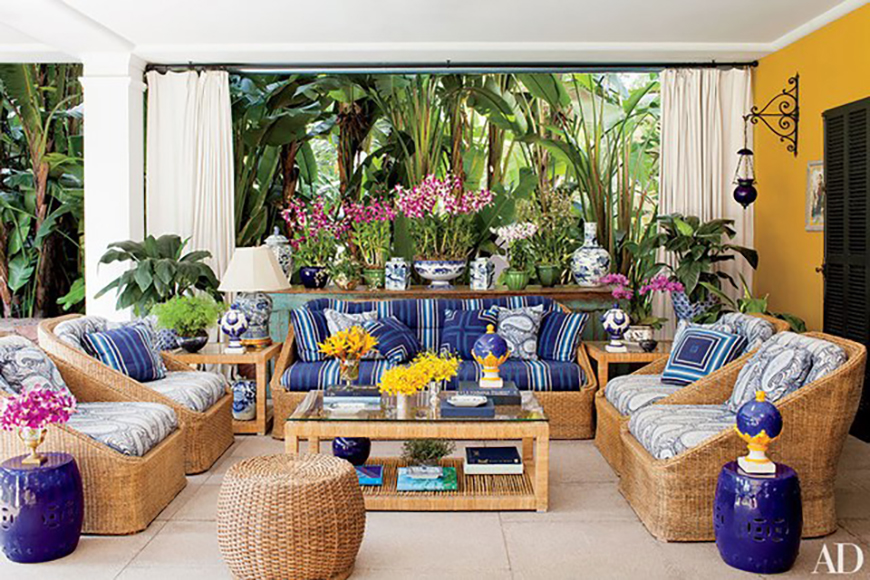 The terrace of this historic Sao Paulo house features porcelain vessels from John Rosselli Antique and a suite of wicker furniture. Architect and designer Sig Bergamin curated this classic and inviting outdoor wonderland.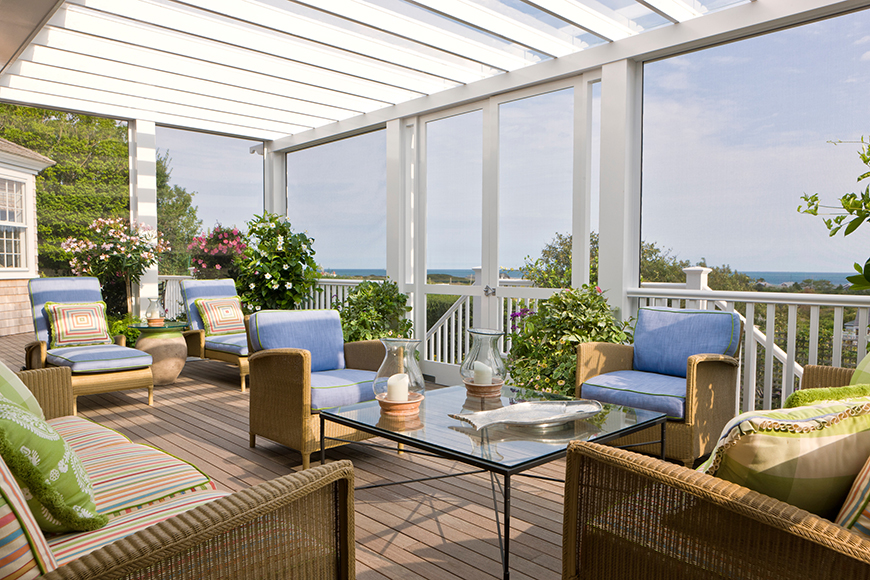 This oceanfront design by Gary McBournie has us smelling the sea-salted air. Janus et Cie wicker furniture is covered in Perennials Rough n Rowdy indoor/outdoor fabric. Pillows in Schumacher and Pindler prints add summery stripes and colors.
The Indoor Outdoors
An outside fireplace makes for a cozy gathering area in the outdoors. Interior designer, Suzanne Kasler's Atlanta home, also features sofas by Janus et Cie and 1950s French woven chairs.
Pops of Pigment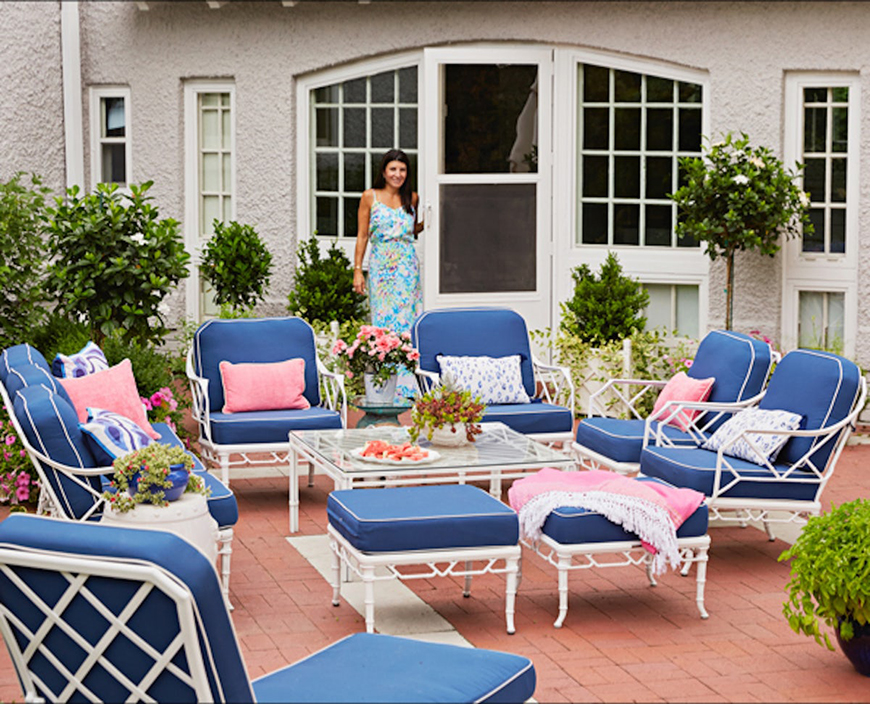 Designer Amanda Reynal prefers pops of pink and blue in her own backdoor, brick-lined patio. The royal blue fabric on the chairs is Duralee Indoor-Outdoor and is capped by pink custom pillows.
Hamptons Hideaway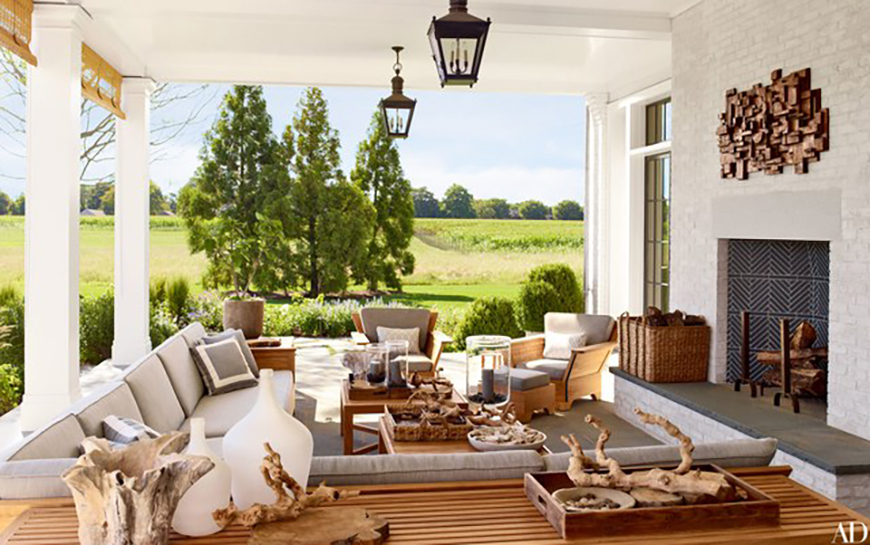 A side porch of this Hamptons home decorated by Steven Gambrel features brass lanterns from Circa lighting and driftwood accents. Perennials fabric lines the comfortable cushions on the wood accented furniture.
Aztec Al Fresca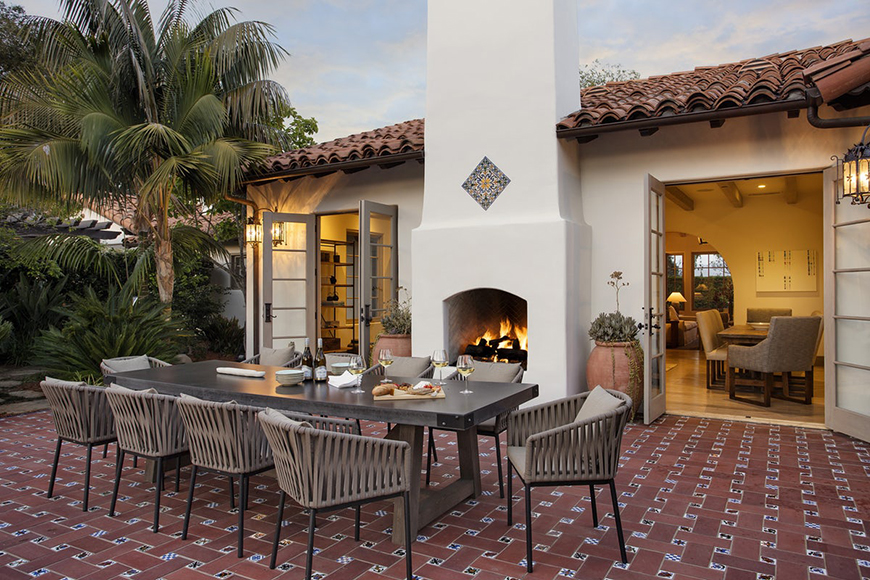 Della and Zella design create an outside oasis enriched by an open clay fireplace. The leather-stripped Kettal dining chairs offer a touch of the modern within this zen and tile-lined space.
Partly Cloudy
This outdoor space by Slifer design demonstrates the power of blue skies, with grey seats. The Gloster lounge and dining seats are clothed in sustainable indoor-outdoor fabric, with sparks of sunshine added to the monochrome through pillows, candles and carpet.
With sunshine on the brain, save the date for the DDB's upcoming Spring Market on Wednesday, May 30 featuring the theme, "Al Fresco; Inside & Out". Discover the intersection of indoor/outdoor living at this season's most anticipated NYC event.