Storytelling is an art form that has been used since the dawn of civilization – it's who we are, what we know and how we create meaning. It was also the basis for the D&D Building's Fall Market theme: The Power of Storytelling: People | Product | Process. The record-breaking Fall Market made its own history.
The two-day event explored all aspects of storytelling via the centuries-old processes that make each story possible, the products that hold unparalleled histories and the people that bring these tales to life.
GDG talked to the panelists behind some of the DDB's keynotes and in-showroom programs, and experienced each and every moment of the two-Day Market Spectacular.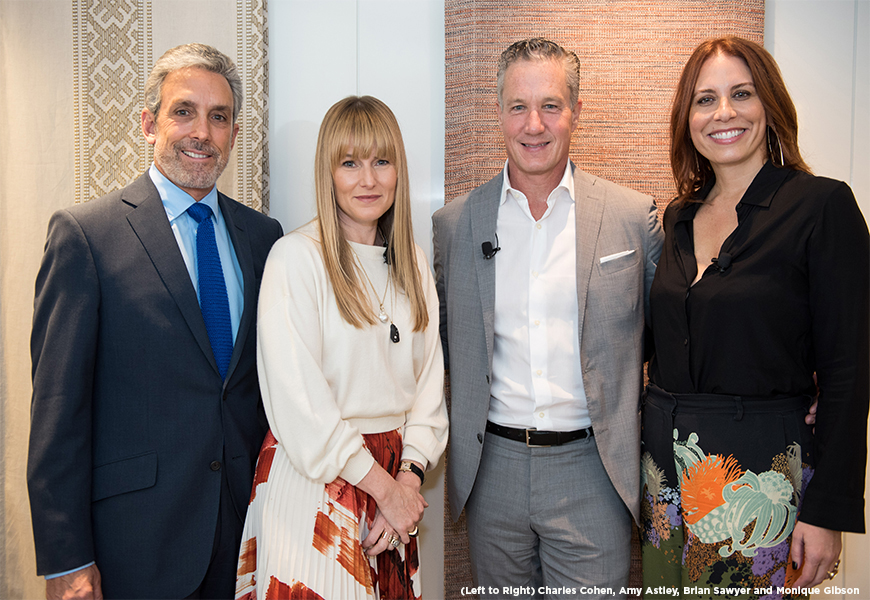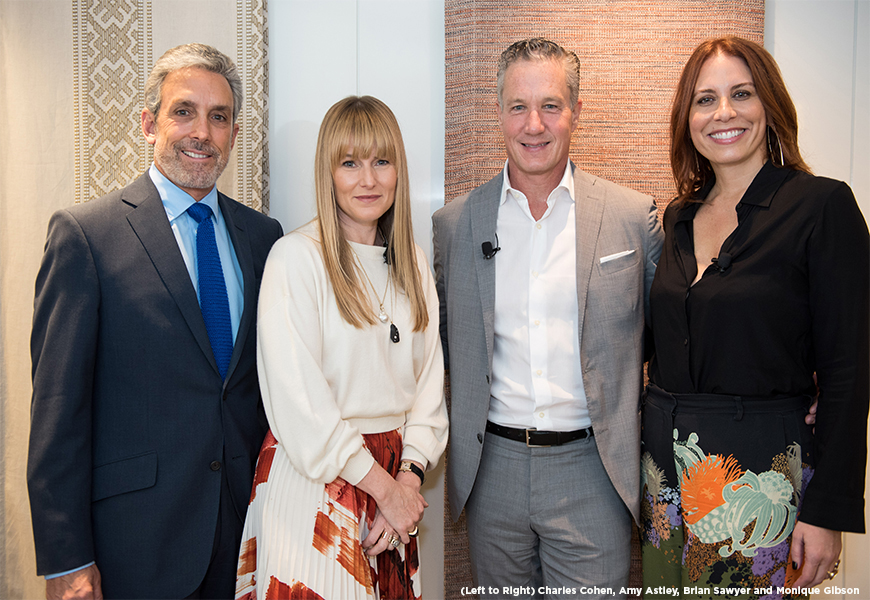 The first day, October 11 kicked off with Telling Tales featuring Architectural Digest's Editor in Chief, Amy Astley moderating a tell-all conversation with designers-to-the-stars Brian Sawyer and Monique Gibson. Monique's client tip: Engage the clients in the process of design and then when the rom is done it will be exactly what they want brought to life! Monique's crazy-inspiring pro-tip: "Say yes to life and then figure it out."
Punctuated by the star-studded Keynotes, the schedule was jam packed with not-to-be-missed events.
During the 11:00 hour, a literal fireside chat amongst Chesney's mesmerizing mantelpieces styled with accessories by The Mine, captivated audiences with Alexa Hampton eloquence. Simultaneously, the world got a little more colorful and spicy, as Benjamin Moore released their highly anticipated "Color of the Year 2018," Caliente. This deep red is hot, hot, hot! After making our way through the maze that is the DDB Annex and taking the elevator to the Penthouse, we tuned into The Power of Inspirational Kitchens with Luxe Interiors + Design. GDG entered the designer's wonderland of the Christopher Peacock showroom for the event; a space that transcends your typical showroom, leaning more toward chic Manhattan pied a terre.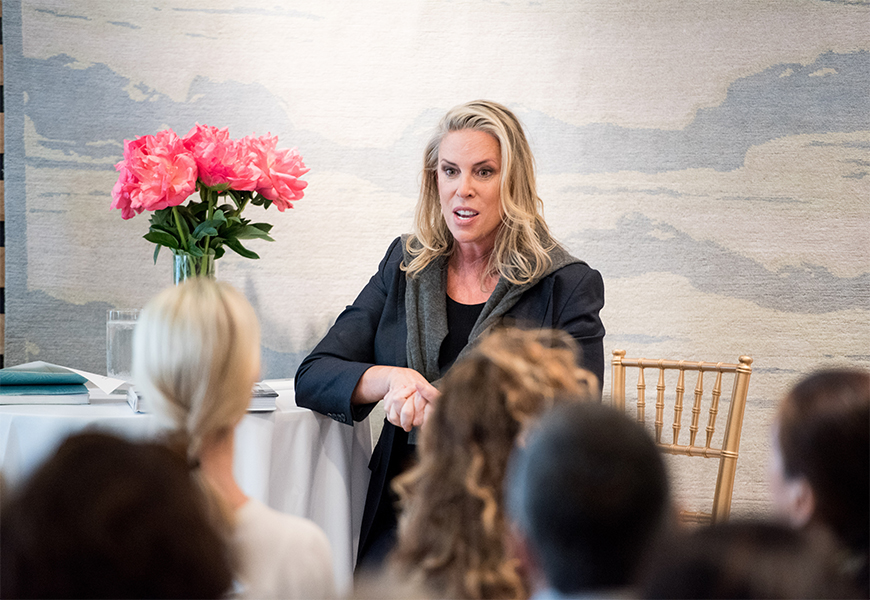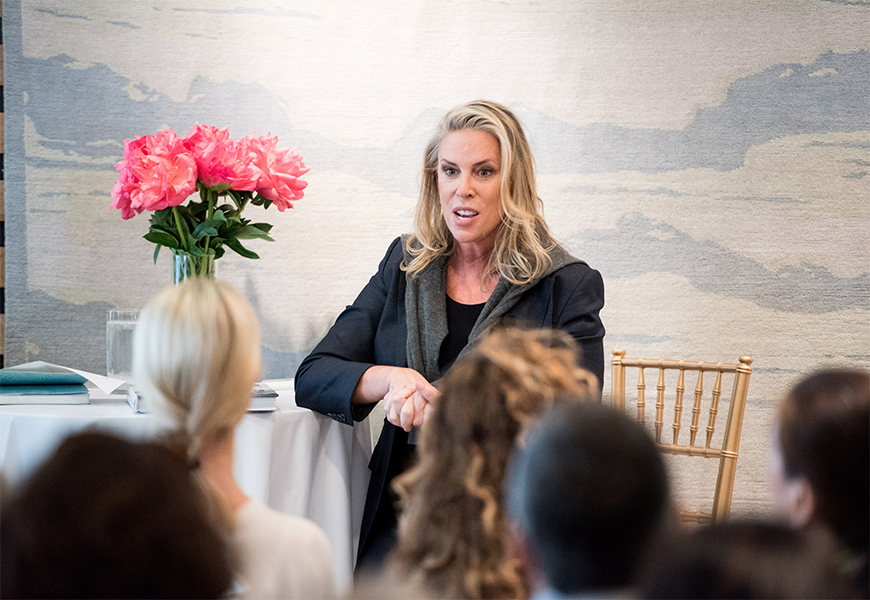 Noon brought with it the endlessly inspiring Victoria Hagan offering a signing of her new design book, Dream Spaces. Victoria, a recipient of a Stars of Design Award for Interior Design later that evening, said, "I am so grateful to this industry. Just the other day I was walking and thinking about all the people I have to thank and the list of favors just goes on and on."
"Design is my sport, and it's definitely a team sport," Hagan added.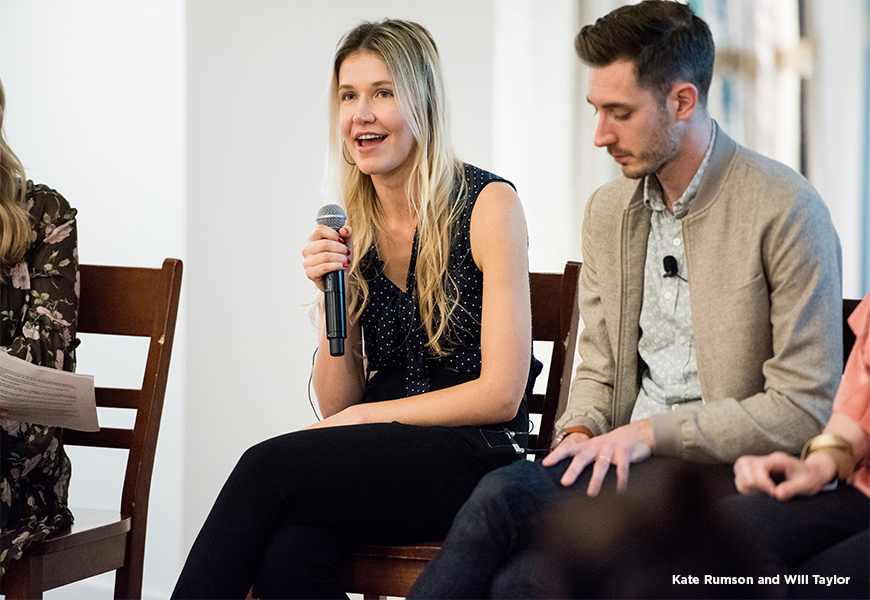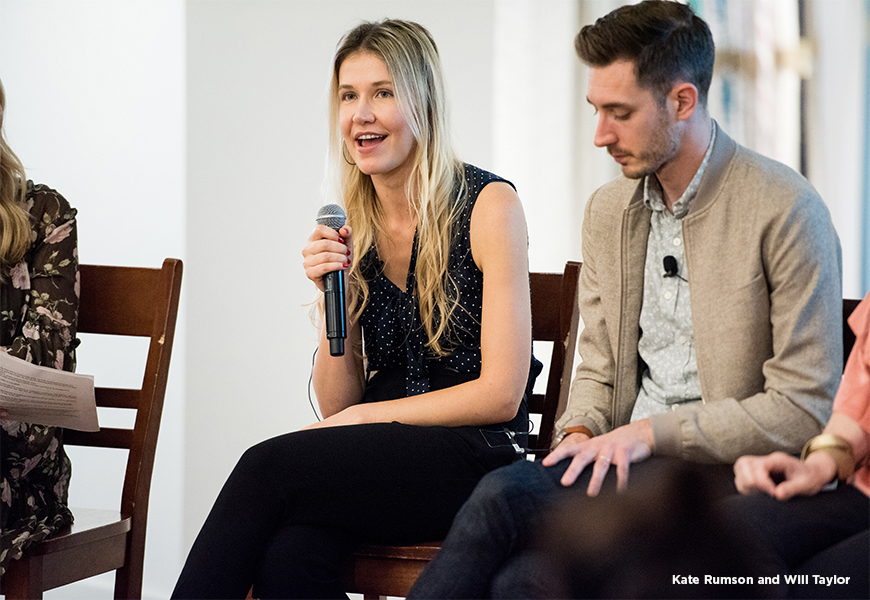 Another design legend, Richard Keith Langham joined Wendy Goodman, Editor of New York Design Hunting to discuss his first book, About Decorating. GDG, along with 200+ designers, took out their notepad for "Storytelling Through Instagram" with the The Real Houses of Instagram's modelesque Kate Rumson, the delightfully tailored Will Taylor of the blog Bright Bazaar and Beacon Hill's own Alexis Audette, moderated by Domino Magazine's Jessica Romm Perez. Variety is the key to a powerful Instagram profile; don't be afraid to capture a vignette with a select focus and the next day an entire room.
Then – not to be dramatic – the world stood still, as Martha Stewart floated out of the elevator to her director's chair in the equally exquisite, Baccarat showroom, taking her place alongside Shawn Henderson and Stephen Sills. Martha Stewart's time-honored tips? Fresh air, not scented candles, is a must, but in a pinch a freshly baked apple will do. Every one of her 21 kitchens – yes 21 – has "good appliances, those are the most important. Oh and a real cappuccino machine so your friends will always want to come over," — Martha, we'd come over with or without the cappuccino.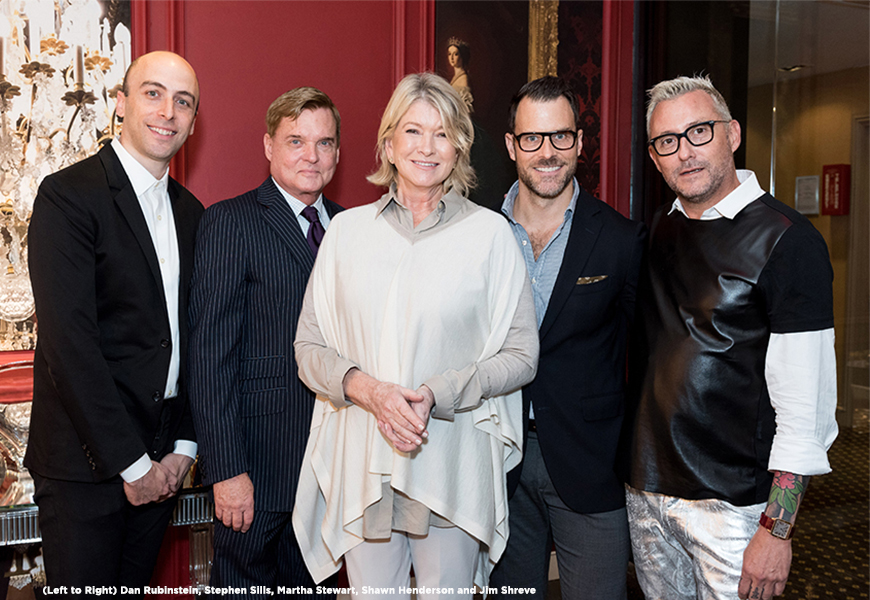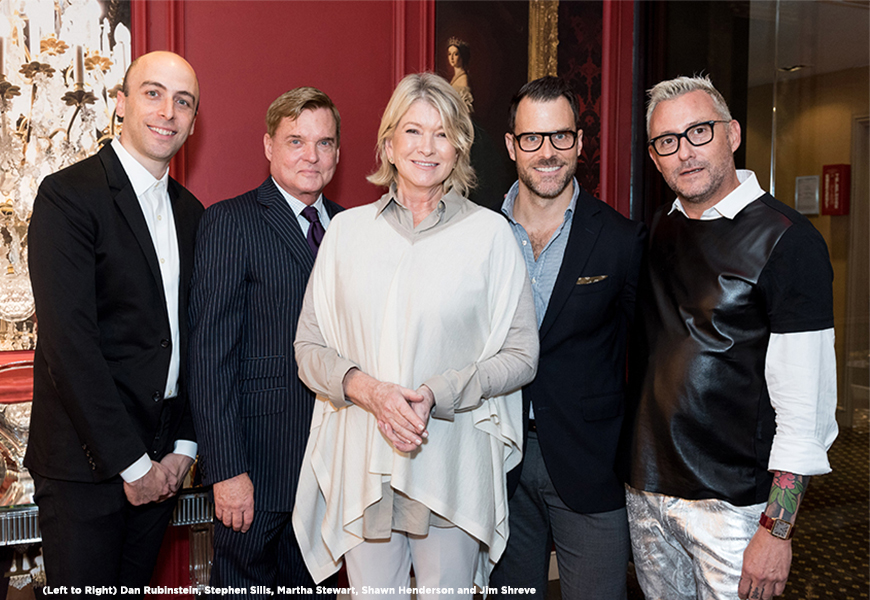 Throughout her illustrious career she has also experienced many changes and transitions. "Change is good. I always say when you're through changing, you're through. I am now on a silly, fabulous show with Snoop Dog and it's like how did I get to know all of these rappers?" Martha Stewart joked.
At 2 PM we joined Jane Shelton for breathtaking views of her studio and lessons on "Building a Fabric House." We gained another signed book for our amazing-designer-bookshelf (it exists), with Laura Bohn: Ways of Seeing in Scott Group Studio. Wrapping up the hour block, was a chat about the Treasures From the Scalamandre, Lelievre and Tassinari & Chatel Archives, with Interiors Editor in Chief, Erika Heet, Scalamandre's Creative Director, Susan North and Lelievre Director Marie-Catherine De Masin.
GDG took a quick break and visited ROMO for their special event, Color Experience with Essie nail polish paired perfectly with their full spectrum on Linara fabrics. Offering a DDB Fall Market experience never before executed – a well-deserved manicure and champagne stop featuring an array of brilliant colors from their Linara fabric collection. At 3 PM, JAB Anstoetz, continued the color conversation with Kate Smith of Sensational Color, who analyzed the colors of recent interiors projects.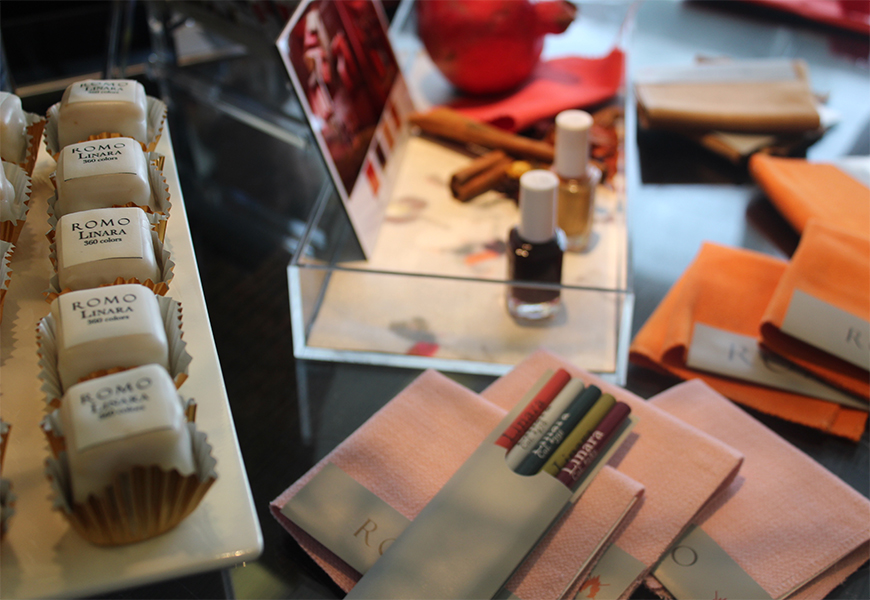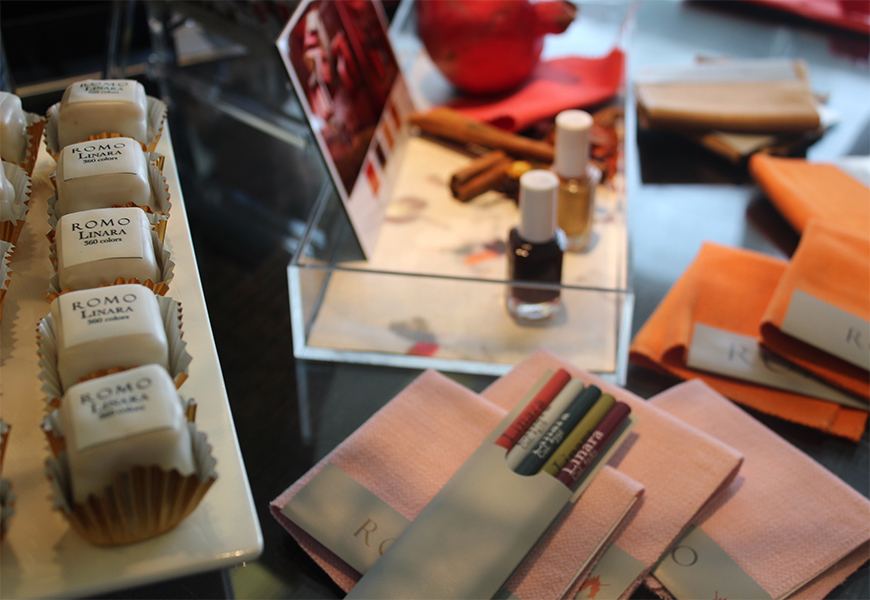 Next, Ferrell Mittman, hosted Joyce Romanoff of Maya Romanoff, Amy Lau and Marshall Watson for Exploring the Story: Designing Meaningful Spaces, moderated by Editor at Large. Lastly, we learned The Art of Outdoor Living, with renowned Landscape Architect & Star of Design, Janice Parker alongside HGTV personality, Steve Elton in Walters.
The final keynote Wright for Our Time, was right on time at 4 PM in Vondom. GDG lounged on Vondom's sleek, sculptural furniture and listened in to the sophisticated discussion on Frank Lloyd Wright's everlasting impact for his 150th birthday. Jennifer Gray, co-curator of Frank Lloyd Wright at 150: Unpacking the Archive at MoMA and Stuart Graff, president and CEO of the Frank Lloyd Wright foundation capped their talk with a champagne toast to the late Frank Lloyd Wright!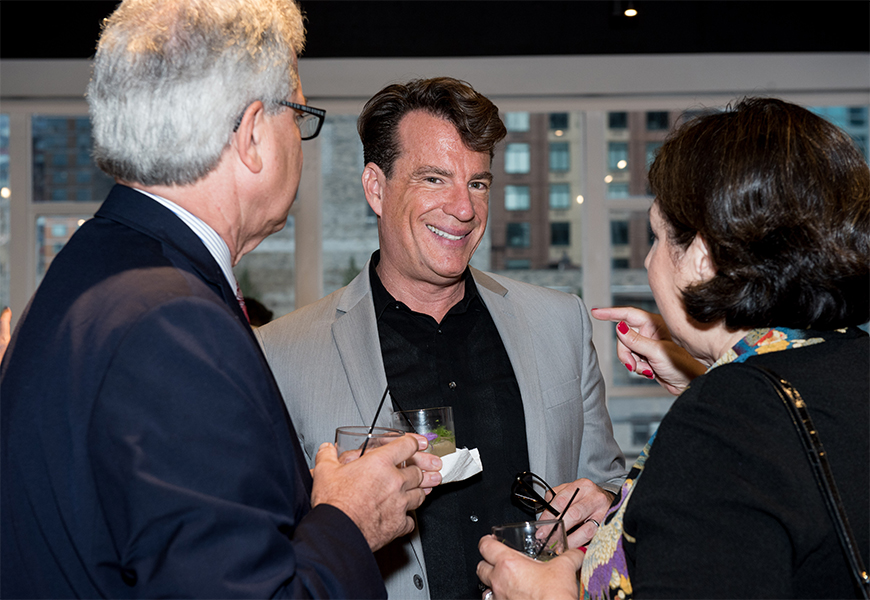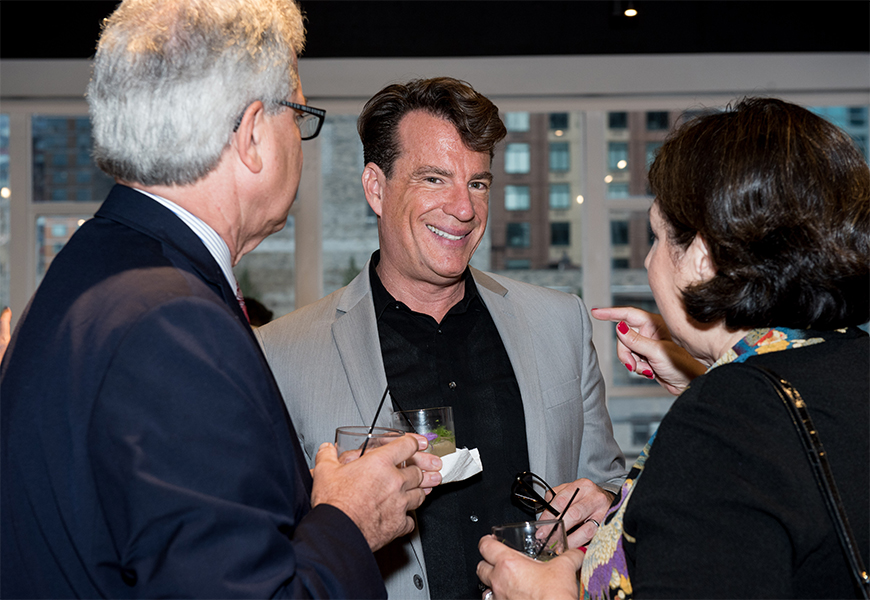 The night winded down by partying it up at showroom cocktail bashes. Lladró certainly did "Light Up the Night," while Élitis threw a festive Fête Française. People flocked from all over (including the Netherlands!) for the grand opening party of new showroom, Gloster Furniture. Read all about the evening's soiree in our On Tap feature and keep an eye out for more on newcomer, Gloster later this month.
Stay tuned for Chapter 2: DDB Fall Market 2017 Recap tomorrow!