"Have fun with design, and be fearless. You want your home to be a reflection of who you are, and seem exciting, eclectic, worldly, well-traveled and intellectual."

–Sasha Bikoff, Interior Designer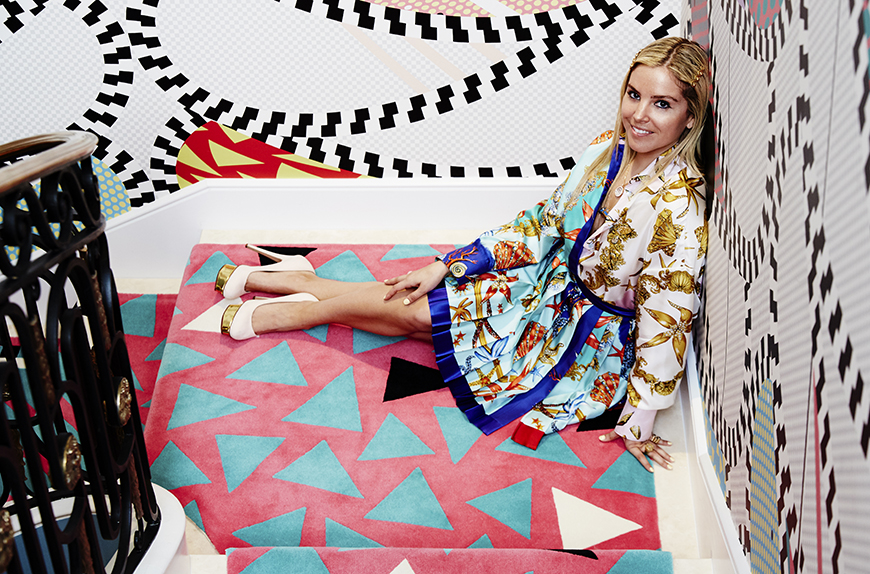 It's hard to believe that Sasha Bikoff didn't originally plan for a career in interior design. Known for 'bringing back old world glamour' and labeled by The New York Times as the 'Interior Designer for The Young and Wealthy,' the 30-year-old born-and-bred Upper East Sider founded her eponymous design firm at age 25.
Bikoff studied fine arts and art history in college and then continued her studies at the American University in Paris, before working at Chelsea's Gagosian Gallery for three years. During this time she developed her designer's "eye", often going above and beyond for her art clients to suggest décor elements in addition to the artwork.
She always thought she'd work in the contemporary art world as a gallerist, but her first real interior design project hit close to home – really close. After decorating her mother's NYC apartment at the famed Dakota building, she decided to leave her job at Gagosian Gallery and pursue design full time.
"There is something so special about the blank canvas an empty home presents that intrigued me and my design-focused imagination," Sasha said. "In addition to picking out the timeless art, I wanted to pick out the furniture, the wallpaper, the color palette and everything else that goes into making a house a well-furnished home."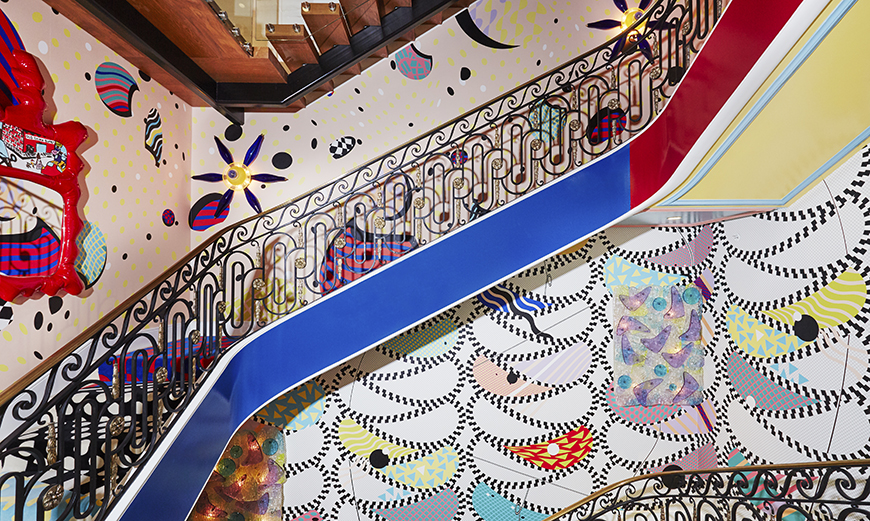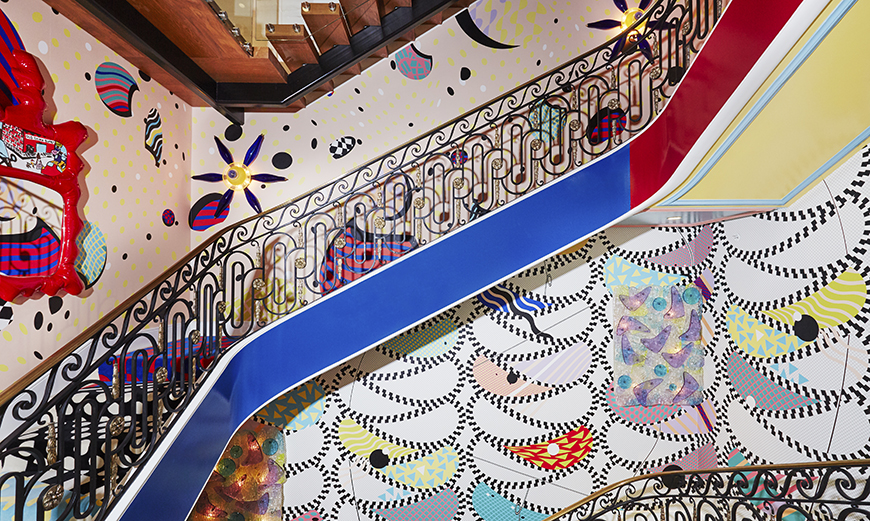 Now with an impressive roster of famed clients and celebrity designer status, Bikoff participated in her first Kips Bay Boys & Girls Club Designer Show House. Although not a "room" per se, Sasha made the most of the townhome's multi-level stairway with a vibrant, whimsical and super impactful design, which surprisingly served as a "palette cleanser" for guests traveling from one designer's dream space to another. The stairway was perhaps one of the more difficult spaces in terms of layout, spiraled up through the house with narrow landings. Her thoughtful, out-of-the-box take became one of the most spectacular, must-see design moments.
"Before I even started making fabric selections and pulling paint swatches, I knew I wanted my space to speak to the [Kips Bay Boys & Girls Club] kids and show them that their creativity should always be ignited when it comes to achieving their dreams," Sasha said. "What better way to do that than with patterns, color and shapes?"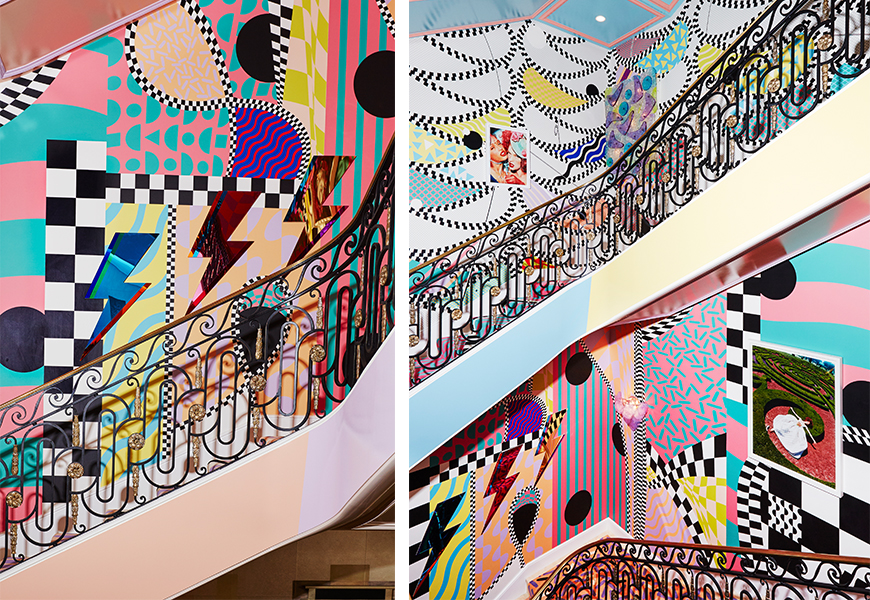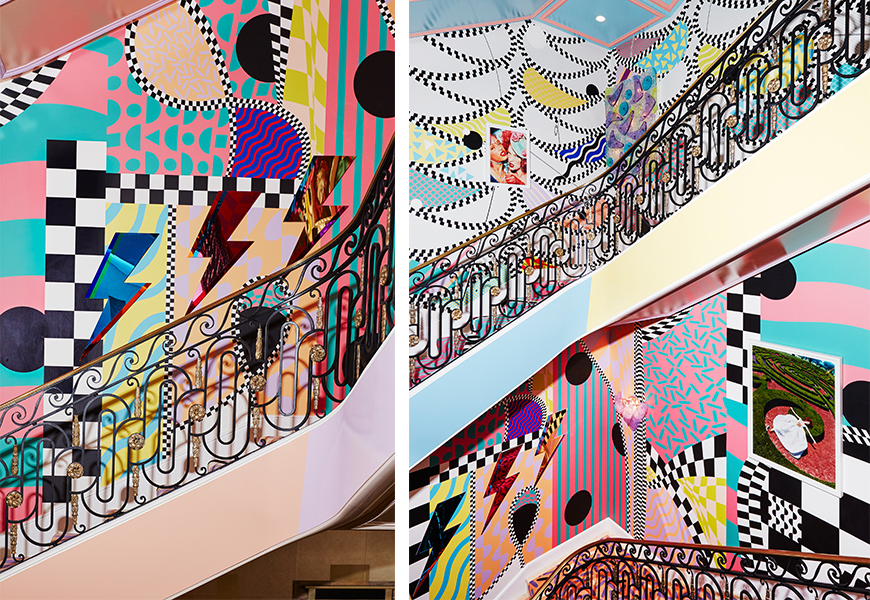 This love for bold vibrancy and color is evident in the staircase that was almost immediately splashed across Instagram, but also within her other interiors. She credits her strong background in art history to not only inspiring her love for interiors, but also formulating her style and taste. In addition, her worldly inspirations spanning from Paris to New York City, Miami to Marrakesh and Milan, influence her aesthetic.
"I imagine paintings commissioned by Louis XIV with all the furnishings that would accompany them. I also love the surreal style of Salvatore Dali, and imagine them in a Parisian apartment on the Left Bank filled with French Art Deco furniture from the 20s and 30s," Sasha said.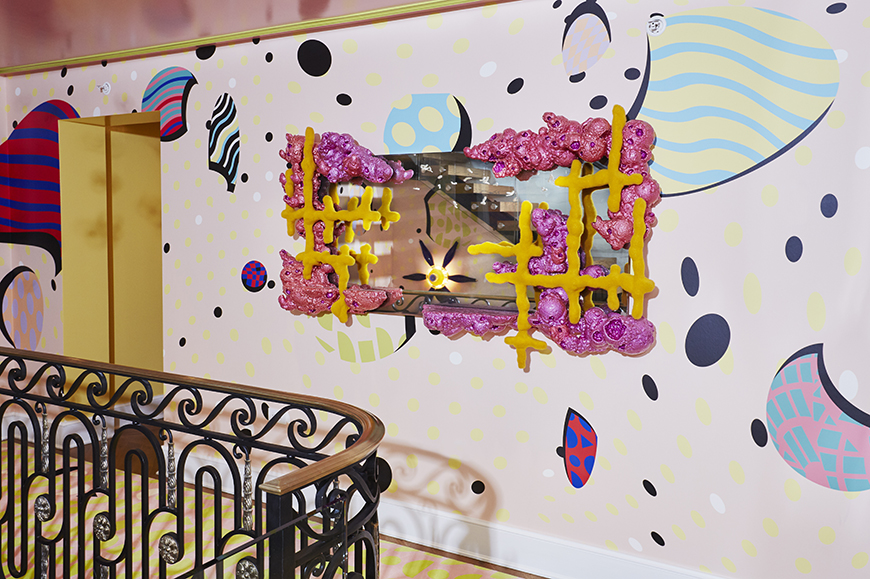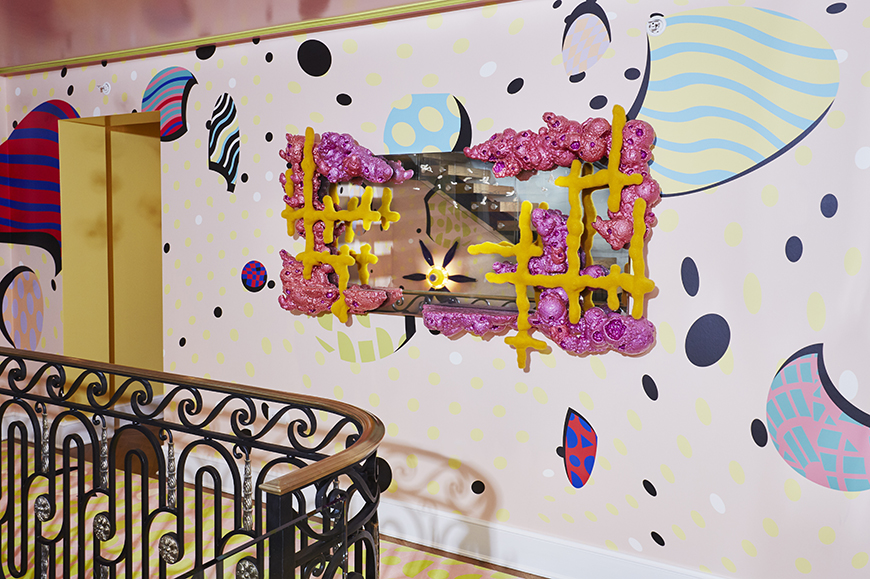 Additionally, Sasha feels art should be noticeable and make an impact, but not take over the space. To her, a space without art is missing something integral and her Show House space was no exception.
Bikoff was inspired by the simple shapes and motifs (think macaroni noodle-like squiggles and Willy Wonka worthy colors) found in the works of Memphis Milano designers, Ettore Sottsass and Alessandro Mendini to create movement as visitors transitioned from floor to floor.
Always striking a balance between playful, sophisticated and tasteful, the Show House showstopper aimed to have her guests feel as if they had opened their eyes to a technicolor dream, transported to a mansion in Miami circa the 80s, "when every building was colorful, bright, fun and chic."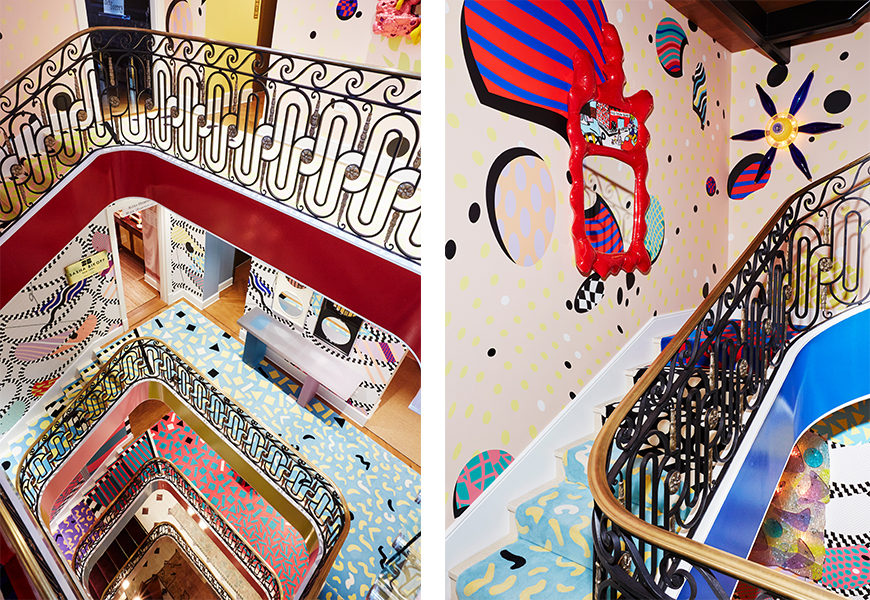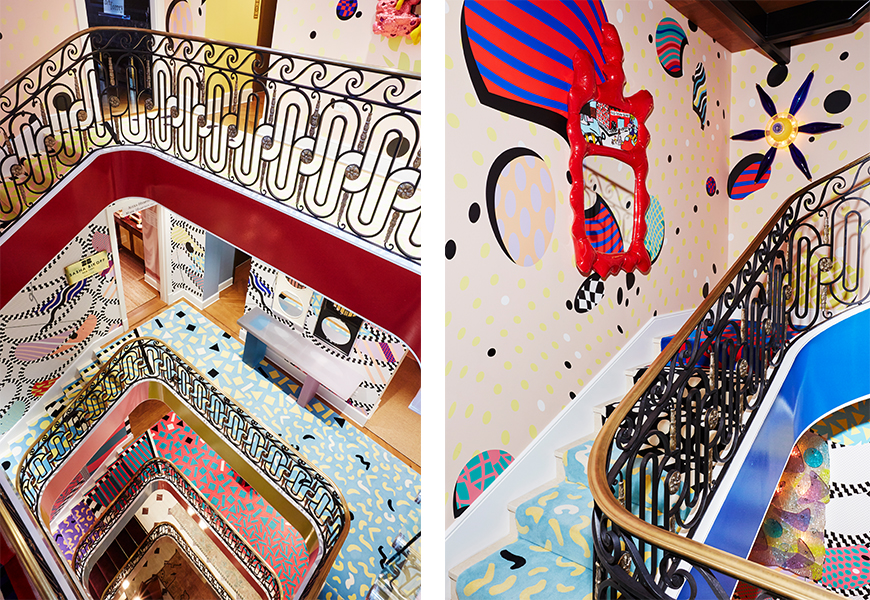 The space featured Friedman Benda art including blown up polaroids of Christina Aquilera, Jay Z, Naomi Campbell, Giselle Bündchen and Cindy Crawford, and a Jean-Philippe Rigotti photo of 50 Cent (ironically) on 23.6k gold, which brought viewers back to 2018. Each piece, from the Voutsa wallpaper and Farrow & Ball high gloss canary-colored ceilings to the custom The Rug Company runner and Property Ultrafragoli mirror created her child-friendly, chic and magical stairway.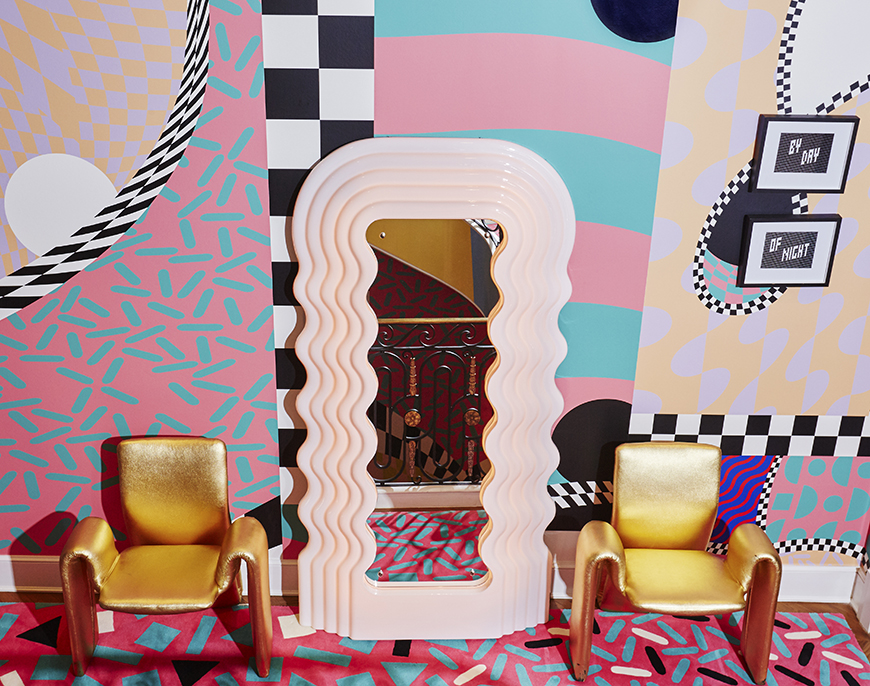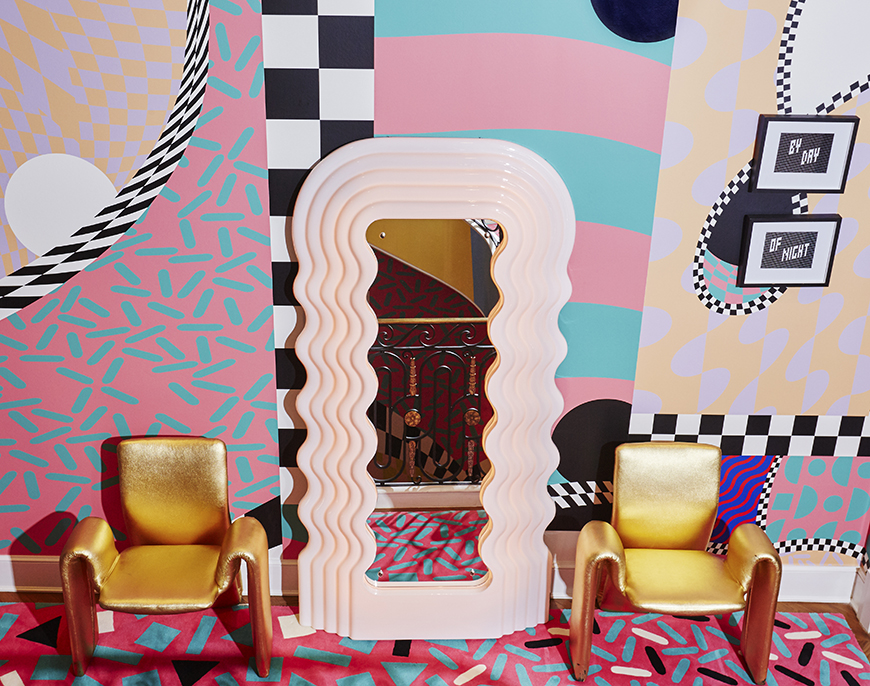 "For my design, it was important to stay true to my brand DNA and also my belief that design should be as fun as it is worldly and intellectual. Most importantly, I wanted it to be both aesthetically pleasing to the guests and meaningful to the kids of the Kips Bay Boys & Girls Club – the young group of people we are all doing this for," Sasha said.
Currently, Sasha is working on a new home in the Hamptons, a villa in Lake Como, Italy and a collection with Fabricut in addition to her own collection of rugs. The busy, young designer seems destined to take this design world by storm.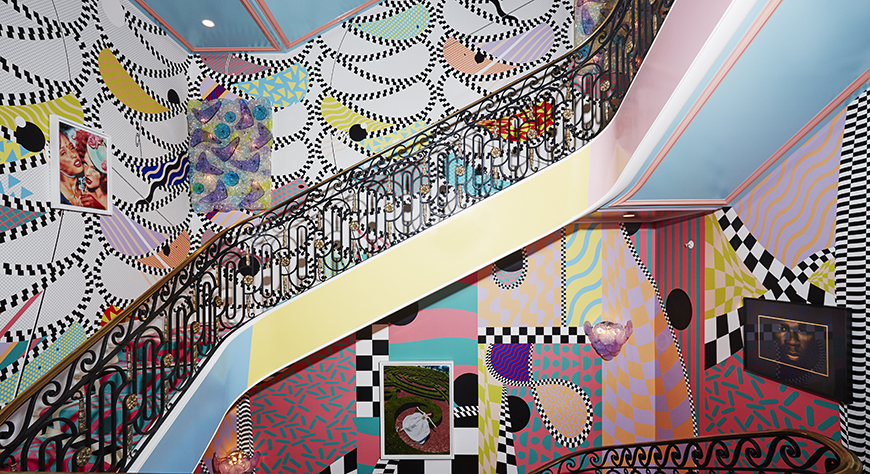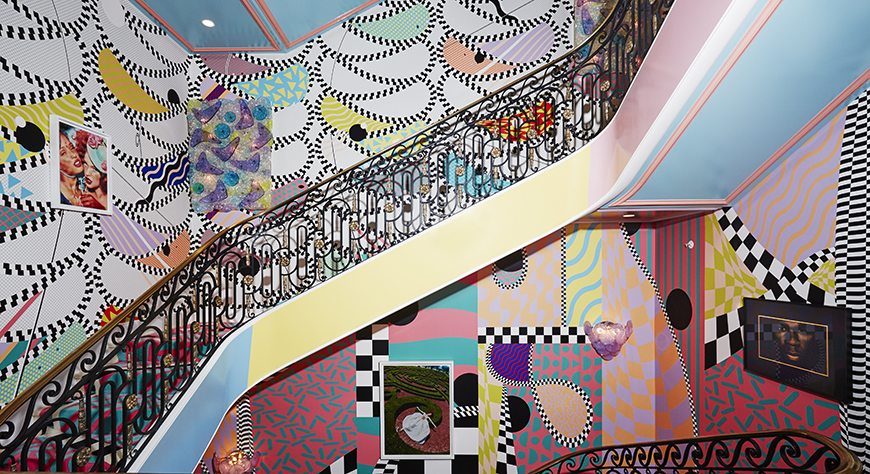 *Photography by Genevieve Garruppo Unless Otherwise Noted.
A Full-List of Vendors:
Staircase Carpet:
CUSTOM DESIGN BY SASHA BIKOFF
The Rug Company
Wallpaper:
BORDERLINE; SWISS CHEESE; CANDY RIBBON
Available Exclusively Through Vousa
Artwork:
Friedman Benda
Opera Gallery
Gold Gallery
Lighting:
1960s ITALIAN MURANO STAR SCONCES
Cosulich Interiors & Antiques
MURANO GLASS DISC SCONCES
Venfield Inc.
PAIR OF LARGE WALL LIGHTS BY ARCHIMEDE SEGUSO, MURANO, ITALY 1973
Bernd Goeckler, Inc.
Paint:
Farrow & Ball
Accessories:
LIGHTNING MIRROR IN GOLD, 2015 BY BRIDE & WOLFE
kinder MODERN
LIGHTNING MIRROR IN BLUE, 2015 BY BRIDE & WOLFE
kinder MODERN
LIGHTNING MIRROR IN PINK, 2015 BY BRIDE & WOLFE
kinder MODERN
ULTRAFRAGOLA MIRROR BY ETTORE SOTTSASS PROPERTY