It's not often you hear someone say, "Versace slid into my DMs," but we heard it from interior designer Sasha Bikoff, who has swept the industry with her own colorful cocktail of "Studio 54 living on the planet Venus in 80s glamour." With her head still spinning from her return from Salone del Mobile where she unveiled her Versace takeover, Bikoff told GDG the story of how the collaboration all began. But first, here's some backstory on how she reached this viral moment.
Bikoff is an artist and always has been. She's a self-proclaimed a "pen and paper girl" and takes her sketchbook with her everywhere she goes. She learned an appreciation for fashion and interiors early on from her grandmother and mother, but also learned the hustle. "While I loved helping my grandmother cook and prepare dinner parties, I always felt the strength of my grandfather. I always felt like I could take what my grandmother and mom taught me and go further with it," Bikoff said.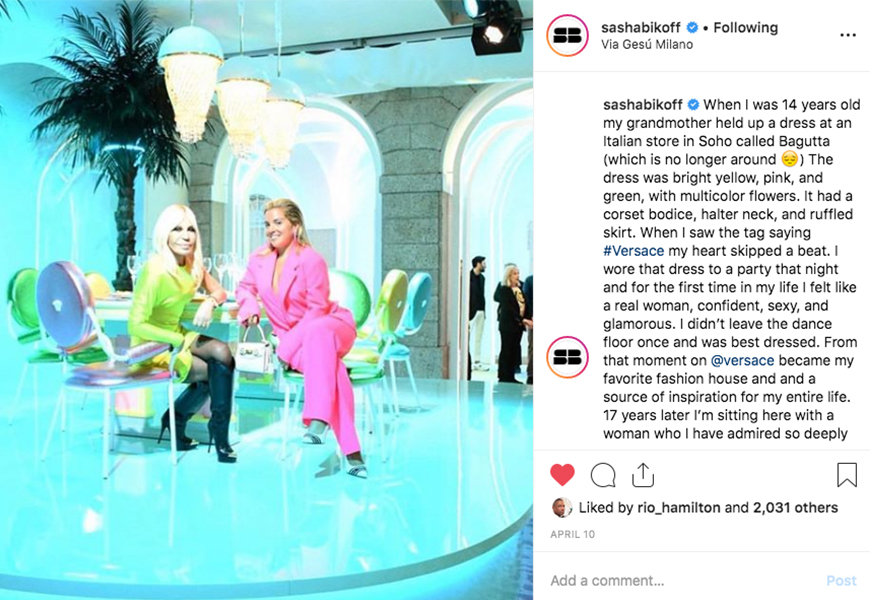 "My grandmother was an immigrant from Iran. She was a classic old-world tastemaker, gardener, and a master at tablescapes- very maximalist. She was living at the time when women didn't have jobs. I was so impressed by how she carried herself. She dressed impeccably. Attraction to anything beautiful has come from her. She inspired me and my eye," Bikoff said, now the steward of her grandmother's trunks of cherished vintage heirlooms.
Bikoff studied art history and fine arts. She lived in Europe with textile designer Lisa Fine for a period of time studying and working near St. Tremont where all the famous antique dealers reside. She also developed a relationship with British Interior Designer Sarah Hershell-Loftus. Fine's Indian-inspired interiors and Hershell-Loftus's bohemian aesthetic exposed Bikoff to eclectic tastes and approaches. Bikoff worked in art dealing and soon came to realize it wasn't the right path. "I lost a sense of creativity. [Art dealing] was about the sale and business of art. It was a great experience it taught me how to work with clients." Upon returning to the States to take on her own interior design business, she was hired by her mother, her very first client, to re-design her home.
"I remember going to the D&D Building for the first time and going to the top floor and walking down, going to every showroom to teach myself about every brand. All day I was taking pictures and teaching myself about what's happening in design. I learned the process of design through my mom; she is always going be the hardest client I've ever had because she really prepared me for the new city women," Bikoff said.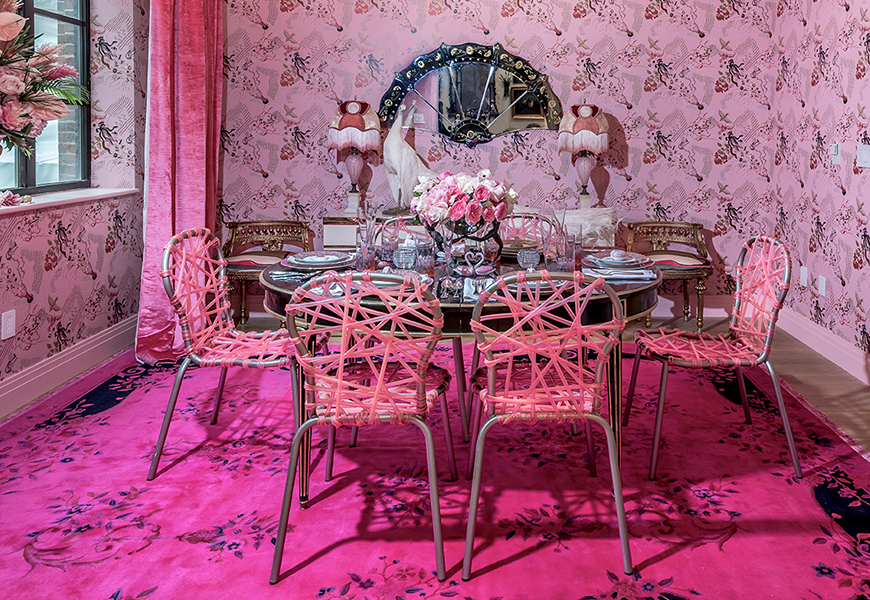 (Above) Sasha Bikoff's 2017 Holiday House dining room
Bikoff tickled a dining room pink at Holiday House 2017 (as shown above). And then the unforgettable staircase happened at Kips Bay 2018. Bikoff's staircase was a standout, featured by major publications including Architectural Digest and The New York Times. If you didn't already notice the buzz of Bikoff before the Kips Bay Decorator Show, you definitely noticed after.
One year later, only but the Maison de Mode's Sustainability Gala during the Oscars weekend in sight (see her designed tablescape, upholstery, and more here), Bikoff was lounging on the couch in the Hamptons in early February when she received an Instagram direct message from Donatella Versace's right-hand for the past 26 years, insisting to have a phone conversation with Bikoff immediately.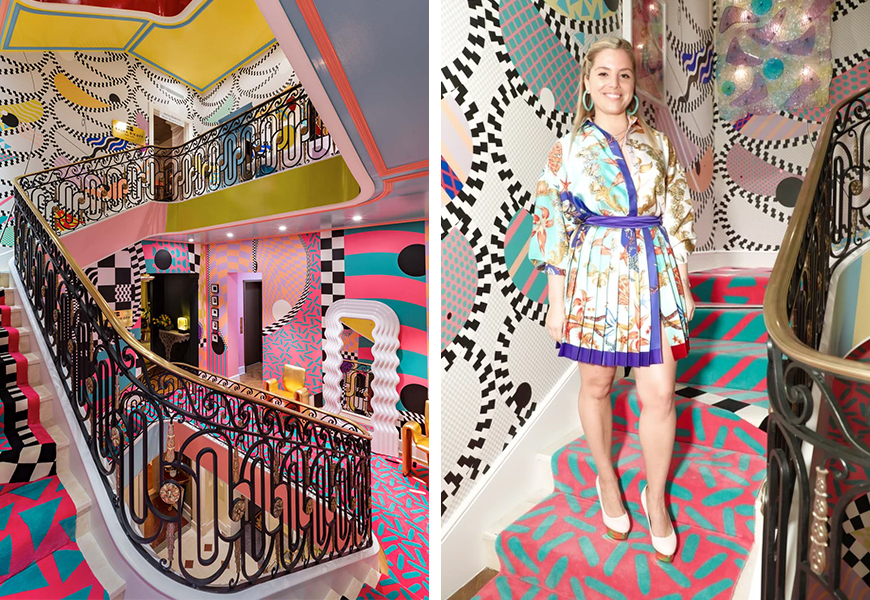 (Left) Bikoff's Kips Bay Decorator Show House Staircase design 2018 (Right) Sasha Bikoff
"The second thing that comes close is Mariah Carrey calling me to decorate her home."
Bikoff responded as she does to most Instagram messages, to contact her email with work inquiries. "No, I need your number," Mr. Right-hand responded, "This is confidential." So, Bikoff picked up the phone and asked Mr. Right-hand what the message was regarding.
"Donatella Versace," he answered.
In that initial phone call, Mr. Right-hand told Bikoff that Donatella is a huge fan of Bikoff's work. He said Bikoff's now infamous Kips Bay staircase is on their mood board. He then proceeded to invite her to Milan to be Donatella's guest at Milan Fashion week and also design Versace's Salone del Mobile exhibit and then some. Bikoff devised a plan to squeeze the designing in before attending Oscars weekend in order to be ready for the unveiling in Milan just two months later.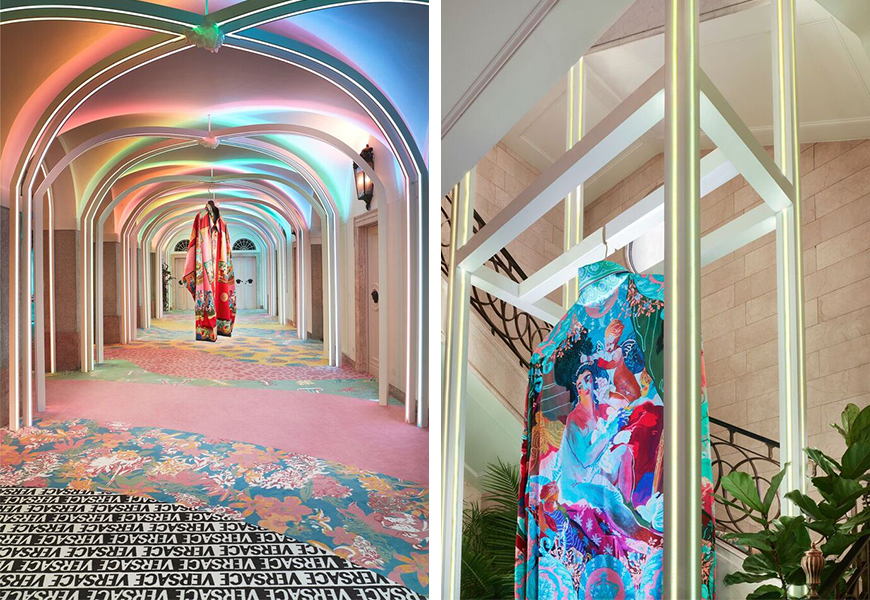 (Above) Versace clothing displayed in the Via Gesú interiors
"I thought I was getting catfished," Bikoff said. "I've had such a close connection with that brand. I grew up with my mom wearing Versace and my grandmother wearing Versace. Our apartment in Miami was "Scarface" Versace." Bikoff, who grew up on the Upper East Side in New York City, was accustomed to after-school Thursday flights to Miami almost every weekend to stay at her family's home.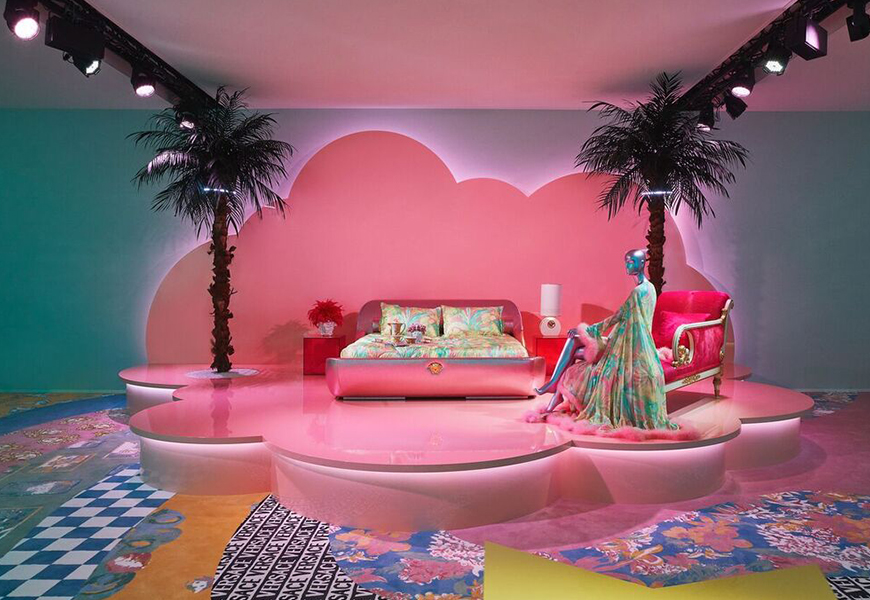 (Above) "Pink Island" at the Via Gesú
"Miami is my happy place. I love the vintage art deco buildings, this art deco revival palette and the mermaids and shells," Bikoff and her family certainly lived the Versace lifestyle. Over the years, Bikoff would send pictures of herself to Versace wearing the iconic brand. But it wasn't just a love affair; Versace was quite personal to Bikoff and her upbringing. "At that moment [of the phone call], I thought Gianni made a deal with my grandfather in heaven," Bikoff said.
For a while, the collaboration proposal didn't seem real to Bikoff. "And then I started getting internal emails from Versace email," Bikoff said, recalling the time she finally believed it was happening. "The second thing that comes close [to this collaboration] is Mariah Carrey calling me to decorate her home."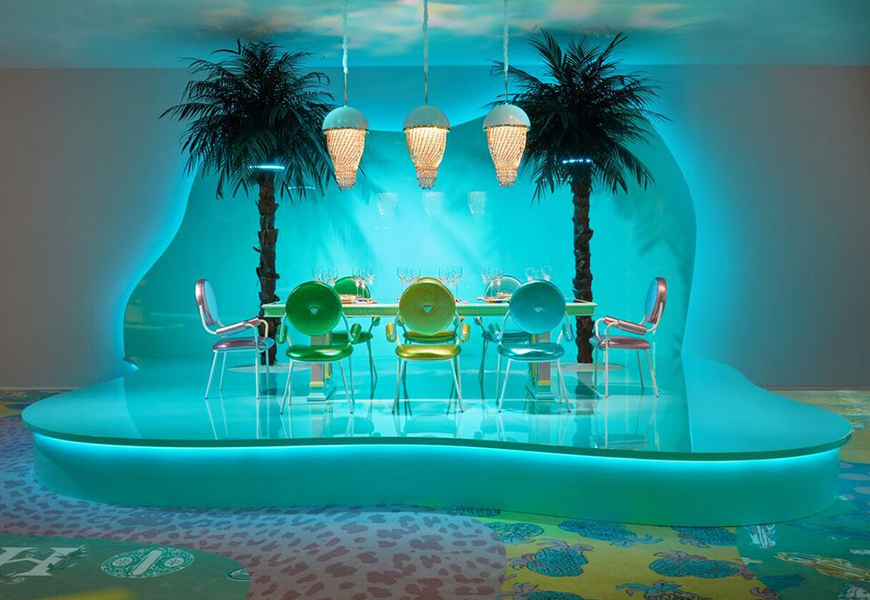 (Above) "Blue Island" at the Via Gesú
Three days after Versace's collaboration proposal over the phone, Bikoff landed in Milan. "I got to Milan. Drivers picked me up. They set me up in a full atelier with 10 people working for me. They set up mood boards for me. An archivist was there who's been there for 12 years. I thought what world am I living in?"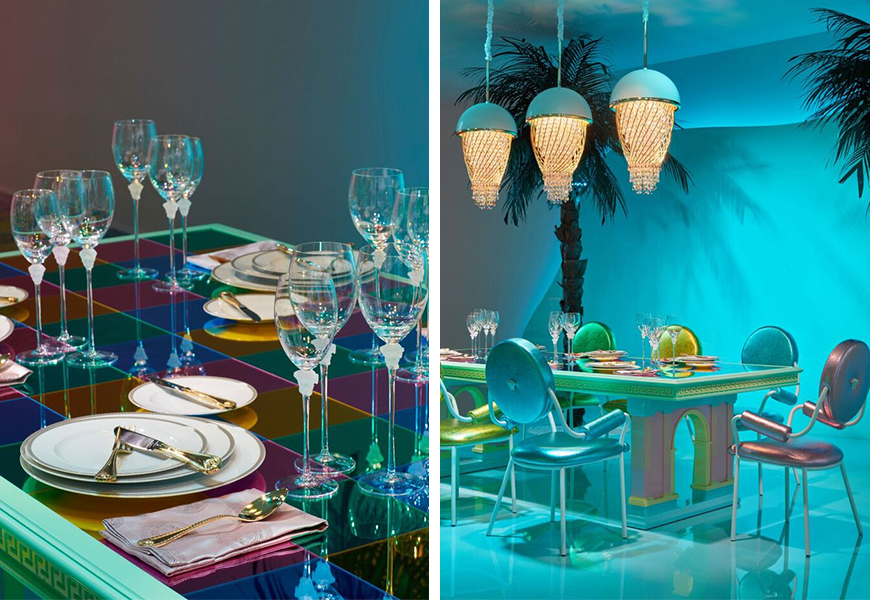 (Above) "Blue Island" details
"Previous to me being on board, Versace has always shown at Salone del Milan. But Donatella has never opened up her doors [at the Palazzo Via Gesú headquarters] to the public, ever. This place is very sacred for her and her family. This is a really monumental time for Versace Home that they're doing this," Bikoff said. In those 10 days designing for the entire upstairs of the Via Gesú for Salone, Bikoff also designed two Versace boutiques.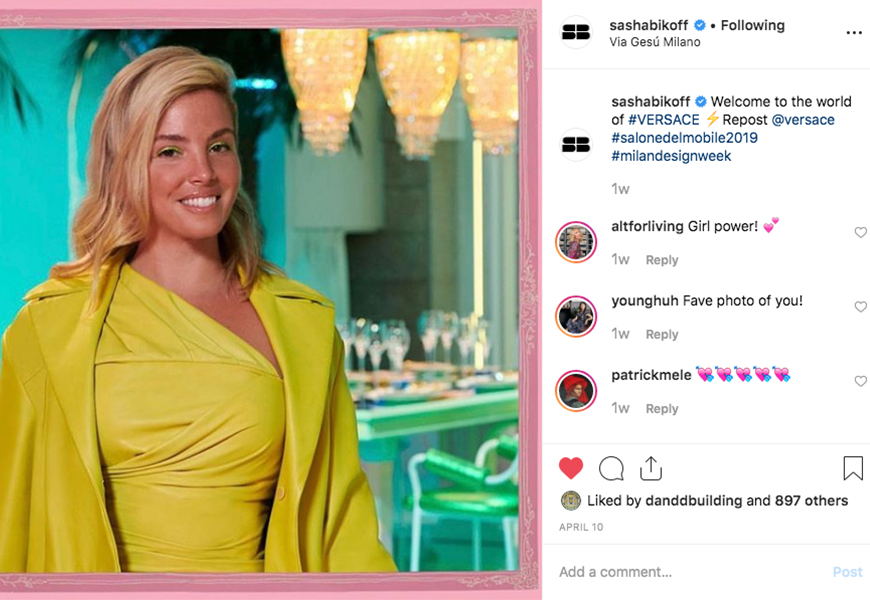 Bikoff didn't sleep for 10 days but she sure sees life through neon glasses.
Although she had brought a portfolio full of ideas, her designs evolved during her time in Milan. "I knew that before going into all this, I wanted to work a lot with neon and create a neon glow. When I think of Versace I think of a party, I think of happiness. But I always have things brewing in my head, I don't sleep at night. My creativity comes at night." This neon party of happiness was inspired by the Versace supermodels in the pastel mini skirts and mohair tops during the 90s Avedon, Italian island lifestyle, the Via Gesú's exterior façade, Jlo's iconic Versace red carpet look and those swirly red and white peppermint candies.
Got all that?
The center of the Via Gesú Versace exhibit had neon-spinning stars with medusa chairs on top of them. Bikoff and Donatella had fun posing on them with guests.
"My earliest memory of Versace was lying on my mom's bed as she put on a purple chiffon Versace dress with criss-cross back and glittery stars. It was the first time I had ever felt envious of my mom. The use of stars in Gianni's work has always been a common theme." Bikoff incorporated Gianni Versace's signature lamps originating from the Via Gesú.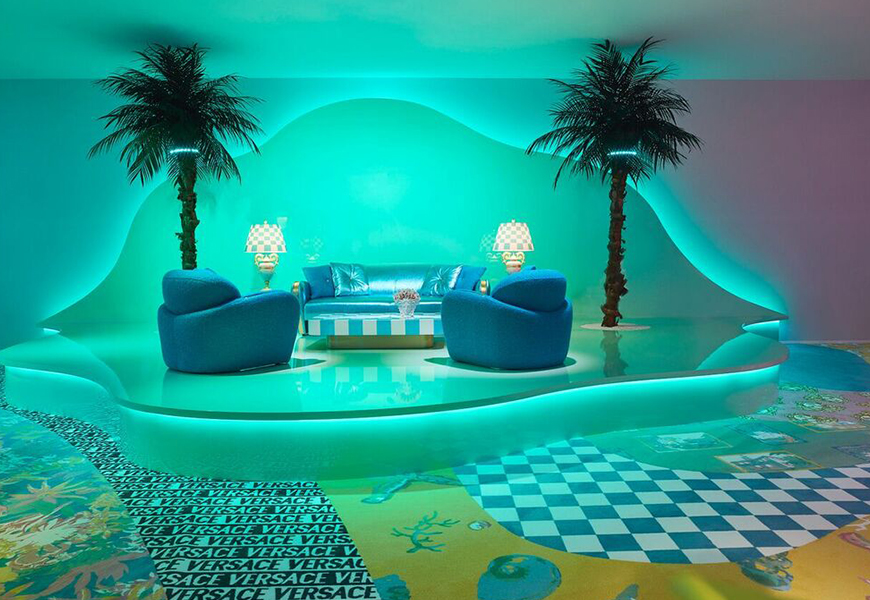 (Above) "Green Island" at Via Gesú
"The challenge was, how do you take this brand that is so amazing and so historic and lives and breaths color and glamour and sexiness, and create something new and show it in a different light, but also put my spin on it and stay true to who they are?" Bikoff said that the design she envisioned in her head was great, but it was executed even better than she imagined. Just when you think it can't be a more perfect collaboration, Bikoff trademarked the hashtag #VERSASHA on an Instagram post unveiling the collaboration to the world.
We had to ask Bikoff– How involved was Donatella? What did Donatella think?! "Whatever she says, goes" Bikoff said. "She's the queen. Nothing gets past her. She loved everything. I brought Versace back to its roots but kept it super fun and young and contemporary," said Bikoff.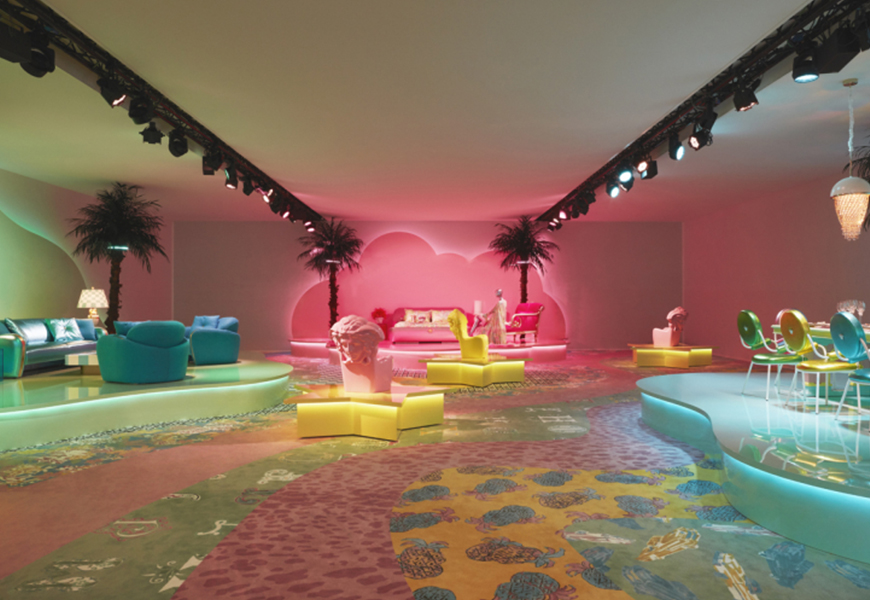 Humbled and high from the experience, Bikoff believes she met her life's design match. "I believe I approach color and pattern just as Gianni Versace did. The stars have aligned"-Literally. It would be totally acceptable to retire at this point, but of course, she can't for everyone's sake, including her own. Here's to many more sleepless nights!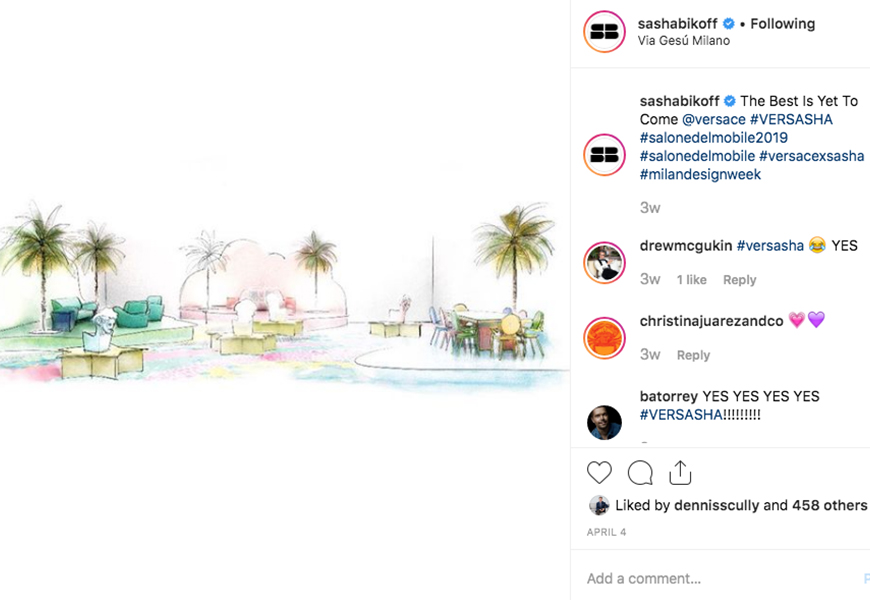 See more of Bikoff's Versace collaboration here. Catch Sasha Bikoff at the D&D Building's Spring Market on May 22nd at 11:10 AM to 12:00 PM during Showroom Program "The Aesthetics of Unforgettable Interior Design" with Aspire Design and Home at Fabricut, Suite 915. She'll be the one in the front with the can't-miss outfit. Be sure to RSVP in advance for this standing room only program.