"It was mega-old, white tile painted with lemons and flowers. So we got to do a little facelift on it."

–Whitney Port
A master of "boho-chic" and former reality TV starlet turned lifestyle guru/#momgoals, Whitney Port has revealed the latest installment of her California home makeover; a stunning new kitchen. A few weeks ago, GDG explored Whitney Port's tips for sourcing the perfect stone countertops for her dream design, but now we turn to her partner in design for a more in-depth look at the process.
Marie Flanigan, is an award-winning interior designer located in Texas, but positioned as one of the nation's best. Her trademark style is evident through sophisticated use of color, texture, and light using a personal signature of timeless elegance and innovative simplicity.
Before their design collaboration, Marie and Whitney were bonded by motherhood. Just before the birth of Whitney's baby boy Sonny and while Marie was pregnant with her second little one, the two connected on Instagram. Delivering a few weeks apart, the pair got even closer when their design story started.
"Whitney and her family had just moved into their new home and were interested in tailoring the spaces to better suit their everyday lives," Marie said. "I am so happy we connected because it has been pure joy working together to bring their dreams to life!"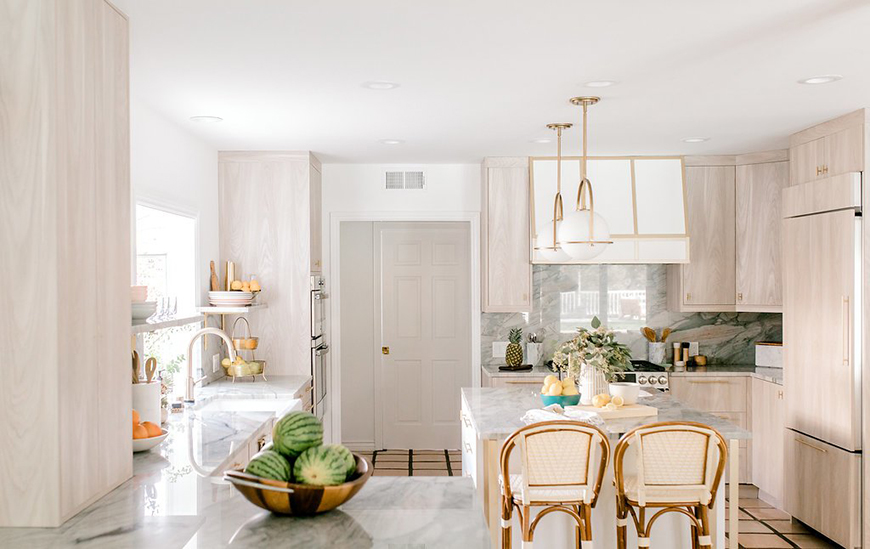 Marie Flanigan explores working with stone, designing for a celebrity client and breathing new life into a 'mega-old' kitchen:
Holly Speck, Editor: How is working with a design-savvy celebrity client different than others?
Marie Flanigan: Although stylistic preferences vary, every client I work with shares a similar journey. Each is hunting for the special meaning behind "home," tuning into the elements that tug most strongly at their hearts. My goal is to serve as a guide throughout that journey, and the fact that Whitney has an amazing eye for beauty has been a total bonus! From the woven bar stools to the elegantly layered rugs, I love all of the stylish elements she brought to the design that feel so unique to her family!
HS: What was Whitney looking for in her kitchen design?
MF: Whitney was looking for a kitchen that feels fresh and bright without being all white. We kept things light, but intertwined moments of warmth through the lighting, hardware, and countertops, being sure that all elements played nicely with the home's original terracotta flooring below.

HS: How often do you work with stone? What sets Aria Stone Gallery apart from the rest?
MF: Natural stone has a remarkable ability to lend authenticity to any home. Every slab is singular in color and grain, guaranteeing that no design will ever look alike. For that reason, we almost always opt for natural stone, and collaborating with Aria Stone Gallery is an extraordinary experience that we love sharing with our clients! Tailored and expertly organized, the showroom boasts a museum-quality atmosphere that makes the entire selection process a joy.
HS: What are some specific elements to consider when designing with stone?
MF: Natural stones differ in both appearance and durability, making it important to determine how a space will be used before selecting a material. How often will the stone be put to use? Is it highly visible?
Once you've outlined the room's purpose, you will have a better idea which natural stone might work best for you. Then, throw away the blinders and work to keep the bigger picture in mind. So often, when selecting flooring, countertops, or backsplash, we get bogged down in tiny details and forget to step back and look at the space as a whole. Not every element needs to make a bold statement; a subtle piece can serve as a serene backdrop to surrounding bursts of color and texture. And if you decide you want your island to tell the grandest story, then perhaps you should consider choosing something subtle for the perimeter.
Lastly, I like to remind clients to examine the veining and grain of the stone carefully so that they can clearly envision what the stone will look like once those elements are running across the expanse of their counter or floor.
HS: For Whitney's project, why did you choose a quartzite vs. quartz?
MF: Quartzite is a natural stone and we loved how the distinctive characteristics of Aria Stone Gallery's Arizona Quartzite slabs worked so beautifully within Whitney's kitchen design.
See the differences between Quartz and Quartzite here.
Shop similar quartzite stones at Aria Stone Gallery here.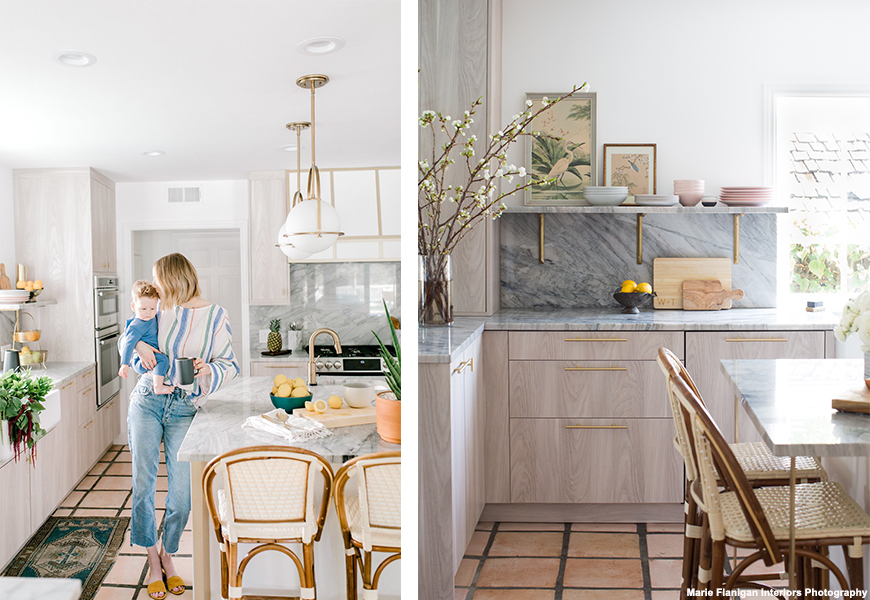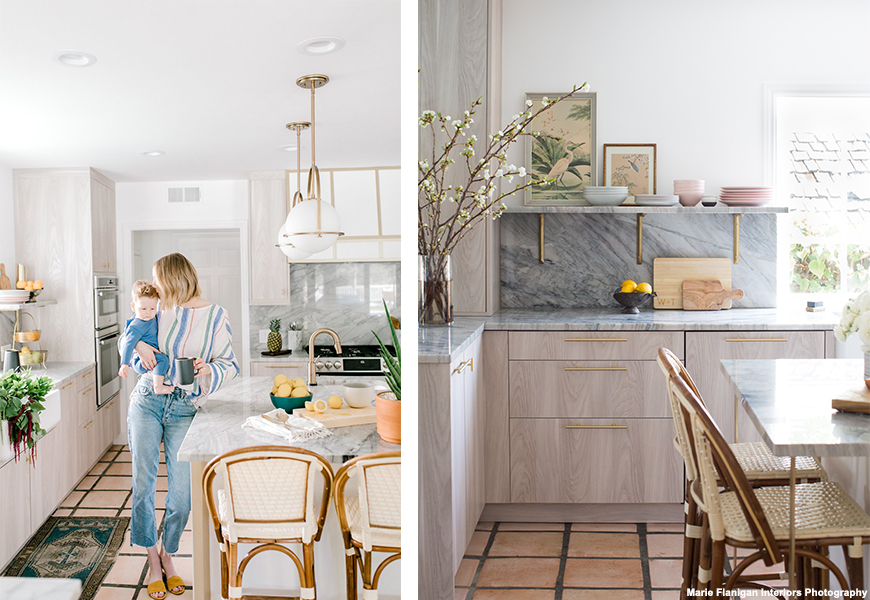 HS: Can you describe the final project?
MF: What once was a traditional, all-white kitchen at the heart of a 1950s ranch-style home has now been transformed. In its place stands a fresh take on midcentury modern design that includes richly veined quartzite counters, custom antique brass detailing, and flat front cabinetry in an oyster stain finish. The heart of this newly refreshed home, it is a sophisticated and highly functional kitchen where Whitney and her family will make treasured memories for years to come!
HS: What is your favorite aspect of the design and why?



MF: For me, it's all about the details! I particularly love how the quartzite slab runs up the wall serving as a clean, sophisticated backsplash. The island's custom brass legs are another lovely moment that ties into the warmth of the hardware and lighting discovered throughout the rest of the room.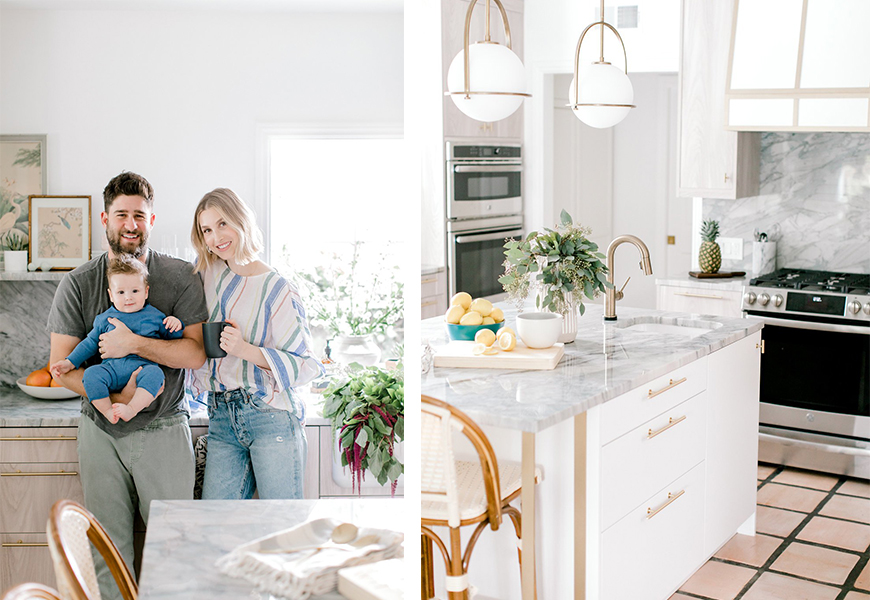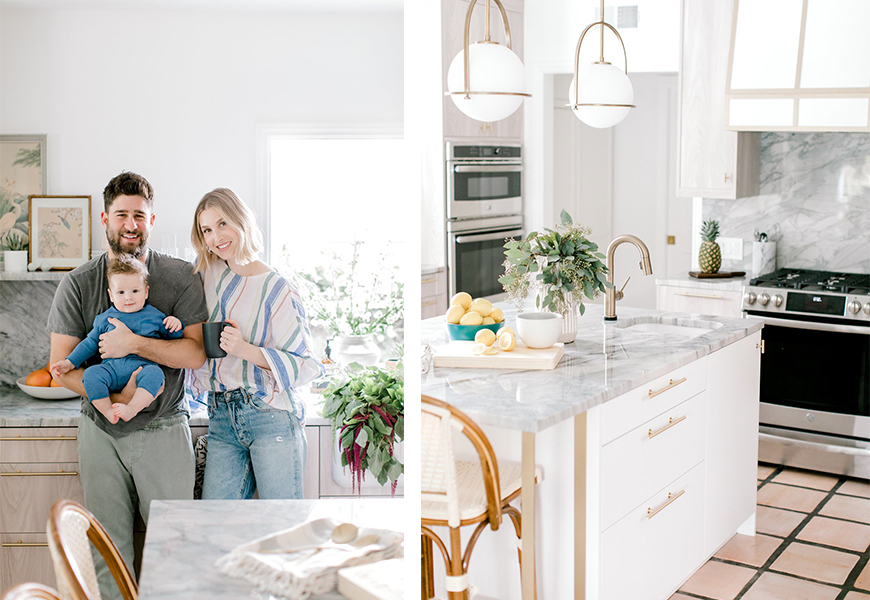 Shop this 'fresh, eclectic and luminous' look at Aria Stone Gallery in the DCH Suite 310 and stay stone and style savvy with Whitney Port and Marie Flanigan's blogs.
All Images Ashley Burns Photography, unless otherwise captioned.